6 Ways to Map Your Debt Payoff Progress
Published on: March 17th, 2021
Editorial Note: The content of this article is based on the author's opinions and recommendations alone. It may not have been previewed, commissioned or otherwise endorsed by any of our network partners.
Debt repayment can often take months or even years to achieve depending on your income, the debt's terms and amount. A debt payoff planner can help you stay the course as you make payments, by providing a visual aid that shows how near you are to your financial goals and helps keep your goal top-of-mind.
Here are creative ways to track your debt repayment process over time:
1. Chart your journey to debt freedom
One easy way to track your personal debt repayment plan is with a debt payoff chart. This method uses a drawing that you color in as you repay your debt. (We've included a free debt-free chart below.)
For many people, seeing an image fill up with color as they mark their progress can be more satisfying than simply crossing out a number on a list or updating a spreadsheet. A visual representation like this can also inspire you to hit that next milestone sooner and color in a new section of your debt payoff chart.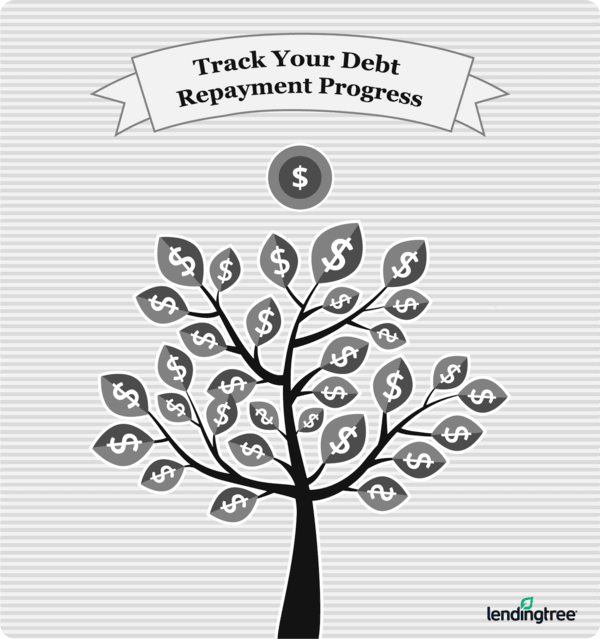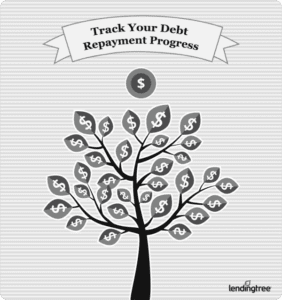 2. Map out your debt repayment with a game
You could make debt repayment a game by creating a map that tracks your journey. As you hit milestones, such as $100 or $1,000, you can treat yourself to a bottle of champagne or another unique treat.
To get started, try downloading the map below. Write in your repayment milestones and the ways you'll treat yourself for hitting them — as you make progress, fill in each square with a marker. Alternatively, you could hang up the map and use a pushpin to note the progress you've made.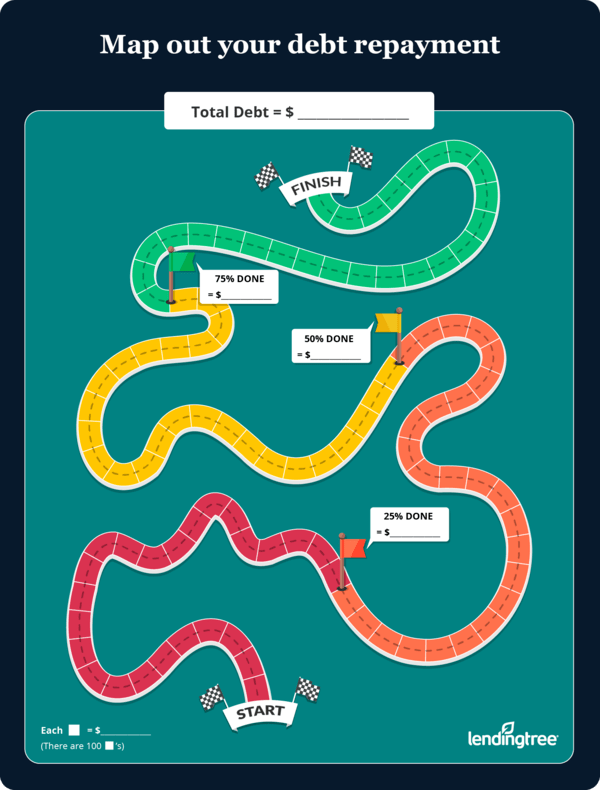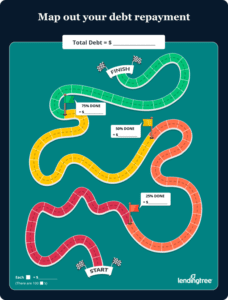 3. Make a physical representation of your debt
If coloring a drawing or making a game of debt repayment isn't your thing, there are other strategies that could help you stay motivated as you pay off debt:

Make a paper chain. The beauty of this strategy lies in its simplicity. Each paper link is equal to a dollar amount. You tear a link off as you repay that amount and break down your "chains" of debt.

Post-it your home. Write out your debt in $20, $100 or other increments and stick them to a door or wall in your home. Each time you make a new payment, rip a Post-it down and crumple it up.

Set up "debt-free" jars. Get two jars and fill one with chocolate coins or quarters to represent what you owe. As you repay debt, move coins over from the "owed" jar to the "paid-off" jar and watch your monetary contributions grow over time.

Create a debt payoff stamp card. Take a page from the playbook of your favorite local business and DIY a stamp or punch card to mark your debt payoff progress. Set a dollar amount for every stamp and a reward for every card you fill up until you reach your goal.
4. Include debt goals in your daily planning
You may already use a planner or bullet journal to track your tasks and goals. If so, adding a debt payoff planner section to track your debt progress can remind you of your financial goals in addition to your daily to-do list.
This can be as simple as adding "Make an extra $100 credit card payment" to your weekly task list or adding a digital calendar reminder to send in an extra payment on payday.
If you want to go a step further, you can also use your planner to track your spending and allocate some of your extra funds toward your debt. One way to do this is by adding a habit tracker to your planner, a goal-tracking method created by James Clear, author of Atomic Habits.
Start by creating a chart with habits you want to keep, such as sticking to a daily spending limit, down the left side and the days of the month across the top. Add a checkmark for every day you stick to the habit and maintain your streak for as long as you can. Any money you save in the process can then be used to pay down even more of your balance.
5. Make a vision board of long-term goals
Reminding yourself of your debt payoff goal can be effective on its own, but it can be even more powerful when you combine it with reminders of the reason you want to get out of debt. Enter: The debt-free vision board.
To get started, first think about your "why," essentially your debt payoff motivation. It could be as simple as the money you'd save in interest or the newly freed-up funds you now can put toward your dream vacation. Maybe you want to create a college fund for your children or get a financial fresh start with your partner.
Hang up these visual reminders alongside a traditional debt tracker in a place you'll see often, like across from your bed or on the fridge door. Your vision board could be exactly what you need to stay motivated about paying off your debt and working toward financial freedom.
6. Use a debt payoff planner app
Downloading a debt tracker app onto your smartphone is a great way to get reminders of your debt goals wherever you go.
Debt payoff planner apps map out your debt repayment and track your progress — all you need to do is input information like your outstanding balances, interest rates, minimum payment amount and so on. You can choose the payoff plan that works best for you — some of them will then let you know how much to pay every month in order to stay on track with or speed up your repayment timeline.
Although many people use it for budgeting and money management, Mint also has a useful feature that allows you to set financial goals like paying off your debt. If you're looking for something with more robust debt-focused features, Debt Payoff Planner offers the visuals of a physical debt tracker with a level of detail you'd normally find in a spreadsheet.