How Does LendingTree Get Paid?
LendingTree is compensated by companies on this site and this compensation may impact how and where offers appear on this site (such as the order). LendingTree does not include all lenders, savings products, or loan options available in the marketplace.
LendingTree Reveals the Cities Using the Most Home Improvement Loans
Published on: July 30th, 2018
Editorial Note: The content of this article is based on the author's opinions and recommendations alone. It may not have been reviewed, commissioned or otherwise endorsed by any of our network partners.
New LendingTree study ranks cities by home improvement loan originations.
Today's housing market is characterized by a lack of inventory for both new and existing homes. In the existing market, there is a shortage of current owners willing to sell, in part because it can prove challenging to find another house to buy while you sell or once you sell your home. In lieu of moving, many homeowners choose to improve their current homes and, for larger projects, homeowners may take out a loan to finance the renovation.
To find out where homeowners are taking out home improvement loans the most, we took a look at Home Mortgage Disclosure Act (HMDA) data for 2017, which covers 7.3 million loans. We ranked the 50 largest U.S. cities by the volume of home improvement loans as a percentage of the total housing units in a city. We also look at the median loan amounts to gauge where buyers are putting the most money into their homes. Home improvement loans are typically home equity loans (though not home equity lines of credit) but could also be unsecured personal loans for home improvement.
Key findings
Home improvement loans were taken out on a small fraction — less than 1% — of homes in 2017. This may seem low, but it doesn't necessarily mean folks aren't updating their homes. Many home improvements are financed by savings, other types of credit and other types of mortgage loans such as cash-out refinances and HELOCs. As a point of reference, existing home sales were just 4% of the housing stock in 2017.
The locations of cities with high rates of home improvement are quite diverse and they did not have many characteristics in common. This suggests localized factors account for renovation activity.
Oklahoma City has the highest rate of using home improvement loans, with 0.77% of homes having a loan originated in 2017, over three times the rate of bottom-ranked New York and Miami. The city has been growing rapidly and is one of the most spread out cities in the country, meaning homeowners have lots of room to work with.
San Jose is second. Noted for its high prices and tight inventory, homeowners flush with equity may be adding all the latest bells and whistles to their homes in this tech industry-dominated city.
New York has the lowest rate of using home improvement loans. The cities at the bottom of our ranking are also very geographically diverse, with New York bringing up the anchor. A low share of single-family homes may be due to the fact that many New Yorkers live in multi-family homes and cannot carry out extensive home renovations.
Miami and Houston are the other cities in the bottom three. These cities were both severely affected by hurricanes in late 2017 which might have suppressed renovation activity. Continued recovery from hurricane damage in 2018, however, may boost home improvement activity.
San Jose, San Francisco and Los Angeles have the biggest renovation loans. The highest median loan size was in San Jose at $374,000, followed by San Francisco and Los Angeles. Rankings of median loan size are largely in line with home values.
The smallest loans were in Memphis, Tenn., at $10,000, then Oklahoma City and Virginia Beach.
Cities with highest rate of home improvement loans
#1 Oklahoma City
Rate of home improvement loans: 0.77%
Median loan amount: $15,000
Median borrower income: $64,000
#2 San Jose, Calif.
Rate of home improvement loans: 0.75%
Median loan amount: $374,000
Median borrower income: $144,000
#3 Salt Lake City
Rate of home improvement loans: 0.72%
Median loan amount: $130,000
Median borrower income: $77,000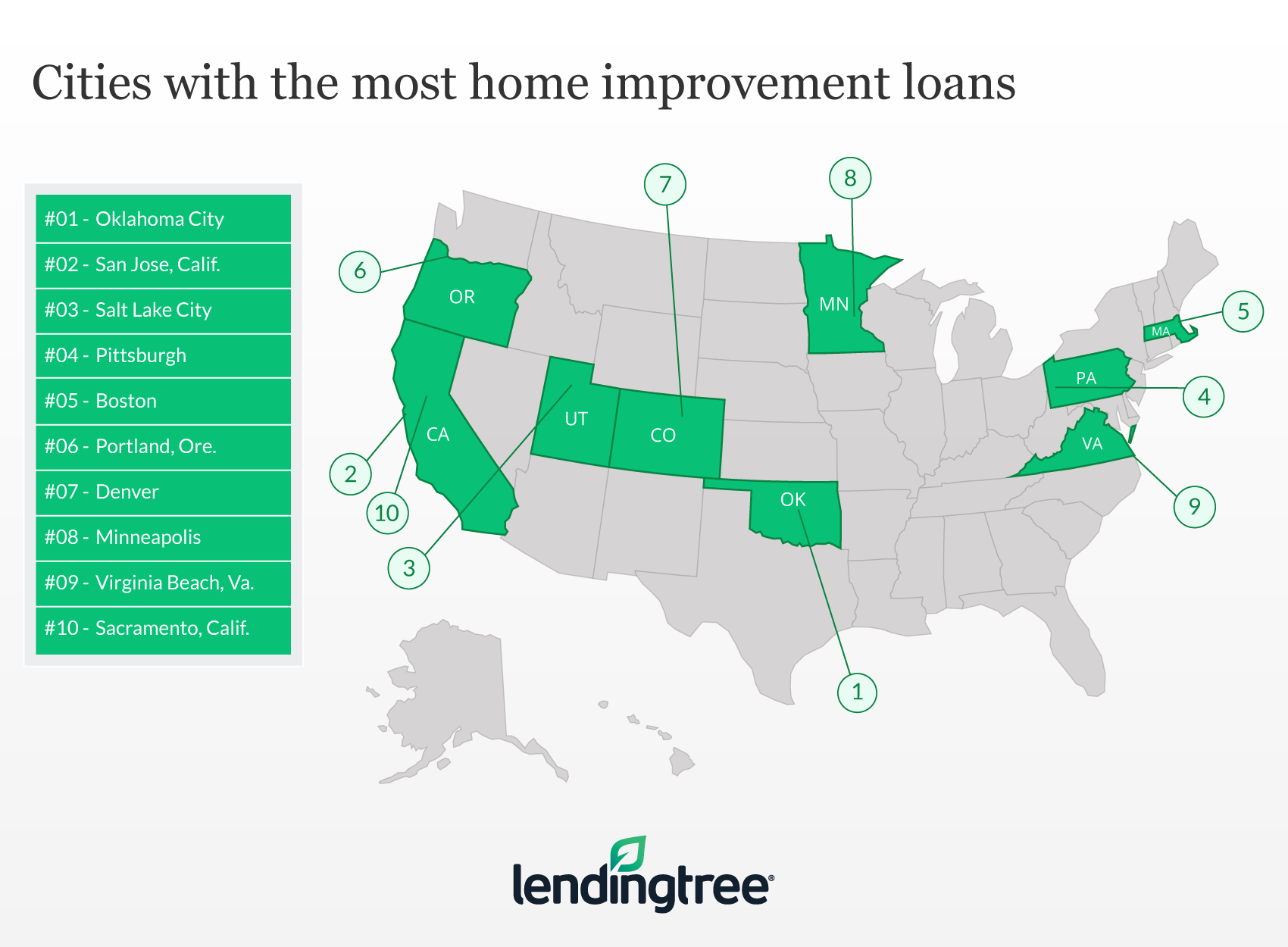 Cities with the lowest rate of home improvement loans
#48 Houston
Rate of home improvement loans: 0.27%
Median loan amount: $47,000
Median borrower income: $87,000
#49 Miami
Rate of home improvement loans: 0.22%
Median loan amount: $50,000
Median borrower income: $72,000
#50 New York
Rate of home improvement loans: 0.18%
Median loan amount: $60,000
Median borrower income: $99,000