How Does LendingTree Get Paid?
LendingTree is compensated by companies on this site and this compensation may impact how and where offers appear on this site (such as the order). LendingTree does not include all lenders, savings products, or loan options available in the marketplace.
Downsizing a Home? Here Are 7 Tips to Get You Started
Published on: February 20th, 2020
Editorial Note: The content of this article is based on the author's opinions and recommendations alone. It may not have been reviewed, commissioned or otherwise endorsed by any of our network partners.
Whether you're a newly minted empty nester or you're tired of maintaining a larger home, transitioning to a smaller home might make sense. But after years of being in the same place, downsizing your home and belongings might be a challenge.
Fortunately, there are ways to make the home downsizing process flow more smoothly. Here, we share expert downsizing tips to help you get started.
What is downsizing a home?
The definition of downsizing varies, depending on who you ask. It might mean reducing how you and your belongings take up space in your home, which could include moving into a smaller place. It might also mean getting rid of personal items that no longer serve you.
"For others, [downsizing your home] means totally changing your lifestyle to one of minimalism," said Karen Shinn, co-founder of Downsizing Diva, a Toronto-based company that helps seniors downsize, organize and move.
Mary Kay Buysse, executive director of the National Association of Senior Move Managers in Hinsdale, Ill., defines downsizing a home as reducing your possessions and decluttering.
"It's to create more open space and develop a different ambiance in your home," Buysse said, adding that downsizing a home doesn't always involve moving.
7 tips for downsizing your home
Whether you're downsizing a home for retirement or simply want to make the most of your space, keep the following downsizing tips in mind as you get started.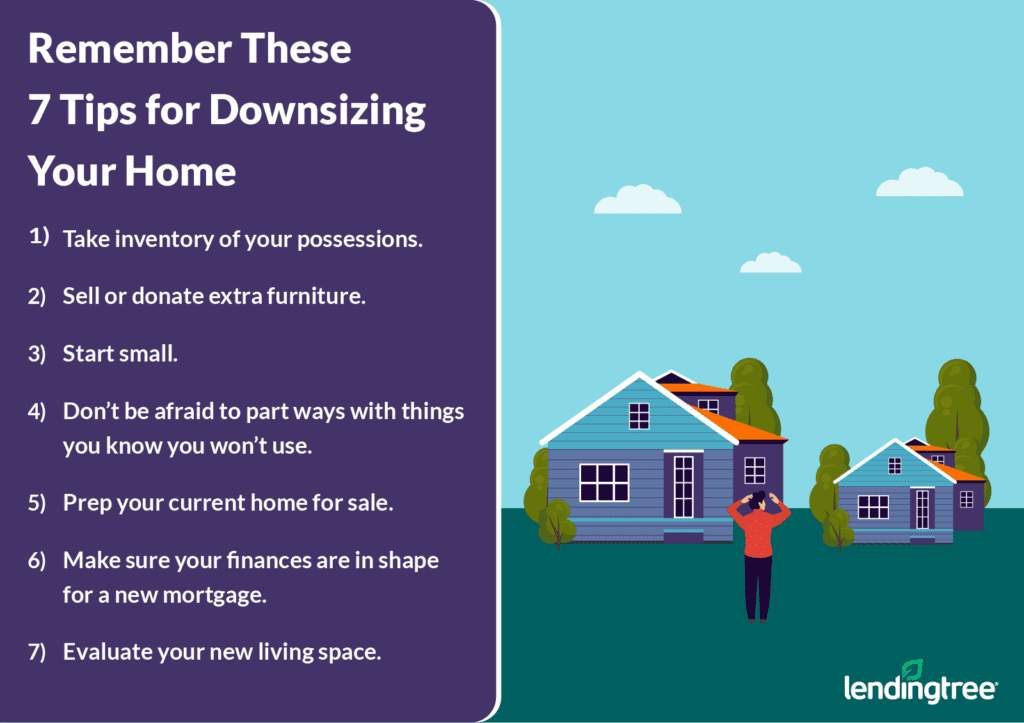 1. Take inventory of your possessions.
Before you start getting rid of stuff, take inventory of your belongings. You first need to know everything you have if you want to downsize effectively. Sort your belongings into three piles: keep, sell or donate.
2. Start small.
You don't have to tackle it all right away. You're less likely to get overwhelmed by downsizing a home if you do a little bit at a time.
"Start small. Start today," Shinn said. "Don't put it off. Do a drawer, do a shelf, do a cupboard, do a closet — but start somewhere."
3. Sell or donate your extra furniture.
You probably won't need as many bedroom sets, sofas and tables in your new home. Consider selling those items through an online marketplace or donating them to a local nonprofit that accepts used furniture.
4. Don't be afraid to part ways with things you know you won't use.
When downsizing household goods, don't be concerned with saving things forever, Shinn said. Some of your possessions that used to have value may not have the same worth anymore.
Buysse suggested not waiting to gift your loved ones the items you want them to have until you pass away, such as jewelry or another prized collection.
"Give it now [when] you can enjoy their enjoyment of it," she said. "It's so much more fun than after someone's death to be receiving a gift."
5. Prep your current home for sale
Unless you're keeping your current home in the family, you'll need to prepare for a home sale. Consult with a trusted real estate agent, wrap up any outstanding home improvement projects, declutter throughout your home and consider staging it for prospective buyers.
6. Get your finances in shape for a new mortgage (if needed)
If you need a mortgage for your downsized home, you first need to meet minimum mortgage requirements for a new loan. You can qualify with as little as 3% down on a conventional loan and 3.5% down with a loan backed by the Federal Housing Administration. You'll also need a debt-to-income (DTI) ratio of 43% or lower, in most cases. Typically, to get the best mortgage rate, you should aim to have a 740 credit score or higher. Factor in the net profit you expect from your current home's sale to determine how much you'll need to borrow for your next home.
7. Evaluate your new living space
Take time to evaluate the amount of space in your downsized home, Buysse said. For example, if you'll have fewer kitchen cabinets in your new home, learn how to downsize the items you currently have to an amount that will fit comfortably in a smaller space.
Finally, when you downsize and declutter, stick to two piles: A "yes" pile and a "no" pile. Try not to start a "maybe" pile. Items in the "no" pile can be donated or sold.
"What happens when you have maybe piles is that's always going to end up being your biggest pile, because all you're doing is putting off the decision-making until a later time," Buysse said.
Pros and cons of downsizing your home
Downsizing your home can leave you with a more positive outlook on your space, but there could be some drawbacks to making such a drastic change.
Pros
Less space to maintain. You'll likely spend less time cleaning and maintaining a smaller space, which gives you more time to spend on the activities you really enjoy.
Lower monthly bills. Moving to a smaller home can mean lower monthly expenses, especially for utilities like electricity, gas and water.
More cash flow for other goals. The fewer dollars you have to dedicate to housing costs, the more money you may have available for other financial goals, such as boosting your retirement savings or emergency fund, or paying down debt.
Cons
Can be overwhelming to get started. It's intimidating to look at the amount of stuff you've accumulated over the years and figure out how to downsize it. This could lead to inaction.
Will need to adjust to having fewer square feet. Living in a smaller home may take some adjusting. You'll have less space to work with.
May need to sell your existing home, which can be costly. Selling your home can cost tens of thousands of dollars, which will eat into the profit you might expect to receive from the sale. And, depending on your local housing supply, it may be hard to find an affordable, smaller home in your price range.