How Does LendingTree Get Paid?
LendingTree is compensated by companies on this site and this compensation may impact how and where offers appear on this site (such as the order). LendingTree does not include all lenders, savings products, or loan options available in the marketplace.
LendingTree Survey: More Than 1 in 4 Moms Have Homebuyer's Remorse
Updated on: May 6th, 2021
Why use LendingTree?
We are committed to providing accurate content that helps you make informed money decisions. Our partners have not commissioned or endorsed this content. Read our .
We're in the midst of the spring homebuying season, and many families might be ready to clean house and upgrade, according to a new LendingTree survey.
More than 6 in 10 (64%) homeowners with kids are contemplating a home sale to buy their dream home. Additionally, moms are twice as likely as dads to regret buying their current home.
Below, we dive into the relationship between parents and how they feel about the homes they lead.
Key findings
More than 1 in 4 (27%) moms wish they would've purchased a different home. Only 14% of dads agree. In all, nearly 1 in 5 (19%) parents say knowing what they know now, they would've bought a different property.
Nearly two-thirds (64%) of homeowners with children are thinking about selling to find their dream home. Another 21% of homeowners with kids 18 and under say the current housing market is influencing them to stay put.
More than 6 in 10 (64%) parents say their home is a source of stress. A majority of moms and dads say their lives would be less stressful if they could get rid of their home's pain points.
Just over half (51%) of parents spent more on home decor than normal. Another 26% report spending less than they typically would on decorations.
Many moms want a residential redo
LendingTree's survey found that around 1 in 4 (27%) moms would've bought a different home if they knew at the time of purchase what they know now. That's about double the number of dads who share that sentiment — 14%.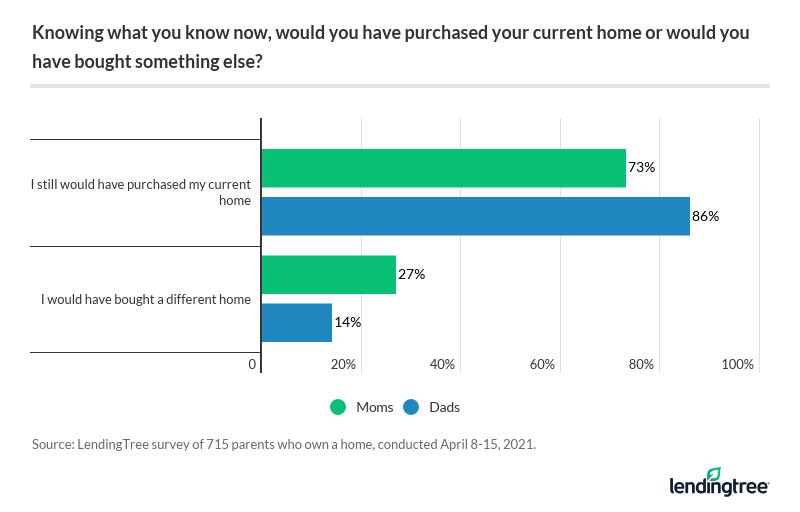 When asked about the one thing moms and dads would change about their home if they could, the top five answers the homeowners gave were:
A bigger kitchen: 23%
More outdoor space: 14%
A different location: 11%
More closet/storage space: 9%
The overall layout: 9%
Moms and dads agree on wanting a bigger kitchen the most, but have differences over what comes second on their wish list. Moms would prefer to change the overall layout (13% versus 7%), while dads desire more outdoor space (16% versus 10%).
A majority of homeowners with kids are considering a home sale
Many homeowners with children 18 and under are thinking about relocating. Today's housing market is prompting nearly two-thirds (64%) of parents to consider selling their home to find their dream home.
Perhaps parents' level of frustration determines how motivated they are to move. More than 1 in 5 (22%) moms and dads feel frustrated about their home almost daily. Another 17% report feeling frustrated about it once a week.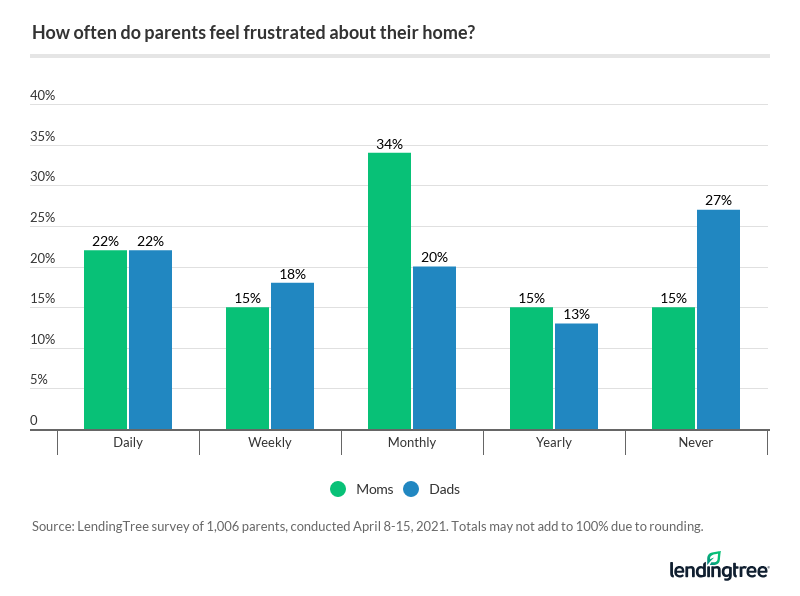 Property pain points cause added stress for many homeowners
Nearly two-thirds (64%) of survey respondents say they would experience a less stressful life if they could remove the pain points their home causes. When broken down by parents, 72% of dads and 54% of moms feel this way.
Some professional help could alleviate pain points for some homeowners. More than 4 in 10 (42%) say they've considered and used a design service or expert organizer for their home. Another 1 in 4 (25%) mulled over hiring a design or organization expert, but haven't yet taken any action.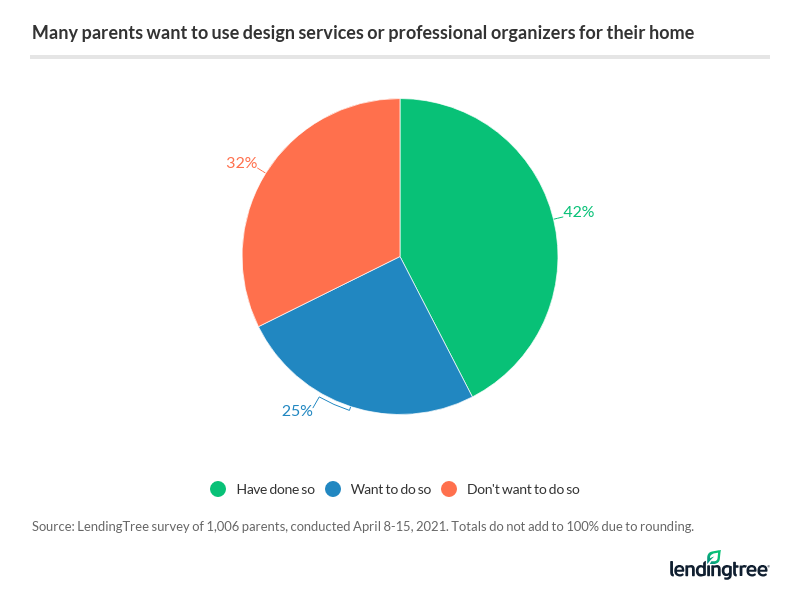 Regardless of whether they've enlisted outside help, more than a third (34%) of parents seek out inspiration for home design and other features on a daily basis.
Parents are spending more than normal on home decor
Our survey found that 51% of homeowners with kids ages 18 and under spent more than they normally would on home decor over the last year. Another 24% say they spent about the same amount they would have before the ongoing coronavirus pandemic developed.
More than a third (35%) of parents spent at least $1,000 on home decor over the last year. Additionally, two-thirds (66%) of parents admit that they've bought items for their home and hid the true sticker price from their partner at least once, with dads more likely than moms to do so (79% versus 50%, respectively).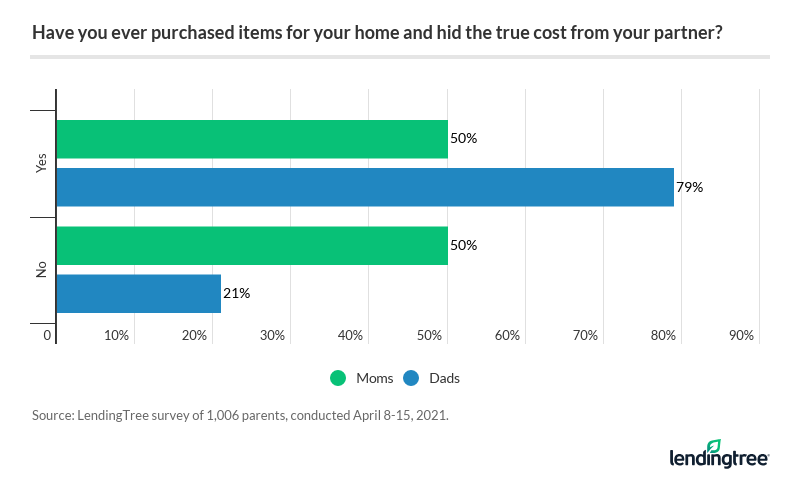 Dads are also more heavily influenced by social media when it comes to home spending. Our survey found that 90% of dads have purchased an item for their home that they saw on social media, compared with 73% of moms.
Methodology
For this survey, LendingTree commissioned Qualtrics, an experience management firm, to field an online survey of 1,006 parents with kids aged 18 and younger. The survey was conducted April 8-15, 2021, and administered using a non-probability-based sample. Researchers reviewed all responses for quality control and used quotas to ensure the sample base represented the overall population.
We defined generations using the following ages in 2021:
Generation Z: 18 to 24
Millennials: 25 to 40
Generation X: 41 to 55
Baby boomers: 56 to 75
The survey also included responses from consumers in the silent generation (ages 76 and older), but findings related to that group were excluded from the generational breakdowns.