How Does LendingTree Get Paid?
LendingTree is compensated by companies on this site and this compensation may impact how and where offers appear on this site (such as the order). LendingTree does not include all lenders, savings products, or loan options available in the marketplace.
LendingTree Finds Millennial Homeowners Have Higher Credit Scores, More Borrowing Power Than Millennial Renters
Published on:
Content was accurate at the time of publication.
Millennials have lived through two major economic recessions, a global pandemic and the Sept. 11 terrorist attacks. In short, they're no strangers to economic adversity. Millennials own far less wealth and are often burdened by more debt than their predecessors.
Despite these challenges, though, many millennials have reached key financial milestones, like buying a home. In fact, millennials make up the largest share of homebuyers in the United States today.
One of the key reasons why some millennials have been able to get ahead financially is because they have better credit profiles. Having stronger credit can make a borrower more appealing to lenders, and allow them easier access to loans so they can make major purchases.
To dig into just how different members of the same generation can be from a financial standpoint, LendingTree compared the credit profiles of millennials on the LendingTree platform who own a home to those who don't.
Key findings
Millennial homeowners have stronger credit profiles than millennial renters, with a median credit score of 693 compared with 601 for renters. This isn't surprising, as higher credit scores make homeownership more accessible.
Homeowners have a median of 9 accounts of varying types, including, but not limited to, auto, credit card, and mortgage, compared with just 6 for renters. This reflects the higher credit scores of home-owning millennials, as they are able to obtain more credit accounts. While being able to open more accounts makes it easier for homeowners to access monetary funds, it also means they're more likely to carry greater amounts of debt.
Just 65% of renters have a credit card balance, compared with 91% of homeowners. Homeowners tend to carry more credit card debt, with an average of $9,255 in credit card balances, compared with $4,843 for renters.
Renters' median utilization of their available credit, or the ratio of their current credit balance to their overall credit limit, is 30%, seven points higher than the median utilization rate of 23% for homeowners. This suggests that while homeowners tend to borrow more money than renters, they're borrowing less relative to their limits.
For auto loans, 68% of homeowners have one and owe a median amount of $21,293, compared to $16,056 for the 48% of renters with an auto loan.
Student debt is comparable, with 33% of homeowners and 34% of renters carrying student loan balances. Homeowners have a median student loan debt of $25,499 while renters owe slightly less at $23,066.
35% of homeowners have personal loans, with a median amount of $10,827. This compares to just 29% for renters, who owe a median amount of $3,588.
Renters have more trouble keeping up with their payments, with an average of 10 late payments on their credit profiles compared with 6 for homeowners. 53% of renters have at least one late payment compared with 44% of homeowners.
Renters are more likely to have negative marks on their credit report, with an average of 7.5, compared with an average of 2.5 for homeowners.
Renters also search for new credit more often, with an average of 2 inquiries over the past six months compared with 1.6 inquiries for homeowners.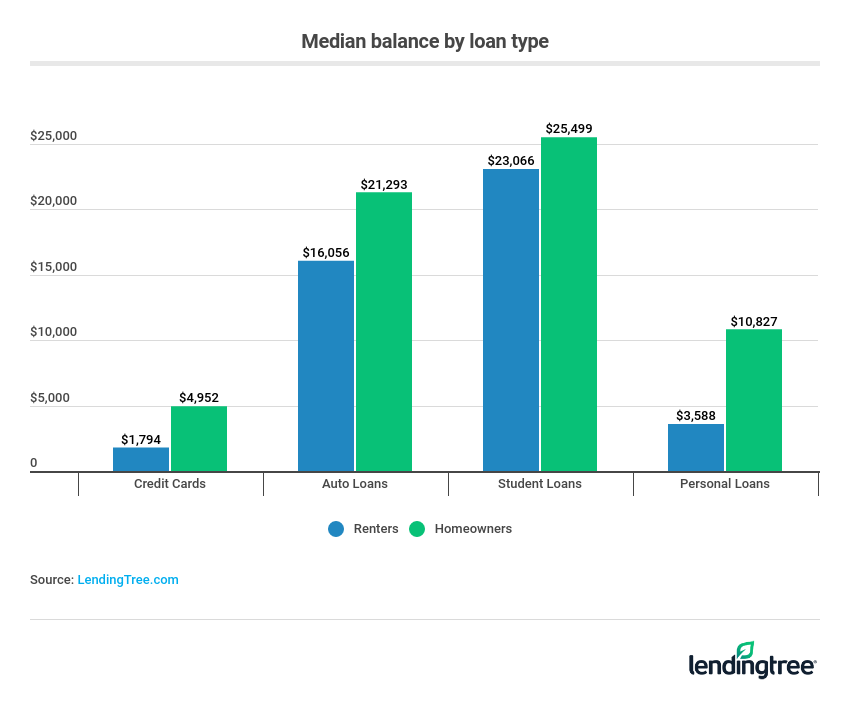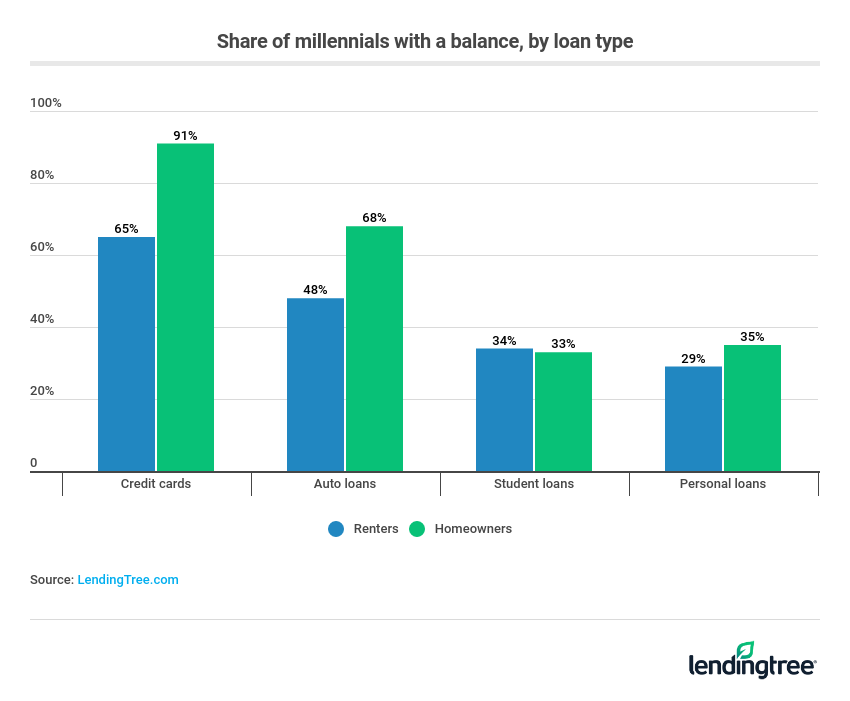 What consumers should know about maintaining and improving their credit
Generally, homeowners and renters can boost their credit scores by avoiding late payments and keeping their credit utilization low. Having good credit is important to both home renters and owners for a variety of reasons.
For renters, better credit can increase the likelihood that they'll be approved for a mortgage when they're ready to buy a home. It can also help them refinance their current student or auto loans and lower their monthly payments.
Homeowners can also use good credit to increase their odds of being approved for various types of refinances. With mortgage rates near record lows, some homeowners could save tens of thousands of dollars over the life of their loan by refinancing. Beyond that, better credit can also make it easier for homeowners to tap their home equity for home improvements or other financial goals.
Even if you have poor credit, you may still qualify for a home loan, be able to refinance your mortgage or access your home's equity. However, better credit usually means more loan options and better loan terms and interest rate offers.
Methodology
The data in this study comes from the credit records of LendingTree accountholders through the third quarter of 2020. LendingTree users can shop and compare loan offers from a variety of lenders in order to find the best deal.
For the purposes of this study, LendingTree defined millennials as users who are 24 to 39 years old.
LendingTree research analyst Jacob Channel contributed to this study.