Can You Pay a Mortgage With a Credit Card?
Published on: December 6th, 2019
Editorial Note: The content of this article is based on the author's opinions and recommendations alone. It may not have been previewed, commissioned or otherwise endorsed by any of our network partners.
For credit card holders who routinely rack up rewards like miles or points, paying a mortgage with a credit card may seem like a worthwhile use of their plastic that can bring major perks.
While it's possible to make mortgage payments with a credit card, there are strings attached to this method — including extra fees and risks. Here's what you need to know.
In this article, we'll cover:
Can I pay my mortgage with a credit card?
If you're determined to earn as many rewards as possible from your credit card usage, you might be asking: Can you make a mortgage payment with a credit card?
The short answer is no. Mortgage lenders typically don't allow borrowers to pay their mortgage with a credit card directly — there's just too much risk involved, said Bruce McClary, vice president of communications for the National Foundation for Credit Counseling.
"It's not a good sign when somebody is turning to one form of debt to pay off another form of debt, or at least to make a minimum payment on a form of debt," McClary said.
The promissory note you signed at the closing table includes language explaining which forms of payment your mortgage lender accepts. Often, the three accepted payment types are cash, check or money order. You likely won't find any mention of credit cards.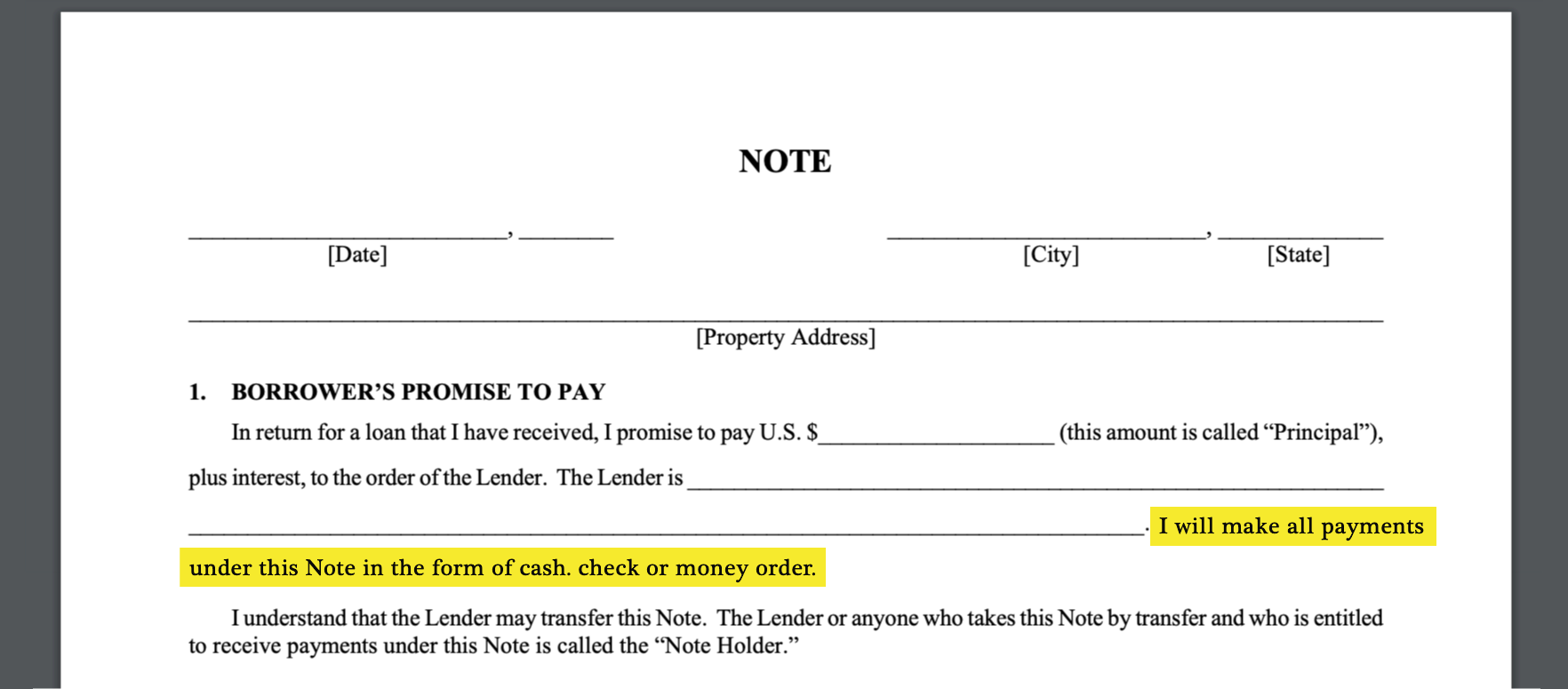 How to pay your mortgage with a credit card
In most cases, the only way to potentially pay your mortgage with a credit card is by using a third-party service.
One example is bill-pay service Plastiq, which submits payments to mortgage lenders on behalf of Discover and Mastercard customers. Mortgage payments from Visa and American Express cardholders aren't accepted, however.
Matt Schulz, chief industry analyst for CompareCards.com, a LendingTree company, has heard consumers sing Plastiq's praises, but said he's not convinced the service makes the most sense for mortgage payments.
"I'm not a big fan of using a service like that, just because the math doesn't work out in your favor," Shulz said.
Plastiq charges a 2.5% fee for each transaction. On a $1,200 monthly mortgage payment, that's another $360 you'd pay in fees each year to pay your loan with a credit card.
You're also increasing your credit utilization ratio, which hurts your credit score, as well as incurring a larger interest expense — unless you quickly pay off your balance in full.
If your ultimate goal is to earn credit card rewards, you'll need to double-check with your card issuer that mortgage payments even qualify for rewards, McClary added. If they don't, you could be wasting time and money. Ultimately, earning points, miles or cash back might be canceled out by the transaction fee.
Pros and cons of paying your mortgage with a credit card
Deciding to pay your mortgage with a credit card comes with both potential benefits and risks. Be sure to consider them before moving forward.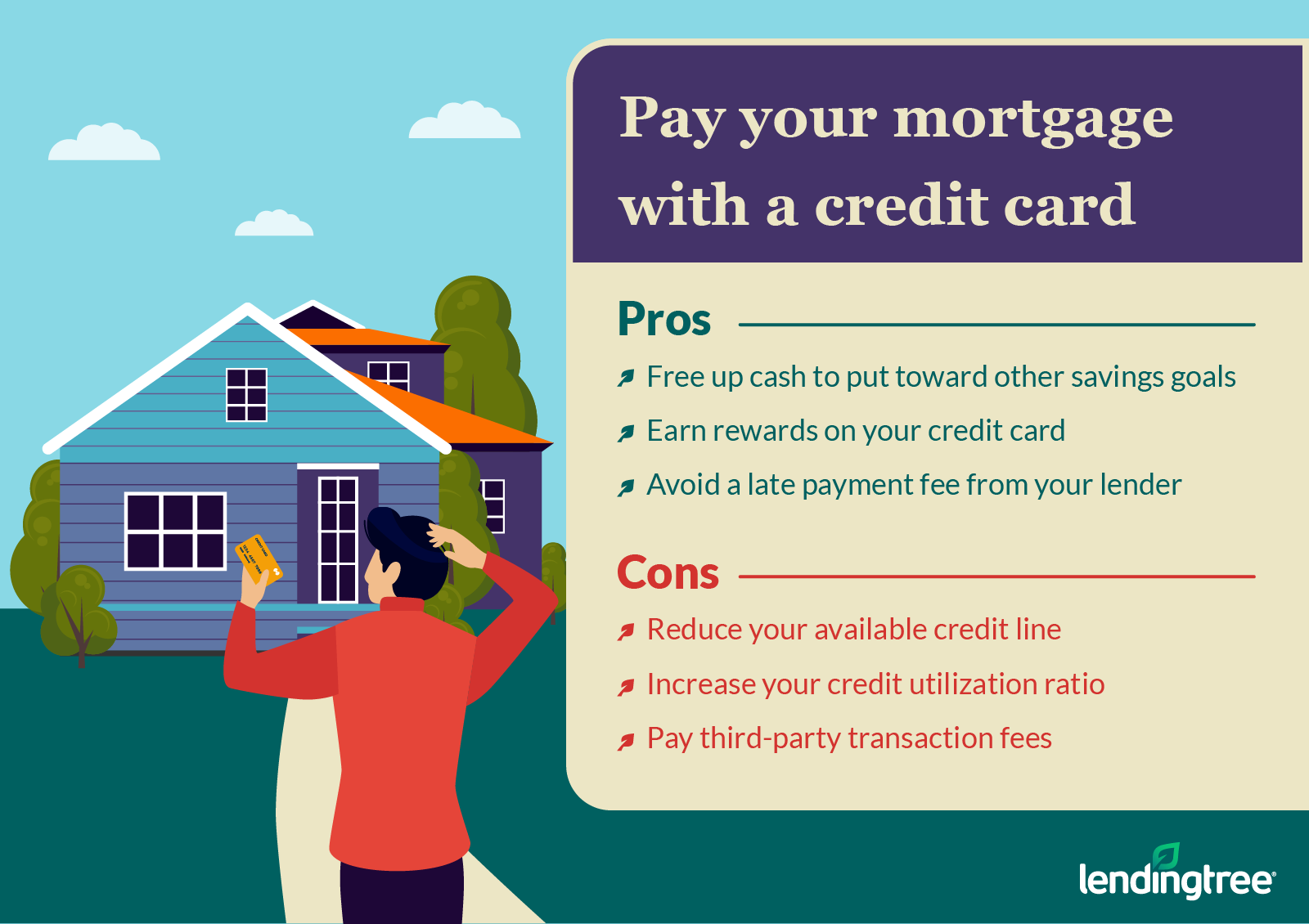 Pros
Free up cash to put toward other savings goals. If you need your liquid cash to pad your emergency fund or make progress on another financial goal, using your credit card for a mortgage payment might make sense. Just be sure you can quickly recover the money needed to repay the balance you're carrying on your card.
Earn rewards on your credit card. Mortgage payment amounts are usually on the higher end of your monthly obligations, which could provide valuable perks on a rewards credit card in the form of cash back, miles or points.
Avoid a late payment fee from your lender. If your next payday isn't until well after your mortgage payment is due, you could avoid being hit with a late payment charge, which could cost 5% of your principal and interest payment or more.
Cons
Reduce your available credit line. Putting your mortgage payment on a credit card drops your available credit amount, likely by $1,000 or more. This reduces your overall spending power.
Increase your credit utilization ratio. Using more of your available credit increases your credit utilization, which could negatively impact your credit score. It's a good practice to keep your ratio below 30% of your total credit line amount and across all cards you have.
Pay third-party transaction fees. You'll pay a transaction fee each time you use a third-party service to pay your loan with a credit card — adding up to hundreds of dollars each year if you use a credit card to pay your mortgage regularly.
Should I pay my mortgage with a credit card?
While there are ways to pay your mortgage with a credit card, the risks could outweigh the benefits, especially if your rewards are minimal.
"We all love collecting credit card rewards and it can sound like a potential gold mine to pay your mortgage with your credit card to get those rewards," Schulz said. "But once you run the numbers, it's pretty clear that it's not the deal that you might've hoped it was, so you're probably better off steering clear."
In cases where you're scrambling to make your mortgage payment because you're short on cash or have fallen on tough times, a better route is asking your lender for assistance.
"A mortgage lender can actually help you identify some options that you may not have thought of," McClary said.
Remember that most lenders have a grace period for mortgage payments, which typically lasts until the 15th day of the month.