LendingTree Ranks Most Popular Cities for Millennial Homebuyers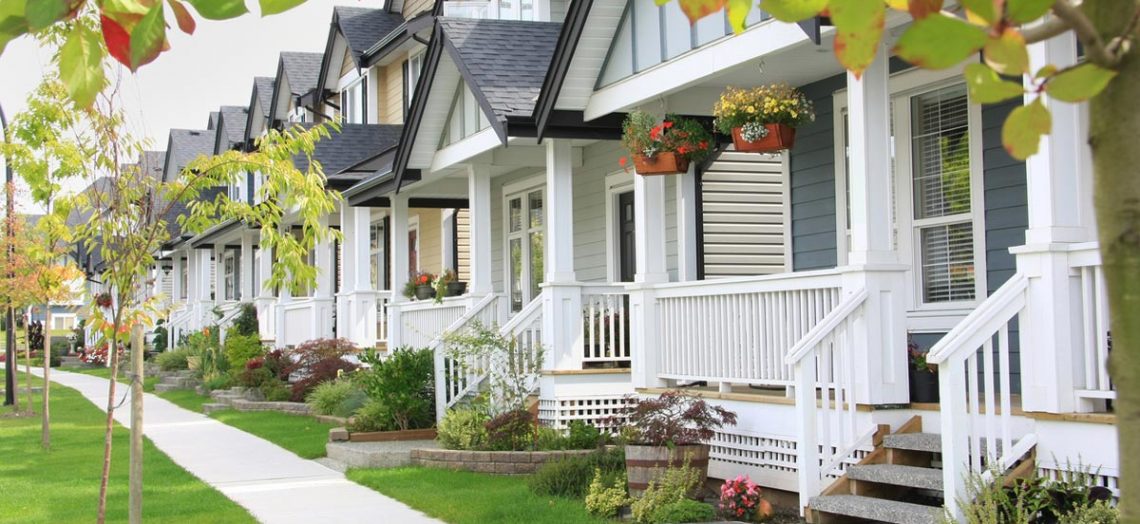 Millennials in Des Moines, Pittsburgh and Buffalo are pursuing homeownership more than their counterparts in any of the nation's 100 largest cities, according to a new study by LendingTree, the nation's leading online loan marketplace. These young homebuyers are at the forefront of a slowly but surely increasing number of young buyers returning to the housing market. The largest single-age population in the U.S. is 27 year olds at almost 4.8 million, suggesting that millennials' influence on the housing market has years to run before it peaks.
LendingTree analyzed mortgage requests and offers for borrowers ages 35 years and under between Feb. 1, 2017 and Feb. 1, 2018, along with requests from the total population of mortgage-seekers based on the location of the property to be mortgaged. The city rankings are generated from the percentage of total purchase mortgage requests received by LendingTree from borrowers in the millennial generation.
Most popular cities among millennial homebuyers
#1 Des Moines, Iowa
Share of purchase mortgage requests coming from millennials: 42.4%
Average loan amount: $141,785
#2 Pittsburgh, Pa.
Share of purchase mortgage requests coming from millennials: 41.9%
Average loan amount: $120,093
#3 Buffalo, N.Y.
Share of purchase mortgage requests coming from millennials: 40.5%
Average loan amount: $114,087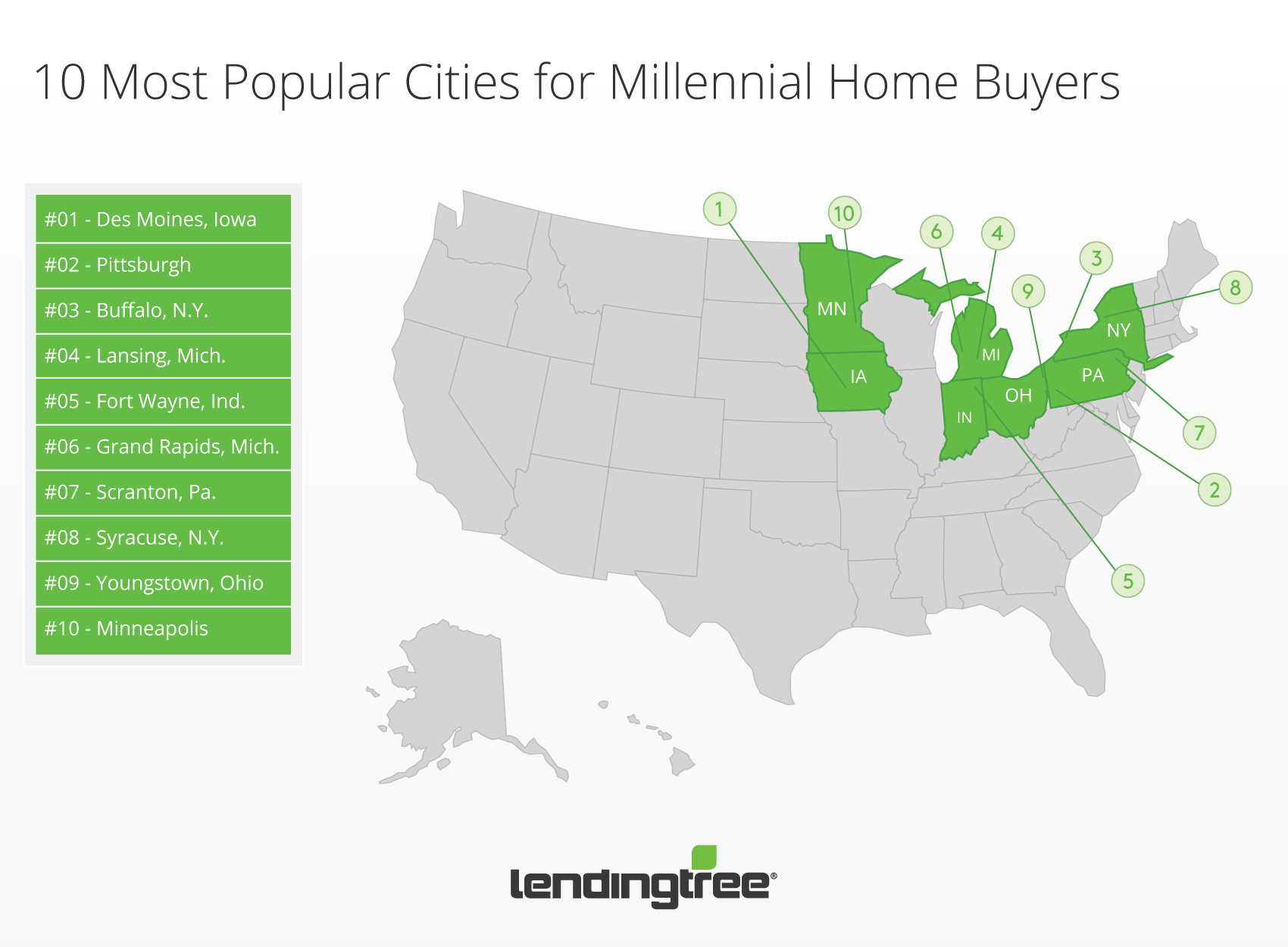 Other findings
Millennial homebuyers make up one-third of mortgage requests. 32.5% of all mortgage requests through LendingTree between Feb. 1, 2017 and Feb. 1, 2018 come from consumers 35 years and younger. The average loan amount requested from this age group is $166,863.
Where millennials aren't vying for homeownership. At the other end of the scale, Sarasota, Fla., Fort Myers Fla. and Honolulu had lowest shares of millennial buyers at 17.9%, 19.8% and 21.8% respectively. The Florida communities are popular with retirees while Honolulu is a high-cost metro, which makes it challenging for millennial buyers who are just starting out on building financial and real assets.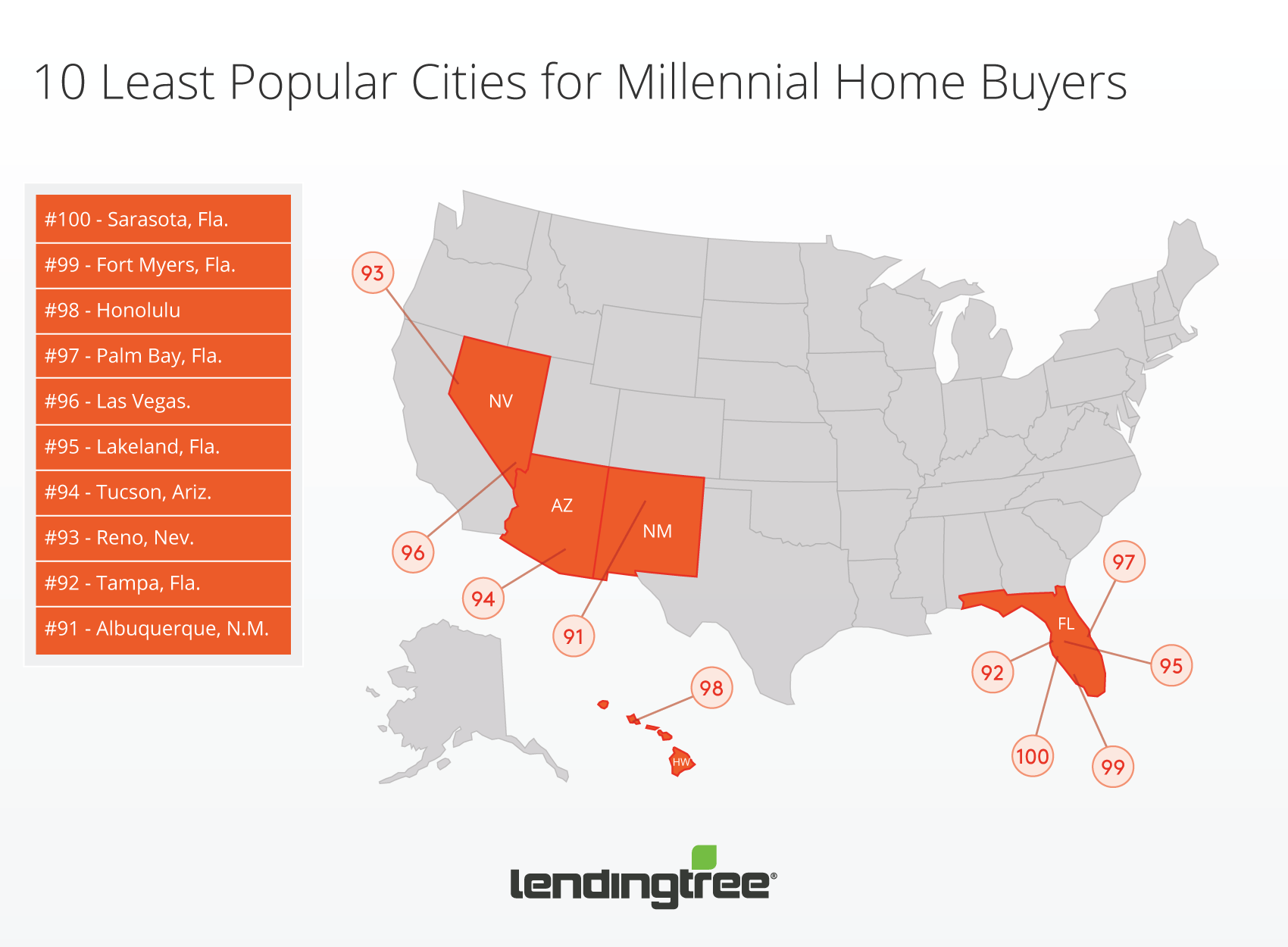 Our study also looked at other borrower characteristics and we found some interesting results on the average age of the borrowers and their credit scores.
Highest average age
San Francisco, San Diego, New York and Los Angeles made the top four cities with the highest average age for millennial homebuyers, all at 29.5 years and above. These cities also have the highest down payments, and the age of millennial homebuyers here reflects the long lead time needed to save for a down payment. San Francisco leads with a down payment of $96,045, which is higher than the average loan for borrowers in the least expensive city, Youngstown, Ohio, at $93,792.
Lowest average age
Millennials can get on the real estate ladder quickest in Charleston, W.Va., where the average buyer under 35 is 28.2 years old. Borrowers there need to raise an average of $11,942 for their down payment and borrow $102,394. Rounding out the five cities with lowest average ages are Youngstown, Ohio, Knoxville, Tenn., Fort Wayne, Ind. and Springfield, Mo. These cities all feature down payments and loan amounts that are well below average.
Highest credit scores
San Francisco comes out on top again as millennials there had an average credit score of 691, not surprising given that they are borrowed an average of $462,724 to fund their dream homes. Likewise, in Honolulu, where millennials averaged a 684 credit score to borrow $407,641. The other top cities were San Diego, New York and Denver.
Lowest credit scores
Jackson, Miss. was the most accessible for millennials with lower credit scores at an average of 608. Millennials can often have low scores because of not having a long history of credit, so for prospective buyers it's encouraging that there are cities where lower score borrowers can access the mortgage market. Other such markets were Charleston, W.Va., Fayetteville, N.C., Youngstown, Ohio and Mobile, Ala.
What should millennial buyers do?
The biggest challenges for millennial homebuyers are having funds for a down payment and a good credit history. Potential buyers should educate themselves on how to improve their credit scores and create a savings plan to raise the down payment.
From a housing market perspective, tight inventory is boosting prices in many markets and millennial homebuyers must now contend with rising mortgage interest rates reducing their buying power. As affordability declines, borrowers should consider all the programs available to assist them in becoming homeowners, such as FHA loans.