How Does LendingTree Get Paid?
LendingTree is compensated by companies on this site and this compensation may impact how and where offers appear on this site (such as the order). LendingTree does not include all lenders, savings products, or loan options available in the marketplace.
How to Avoid Reverse Mortgage Scams
Published on: August 2nd, 2019
Editorial Note: The content of this article is based on the author's opinions and recommendations alone. It may not have been previewed, commissioned or otherwise endorsed by any of our network partners.
A reverse mortgage is a unique type of home loan designed to provide financial benefits to borrowers 62 or older. However, because of the easy qualification guidelines and large lump-sum payouts, they are also a popular target for scams.
If you are considering a reverse mortgage, you need to know how to avoid reverse mortgage scams, which range from overpriced services to fraud. We'll give you the tools you need to protect yourself.
What is a reverse mortgage?
With a traditional mortgage, you usually borrow a lump sum to purchase or refinance a home. You make fixed payments of principal and interest until the loan is paid off over a set period, often 30 years. It is also called a forward mortgage since it requires proof of sufficient income to repay the loan, credit scores within a minimum range and sufficient assets to cover closing costs.
A reverse mortgage works much differently. Only borrowers 62 or older are eligible, and rather than creating a monthly payment, reverse mortgage funds can be taken out in a lump sum, paid to a borrower as income, taken out as a line of credit or a combination of all three options.
The biggest difference is there is no monthly mortgage payment made by the borrower. The interest charges on the balance of the reverse mortgage are added to the principal, increasing the balance for the life of the loan.
The primary qualifying requirements are age and property value. Credit standards are more flexible, only requiring sufficient income to cover the payment of ongoing property taxes and insurance expenses on the home.
Look out for these reverse mortgage scams
Two out of every five homes in the U.S. are owned by baby boomers, according to a 2018 Fannie Mae report, with an estimated value of $13.5 trillion. As aging seniors become more socially isolated, scammers have more opportunity to target them with reverse mortgages scams.
Knowing the signs of these schemes can help you or a loved one avoid being taken advantage of by fraudsters.
Investment schemes
Some sales representatives will try to persuade you to invest the proceeds from a reverse loan into some type of insurance product or annuity with a promise of very high returns. These may be fraudulent, or could come with excessively high fees that the financial advisor would receive.
Keep in mind that any return on investment will be offset by the interest charges being added to your loan balance. It's never a good idea to borrow money to invest — especially if it's secured by a loan on your home.
House-flipping
Some reverse mortgage scams involve using the proceeds to buy another property. Typically, the idea is to resell that house soon after for a quick profit.
There are a few problems with this. The person pitching the scheme may guarantee that the property will increase in value. Often, this type of scheme involves real estate agents and mortgage loan officers, who earn commissions on both the loan and the purchase of the property. However, it's your money that's at risk if there aren't any profits — and there is no way to guarantee the home's sale price.
Real estate transactions are expensive, and it is difficult to earn a high enough return on a home in a short period to overcome the cost of commissions and closing costs involved in buying and selling. A reverse mortgage is designed to help you gain access to home equity — it makes little sense to promptly tie up your money in the equity of a new property.
Costly home improvements
These scams usually begin with a knock on your door from a person representing themselves as a local handyman. After a free consultation, costly repairs can be recommended, leading to a suggestion to fund them with a reverse mortgage.
Before you commit to any type of repairs or fill out a reverse mortgage application, consult with several licensed contractors to confirm that the work needs to be done.
Mortgage payment relief
For low-income seniors, reverse mortgages may be the only option to help get caught up on mortgage payments or pay off a sudden unexpected pile of medical bills. Yet, it is important to make sure that the loan proceeds will go to paying off your current loan and that you are working with a legitimate reverse mortgage company.
The first hint that the company is not legitimate is advertising messages such as "stop foreclosure now" or "100% money-back guarantee," or it may also indicate a special relationship with banks to speed up the approval process. Never pay an upfront fee for any payment relief service.
High-pressure sales
As a general rule, get a sense of how a sales representative is presenting the loan to you. If you are talking to a person who is offering a legitimate Federal Housing Administration (FHA) reverse mortgage, they should indicate that you will be required to have a meeting with a Housing and Urban Development-certified counselor before you complete your application.
These counselors are certified and trained by HUD to provide you with information to make sure a reverse mortgage is in your best interest. If a salesperson seems to be trying to rush you into a decision or discourages you from getting independent advice, you should be suspicious.
Inheritance jumping
Elder abuse is a growing problem in the U.S., and in almost 60% of elder financial abuse cases, family members are the perpetrators. In this case, adult children or grandchildren may push family members to get reverse mortgages for their own advantage.
The objective may be to access the wealth now rather than waiting to inherit it. If you believe you or a loved one are being pressured into a reverse mortgage, you can contact the Consumer Finance Protection Bureau for advice.
Take precaution against reverse mortgage fraud
It can be scary to think that there are people who are trying to take advantage of you. Fortunately, the good news is that you can avoid being a victim of reverse mortgage scams by taking some precautions.
Be wary of 'too-good-to-be-true' claims
Deceptive advertising is all too common — back in 2016, the CFPB accused three reverse mortgage issuers of these practices.
Here are some examples of language that should tell you to steer clear of a company: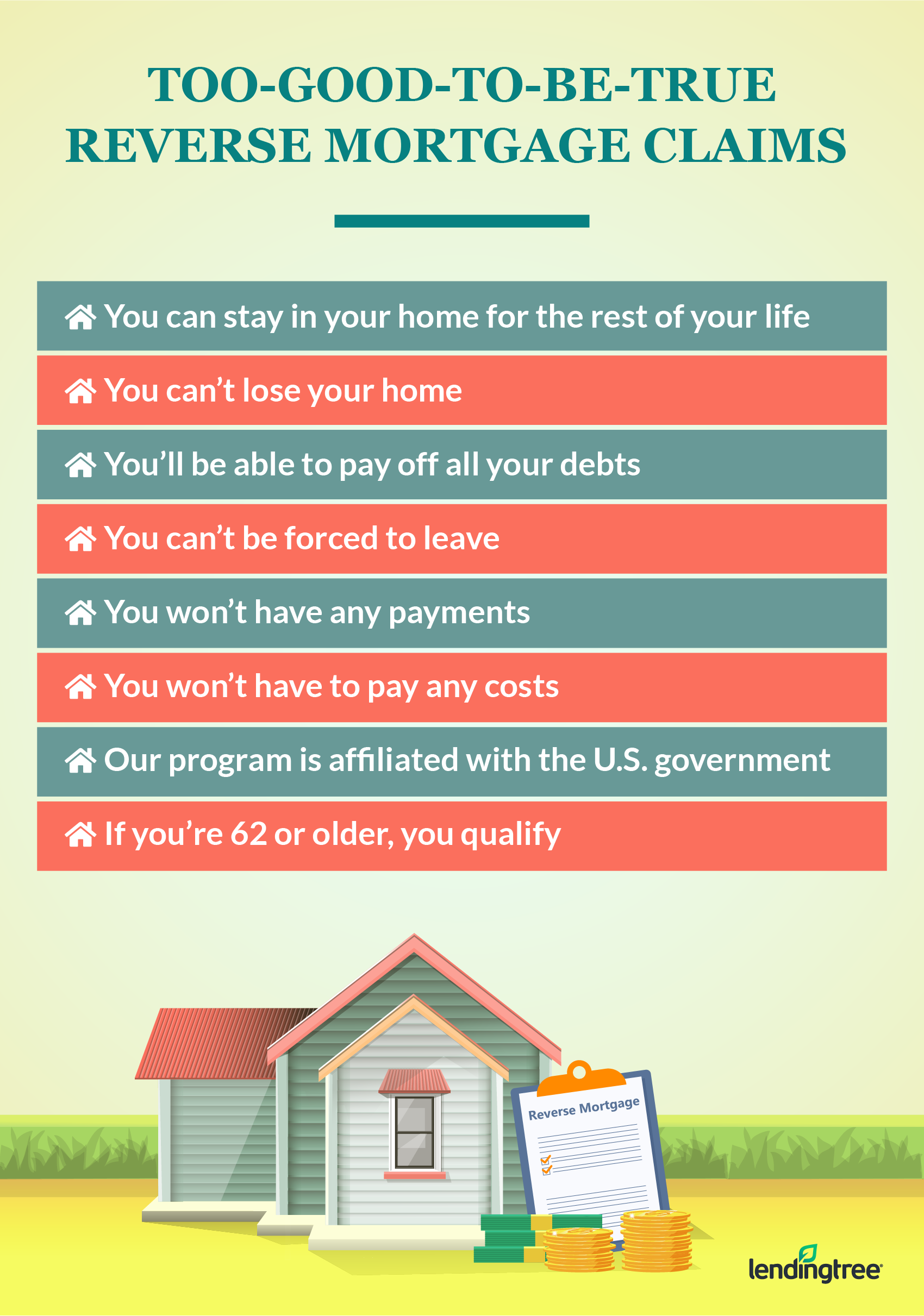 Make sure the lender is FHA-approved
Not all lenders offering reverse loans are required to be approved by the FHA. However, those that are are required to verify any applicant has been counseled by a HUD-approved agency about the pros and cons of reverse mortgages. Checking an updated list of FHA-approved lenders is a great way of researching the legitimacy of a particular organization. It can also provide you with a list of alternatives to consider.
Don't be pressured into hasty decisions
Salespeople love to create deadlines to try to get people to act. The tighter the deadline, the more you should question what they are trying to sell you. There is no reason to make a decision as serious as applying for a reverse mortgage on anyone else's schedule but your own. If you are working with an FHA-approved lender, you'll need to go to counseling with a HUD-approved agency anyway, so high-pressure sales tactics are a red flag that you aren't dealing with an ethical or legitimate reverse mortgage operation.
Don't allow a reverse mortgage to be linked to buying other services
Choosing a reverse mortgage is a completely independent decision from choices about how to use that money. Don't let a lender steer the money into products or services such as investments or home improvements without first seeing if there are more competitive options available elsewhere.
Shopping around is empowering
There is no reason you have to take out a reverse loan from the first person who approaches you. Shopping around is important. It gives you an opportunity to learn more about a particular type of product.
You'll also get a sense of what pricing and terms are generally available in the reverse mortgage market. Insisting on shopping around is a great way to slow down the process and avoid making a decision based on sales pressure.
Get independent advice before you sign
Receiving reverse mortgage counseling is part of the process of qualifying for a reverse loan. Also, do not hesitate to run any proposal by your lawyer or a family member whom you trust.
Make sure you understand all the details
There are a lot factors related to reverse mortgages that don't apply when getting a traditional mortgage. Reverse mortgages are designed with estimates of average life span and how much home values are expected to increase.
With Americans living much longer than previous generations, a reverse mortgage could have a negative impact on your financial situation much later in life or affect future heirs to the property. A sudden downturn in market values in the future could also impact the resale profit on your home as the reverse mortgage balance grows.
Be sure you look at your amortization schedule so that you know how much the loan balance will increase over time to be sure it's the best option for you.
When in doubt, back out
Even if you sign up for a reverse loan, you have three days to back out of the agreement without penalty. And it's acceptable to have second thoughts — this is known as the right of rescission. If you decide to exercise this right, notify the lender in writing and keep a copy of the notification. Send the notice by certified mail with a return receipt requested. Upon receipt of this notice, the lender has 20 days to refund the money you have already paid.
Never feel bad about being a tough and skeptical consumer. Legitimate financial professionals will respect that; the only people you will frustrate are the ones who perform reverse mortgage scams. Remember that these are people who are trying to take advantage of you.
How to report a reverse mortgage scam
The Federal Trade Commission (FTC) advises you to file a complaint if you suspect reverse mortgage fraud. You should file such a complaint in writing, and you can file it with your state's Attorney General's office, your state's banking regulator or with the FTC itself. If you suspect the lender you are dealing with is legitimate but that a representative is acting inappropriately, you should also report that representative to the lender.
Even if you didn't fall for a particular reverse mortgage scam, you should report it if you suspect one. Getting fraudulent operators shut down will help prevent other homeowners from being victimized.
Consider reverse mortgage counseling
As mentioned, anyone working with an FHA-approved reverse mortgage lender needs to first attend an educational session with a counselor, as a requirement. Since this counseling is a necessary precaution, be immediately suspicious of any lender that does not include this step.
Reverse loans have legitimate uses and can be a great benefit to seniors who may need extra income or don't have enough saved to retire comfortably, so by no means are they all part of reverse mortgage scams.
With a little research and care, avoiding reverse mortgage scams can make it easier for you to choose the right loan with the terms that are most favorable to you.
The information in this article is accurate as of the date of publishing.