What is an IVF loan?
IVF loans are personal loans for individuals or couples pursuing fertility treatment. These loans help cover expenses related to in vitro fertilization, which can be a costly endeavor.
Like most other personal loans, IVF loans are unsecured. The amount for which you can qualify will depend on your credit score, income and outstanding debts, among other things.
Costs of IVF: $17,800-$21,000
A single cycle of IVF treatment typically ranges from $12,000 to $14,000, according to Bob Huff, chief technology officer for Imagine Fertility in San Antonio. But that's not including medicines and other related costs. Huff also said most should plan to pay for at least two cycles.
Success rates vary by age and other factors. The Centers for Disease Control and Prevention found that only 24% of the 284,385 assisted reproductive technology cycles (the main type is IVF) performed in 2017 resulted in live births. Clinic costs can vary as well, said Claire Tomkins, CEO and founder of Future Family.
When considering loans for IVF, you should look at the various costs of financing the treatment.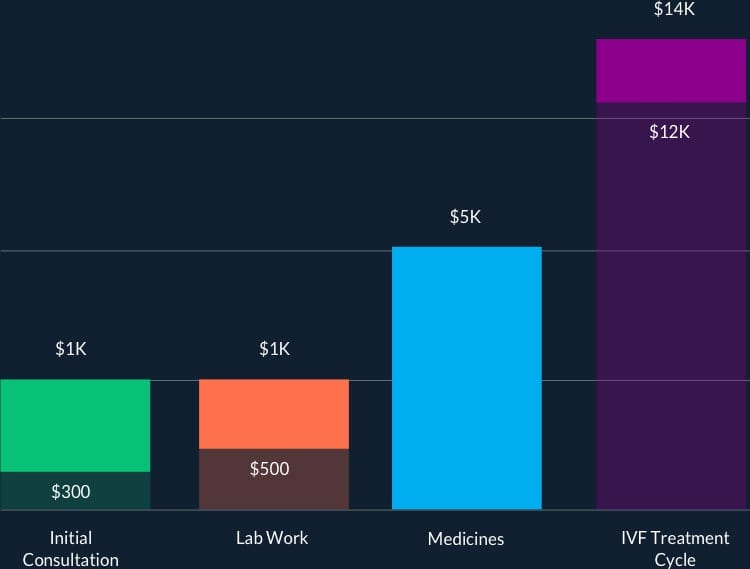 You also need to consider possible additional costs, such as genetic testing fees. Tomkins said testing can cost an extra $5,000 to $7,000.
Grants and IVF programs
Both Huff and Tomkins say it's worth checking into various grants and funding programs if you know you'll need help affording IVF. Grants and IVF programs are often based on financial need, notes Huff. But since each program has its own guidelines, there is no set limit on how much you can earn and still get help.
Firms may even consider your total financial picture before approving you for aid. If you're applying for an IVF grant but just financed a new car, for example, Huff says you might not be approved for help, even if your income is low.
Before you consider borrowing money for IVF, it's worth considering the grants and aid that is available. Here are some of the most popular grants and programs you may want to apply for: