What is an IVF loan?
Without access to grants or health insurance that covers the out-of-pocket costs of in vitro fertilization (IVF), many individuals and couples and left in a tough spot when it comes to affording treatment. Further, even people who have some assistance with the costs of IVF may need to borrow money to finance costs above and beyond the aid they receive.
In both cases, it's possible to apply for an IVF loan that will cover the expense. With an IVF loan, you're simply applying for an unsecured personal loan and saying the purpose is to get IVF treatment. Keep in mind that most personal loans come with a fixed repayment schedule and a fixed interest rate. However, the amount of time you need to repay your loan and your interest rate will depend on how much you borrow and how creditworthy you are.
With an IVF loan, as with personal loans in general, you may be able to borrow up to $50,000 (or even more) and pay it back by making fixed monthly payments up to 20 years. In addition to the interest rate you'll pay, it's important to remember that many personal loans may also come with an origination fee of somewhere between 1 percent and 6 percent of the loan balance. However, not all personal loans charge an origination fee or any other fees upfront.
Costs of IVF treatment
If borrowing money to pay for IVF treatment sounds preposterous, it's easy to see why these loans are necessary when you consider the costs of IVF treatment. According to Bob Huff, Chief information officer for Reproductive Medicine Associates of Texas, the average price tag for a single cycle of IVF treatment typically runs in the $12,000-$14,000 range.
Keep in mind though, not everyone gets pregnant during their first cycle of treatment — or at all. Huff says it's all very much dependent on how young you are and how lucky you get throughout the process.
Huff says those who pursue IVF treatment should usually plan to complete and pay for at least two cycles, although there's no way one can predict how many cycles any woman will need.
While $12,000-$14,000 is a solid average range for a cycle of IVF, Claire Tomkins, the CEO & co-founder of fertility resource Future Family, says clinic costs do vary substantially. There are added costs that not everyone thinks about, too. When you add in the price people pay for medicine and lab work, a cycle of IVF can easily surge to $20,000.
Both Tomkins and Huff note that the costs of a cycle of IVF treatment with all the extras usually falls somewhere in the ranges below: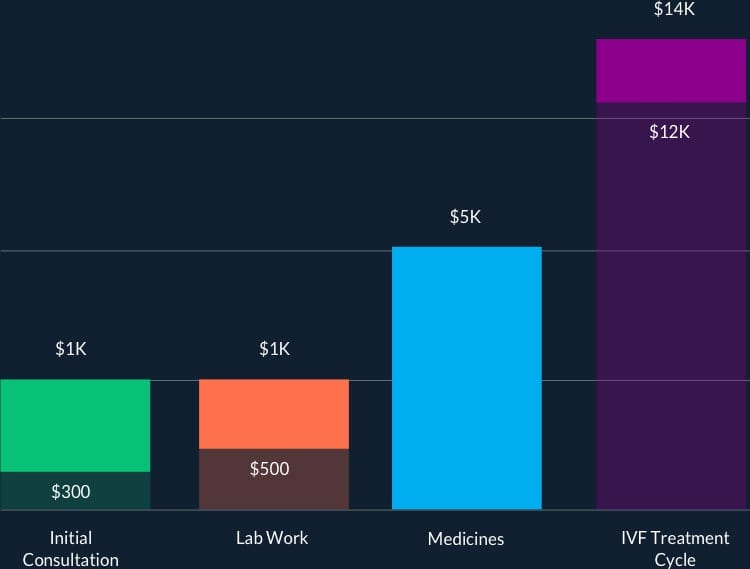 Huff notes that many patients get sticker shock when they find out just how much their medicine costs. And the issue is further exacerbated by the fact that the type of medicine a person needs to take is unpredictable and dependent on the client's age and treatment options their provider selects.
Most patients are left to try and shop for medications on their own which can range wildly from $2,000-$6,000 per treatment cycle and can vary from pharmacy to pharmacy. If a patient does have insurance benefits, the pharmacy costs alone can meet their policy maximums for infertility treatment.
Then again, the expenses listed above don't encompass everything you may need to pay for. You may also need genetic testing, says Tomkins, which can cost an additional $5,000-$7,000 as part of the IVF treatment process. "Someone might do genetic testing to see if their embryos are healthy," says Tomkins. "It can help you check to see if you're transferring a genetically normal embryo."
Since genetic abnormalities are the biggest cause of miscarriage, this type of testing can give families a greater chance at success.
When pricing out the costs of IVF, Tomkins says you should consider your all-in costs above all else.
"That's what you're actually paying," she says. So, don't price out the costs of an IVF treatment cycle without considering the price of any medicines you'll take and whether or not you need genetic testing, she says. By asking about every potential expense you might face, you'll be in the best position to borrow exactly what you need.
Grants and IVF programs
Both Huff and Tomkins say it's worth checking into various grants and funding programs if you know you'll need help affording IVF. Grants and IVF programs are often based on financial need, notes Huff. But since each program has its own guidelines, there is no set limit on how much you can earn and still get help.
Firms may even consider your total financial picture before approving you for aid. If you're applying for an IVF grant but just financed a new car, for example, Huff says you might not be approved for help, even if your income is low.
Before you consider borrowing money for IVF, it's worth considering the grants and aid that is available. Here are some of the most popular grants and programs you may want to apply for:
Financing IVF
Receiving a grant to help with IVF treatment costs would be ideal, but there's no guarantee you'll get the help you need or enough financial assistance to cover the entire costs of IVF. For this reason, many infertile couples turn to financial products like personal loans, lines of credit and credit cards to pay for their treatment.
How to responsibly borrow and get the best rate
Before you borrow money for IVF, it's important to prepare your finances and know the ins and outs of getting the best deal. Consider these steps as you progress through the IVF process:
Check your credit score.

Generally speaking, you'll need to have good or excellent credit to qualify for a personal loan. Some lenders offer personal loans to people with a credit score as low as 600, but the lower your credit score, the more likely you will have to pay a higher APR. Either way, the best first step is finding out where you stand and how your credit looks today. Fortunately, it's easier than ever to get an estimate of your credit score for free online, including right here on LendingTree.
Set an IVF treatment budget.

Tomkins says you should speak with your IVF clinic to find out all the different costs you'll need to pay. Get an itemized list and add up your total, then figure out how much you can pay yourself and how much you need to borrow. The best way to save money on IVF treatment is to only borrow what you need and not a penny more, says Tomkins.
Apply for IVF loans online.

Whether you've chosen a personal loan or line of credit for your IVF treatment expense, the fastest way to find the best deal is to compare loans and rates online. Applying for a personal loan is quick and easy, and you can often compare several different offers in one place.
Read all the fine print.

No matter which type of funding you choose, it's crucial to conduct due diligence before you borrow for IVF treatment. If you're taking out a personal loan, for example, you should read all the fine print and understand all terms and conditions before you sign on the dotted line. The same is true if you're opening a credit card or HELOC, as well.
Set up a realistic payment plan.

If you decide on a personal loan to cover IVF, you'll have a good idea of exactly how much you need to pay on your loan every month. Before you sign on the dotted line, make sure you're able to afford this amount without jeopardizing your financial life or other goals. Also keep in mind that, should your IVF treatment be successful, you will likely be juggling these payments while also covering the costs of having a new child. The best way to set yourself up for success is borrowing as little as you can and getting the lowest APR possible. If you want to get your monthly payment as low as it can go, it may even be worth it to choose a loan with a longer repayment timeline. You'll pay more interest over the long run, but you'll have lower monthly payments that are easier to afford.