How Does LendingTree Get Paid?
LendingTree is compensated by companies on this site and this compensation may impact how and where offers appear on this site (such as the order). LendingTree does not include all lenders, savings products, or loan options available in the marketplace.
Shopping Around for Personal Loans Can Save Consumers 35%
Published on: June 27th, 2018
Why use LendingTree?
We are committed to providing accurate content that helps you make informed money decisions. Our partners have not commissioned or endorsed this content. Read our .
Most consumers think there's a precise and narrow formula for how lenders calculate interest rates and annual percentage rates (APRs), but in a new analysis of offers to LendingTree users, LendingTree analysts found a wide variety of APRs offered to the same consumers, representing substantial amounts of money over the course of a loan.
The difference in APRs is especially pronounced in personal loans. We found eligible borrowers can save an average of $1,700 ($47 a month) over the course of a three-year personal loan by shopping for a lower rate — potential savings of 35%. In our analysis, we assumed borrowers took out a $10,328 personal loan for three years.
And the differences in cost only get more dramatic as the loan amounts and the length of the loan term increases, said Kali McFadden, senior research analyst at LendingTree.
"APRs on personal loans tend to run higher than they do for collateralized debt, which may account for the large spread between the lowest and highest offers consumers receive on the LendingTree platform," explained Kali McFadden, senior research analyst at LendingTree.
The takeaway is quite clear: Consumers can, and absolutely should, bargain hunt for personal loans.
Key findings:
Eligible borrowers can save an average of $1,700 ($47 a month) over the course of a three-year personal loan by shopping for a lower rate, a difference of 35%.
The range (spread) between the highest APR and lowest APR offered to the average consumer is 8.79 percentage points (879 basis points).
Consumers with lower credit scores (640 to 679) can save up to an average of $1,726 ($48 a month) — the highest savings of any credit score group in our study.
The highest APR offers for borrowers with the best credit scores (760 and over) are more than twice as high as the lowest.
Lenders offer a wide range of APRs even to borrowers with excellent credit
Shopping around for personal loans
Difference in Loan Term Offers for the Average 3-Year Personal Loan ($10,328) May 2018
Credit Score Range
Average APR Offers
Monthly Payments
Total Payments Over 3 Years
Minimum
Maximum
Spread
Minimum
Maximum
Spread
Minimum
Maximum
Spread
640 – 679
24.46%
33.01%
8.55%
$408
$456
$48
$14,678
$16,404
$1,726
680 – 719
17.19%
26.02%
8.83%
$369
$416
$47
$13,291
$14,984
$1,694
720 – 759
10.69%
19.97%
9.28%
$337
$384
$47
$12,118
$13,812
$1,695
760+
7.55%
16.38%
8.82%
$322
$365
$44
$11,575
$13,141
$1,566
All Borrowers
18.51%
27.30%
8.79%
$376
$423
$47
$13,538
$15,239
$1,701
People with excellent credit scores may feel they can always get their best rate no matter which lender they choose. But the gap between the lowest and the highest APRs offered to those with excellent credit was just as wide as the gap in rates offered to people with average credit, LendingTree found.
A person with a 760+ credit score saw a low rate of 7.55% APR and a high rate of more than double that amount — 16.38% APR. On a three-year personal loan valued at $10,328 — the average amount sought by borrowers — accepting that high rate could add an additional $1,566.11 to the cost of the loan.
The gap between the lowest and highest APRs offered to folks with excellent credit scores was 8.82 percentage points, very close to the 8.55 gap we found in rates offered to borrowers with fair credit scores (640-679).
We saw an even wider spread between APRs offered for people toeing the line between good credit and excellent credit. For people with scores between 720 to 759, there was a 9.28% gap between the lowest APR and the highest APR offered. Over three years, someone who accepted the higher rate would pay nearly $1,700 in added interest charges on their loan.
Shopping is most important when your credit score is low
Any time you're looking for a loan, comparing options is a good idea, but shopping around for your best APR is crucial when your credit score is average.
According to our findings, those with the lowest credit scores have the smallest difference, 8.55 percentage points, between the average lowest and highest APRs. The lowest average is 24.46% and the highest is 33.01% for those with credit scores between 640-679.
However, when you look at the total added costs over the lifetime of a loan, people with fair credit who don't shop around wind up paying more than any other credit band analyzed — up to $1,726.03 more. That's about $160 more than the additional cost added for those with the highest credit scores.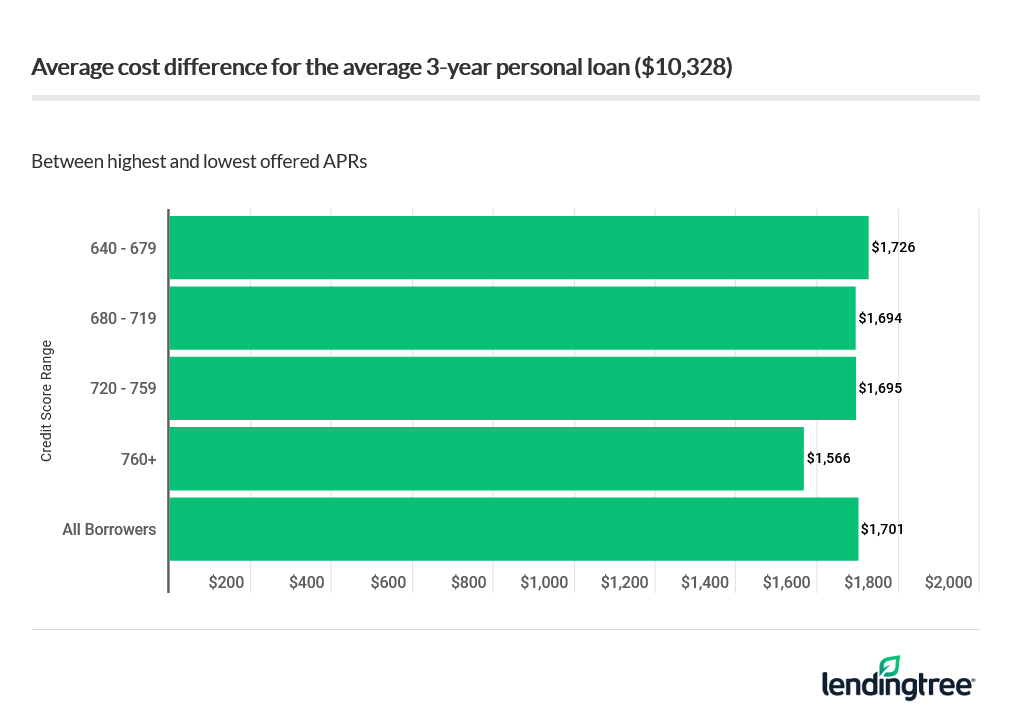 How to shop and compare personal loans
Start with your current bank or credit union. Some banks may offer competitive rates to existing customers or be willing to work with a borrower whose credit may be less-than-stellar if they have an existing relationship with them.
Don't assume the first offer you get is the only one you'll get. Our research shows that even borrowers with lower credit scores typically receive multiple offers from multiple lenders on our platform.
Compare rates at online lenders as well. There are dozens of online loan options today from Internet-only lenders. Because these banks tend to have lower overhead costs than traditional banks, they may pass those savings on to consumers in the form of lower rates and fees.
Shop for loans at LendingTree. LendingTree, an online loan marketplace, helps borrowers compare loan offers from multiple lenders at once. Fill out a short online form (it doesn't require a hard credit pull), and you could get quotes from several lenders, making it simple to compare rates.
Watch out for fees. Some lenders may charge an origination fee or a prepayment penalty. An origination fee is charged to cover the cost of processing a loan application. The fee is usually around 1% of the loan amount, but some lenders may charge far more than that. The origination fee is also often deducted from your entire loan balance before the loan is issued, so be sure to factor it into your estimate when you determine how much you need to borrow. A prepayment penalty, on the other hand, is a fee charged when borrowers pay off their loan before their loan term ends.
Have your paperwork ready. Lenders typically ask for documents like employer information, pay stubs, W-2s, tax records and even bank statements, as well as a credit check in order to qualify for a personal loan.
Methodology:
Average offered APRs and loan amount were calculated for consumers with scores of at least 640 who inquired about a personal loan in May 2018 on the LendingTree platform, where users can receive loan offers from multiple lenders. The loan amount represents the average loan amount received by personal loan borrowers in May 2018 on the LendingTree platform.