How Does LendingTree Get Paid?
LendingTree is compensated by companies on this site and this compensation may impact how and where offers appear on this site (such as the order). LendingTree does not include all lenders, savings products, or loan options available in the marketplace.
People of Color in U.S. Face Disproportionate Financial Challenges Amid Pandemic
Updated on:
Content was accurate at the time of publication.
The coronavirus pandemic has caused financial hardship for many, but it's disproportionately affecting people of color, a September 2020 LendingTree survey of more than 2,000 Americans found.
Asian, Black and Hispanic Americans are more likely to worry about paying for necessities like food and shelter during the pandemic when compared with white Americans. People of color also reported losing income and paying bills late at higher rates than their white counterparts.
See how the pandemic has affected people of different racial groups in the analysis below.
Key findings
People of color worry most about paying for food, shelter
While money isn't everything, a person's financial situation dictates how comfortably they can live. Food insecurity and housing insecurity are exacerbated in times of shared hardship like the coronavirus pandemic.
People of color in America report having a harder time affording necessities like food and shelter. While 48% of Americans as a whole worried about buying food at least once in the past two weeks, food insecurity was more prevalent among people of color:
Hispanic: 61%
Black: 55%
Asian: 53%
White: 43%
Black and Hispanic Americans worry about their ability to afford groceries at the highest rates. Respectively, 9% and 7% worried about their ability to pay for groceries five or more times in a two-week period. The following chart breaks down often Americans of different racial groups worried about their ability to buy groceries since the pandemic began.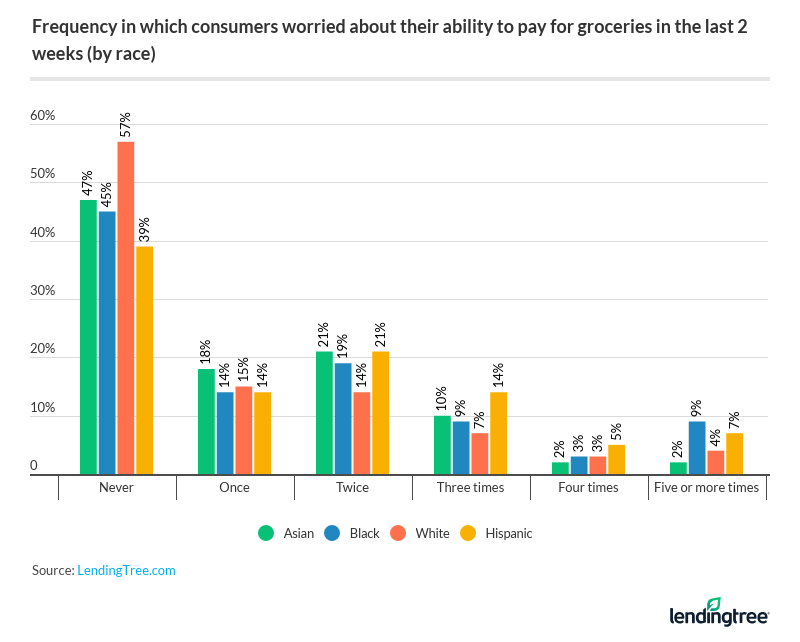 People of color also had a more difficult time affording housing costs. Our survey found that 46% of all Americans worried about their ability to pay their rent or mortgage during the pandemic, and white respondents experienced this feeling at a much lower rate:
Hispanic: 58%
Black: 56%
Asian: 51%
White: 38%
While only 16% of Americans as a whole report that they've worried about their ability to pay rent or their mortgage during every month of the pandemic, about a quarter (23%) of Black Americans said the same.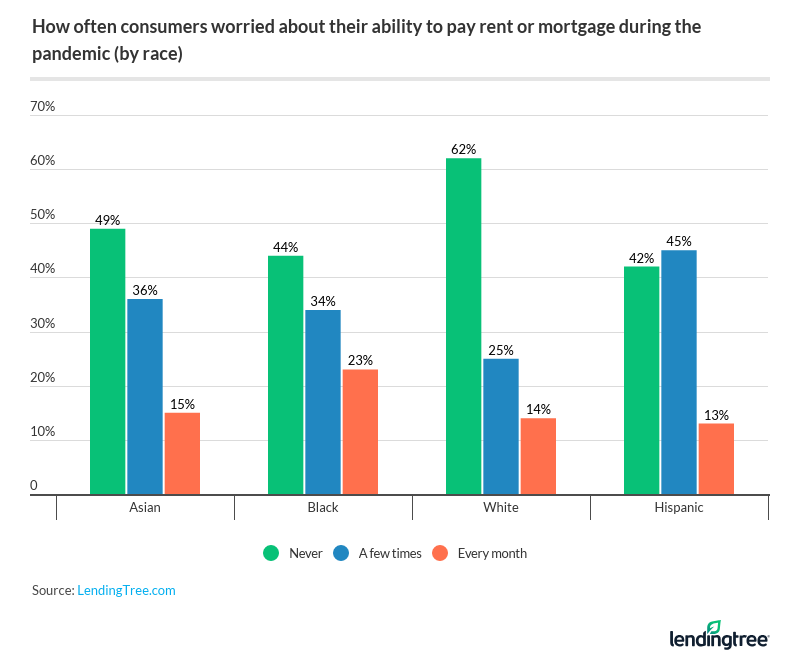 Need help? If you're worried about being able to pay your mortgage or rent due to the coronavirus pandemic, explore your relief options.
White Americans were less likely to lose income due to the pandemic
Between furloughs, layoffs, reduced pay and reduced hours, the coronavirus pandemic has had a tangible impact on the earning potential of many Americans. Affected families have had to adjust to the reality of tighter budgets and less household spending.
Comparatively, people of color have lost income at higher rates than their white counterparts. Six in 10 Hispanic Americans have lost at least some part of their income due to the pandemic, compared with less than half of white workers, for example.
'No one in my household lost income due to the pandemic'
Asian
50%
Black
44%
Hispanic
40%
White
52%
Source: LendingTree
White Americans are least worried about their ability to pay bills
White Americans are far more confident in their ability to pay upcoming bills than people of color. About three-quarters (73%) reported that they will definitely be able to pay all their bills due in the next month, compared with 56% of Asian Americans, 49% of Black Americans and 42% of Hispanic Americans.
Black and Hispanic Americans were also twice as likely as whites to respond that they would definitely not pay all of their upcoming bills in full. See a detailed breakdown below: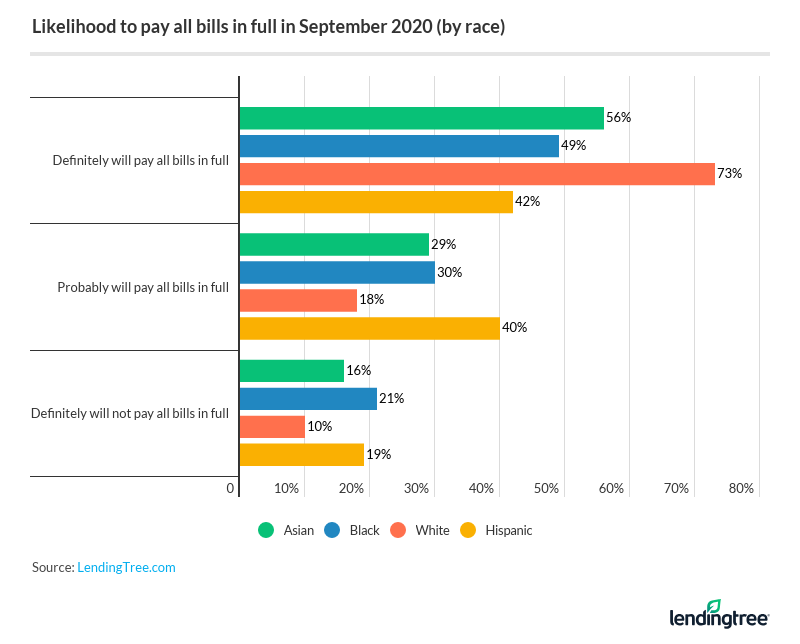 In addition to considering the ability to pay next month's bills, we also asked respondents if they made any late payments on past bills. Just under half (49%) of Americans have made a late payment on their bills since the coronavirus pandemic began. For Black and Hispanic Americans, that number is higher: about 63% and 60% respectively were forced to make a late payment at least once.
Since March 2020, how many times have you made a late payment on your bills?
Asian
Black
Hispanic
White
Never
60.0%
36.8%
40.4%
55.8%
Once
15.8%
21.0%
14.6%
15.1%
Twice
13.3%
21.2%
18.1%
13.8%
Three times
5.5%
11.4%
17.0%
7.8%
Four times
1.8%
2.8%
4.7%
3.3%
Five+ times
3.6%
6.7%
5.3%
4.2%
Source: LendingTree
Blacks, Hispanics looked for other jobs at a higher rate
As a way to mitigate lost or reduced income from their primary jobs, some workers have signed up for side hustles like grocery and food delivery. Others have had to find new or higher-paying jobs just to make ends meet. People of color have had to look for another job at a higher rate than white Americans:
Asian: 12%
Black: 18%
Hispanic: 17%
White: 9%
Workers in the Black and Hispanic communities have been most affected in this way; they're searching for another job at a rate that's twice as high as whites.
Child care costs weigh most heavily on women of color
Schools are still remote in many parts of the country, which leaves working parents with a choice: Do you pay for child care or risk losing income by staying at home to care for the kids?
Our survey found that many parents worry about the cost of child care amid the coronavirus pandemic, but Black, Hispanic and Asian mothers are much more likely to experience anxiety over the matter than white mothers.
Percentage of women that have worried about child care in the past 2 weeks
Asian
51%
Black
45%
Hispanic
50%
White
28%
Source: LendingTree
Hispanic, Black Americans report to work on-site at higher rates
The most effective way to stop the spread of COVID-19 is to avoid exposure to the coronavirus by staying at home and practicing social distancing. While many people have the option to work remotely, some Americans have jobs that must be done in-person. For people who have to report on-site, it's impossible to avoid at least some risk of exposure, if they want to get paid at all.
Just over a third of Americans are currently working from home, our survey found, but white and Asian Americans have the opportunity to work remotely at higher rates than Black and Hispanic Americans.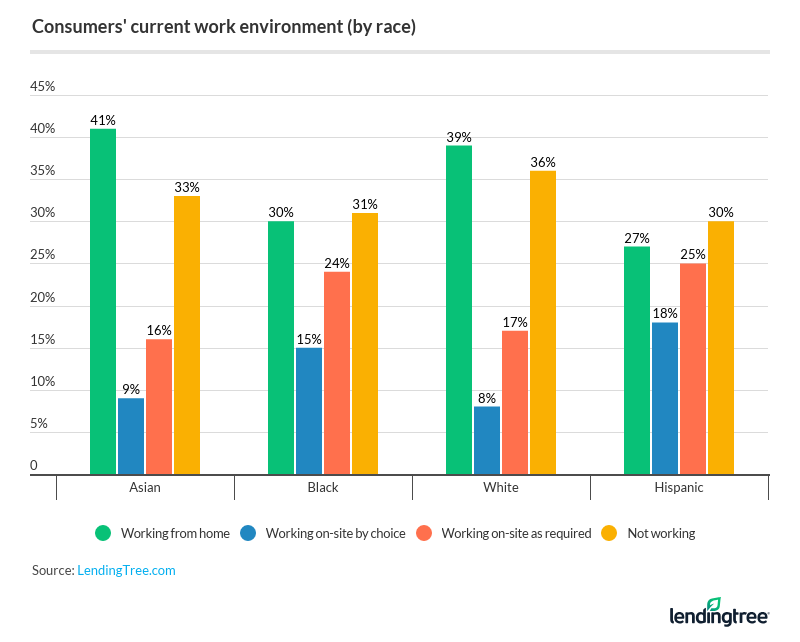 White respondents are "not working" at the highest rate, 36%. However, whites are the least worried about affording food and shelter. Conversely, people of color answered that they are working at slightly higher rates, but that they're still having a harder time paying bills.
Methodology
LendingTree commissioned Qualtrics to conduct an online survey of 2,011 Americans, with the sample base proportioned to represent the overall population. The survey was fielded Sept. 4-11, 2020.