Car Value: Learn How to Determine a Cars Value
As you shop for a car or consider selling your own, you may find that a single vehicle model can have a breadth of prices. This can make it difficult to know precisely what any single car is worth.
But you can learn how to determine a car's value. Here's where to start.
Car valuation tools
Quick shopping tools
Kelley Blue Book and the Black Book
Vehicle history reports
Independent mechanical inspections
How to show the value
Car valuation tools
As with most things, you have to have the right tools to get the job done. The following tools can help you compare cars, hunt down vehicle history reports or refinance.
Car-shopping tools: From Edmunds to the Black Book
Websites such as Edmunds and Cars.com are user-friendly for car buyers. When you look up car listings, the search results page will feature icons that reveal whether a vehicle's price is fair, good or great. If there's no icon indicator, it probably isn't a deal. See this example from Edmunds.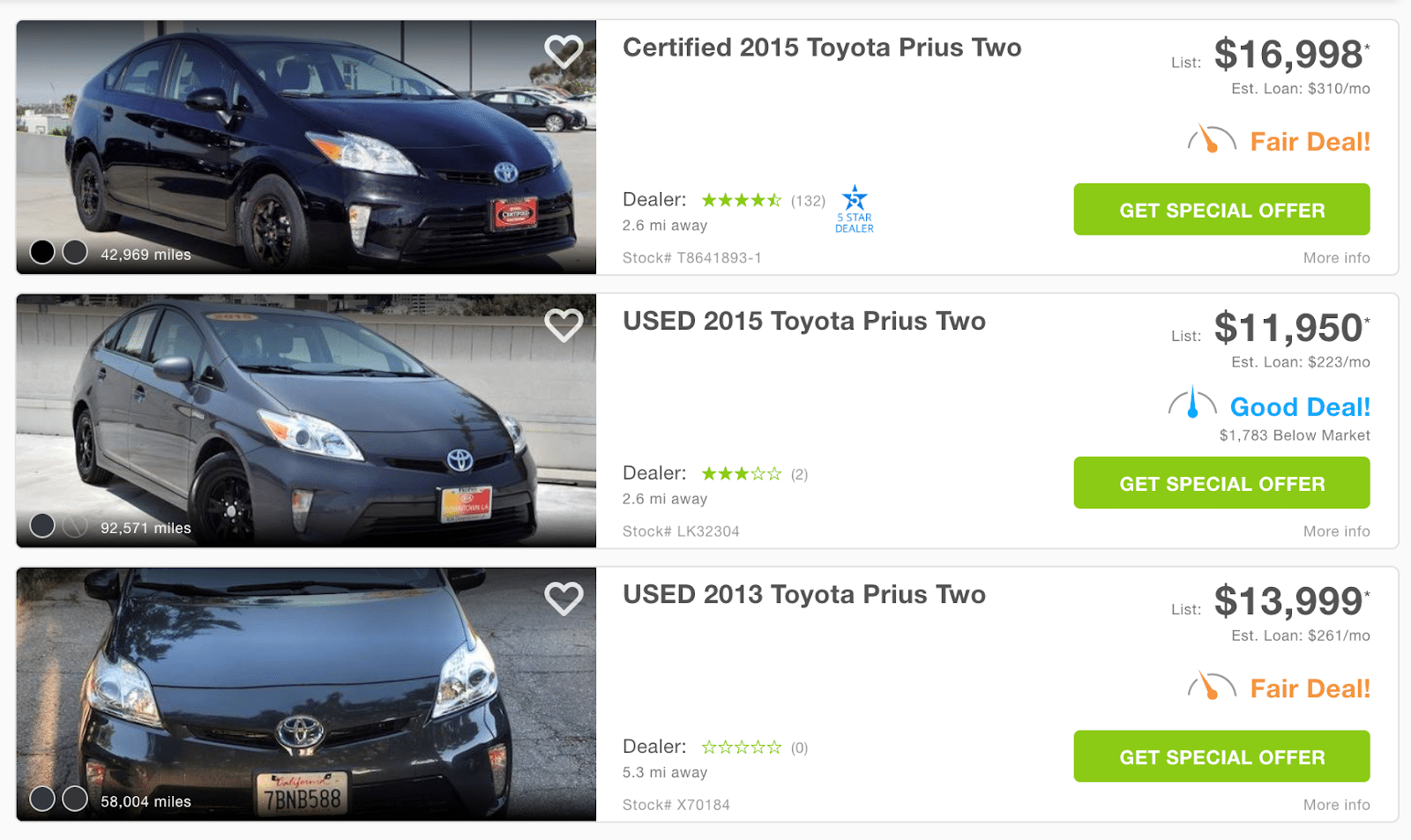 Source: Edmunds
There are many websites out there, though. Here's a lowdown of the ones we chose as the best online car-buying sites. Whether or not your favorite auto site reveals how competitive the pricing is, you should still look up the "bookout" value for each car you're considering (discussed in the next section). This value is the standard lenders use to largely determine a car's worth.
Industry staples: Kelley Blue Book (KBB) and the Black Book
The auto and auto lending industry standard tools for determining car value are KBB and the Black Book by the National Automobile Dealers Association (NADA). Both are free online tools for car valuation.
Lenders often use one or the other to determine what a car is valued as and set it as the benchmark for the loan amount. This value is called the bookout, as it comes from either KBB or the Black Book.
There is a range of bookout values depending on the condition and age of the car, and who is selling or buying it. You can look up values for a trade-in, a car sold at a dealership or a car sold by a private party.
Should you use KBB or the Black Book? Different regions of the U.S. favor one over the other. For example, the mid-Atlantic Coast favors KBB and the Gulf Coast favors NADA's Black Book. Lenders typically choose the one they think is more accurate.
But there should be little difference in the valuation these two sources provide. And pulling up pricing on either site only takes a minute.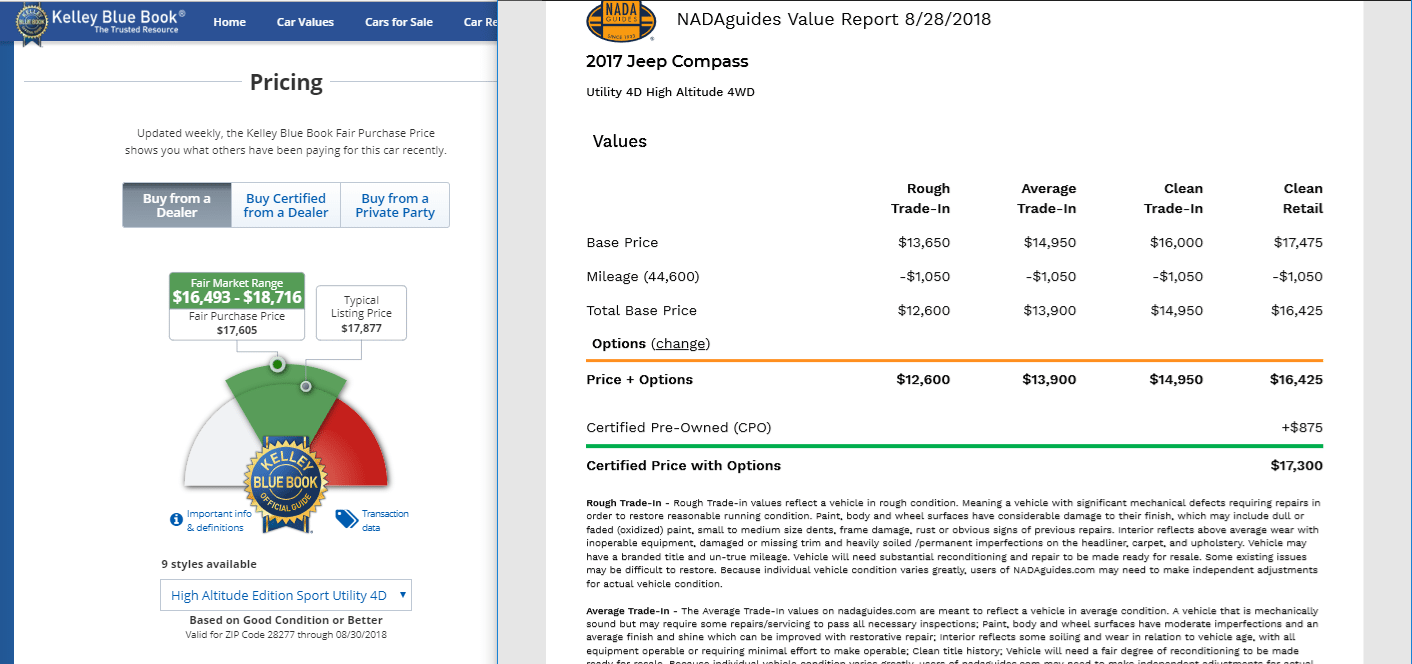 Both Kelley Blue Book and NADA give multiple value options and their "fair purchase price"/"clean retail" value on a selected car are almost the same: $16,493 to $16,425.
Source: KBB.com and NADAguides.com
Using these car-buying tools
If you're looking to buy a car. Compare the bookout value to the selling price and bring it up as a negotiating point if the sale price is greater. The bookout value is a benchmark and an industry standard; all dealerships will know what it is.
The current seller did not necessarily pay the relative bookout value to buy the car (if they did, it's not your problem). You should not pay over the appropriate bookout value to buy the car. This could also help you get better loan offers, as it could help prevent you borrowing more than what the car is worth.
Once you've done your research on cars, don't forget to research your car loan as well. Apply to multiple lenders such as your bank, credit union or online lender. It does not hurt your credit score to apply to multiple lenders any more than it does to apply to one lender as long as you do so within a 14-day window. And our auto loan marketplace could streamline the process for you. Filling out one online form could net you up to five potential auto loan offers.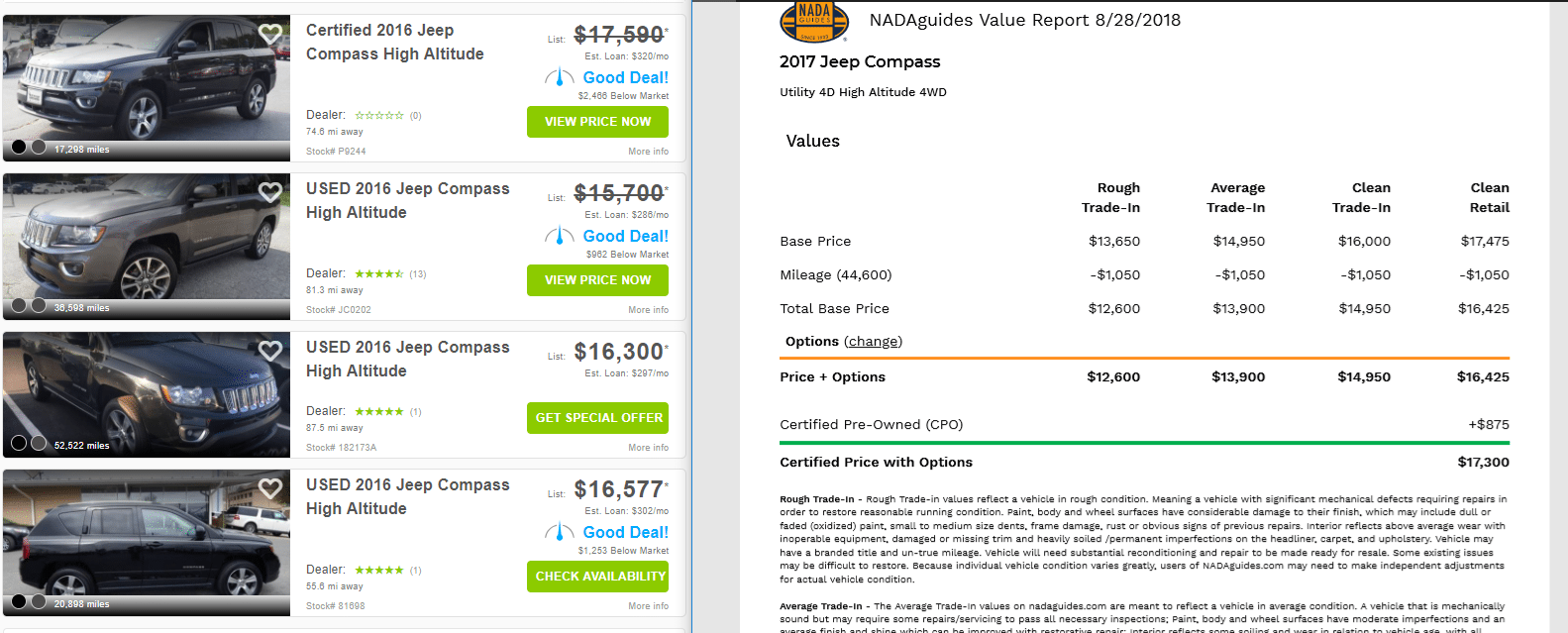 Go from a car shopping site to a car value site to see if what's advertised is actually a good deal. Here a "clean retail" value is $16,425, so two out of four prices shown are more than what you should pay.
Source: Edmunds.com and NADAguides.com
If you're looking to refinance your car. Potential refinance lenders will take the bookout value as how much the car is worth and compare it with what you owe on your current loan (which is called the buyout). The less you owe compared with the value, the more likely you are to get favorable refinance offers.
When you're ready to look for refinancing loans, you could check out our auto refinance marketplace, where you can fill out one online form to potentially receive multiple offers.
If you're looking to repair your car. If it's going to cost a few thousand to repair your car, and your car is only worth $10,000 as a trade-in, you might want to go ahead and trade it in rather than fix it.
If the cost of the repair is relatively small compared with what it's worth, then it may be advantageous to get the repair. If you need a small loan to do so, we offer a personal loan marketplace where you could search for the best deal.
Vehicle history report services: Find out what's in your car's past
Ranges from $0 to $40
Could provide value-impacting information from the car's past
A vehicle history report is important to look at when you're serious about buying a car. Bookout prices are based on location, model, mileage and what similar cars sold for in the same area. They do not consider a specific car's history.
If your car of choice was in an accident or damaged by a storm, its value will be less than the regular bookout value, and the vehicle history report should show the damages. It will also show how many owners the car has had. If it had multiple owners within a short time frame (such as four in two years), it usually means the car has had major or multiple problems. Both cases mean you should pay less than bookout value for the car or not get the car at all, depending on the exact circumstances.
Dealerships usually offer vehicle history reports for free. The industry standard provider is CarFax, which is also the most expensive. AutoCheck and the National Motor Vehicle Title Information System are alternative sources.
Independent mechanical inspections: Getting a car expert's opinion
In the case of used car buying, a vehicle history report tells you how the car's past impacts its value. But an independent mechanical inspection can tell you how its future impacts its value.
For example, you may find out that a car's $2,000 brake system will need to be replaced within a year. With that information, you could go back to the seller and ask them to either replace the brakes now or take $2,000 off the selling price.
Even if the mechanical inspection turns up with no problems, it can provide you with peace of mind.
What to do after researching cars
For each part of your research, you may want to bring copies of it with you to the dealership, along with your auto loan preapprovals. Print out or have screenshots on your phone of the following:
Online prices posted, because online prices can differ from the sticker prices on the cars
The KBB or NADA's Black Book values
The vehicle history report, if you got a report yourself
Any mechanic report and estimation of repair
Bring these along with you for each of the cars you want to look at. They can serve as valuable references for yourself and as proof to the seller that there is a reason the car's value is lower, meaning the price should be lower as well.