How Does LendingTree Get Paid?
LendingTree is compensated by companies on this site and this compensation may impact how and where offers appear on this site (such as the order). LendingTree does not include all lenders, savings products, or loan options available in the marketplace.
What Is a Private Party Auto Loan and How Do You Find One?
Updated on: March 25th, 2020
Editorial Note: The content of this article is based on the author's opinions and recommendations alone. It may not have been previewed, commissioned or otherwise endorsed by any of our network partners.
A "private party auto loan" sounds a bit mysterious and exclusive, but it's not. It's a loan for buying a used car from an ordinary person instead of a business like a dealership. You can usually save money on the car this way, but your loan might be more expensive.
Buying and selling a car privately can be a smart way to avoid dealer markups, but it also means taking on some risk. Not all banks, credit unions or online lenders finance these cars and when they do, they will most likely charge a higher APR. The good news is there are ways to minimize the risks and find a lender with the best private party auto loan for you.
How does a private party auto loan work?
To get an auto loan for a vehicle from a private seller, we recommend the following steps:
1. Check your credit score.
You can use LendingTree to check your credit score for free. It's quick, simple and could give you an idea of what type of interest rate and approved loan amount you might expect.
2. Set a budget.
Don't overspend on the vehicle. Buying from a private seller is typically less expensive than buying from a dealer, but it won't help you if you can't afford the payments. Check out our car affordability calculator.
3. Find a car.
The type, age and mileage of the car you want will play heavily into the private party auto loan offer you may receive. Here are the steps to buying a used car.
4. Get auto loan quotes.
You can't choose the best loan for you if you don't have a few options, so check to see if your bank, credit union or online lender offers private party loans and apply, ideally with more than one.  You could fill out an online form at LendingTree and get up to five potential auto loan offers from lenders, depending on your creditworthiness.
5. Finalize the loan.
Once you accept an auto loan offer, the lender may send you or the seller a check, or it may do a direct deposit. It may take a few days to complete the deal, so make sure the seller is willing to accommodate this timeline and that they've done their part if they have an outstanding loan on the vehicle. Read more about what to do in that situation, below.
6. Transfer ownership.
This step varies greatly depending on your state. Check with your state's Department of Motor Vehicles to find out what to bring and where to go in order to make sure you and the seller have properly transferred ownership and paid any necessary fees.
7. Set up payments.
You may want to set up automatic payments with your new lender, but no matter how you pay, make your auto loan payments on time and in full in order to avoid any penalties and keep — or build — a solid credit history. Here are 11 hacks to pay off your auto loan faster.
What to watch out for in a private sale
Plenty of people have horror stories about cars they bought from dealerships. So while you should not feel intimidated about buying from an individual, there are things you should consider first.
Consumer protections
A private person selling private property may not be subject to the same state and federal laws regarding consumer protections that dealers must follow. That means in most cases you're buying the car "as is." Many states do not require individuals to ensure that their vehicles will pass state inspection or carry a minimum warranty before they offer them for sale though it's possible the car may be covered by a manufacturer's warranty or an extended warranty. It's a good idea to research what protections are available to you through your state's attorney general.
Once you understand the risks, take a close look at:
The seller
It's not rude to ask for a photo ID of the seller and match it to the name on the car's title. You should be sure that the person who is selling the car is the legal owner of the car. You could take a photo of the ID and the title together for your records.
What if the seller has an outstanding auto loan?
If the seller still owes money on the vehicle they're selling, your lender will most likely request what's called a payoff, which shows exactly how much it would take to pay the vehicle off and release the loan. Any liens on the vehicle must be paid in full before you can acquire legal ownership. When you buy the vehicle, your lender will pay off the old loan and give any remaining value to the seller.
Example:
If you're buying a vehicle from a private person for $5,000 and the person still owes $4,000, your lender would pay off the loan and give the remaining $1,000 to the seller.
If you want to see if there's a lien on the vehicle you'd like to buy, look at the vehicle's title or run a search on your state DMV's website with the vehicle identification number (VIN).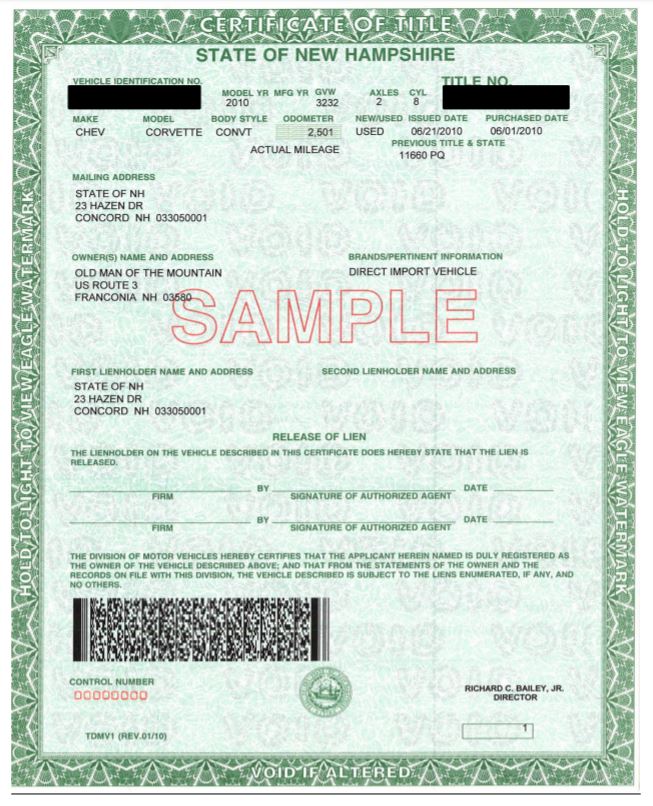 The vehicle
Just as you should match the seller's name to the name on the title, you should match the car's VIN to the VIN on the title. Here are other things to pay attention to:
History. Consider asking the seller for a vehicle history report or buying one yourself from a source like CARFAX. You could also check for recalls at SaferCar.
Value. Make sure you're not paying too much for the car by looking up the vehicles' value. Websites such as Kelley Blue Book, Edmunds and NADAguides are free to use online and value a car based on the make, model, year, mileage and condition.
Condition. Before inspecting the car in person, research online for common problems with the vehicle you're interested in buying. Early tire wear, a leaky sunroof or surprise rusting — one of the worst types of surprises — are the types of things to watch out for. In person, look for any white, blue or black exhaust smoke and check the oil as a litmus test for possible engine damage. It should go without saying, but test-drive the car, paying close attention to performance and any odd sounds. If you have any doubts or just want the peace of mind, consider paying a mechanic to inspect it.
Where to get a private party auto loan
Financial institutions from large banks to local credit unions to online lenders may offer private auto loans. Not all lenders do. For example, Capital One only offers financing on new and used vehicles bought from the dealers with which it partners. Again, be aware that some lenders may have vehicle age and mileage restrictions, such as a car must be within 10 model years with less than 120,000 miles. Lenders may also have a minimum loan amount.
Examples of private party auto loan rates
Lender
Starting APR*
Bank of America
5.79%
LightStream
3.49%
First Credit Union
3.79%
*May require certain loan amount and/or term
Are there private party auto loans for bad credit?
You bet! Even if your credit score is below par, you can still shop around for the best private party auto loan. Take a look at car loans for bad credit.
As with all bad credit loans, you'll face higher interest rates than those with the strongest credit. Provided you have a few months time, it could be possible to get your score into good shape before you make your application. You won't go from subprime to super-prime in that time, but you might move into the approvable range and shave something worthwhile off your interest rate.
Alternatives to private party auto loans
If you or your vehicle don't meet requirements for a private party auto loan and you don't have enough cash to pay for the car outright, the go-to alternative is a personal loan. In an unsecured personal loan, the lender doesn't take what you're buying into consideration, only your income and credit. This can help you if the private party car loan didn't work out for reasons such as the following:
The vehicle has more miles or is older than the lender allows.
You're purchasing a vehicle with a salvage title.
You want to borrow less than the minimum loan amount.
The biggest downside to personal loans versus auto loans is that personal loans usually have higher interest rates than auto loans because they are not backed by anything other than the borrower's promise to repay.
The other alternative is to borrow from a private person rather than a financial institution. However, we often caution against this; mixing friends and finances can lead to bad feelings.
Is a private party auto loan worth it?
You can usually get a car for a lot less money from a private seller than from a dealer's car lot. But there are risks and inconveniences: You may not have much recourse if you buy a lemon car and without a dealer, you'll have to do the DMV legwork yourself.
To minimize the downsides, boost your credit if you have time, shop around for your best auto loan rates and make sure the vehicle you want to buy is in good condition.