How Does LendingTree Get Paid?
LendingTree is compensated by companies on this site and this compensation may impact how and where offers appear on this site (such as the order). LendingTree does not include all lenders, savings products, or loan options available in the marketplace.
Most Expensive Cars to Maintain
Published on: October 21st, 2019
Why use LendingTree?
We are committed to providing accurate content that helps you make informed money decisions. Our partners have not commissioned or endorsed this content. Read our .
The joy of car ownership can turn to dread when you have to reach into your wallet to pay for repairs. Maintenance is a part of car ownership, but you may be able to avoid hefty repairs by choosing the most reliable vehicle you can afford. We graded the most expensive cars to maintain by a trouble score devised from reliability studies by J.D. Power and Consumer Reports. The more reported problems, the more expensive the problems, the higher the trouble score for that particular brand. For a more detailed explanation of our methodology, refer to the last section in this article.
The most expensive cars to maintain 
Methodology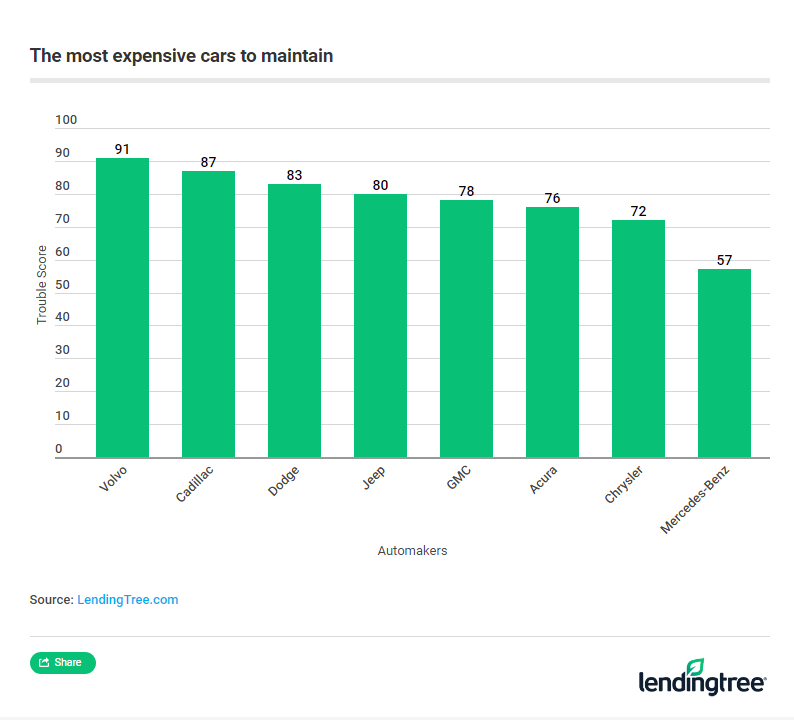 The most expensive cars to maintain
Trouble Score 91 out of 100
Sticker price range: $33,700-$54,550
Volvo tops the list with the highest trouble score, which indicates it frequently needs repairs. Typically, these repairs aren't cheap. All Volvos are European exports to the U.S., meaning replacement parts and repair know-how are less common and more expensive. Most complaints on car forums about Volvo repairs involve transmission issues, which can cost around $4,000 in parts and labor to replace.
However, this may change in the not-distant future. Volvo broke ground in 2015 to build its first American car factory in Ridgeville, S.C., and it expects to start producing vehicles domestically in 2022.
Trouble Score 87 out of 100
Sticker price range: $34,795-$94,895
A classic American luxury car, Cadillac is currently used for the presidential motorcade. But if you want to give off a presidential aura, some of that power and confidence needs to come from having a large wallet. Cadillac has the second-highest trouble score, at 87.
Indicative of this, the National Highway Traffic Safety Administration (NHTSA) issued a recall beginning Sept. 27, 2019 for a brake problem on the Cadillac Escalade 2014-2018 models. However, you should remember all recalls are repaired free-of-charge to customers. It's the non-recall repairs that will cost you. Based on consumer complaints, the Cadillac SRX can be particularly troublesome, with headlight issues costing an average of $1,600 to fix.
Trouble Score 83 out of 100
Sticker price range: $23,245-$30,445
The first automaker on the list that is not a luxury brand, Dodge specializes in muscle cars. The sticker price range above reflects the base MSRP on the lowest trims of its vehicle models, but going up in trim can more than double the price. Take Dodge's flagship SRT Hellcat trim, for example, which has an MSRP of $67,495.
Whichever trim you select, all that muscle can cost a lot to repair if something goes wrong. Dodge doesn't have the best track record for reliability either, with a trouble score of 83. The 2018 AWD Dodge Charger, for example, had four recalls to address problems, including the drive shaft falling out of the vehicle.
Trouble Score 80 out of 100
Sticker price range: $22,095-$33,545
The second non-luxury automaker on this list, however, Jeep has a specialty — off-roading. Don't be fooled by the low price range, though, as Jeeps can be expensive as you go up the trim levels. For example, the High Altitude trim of the Grand Cherokee, Jeep's most popular model, can be $48,240 without any added packages.
Jeep has had issues with certain models not letting up on the gas, which can be a big problem. According to the NHTSA, the 2018 Grand Cherokee has five recalls, which include the floor mat trapping down the accelerator pedal and difficulties canceling cruise control.
Trouble Score 78 out of 100
Sticker price range: $21,500-$70,500
GMC is famous for its pickup trucks. On forums, the most reported problems on the GMC Yukon are only cosmetic, such as the upper dashboard cracking. GMC's more popular Sierra 1500 pickup, though, has complaints that are more worrying and suggest more expensive maintenance, such as the four-wheel drive malfunctioning and the AC failing. However, the 2019 GMC Sierra 1500 4WD has only one recall, which is for the passenger air bag.
Trouble Score 76 out of 100
Sticker price range: $25,900-$157,500
The only Japanese brand on this list, Acura is the luxury offshoot of Honda. Acura offers supercars that top out at 191 mph as well as more classic luxury sedans.
On forums, the most commonly reported problems on the Acura TL are mainly about check engine lights and transmission failure.  The 2019 Acura TLX has two current recalls, both of which involve engine stalling.
Trouble Score 72 out of 100
Sticker price range: $26,985-$40,245
While Fiat-Chrysler as a conglomerate company owns many brands, including Dodge and Jeep, Chrysler does have its own branded vehicles. Perhaps its most popular model is its minivan, the Pacifica, which is the only one on the market offered as a hybrid.
That said, Chrysler's minivans do have some issues. The 2019 Pacifica has two recalls, both involving engine stalling, which can result in a collision. Its older model of minivan, the Town & Country, has more than 855 reports of gear shifting issues on model years 1990 through 2016.
Trouble Score 57 out of 100
Sticker price range: $32,500-$170,570
A German manufacturer known for its engineering quality, Mercedes-Benz produces vehicles that turn heads. Maintaining one could also turn your wallet inside out.
This expense is not because Mercedes-Benz vehicles break down often nor because of any particular major problem. It's because parts — even those for normal things that you expect to replace over the life of the car — are very expensive. For example, brake pads for a 2017 GLE350 can cost $373, compared to $34 for a 2017 Lexus RX350.
Methodology
Car trouble score. Our ranking was determined by a car trouble score based on reliability rankings from both J.D. Power's 2019 U.S. Vehicle Dependability Study and Consumer Reports. While recalls did not affect the brands' overall ranking on our list, we did mention them to provide color on the number and types of issues common to each brand.
The reliability study from J.D. Power is based on reported problems from 32,952 original owners of three-year-old vehicles, categorized by type, severity and other factors. See this for further information on the methodology.
The reliability study from Consumer Reports was based on survey data collected from 470,000 CR members who revealed the type, severity and number (if any) of problems their car had. CR then ranked the brands based on this information. See this for further information on the methodology.
In total, J.D. Power ranked 31 car brands and Consumer Reports Ranked 28. If a car brand was ranked first in these reports, it had the fewest reported problems; if it was ranked last, it had the most reported problems. All brands included in our ranking were ranked by both sources.
To come up with a trouble score, we turned each automaker's ranking into a decimal point for each study, averaged them and multiplied them by a hundred, rounded to the nearest tenth.
For example, Volvo was No. 29 out of 31 in JD Power, which is a decimal of 0.94, and No. 25 out of 28 in Consumer Reports, which is a decimal of 0.89. Averaged, it equals 0.915, times 100 and rounded, it has a trouble score of 92.
Again, recalls did not affect the score. We only mention recalls in our write-ups to provide color on the number and types of issues.
Price ranges. Price ranges provided in the article are the base MSRPs of the least expensive model and most expensive model offered by each brand for the lowest trim, not including any trim upgrades, additional features or packages that may be available. Prices are accurate as of publication.