What Does It Cost to Repair Car Body Damage?
Published on: July 18th, 2019
Body repairs can range from small dings and dents to massive repairs. Repair costs can vary widely. Most estimates put the cost to repair body damage anywhere from $50 to $7,500 or more. Factors that affect the cost include:
Extent of the damage
Make and model
Model year
Where you're getting the body work done
Familiarizing yourself with the common costs and process of car body repairs will help you prepare for the unexpected when you're already dealing with typical car ownership costs.
Understanding your car's body damage and the potential cost
While body damage can happen anywhere, there are a few types of repairs that many body shops see on a regular basis. They include:
Bumper damage, either front or rear
Door damage
Windshield damage
Paint damage
These types of body damage can happen as a result of minor fender benders, parking lot scrapes or texting-while-driving accidents. In general, the more severe the accident and the resulting body damage, the more you'll end up paying for these kinds of repairs.
One thing to keep in mind is that some repairs may be covered by insurance, depending on the extent of the damage and the insurance coverage that you or the person who damaged your car may be carrying. In some cases, your insurance might cover the cost of replacing a windshield or fixing a bumper, and it shouldn't impact the cost of your premiums. It pays to evaluate your car insurance every year to ensure that you have the right coverage.
Before you commit to having your car repaired at a particular body shop, gather a few estimates so that you can get a better handle on the cost before settling on a particular shop.
4 factors that affect the cost to repair car body damage
Every accident is different and it can be difficult to put a hard number on the costs of repairing car body damage. While there are steps you can take to minimize car repair costs, body repair is not really something you can anticipate. In general, the cost to repair body damage can range from as little as $50 to thousands of dollars.
The following factors can affect your individual costs to repair car body damage:
Car make and model: In general, newer, luxury brand vehicles tend to cost more to repair.
Type of damage: The more extensive the damage, the more you can expect to have to spend to repair it.
Location: Depending on where you live, a good body shop may be hard to find, or you may be limited to a small number of shops that do the kind of work you need, making repair costs higher.
Chosen repair shop or mechanic: Most mechanics and body shops tend to specialize in different vehicles or different types of repair, and there are a variety of repair shops to choose from. You can choose to take your car to a dealership, a specialized body shop, an independent body shop or a paintless dent removal shop. If you have a unique vehicle or a vehicle with unique features you can expect to have to spend more to get it repaired.
These factors may be difficult to control. But there's one aspect you have control over: how well you maintain your vehicle. That could affect repair costs.
Following the automaker's recommended maintenance schedule can help you avoid costly repairs. Having services performed that aren't recommended by your vehicle's manufacturer should also be avoided.
Taking your car to a dealership instead of an independent repair shop can affect how much you pay for repairs. And not in a good way. Independent repair shops are more likely to bargain and have competitive pricing than dealerships. Car repairs can also be more costly if they relate to a major car part, like an engine or transmission. Additionally, if your car has advanced technology like automatic cruise control, parking sensors, or advanced safety systems, body damage will likely affect these systems. You should also factor in the cost of replacing or repairing these systems when considering the cost of body repairs.
Car body repair estimates by type
All this aside, here's a breakdown of what you can expect to pay for the most common types of body repair.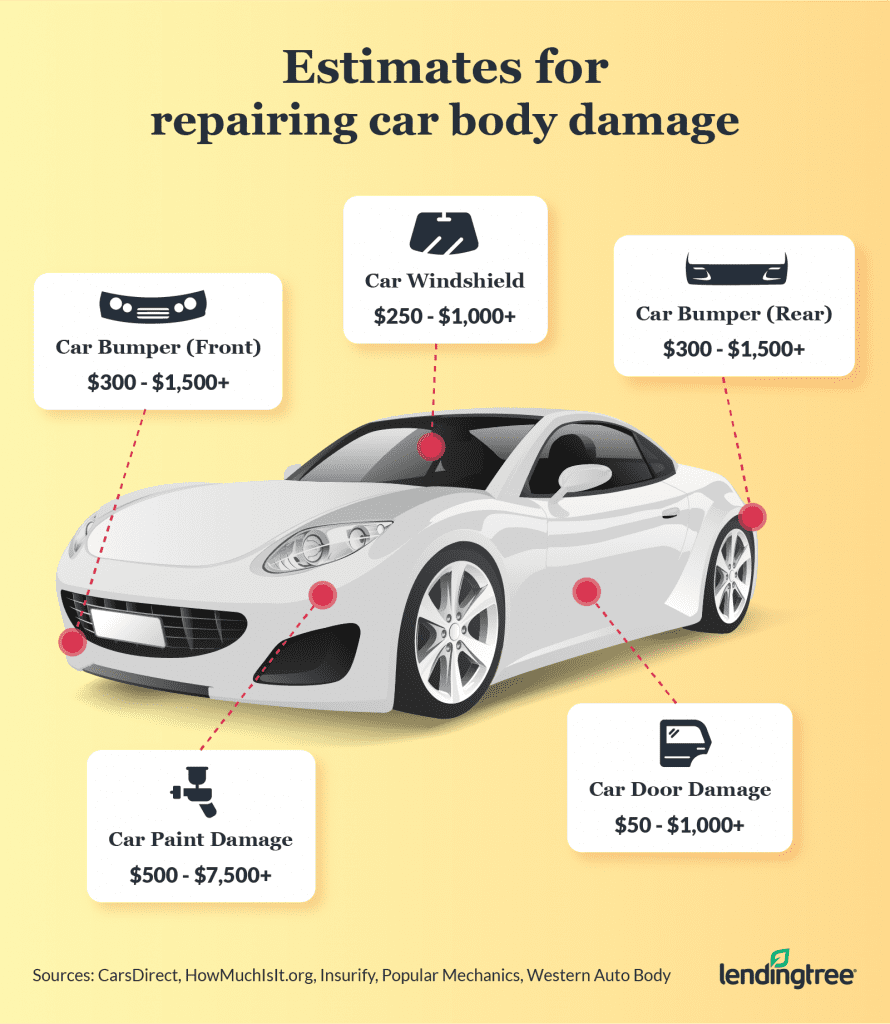 Car bumper
The bumpers at the front and rear of your car are there to help reduce the impact in case of a crash and protect passengers inside the car. Taking all the factors above into consideration, bumper repair can cost anywhere from around $300 to more than $1,500.
Why do bumpers cost so much to repair? Today, bumpers tend to be one complete piece of material (typically plastic or a composite of plastic over a metal or composite base) and a crack or dent in one area generally requires a full replacement.
Additionally, modern-day cars have a ton of technology embedded in bumpers including everything from parking sensors and cameras to radar systems for automatic cruise control and laser headlights. Those will all add considerably to the cost of repairing this kind of body damage.
Don't forget that when you replace a bumper, it generally has to be painted to match your car, adding to the cost of bumper repair.
Car door
Car doors today are designed to take some moderate bumps and scrapes, but they can also be relatively expensive to repair depending on all the factors mentioned above. In general, door dings can be repaired by a paintless dent removal service for as little as $50 or as much as $1,000 or more.
If the locking mechanism or the window is broken you can expect that cost to go up significantly. On most modern cars, the systems that run the windows or the locks are all integrated into the vehicles technology systems and may require some original manufacturer parts and reprogramming to work correctly.
Car windshield
Keeping your windshield in top form is crucial to safely operating your vehicle. If you can't see, you can't drive. Cracks, rock chips, and general wear and tear can all do a number on your windshield. While it's generally not the most expensive body part to repair on a car, it's still worth saving some money to repair your windshield.
On average the cost to repair or replace a car windshield is between $250 and $1,000, according to Popular Mechanics. The cost varies so widely because some vehicles have things like radio antennas and heating elements embedded in the glass while others are simple glass windshields. In some vehicles radar systems, and specialty cameras are attached to the windshield for advanced safety systems and adaptive cruise control, which means that the cost of repairing that windshield could go well beyond the $780 limit.
In some cases, if you own a luxury vehicle, you will have to work through the dealership to get the right windshield for your vehicle. In some cases, a specialty windshield may need to be shipped from overseas and it could cost you upwards of $4,000.
Car paint damage
Getting a good paint job on a repaired or replaced car body part can be really tricky business. There are a number of factors that go into car paint considerations including color matching, quality of paint, and the shop that you choose to do the work. In some cases, just two ounces of touch-up paint can cost anywhere from $50 to $300. That doesn't include the cost of labor to prep the repair, paint and allow it to cure.
On average, getting your paint repaired can run you anywhere from around $500 to more than $7,500 for a specialty color match job or complete repainting.
Is it worth repairing your car?
Once you have a handle on the estimated costs of repairs, you should evaluate whether or not the repairs are worth it. At some point it no longer makes financial sense to keep repairing an old vehicle, though there are a few reasons when it does make sense.
Here's why you may want to repair your old car:
Repairs are generally less expensive than buying a new car.
The insurance and registration fees for a new car are higher.
A new car's estimated value drops 22% in the first year. Your current car has already experienced that decrease in value.
New cars are expensive. Even a costly repair like a blown motor or a failed transmission, which can run between $3,000 and $7,000, costs less than buying a new car.
There are also times when it makes sense to purchase a new car. These include:
If the need for repairs is becoming more frequent and you can't keep up with the costs.
The car breaks down frequently, leaving you stranded, inconveniencing you or putting you in dangerous situations.
If the repairs will cost more than half the value of your car.
Before you pursue any repairs be sure that the math makes sense for you and your needs.
How to find a body shop you trust
Here's what to look for when choosing a body shop:
Ask friends and family for their recommendations. Which repair shops do they trust?
Ask repair shops if they have any technicians who have experience working on the same make or model as your vehicle.
Compare warranty policies on repairs and shop around for the best deal either by phone or online.
If your state or local laws require repair shops to be licensed or registered, then remember to ask to see current licenses. You can review the resources at your state Attorney General's office or at your local consumer protection agency. They may have a record of complaints against the repair shops you are considering.
Consider the shop's overhead and location. In some tony places, labor can cost as much as $90 per hour. In others it can be around $40 per hour. If a shop has a large front-of-house staff, they likely have to charge more per hour to cover the overhead.
Before making a final decision on which repair shop to work with, ask for a written estimate for the repairs that need to be done on your vehicle. You may want to consider getting a second opinion to confirm what needs to be done and compare prices.
How to pay for car body repair costs
Now that you have a general idea of what common car body repair costs could be, let's discuss your payment options. Paying in cash is ideal of course, but if you can't afford to do so, there are a few other options available to you that may help you finance your car repairs or lower your bill.
Personal loans
If you can't afford car body repair costs, consider taking out a personal loan. Because traditional personal loans don't require collateral, you won't have to pledge assets, like a home or car, in order to secure financing.
With a personal loan, you'll have a fixed interest rate. That makes your monthly dues predictable. Terms on a loan often range from one to five years.
With an unsecured personal loan, your credit and other financial information will be weighed by potential lenders when determining your eligibility. If your finances are strong, you could qualify for single-digit rates. The flip side, however, is that borrowers with lower credit scores may struggle to qualify, or may only qualify for high rates.
0% interest credit card
A credit card that comes with a promotional interest rate may be another option for funding car repairs. These types of cards allow you to charge purchases and repay your balance without interest, often for 12 months or longer.
However, if you don't repay your debt before the promotional period ends, you'll be responsible for interest charges, typically at much higher rates. Make sure you'd be able to repay your debt in full if you took out a 0% interest credit card for car repairs. Keep in mind, too, that qualifying for this type of credit card may be difficult for those with less-than-stellar credit.
Home equity line of credit (HELOC)
A HELOC can be a good way to pay for unexpected car repairs for people who own their homes and have equity to draw on.
A HELOC is an option for getting small amounts of money out of your home over time as it opens a line of credit on the equity in your home. The equity you have in your home is determined by the market value of your home, minus the amount you still owe on it. You draw on the equity in your home and pay it back the same way you would pay back any other loan. With this kind of loan you can draw on up to 85% of your home's equity.
While most HELOCs are generally used for larger expenses, they can be used to repair car body damage. The benefit of using a HELOC to finance car body repair is that, in general, the interest rates on HELOCs tend to be lower than those you might find on a personal loan or a credit card. The downside, however, is that if you fall behind on payments, you could lose your home.
Payment plan
If you will struggle to pay for your repairs at the time of service, ask if there is a payment plan that can help you pay for the repairs over an agreed upon time period.
Anytime you need to repair your vehicle, there will likely be costs involved. There is no avoiding the fact that car ownership is a responsibility, and an expensive one at that. But with a little research, planning and proper maintenance, you should be able to keep your vehicle in tip top shape without feeling too much financial strain.
Bottom line
Bumps and scrapes should be expected on your car but it pays to save a little in reserve in case you need to do major body repairs on your car. While the cost can range wildly based on where you live, how extensive the damage is, and what year, make, and model your vehicle is, there are plenty of ways to pay for unexpected body damage. Should you need collision repair or body work, seek out a certified body shop or collision repair shop and gather a few estimates to be sure you find the best price for any car body damage repairs.