How Does LendingTree Get Paid?
LendingTree is compensated by companies on this site and this compensation may impact how and where offers appear on this site (such as the order). LendingTree does not include all lenders, savings products, or loan options available in the marketplace.
What Does It Cost to Repair Car Body Damage?
Updated on: September 30th, 2021
Auto body repairs can range from fixing small scratches and dents to completely replacing parts. Collision repair costs can also vary widely: You may be handed a bill for as little as $50 or as much as $2,500 or more, depending on the damage, your car and who you hire.
Learning to estimate common car damage repair costs could help you determine how much to save for unexpected accidents. Here's what you should know:
Understanding your car's body damage and the potential cost
While car damage can happen anywhere, here are a few examples of repairs that many auto shops see on a regular basis. They include:
Front- or rear-bumper damage
Door damage
Windshield damage
Paint damage
These types of body damage can happen as a result of minor fender benders, parking lot scrapes or hit-and-runs. In general, more severe accidents and damage result in higher collision repair costs.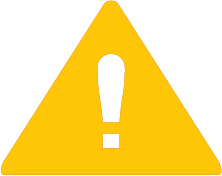 Tip:
Some repairs may be covered by insurance, depending on the extent of the damage and the insurance coverage that you or the person who damaged your car carries. Your insurance might cover the cost of replacing a windshield or fixing body damage, although you may need to pay a deductible and your premiums might rise. It pays to evaluate your car insurance every year to ensure that you have the right coverage.
Estimated collision repair costs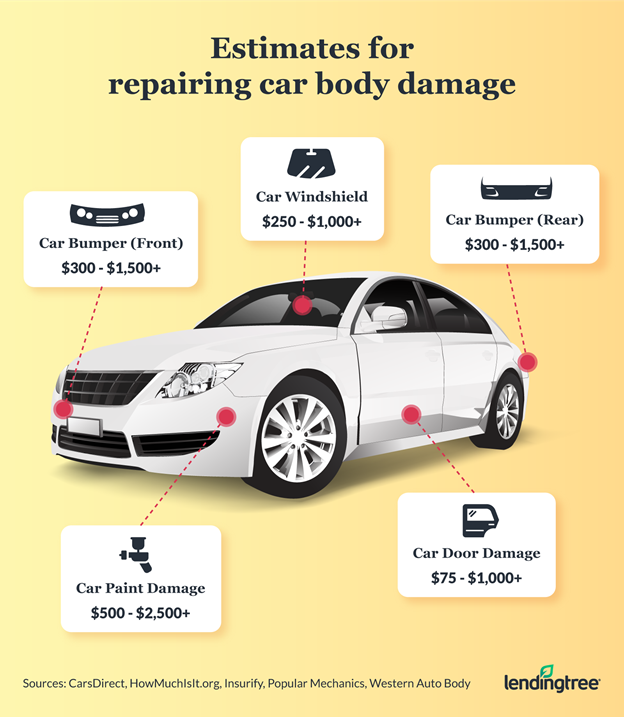 Car bumper repair or replacement cost: $300 to $1,500+
The bumper repair cost (or replacement, if it can't be repaired) can range from a few hundred dollars to around $1,500 for parts and labor. It's a wide range, but that accounts for everything from fixing minor dents and scratches to complete replacements. If there's only a scratch, you may want to ask for a car scratch repair cost estimate and decide if it's worth doing the work yourself with a touch-up paint pen (about $10 to $30).
Replacement costs may be high because they include more than just the physical bumper. Many modern vehicles' bumpers have sensors and cameras hidden in them. Even if these don't need to be replaced, they'll have to be disconnected and then reassembled, which adds to labor costs. Plus, once everything is in place, the new bumper needs to be painted to match the rest of your car.
Car door repair or replacement cost: $50 to $1,000+
If the dents on your door are small, dent repair costs can be fairly cheap and quick to fix. Paintless car dent repair services start around $50 and go up based on the dent's size. When there are scratches, the cost to repaint a car will add to the total bill.
Expect to pay a lot more if the damage goes beyond minor dents and scratches. Car doors can contain complex gadgetry and wiring for locks and windows, which can be expensive to repair. If you need to replace the entire door, you may wind up paying around $800 for the door itself, plus several hundred for labor.
Car windshield replacement cost: $250 to $1,000+
You may be able to repair small cracks or chips in your windshield for $60 or less, while larger cracks can require a complete replacement. It may be one repair you don't want to delay, as impaired vision can increase your chances of getting into an accident.
Replacing a front windshield can cost around $250, if your car can be fitted with a basic aftermarket windshield. However, some vehicles require special sizes or types of glass, and technology extends into the windshield as well. Windshields with embedded sensors, such as rain, condensation and collision sensors, cost much more to replace.
Car paint damage repair cost: $500 to $2,500+
The cost to paint a car will often factor into the total price of other repairs. As an estimate, car paint jobs can cost at around $500 for an entire car. If you're just opting for a single coat and quick service. A more thorough job may be around $2,500 or more if you're using high-quality or specialty paints.
When your car is damaged, however, you'll typically only have to pay to repaint the damaged parts of your car, so your paint costs will generally be lower.
5 factors that affect the cost to repair car body damage
Wide-ranging estimates for collision repair costs might be a little frustrating, but the reality is that costs vary widely depending on several factors, such as:
Make and model: In general, newer and luxury cars will cost more to repair than older, more mainstream cars.
Type of damage: Extensive damage is going to be more expensive to repair than a small dent or scratch.
Additional features: The more bells, whistles and sensors in your car, the more it's going to cost to repair.
Location: Local labor costs, the availability of parts and competition between auto body shops can also impact how much you pay.
The repair shop: You can choose to take your car to a dealership, independent body shop or mobile service. In general, dealerships will cost the most.
How to find a body shop you trust
Before choosing an auto shop, you can get estimated repair costs based on your location and the make and model of your car using free car repair cost estimator tools, like the ones from AAA and NAPA Auto Parts. Then, search for a few trustworthy shops to get quotes.
During your search, you may want to:
Ask friends and family for their recommendations
Read online reviews of the shops
Ask about their experience with your car's make and model
Compare warranties and guarantees on the work
Confirm their certifications
Your insurance company may also recommend body shops, or have a network of preferred shops you can choose from to expedite the claims process. You don't necessarily have to use a shop that the company recommends, but going with an approved shop may lead to discounts or a warranty on the repairs. If you choose an out-of-network shop, you may have to pay for the difference if the repairs cost more than they would at an in-network shop.
How to decide if it's worth repairing your car
Once you have a handle on the estimated repair costs, evaluate whether or not the repairs are worth it. At some point, it no longer makes financial sense to keep repairing an old vehicle.
Here's why you may want to repair your old car:
Repairs are generally less expensive than buying a new car.
New cars can be more expensive to register, insure and repair.
A new car's estimated value drops up to 20% in the first year, and up to 50% within three years. Your car may have already experienced this depreciation in value.
There are also times when it makes sense to purchase a new car:
If the need for repairs is becoming more frequent and you can't keep up with the costs.
The car breaks down frequently, leaving you stranded, inconvenienced or putting you in dangerous situations.
If the repairs will cost more than half the value of your car.
Before you continue to spend money repairing your car, check that the math makes sense. A middle ground could be buying a certified pre-owned vehicle — it comes with a warranty, if you don't want to deal with the financial pitfalls of purchasing a brand-new car.
How to pay for collision repair costs
Having an estimate of collision repair costs and being able to afford the repairs aren't the same thing. A July 2020 LendingTree survey found that about a quarter of drivers (28%) can't afford a $500 car repair without taking on debt, and nearly half (43%) have gone into debt paying for car repairs. A majority (58%) of drivers skipped repairs because they were too expensive.
You could use cash savings or an emergency fund to pay for the repairs. Otherwise, there are several options to finance the repairs.
Ways to pay for a car repair
Funding option
What it is
Who it's good for
0% interest credit card
A credit card that comes with a promotional interest rate.
Those with good credit who can repay their debt quickly.
Payment plan
A payment plan may allow you to pay for your repairs over an agreed amount of time.
Someone who can't comfortably pay for their entire repair bill upfront.
Personal loans
Borrowing money to help finance auto repairs.
Someone who needs costly repairs that they can't afford now or in the near future.
Home equity line of credit (HELOC)
A loan that allows you to borrow against the value of your home.
Homeowners who have equity in their homes.
Source: LendingTree.com
Zero-interest credit card
Some credit cards come with promotional 0% interest rate offers. The 0% APR may last around nine to 18 months, depending on the offer, which allows you to make purchases and then pay them off without accruing interest.
Pros
Cons

You can put the repairs on the card and pay off the expense without paying any extra interest.
It may be one of the few "free" financing options.

It can be hard to qualify for a high enough credit limit to cover all your expenses.
If you don't pay off the balance by the end of the promotional period, the remaining balance will accrue interest at the standard purchase interest rate.
Payment plan
The body shop may offer a payment plan, allowing you to pay for the repairs over time rather than all at once. Often, these are offered as a credit card with a low- or no-interest promotion.
| | |
| --- | --- |
| Pros | Cons |
| You won't pay interest during the promotional period, and some cards may come with extra auto-related discounts or perks. | The cards may offer a deferred interest promotion. If you don't pay off the entire balance by the end of the promotional period, you may need to pay all the accrued interest rather than paying interest only on the remaining balance. |
Personal loans
Personal loans are commonly unsecured installment loans that you can use for almost anything, including car body repairs. Your loan amount and interest rate can depend on your creditworthiness, and you may be able to choose repayment terms of around 12 to 60 months or longer. Minimum borrowing amounts typically start at $1,000 or $2,000.
| | |
| --- | --- |
| Pros | Cons |
| Can be an inexpensive way to borrow a large amount of money and then repay the loan with fixed monthly payments. | Unless you have good to excellent credit, the interest rate on a personal loan could be higher than what you'd pay on a credit card, if you qualify at all. |
Home equity line of credit
A home equity line of credit (HELOC) lets you use the equity you've established in your home as collateral for borrowing money. If you already have a HELOC, you may be able to take a draw to pay for collision repair costs. If not, you likely don't want to go through the potentially lengthy and costly process to finance auto repairs.
| | |
| --- | --- |
| Pros | Cons |
| HELOCs may have lower interest rates than personal loans or credit cards. | You put your home at risk as the lender may foreclose if you miss payments. In addition, it can take several weeks to get a HELOC, and there may be closing costs and fees. |