How Does LendingTree Get Paid?
LendingTree is compensated by companies on this site and this compensation may impact how and where offers appear on this site (such as the order). LendingTree does not include all lenders, savings products, or loan options available in the marketplace.
How to Start a Dog Walking Business
Published on: October 2nd, 2019
Why use LendingTree?
We are committed to providing accurate content that helps you make informed money decisions. Our partners have not commissioned or endorsed this content. Read our .
If you're an animal lover, starting a dog walking business could be a way to turn your passion into a career opportunity.
Although it may sound ideal to spend time outside walking dogs, don't expect every day to be filled with sunshine and golden retrievers. Dog walkers must work with pups of various breeds and temperaments in all kinds of weather.
"People overly romanticize what it means to be a dog walker," said Patrick Flynn, owner of Patrick's Pet Care in Washington, D.C. "It's incredibly hard work."
Before jumping into this sector of the pet services industry, continue reading to find out how to start a dog walking business.
5 steps to start a dog walking business
To start on the right foot, consider following these steps to establish your own dog walking business.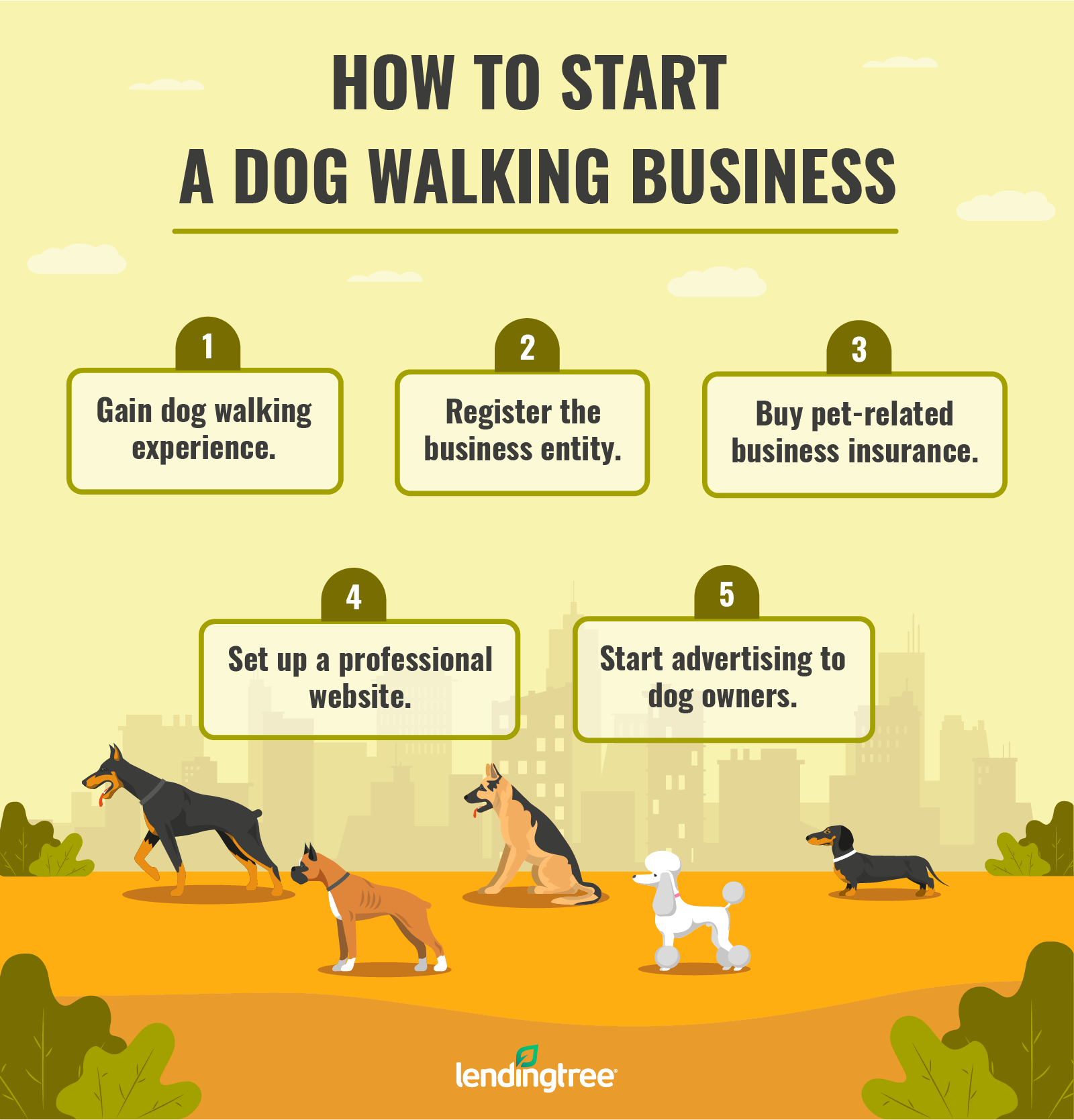 1. Gain experience walking dogs
Walking dogs for pet service businesses such as Wag! or Rover would help you decide if you can handle the demands of the job. Besides taking dogs for walks, you would have to travel between various pickup locations, clean up after animals and interact with pet owners.
Walking, taking stairs, bending down to attach leashes and cleaning up after dogs makes dog walking labor-intensive work that must be done during rain, snow and any inclement weather, said Tony Schreck, owner of Windy City Dog Walkers in Chicago. Before starting your own business, make sure you're up to the task of dog walking.
"These big services seem to be a good training ground for people to get started in the industry," Schreck said.
Your experience could also inform your decision of what services to offer. For instance, Windy City Dog Walkers provides one-on-one walks rather than group walks and assigns a specific dog walker to each client. This sets the business apart from other services in town and helps Schreck set prices.
For example, Windy City Dog Walkers charges $18 per walk for weekday walks between 10 a.m. and 4:30 p.m., and $21 per walk on weekends between 10 a.m. and 4:30 p.m. Walks are 25 minutes and include poop pickup, water, food (if requested) and training reinforcement. If clients have more than one dog, it would cost an extra $4 per pup.
Looking beyond this example, dog walking services typically charge between $20 and $40 an hour, according to Thumbtack, a local business listing site. The pricing depends on location, the number of dogs and the length of the walks.
To distinguish your business, you could become a certified dog trainer to offer additional services or learn how to administer animal first aid,
Specialized offerings could help you attract clients.
2. Register the business and choose an entity
Check your state and local laws to see if you'd be required to register your dog walking business. You likely wouldn't need a license specific to dog walking, but you may be required to get a general business license and register your business with the proper office in your area.
You would also need to choose a business entity, or structure, when getting started. Your business entity would determine what taxes you'd owe as a business owner, how many people could own the business and how much personal liability you'd carry.
Though there are several options, you may want to structure the business as a sole proprietorship if you're starting a small operation on your own. However, sole proprietorships don't provide any liability protection, meaning you would be personally responsible for all aspects of the business.
On the other hand, structuring the business as a limited liability company, or LLC, would protect you from personal liability. You could also bring in another owner to help you run the business under an LLC structure.
3. Buy insurance
Business insurance is crucial for dog walkers since you'd want to limit your liability if anything happens while animals are in your care. Look for a general liability insurance policy that includes a care, custody or control exclusion, which prevents you from being responsible for someone else's property — in this case, a dog — while it's in your possession.
For instance, if a dog ran into the road during a walk and caused an accident, you wouldn't want to be responsible for the damage. And if something happens to the dog that isn't your fault, you'd want to protect yourself from any accusations of misconduct by a client. Or, if there's a leak in a client's apartment when you pick up the dog, you would want to avoid liability for the leak and any subsequent repairs.
"Anything could happen," Schreck said. "You never know."
4. Set up your website
Establishing an online presence for your dog walking service would help you drum up business and build your reputation. Although social media pages and accounts like Facebook and Instagram are beneficial, you'd benefit from a proprietary website to boost your overall online presence.
You may want to incorporate scheduling and invoicing software as well to keep the business organized. Some services, such as Time to Pet, are designed specifically for pet-related companies. Prices start at $35 a month for one-person businesses where you can have unlimited clients.
Keep an eye on how your website performs on search engines, Flynn said. You may want to learn the basics about search engine optimization to ensure that clients can find your website, especially on mobile devices.
"If they can't find you on their phone, you might as well not exist," Flynn said.
Your website should describe the services you offer as well as pricing. You could calculate a cost-per-minute for walks depending on what competing businesses charge in your area, Schreck said.
Prices should also reflect the demographics you're targeting, whether that's single millennials with disposable income or families on a tight budget, Flynn said.
The demand for dog walking is increasing in the U.S. Americans spent $72.56 billion on their pets in 2018, according to research from the American Pet Products Association, while more than 63 million households in the U.S. own a dog. Dog walking businesses, specifically, are on the rise, growing 5.2% between 2013 and 2018 to 28,927 businesses, according to IBISWorld, a market research company that produces industry-specific reports.
"It's really finding out who your clients are," Flynn said.
5. Start advertising and recruiting clients
Listing your business on platforms such as Thumbtack that share professional services would put your company in front of potential clients. But you may have better luck earning new clients in person. People are likely to take note of your business when they see you walking dogs in their neighborhood.
Car wrap advertising tend to be beneficial for dog walkers, Schreck said. Dog owners would see your car parked nearby and know that you serve their area. Be sure to carry business cards with you as well to pass out during walks, he said.
It may be tempting to accept each person who takes an interest in your business, but you should consider interviewing or otherwise screening potential clients.
"Every new lead is not necessarily a good lead," Flynn said. "Vetting your customers to make sure they fit into not only your logistics but your philosophy and your vibe is really important."
Costs of owning a dog walking business
Starting a dog walking business doesn't require much, making it an easy entry into entrepreneurship.
"Really, the barriers to dog walking are quite low," Flynn said.
You could start a dog walking business for $500 to $1,000, depending on how much you want to invest, Schreck said. Although startup costs would be low, you could expect to have the following expenses:
Business license: If required in your area, you could spend $50 to $150 or more obtaining a general business license to operate, depending on your location. For example, you could pay $50 to get a license in California, but it could cost you $153 in Utah.
Website: Maintaining a quality website could cost you hundreds or more a year. Squarespace, for example, charges $18 a month, or $216 if you pay annually.
Insurance: The coverage you choose would be based on the number of dogs you expect to walk and how much revenue you plan to earn. An annual policy could start at around $129, depending on what protection you need.
Costs could remain low if you choose to run the business on your own, but you could have trouble growing, Schreck said. To expand your client base, or to take a personal vacation, you'd need more people on staff to walk dogs and manage the business.
"You're only swapping hours for dollars if it's just you," he said. "That's the point where lending or a monetary infusion would help."
Financing for dog walkers
If you're looking for outside funding to give your dog walking business a boost, here are a few financing options you could consider.
Small business loans
You may be able to obtain small business financing from a traditional bank or online alternative lender.
Established businesses typically have a better chance of securing term loans, which allow business owners to borrow a set amount of money and repay it at a predetermined rate, and lines of credit, which allow business owners to borrow from a fixed amount as needed.
Loans backed by the U.S. Small Business Administration may be easier to secure if you have trouble getting approved for traditional financing. SBA loans are available through partner lending organizations.
Alternative lenders typically have more lenient requirements than banks and a faster time to funding. However, these lenders often charge higher interest rates for financing.
Crowdfunding
Online crowdfunding platforms help business owners raise funds from family, friends and the general public.
Some platforms, such as GoFundMe, allow you to accept donations without offering anything in return. Others, such as Kickstarter or Indiegogo, may require you offer a product or stake in your business in exchange for funding.
Crowdfunding could be a viable alternative to small business lending for new entrepreneurs. Although, you may not be able to raise as much money as hoped, and it could take longer than expected.
Challenges of the dog walking industry
Besides the physical demands of the job, there are a few other hurdles you could face as the owner of a dog walking business.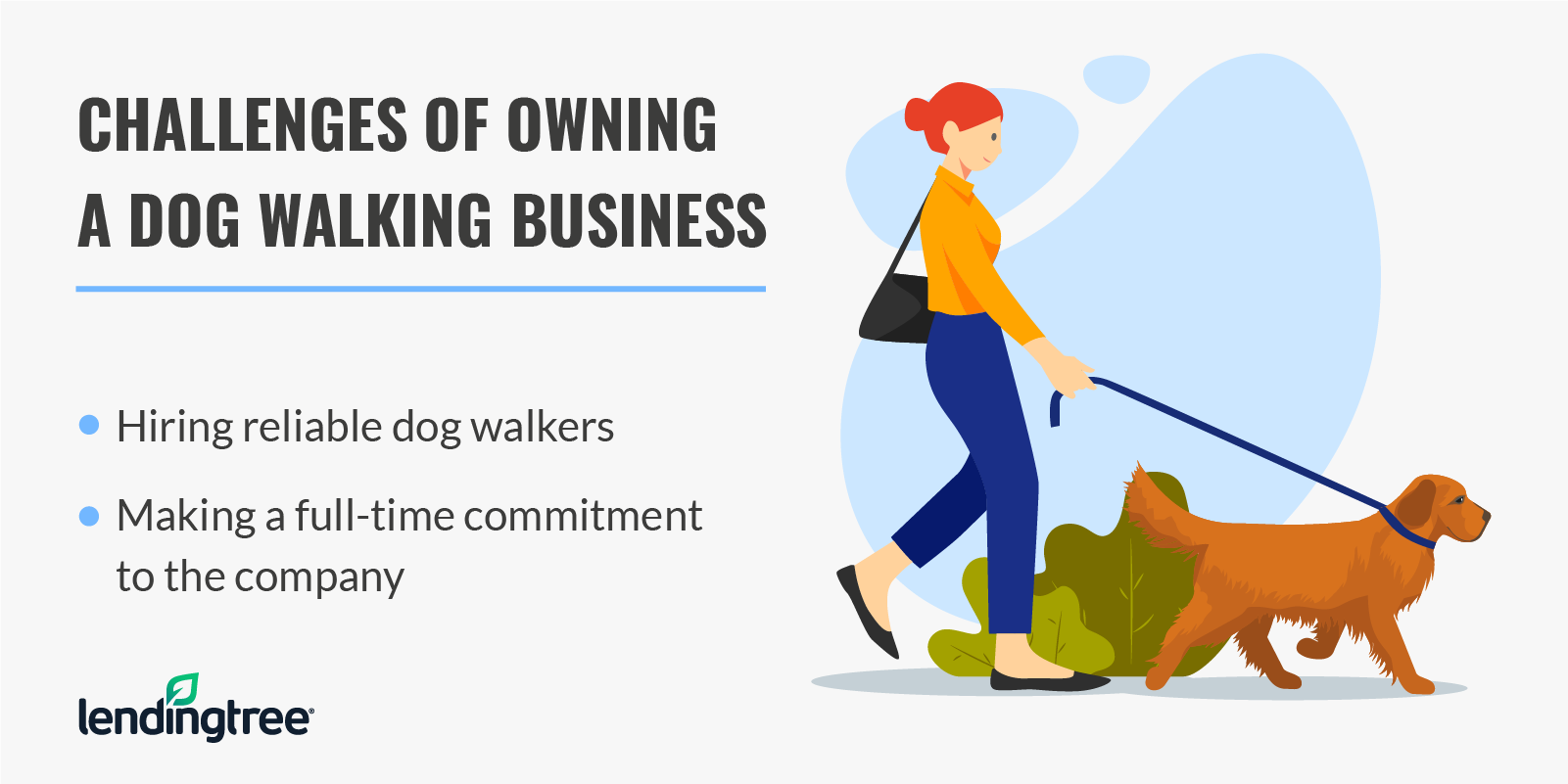 Hiring employees
Finding reliable workers to walk and care for dogs can be difficult. And when the U.S. job market is strong, it can be harder to find people looking for part-time or side work like dog walking.
When hiring dog walkers, you must follow employment laws regarding contract workers and full-time employees. Categorizing workers as independent contractors if they meet the requirements for full-time employment could lead to IRS penalties for your business.
Although it would be more expensive to provide resources such as health benefits and workers' compensation to full-time employees, it could be worthwhile to make the investment. Hiring contractors could result in high turnover rates while staff employees typically stay with the business longer.
Committing time to the business
Once you take on clients, you must provide a consistent service that meets their expectations. And if you're the business' only dog walker, all responsibilities would fall on you, Flynn said.
"You can't get sick," he said. "You're showing up or you're out of business. It's just not acceptable in this market. There's too much competition."
To manage your time, you'd need to make sure your clients are located near one another to create a logistically profitable route, Flynn said. You don't want to waste time traveling from client to client.
The bottom line
Dog owners are increasingly taking pride in their animals and are more willing to spend money on pet care. Young adults with disposable income who don't yet have children will sometimes pamper their dogs with top-of-the-line services and treats.
As the need for dog walking services grows, so does the competition among business owners. Clients tend to gravitate toward businesses with a genuine interest in providing quality care. Customers can usually tell when a business' only goal is to monetize animals, Flynn said.
To earn the trust and respect of clients, Flynn advised to keep three things in mind: be reasonable, be on time and care about your clients. Dog walking can be a rewarding career and business opportunity if approached with the right mindset.
"Getting to interact with dogs, it just fulfills me in a way that I can't find in anything else," Flynn said.