How Does LendingTree Get Paid?
LendingTree is compensated by companies on this site and this compensation may impact how and where offers appear on this site (such as the order). LendingTree does not include all lenders, savings products, or loan options available in the marketplace.
46% of Small Business Owners Concerned They Don't Have Enough Money to Reopen
Updated on: May 28th, 2020
Why use LendingTree?
We are committed to providing accurate content that helps you make informed money decisions. Our partners have not commissioned or endorsed this content. Read our .
Even as states and cities allow more businesses to reopen, many entrepreneurs are anxious about doing so. Nearly half of small business owners worry they cannot afford to resume normal operations following mandated closures to slow the spread of COVID-19.
New survey data from LendingTree shows 46% of small businesses owners cite funding as the No.1 obstacle stopping them from reopening. Once open, businesses would likely have to adhere to safety guidelines, such as limiting capacity to 25% or 50%, as well as keeping customers at a distance from one another. For some survey respondents, it would be of no use to open the doors with such restrictions.
"I feel a multitude of emotions," one respondent said. "Completely unsure of how my salon will remain open without rents being reduced [and with] less customers. Even if we have the clientele, we have to abide by social distances, which in turn equals less space [and] less customer intake."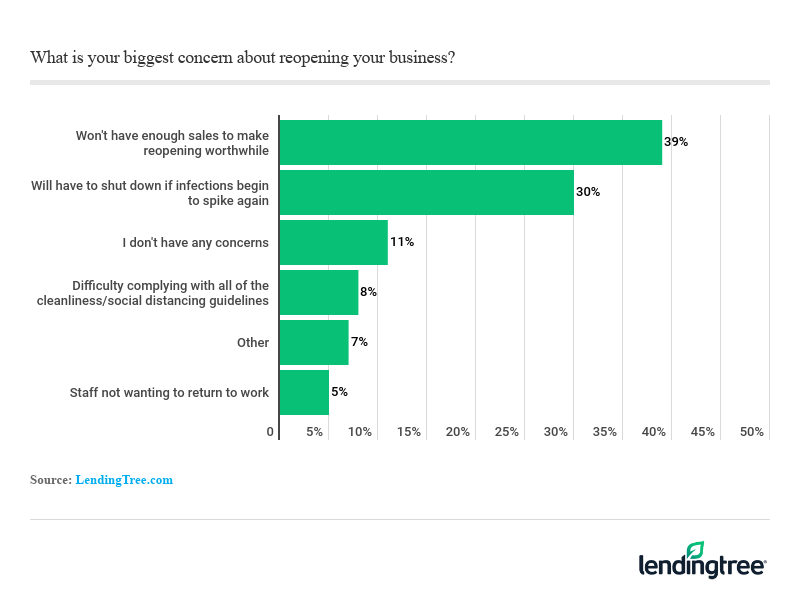 Key findings
Almost 6 in 10 small business owners will reopen as soon as they're allowed. However, 15% said they'll wait a little longer to open and another 26% aren't sure when they'll ever reopen.
Fewer customers and fewer sales are expected by 46% of small business owners upon reopening. Just 17% think they'll get the same number of customers spending the same amount as they did prior to the coronavirus pandemic.
Not having the funds needed to reopen is the primary reason small business owners would not reopen once stay-at-home orders are lifted. They wonder if profits would warrant reopening as they also worry about the safety of themselves and employees who may not want to return.
About 63% of small business owners surveyed have applied for funding through the Paycheck Protection Program. Of those who applied for a PPP loan, 44% have received funding. This is a significant jump from our April survey, where we found just 5% of those who applied were approved.
However, more than half of business owners who received PPP funding are nervous they won't meet forgiveness criteria. Some are more worried than others: 24% are "very concerned," while 29% are "a little" concerned.
Small business owners have reservations about reopening
Although most small business owners are eager to reopen once their cities and states fully lift restrictions, a number of entrepreneurs worry about lingering effects of the pandemic. Just 11% of respondents said they have no anxiety about reopening.
The biggest concern for 39% of small business owners is that they won't generate enough sales to make opening worthwhile. And 30% are nervous they'd have to shut down again if there is another spike in coronavirus infections. A smaller group is worried about complying with ongoing social distancing and cleanliness guidelines, as 8% said that was their main concern, while 5% are most troubled about employees not wanting to return to work.
That fear may be unfounded, as 52% of survey respondents expect all of their employees to return to work when the business reopens. Nearly half — 48% — plan to bring back the same number of people at the same number of hours. Only 23% of business owners expect to employ fewer people for fewer hours when they reopen.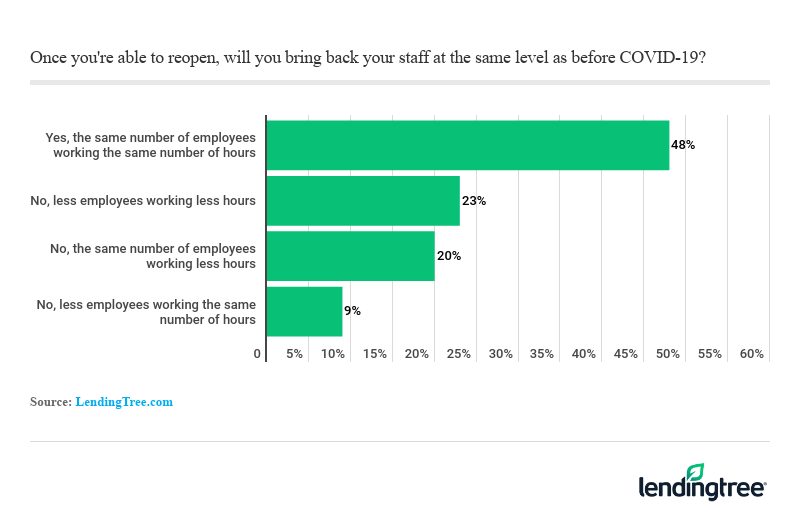 Record unemployment
Those who have lost their jobs as a result of COVID-19 can get help through the Federal Pandemic Unemployment program. Recipients would be eligible for an additional $600 per week on top of their state-level unemployment benefits.
But a historic number of unemployment claims in recent months have caused a backlog in some states. It's unclear when applicants will receive their money. However, it is possible former small business employees may prefer to collect unemployment rather than return to work if they've been able to secure the PUA benefit.
Despite promising PPP loan approvals, financial concerns remain
Among our survey respondents, 26% applied for a PPP loan from the U.S. Small Business Administration in the first round and 18% applied in the second round. The SBA opened applications on April 3rd, but funds ran out on April 16. Congress replenished the loan program which resumed April 27. Another 19% applied in both rounds. Of the 44% of business owners who were approved in either round, 3% returned their entire PPP loan. More than half of business owners are not confident they will meet the criteria for PPP loan forgiveness.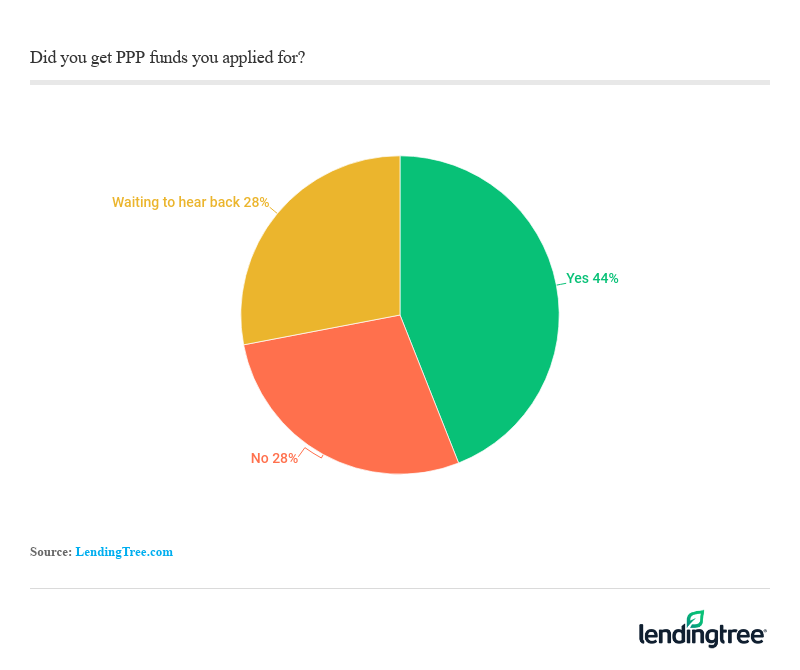 Worries over PPP forgiveness
The SBA released its PPP loan forgiveness application after weeks of confusion around the forgiveness process. Borrowers must spend at least 60% of PPP loan funds on payroll expenses and no more than 40% on mortgage interest, rent payments and utilities to qualify for forgiveness, spending those funds within 24 weeks of receiving their loan.
Although an increasing number of small business owners are finding financial relief through the program, some entrepreneurs remain left out. About 28% of survey respondents are still waiting for a decision on their PPP loan application.
One survey respondent expressed frustration when seeking business financing in general: "Most funding has been directed at traditional retail type businesses. I run a [racing] company. We will not be allowed to operate long after the stay-at-home restrictions have lifted because of the size of events. Makes getting funding nearly impossible."
Tips for reopening your small business
For those moving full steam ahead, 54% of business owners plan to inform customers of their reopening through email. To encourage business, 43% of respondents are going to offer special promotions or sales. About 31% plan to use paid social media ads to promote their business in the first month after reopening, while 35% expect to take advantage of unpaid organic social media content. Just 9% of business owners won't promote their business at all after reopening.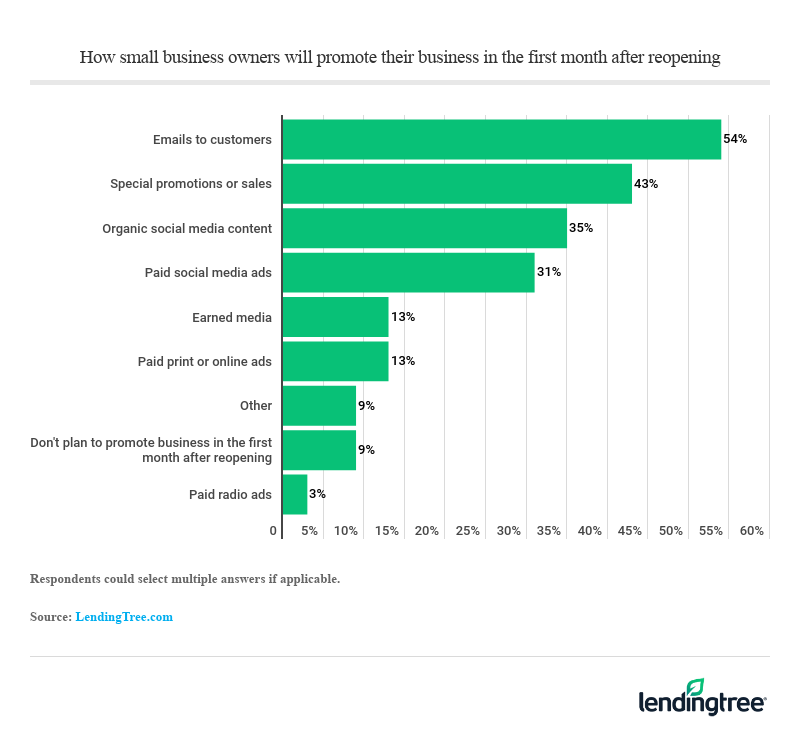 Though local restrictions may ease enough for businesses to reopen, the public health threat still exists. Customers and employees could feel wary about being inside your business, and it may be difficult to boost sales if consumers have limited income. Here are some tips to help make sure your decision to reopen pays off.
Follow local guidelines
Leaders at the state and city level make decisions regarding reopening. Your business may or may not be permitted to open based on your industry and guidance from health officials. Make sure you follow area-specific rules, especially if you have businesses in more than one location.
Prioritize safety
Implement policies that protect the health of employees and customers. Encourage distancing of at least six feet between people, regularly sanitize and disinfect all areas of the business, and implement contactless practices when possible, like touch-free payment options. Train employees on how to properly wear personal protective equipment and face coverings when necessary, and offer flexible sick leave policies.
Stick to your essential business needs
Limited funding or supply chain issues may present challenges as you reopen. Focus on what your business needs to survive. Rent and utilities payments would likely top your list of priorities, in addition to bringing in core employees to get the business running. From there, think about what you could cut or minimize until revenue ramps back up.
When it comes time to reopen, decide what actions make the most sense for your business. You may not be in a position to open right away. One survey respondent told us: "I am in the wedding industry. We have no idea when we will be able to reopen. The amount of unpaid work we are now doing to reschedule hundreds of brides is crippling. I'm not sure my production company will survive. Once released, my staff would be faced with weekends of up to five weddings in a row. This will create staff burnout and a lower quality product."
Take stock of your resources and what you and your staff can reasonably offer to customers. Though you may be eager to return to business as usual, proceeding with caution could save your operation in the long run.
Methodology
LendingTree conducted an online survey of 983 small business owners who had previously applied for funding through LendingTree's small business lending database. Participants were emailed a link to participate in the survey, which was fielded using Qualtrics from May 13-20, 2020.