How to Apply For a Business Credit Card
Updated on: May 18th, 2020
Editorial Note: The content of this article is based on the author's opinions and recommendations alone. It may not have been reviewed, approved or otherwise endorsed by the credit card issuer. This site may be compensated through a credit card issuer partnership.
Whether you're a freelancer, the owner of a startup or someone who runs a more established business, getting a small business credit card can help you manage your business's finances and earn rewards. However, applying for a business card can be a bit different than applying for a consumer card. We'll walk you through the steps of how to apply for a business credit card.
What do you need to apply for a business credit card?
Here's some information you'll need to have handy when applying for a business card:
Your business structure. For example, Capital One allows you to select from the following options on its business card applications: sole proprietorship, corporation, partnership, nonprofit corporation, single-member LLC, multiple-member LLC or other.
Your Employer Identification Number (EIN). Depending on the issuer and how your business is structured, you may or may not need to include your EIN on the application. For example, American Express requires this only if your business is a corporation or a partnership, while Capital One requires it for all structures other than a sole proprietorship.
Your total annual business revenue. Don't feel the need to inflate your revenue if your business is new.
Your business's full legal name. Your business's legal name should be what's listed on your EIN.
Your business's DBA. A DBA is a "Doing Business As" name. American Express, for example, requires you to provide your business's DBA, or mark that it doesn't have one.
Your estimated monthly spending.
The type of industry.
The business address and contact info.
The length of time in business.
Number of employees.
Your position in the business.
Your personal information, such as Social Security number, birthdate, etc.
Though you might be able to apply without an EIN, having one can be helpful for your application. Nancy Parnella, director of the Barclays U.S. business credit card program, explained that having an EIN can allow for quicker approval of your application.
"Most business owners should have an EIN as it allows them to keep their personal and business finances separate," Parnella said. "This is also advantageous when applying for a business credit card as it aids in verifying the business, which can expedite approval."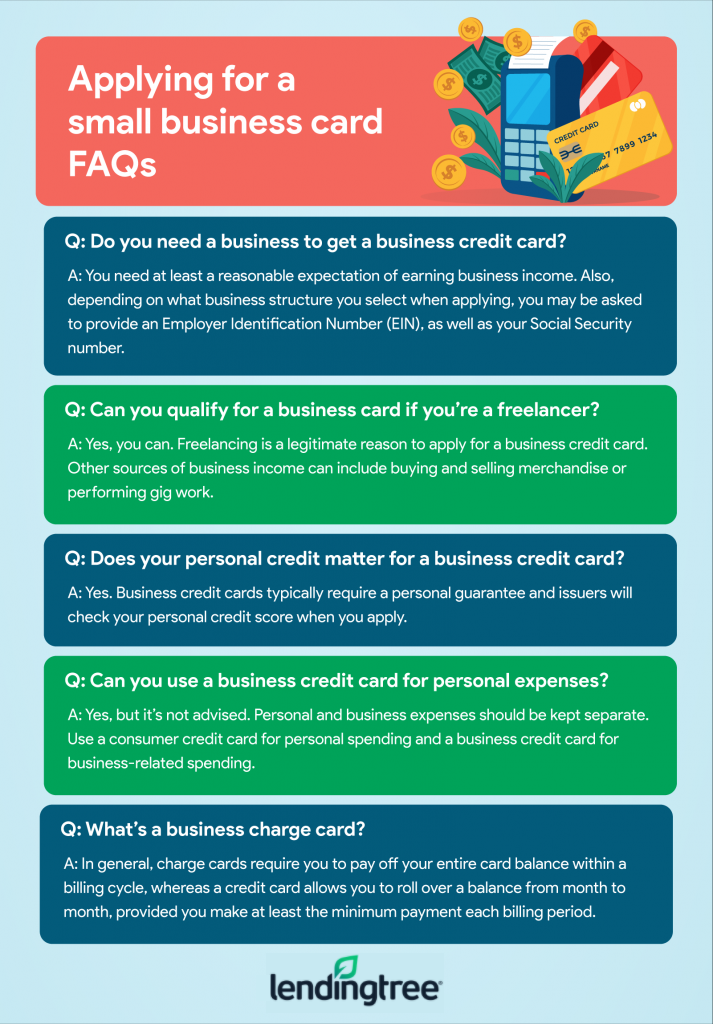 Will your personal credit be checked for a business card?
Typically, a small business card requires a personal guarantee (meaning you're personally responsible for what's charged to the card) and a personal credit check. This means your personal credit score does matter when applying for a business credit card, and poor personal credit score is a reason you could be turned down for the business card you want.
For that reason, it's wise to check your personal credit score before applying for a business card. You're also entitled by law to one free copy of your credit report from each of the three consumer credit bureaus (Equifax, Experian and TransUnion) via annualcreditreport.com where you can check for and dispute any legitimate errors that may be dragging your score down.
Don't despair if your personal credit leaves something to be desired, however. If you've been in business for some time and have built up a good business credit score, issuers may take that into account. Read more in this article about building a good business credit score.
"The underwriting of a business card is fairly complex, and depending on the type of business and the card they are applying for, personal scores, business scores or both could be leveraged," Parnella said. "We use a proprietary underwriting model at Barclays, which considers the size and complexity of the business, the type of business and the ownership structure to determine what combination of data is used for the decision. In [a situation where an applicant] has fair personal credit and excellent business credit, they could be considered for a card, but many other variables are considered before a final decision is made."
If you're turned down after applying for a mainstream business credit card, getting a secured business card might provide an opportunity to build up good business credit history. Know that you'll have to pay a security deposit, and you may have to pay an annual fee as well.
Does a business card affect your personal credit score?
Generally, a business credit card won't appear on your personal credit report. Capital One and Discover are exceptions, as both report business card activity to the consumer credit bureaus.
However, if you are significantly late paying your business card bill — from any issuer — it's likely to be reported to your personal credit report and can damage your personal credit score. That's because as was mentioned earlier, most small business credit cards require a personal guarantee, meaning you are the one ultimately responsible for making sure the card is paid up.
How to choose the best business credit card
Here are a few questions to ask to help you evaluate the best type of card that will benefit your business most:
Do you need employee cards? If so, you'll benefit from considering a card that offers free employee cards, rather than charging an additional fee for each one.
What type of purchases make up the bulk of your business spending? Some business cards offer higher rewards rates in specific spending categories — office supply stores, for example. Other cards offer a flat rewards rate on every purchase, regardless of category.
Does your business require frequent travel? You may want to consider applying for a travel credit card, gas credit card or airline credit card that can offset some of those expenses.
Do you need to finance a big purchase? A card with introductory 0% APR can be a money-saver for large expenses. Or, if you want to earn extra cash back or rewards on a big purchase, this could be a good time to consider a business card with a generous sign-up bonus.
How much do you think you'll spend on a card each year? Determining your annual spending will help you evaluate whether a card with an annual fee is worth it or not. For example, if you're using a card that offers 2% cash back and charges a $95 annual fee, you'll need to spend $4,750 per year to recoup the amount of the annual fee.
We reviewed small business cards available through LendingTree, as well as from top issuers, to find the top business cards for various categories:
Best business card with no annual fee: Capital One Spark Cash Select for Business
The Capital One Spark Cash Select for Business is ideal for business owners who don't want to pay an annual fee and who want to earn flat-rate cash back. This card earns 1.5% Cash Back on every purchase and its annual fee is $0. Benefits include free employee cards, a foreign transaction fee of None, and rental collision coverage against damage or theft when renting an eligible car.
There's also a decent sign-up bonus: Earn a One-time $200 cash bonus once you spend $3,000 on purchases within 3 months from account opening.
Best business card for earning points: Chase Ink Business Preferred℠ Credit Card
The Chase Ink Business Preferred℠ Credit Card earns valuable Chase Ultimate Rewards points. Earn 3 points per $1 on the first $150,000 spent in combined purchases on travel, shipping purchases, Internet, cable and phone services, advertising purchases made with social media sites and search engines each account anniversary year. Earn 1 point per $1 on all other purchases—with no limit to the amount you can earn. These can be redeemed a variety of ways, including:
Travel
1:1 transfer to partner travel loyalty programs
Cash back
Purchases in Chase's Apple Ultimate Rewards Store
Gift cards
When redeemed for travel through the Chase Ultimate Rewards portal, points are worth 25% more. For example, 100,000 points redeemed for travel via the portal are worth $1,250.
And cardholders receive benefits such as trip cancellation/trip interruption insurance, auto rental collision damage waiver, cellphone protection, purchase protection and extended warranty.
There's also a generous sign-up bonus: Earn 100,000 bonus points after you spend $15,000 on purchases in the first 3 months from account opening.
The card's annual fee is $95.
Best business card for flexibility: American Express® Business Gold Card
The American Express® Business Gold Card is a solid choice for owners who can't pinpoint one category where most of their spending happens. Get 4X Membership Rewards® points on the 2 select categories where your business spent the most each month*. Categories include:
Airfare purchased directly from airlines
U.S. purchases for advertising in select media (online, TV, radio)
U.S. purchases at gas stations
U.S. purchases made directly from select technology providers of computer hardware, software and cloud solutions
U.S. purchases made at restaurants
U.S. purchases for shipping
Note that the higher rewards rate applies to the first $150,000 in combined purchases from your top two spending categories each year. After that, you'll earn 1 point per dollar spent.
Benefits include car rental loss and damage insurance, baggage insurance and more.
There's a welcome offer, too: Earn 70,000 Membership Rewards® points after you spend $10,000 on eligible purchases with the Business Gold Card within the first 3 months of Card Membership.*
The annual fee for the American Express® Business Gold Card is $295.
Are there business credit cards for bad credit?
If your personal or business credit score is less than stellar, you might have trouble qualifying for some of the higher-end business credit cards. Below are two cards that might be a good fit.
Wells Fargo Business Secured Credit Card
Your best option may be to apply for a secured business card, such as the Wells Fargo Business Secured Credit Card. Secured credit cards require you to put down a security deposit (usually in the amount that you want your credit limit to be) that protects the issuer in the event that you don't pay off what you charge to the card.
The Wells Fargo Business Secured Credit Card allows you to Earn 1.5% cash back on every $1 spent OR Earn 1 point on every $1 spent and receive 1,000 bonus points when your company spend is $1,000 or more in any monthly billing period. It charges an annual fee of $25 per card, and the credit limit can range from $500 to $25,000, based on your deposit.
 Capital One® Spark® Classic for Business
If you have Fair/Limited credit, you might consider the Capital One® Spark® Classic for Business. It's an unsecured card (in other words, a regular credit card) with a $0 annual fee, and cardholders can earn 1% Cash Back on every purchase.
Business credit card FAQs
Can you get a business credit card without a business? You should have at least some kind of business income, or the expectation that you will earn business income, before applying. You don't necessarily have to run a full-fledged business with a storefront and employees, however — something as simple as doing freelance work from time to time could allow you to qualify.
What's a business charge card? In general, with charge cards you must pay off your card's balance within a billing cycle, whereas a credit card allows you to roll over a balance from month to month.
Can you use a business credit card for personal use? The best practice is to keep business and personal expenses separate — use a business card for business expenses and a personal credit card for personal expenses. That way, if you ever need to produce records documenting your business expenses, they aren't jumbled together with personal purchases.
What are the best business cards for startups? One card designed specifically for startups is the Brex For Startups. It's unique in that it doesn't require a personal credit guarantee, and it also offers the opportunity to earn generous rewards. Check out the Brex For Startups.