How Does LendingTree Get Paid?
LendingTree is compensated by companies on this site and this compensation may impact how and where offers appear on this site (such as the order). LendingTree does not include all lenders, savings products, or loan options available in the marketplace.
6 Ways to Build Credit Without a Credit Card
Published on: February 21st, 2019
Editorial Note: The content of this article is based on the author's opinions and recommendations alone. It may not have been reviewed, commissioned or otherwise endorsed by any of our network partners.
Building credit can be a challenge for young adults, people without credit, immigrants or anyone with a poor credit history. You need access to credit to build credit, but lenders can be hesitant to approve people who've had problems with it in the past. In this post, we highlight a few ways you can build credit even if you can't get your hands on a traditional credit card.
6 ways to build credit without a credit card
Getting denied for a regular credit card isn't the end of the world. Though credit cards are a common way to build credit, they're hardly the only way. Here a few other credit-building strategies to consider:
1. Sign up for a secured credit card
Secured credit cards are like regular credit cards with training wheels. Secured cards require an upfront deposit that acts as security for the card issuer in case you don't make payments. The typical minimum deposit ranges from $49 to $300. After you build up several months of positive payment history, the credit card issuer may return the deposit and offer you an unsecured card. You can shop for secured cards by heading to LendingTree's credit card tool and limiting the search criteria to cards for those with a bad or limited credit score.
2. Take out a credit-builder loan
A credit-builder loan works kind of like a secured credit card but in an installment loan form. After applying for a credit-builder loan, the money goes into a savings account or certificate of deposit (CD), and the funds are given to you only after you've made all your payments. Meanwhile, those payments are reported to the credit bureaus, which helps you build credit. Check with your bank or credit union to see if there's a credit-builder product available.
3. Become an authorized user
Many credit card issuers allow their customers to designate an authorized user, which is someone who has access to the account but isn't responsible for making payments. By becoming an authorized user, you can essentially "piggyback" on someone else's account, which can be a great way to build credit. Have the main account holder speak with their credit card issuer first to make sure the account will be added to your credit history. And be sure the account holder has good payment habits and little to no balance, or the plan could backfire.
4. Stay current on your student loans
Student loans show up as installment loans on your credit report. Staying current contributes to the payment history portion of your credit score, which is the most influential factor. If you can't make payments on your student loans, make sure you contact the servicer immediately to discuss options like income-based payment, deferment or forbearance. "Student loan deferment and forbearance are recorded in the comments on credit reports and will not harm your credit profile at all," said Netiva Heard, a credit counselor and personal finance coach. But late payments can wreak havoc on your credit.
5. Use personal loans and auto loans
Credit cards aren't the only type of account that matters. Pay attention to other loans you may already have on your report. Part of the FICO credit score calculation is your credit mix — a review of the different types of credit that you're able to manage. Showing you can manage a mix of accounts, including various installment loans, can also help you build credit.
6. Use rent payments
Asking your landlord or property management company to report payments to the credit bureaus is another way to build credit. If the person you rent from can't report payments, an alternative is using a third party. RentTrack is an example of a company that will report to all three credit bureaus for a fee.
Why building credit is important
Good credit can qualify you for the most competitive interest rates on auto loans, mortgages and other debt products. The savings gained from landing a low interest rate can add up to thousands of dollars over the life of a loan. A 2018 study by LendingTree found the average consumer could save more than $45,000 over a lifetime of "common debts" if their credit score was "very good" (740-799) versus "fair" (580-669).
In the study, mortgage costs accounted for 63% of the savings. One look at FICO's updated table with the national average mortgage interest rates for each credit score range shows why.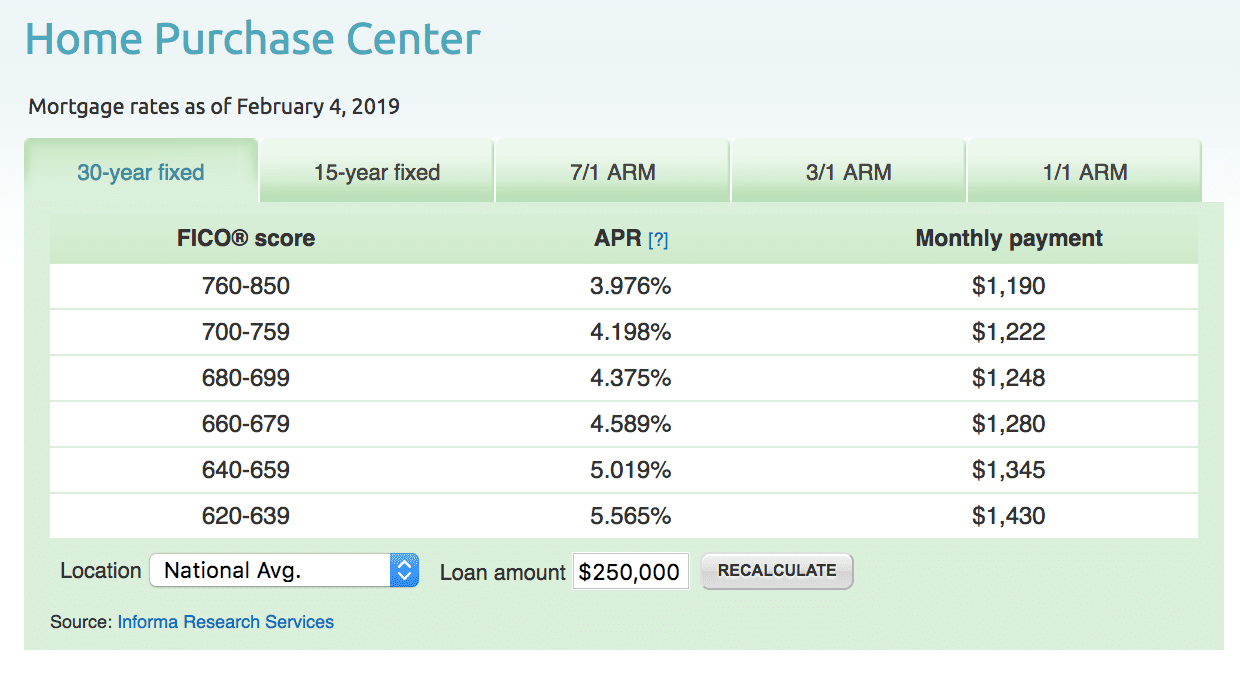 Screenshot via myFICO.com (Feb. 4, 2019)
As of Feb. 4, 2019, the national average interest rate on a 30-year fixed rate mortgage for a credit score range of 640 to 659 was 5.019%. With this rate, the payment on a $250,000 loan would be $1,345.
Compare that to an interest rate for a borrower with a higher score of 700 to 759. This credit score range had an average interest rate of 4.198%. The payment for the same 30-year fixed rate mortgage would be $1,222, for a savings of $123.
Add up that savings of $123 each month over 30 years and we're talking about a nice chunk of change.
There's more than one way to build credit
If you can't get access to an unsecured credit card, don't fret. Credit cards are just one way to build credit. Give some of the other alternatives above a try. No matter what type of credit or loan for which you get approved, using it responsibly and paying your bills on time can help increase your credit rating over time.
The rates and fees mentioned in this article are accurate as of the date of publishing.
Learn more about your credit score!