Finding the Best Debt Consolidation Companies
Published on: May 31st, 2019
Editorial Note: The content of this article is based on the author's opinions and recommendations alone. It may not have been previewed, commissioned or otherwise endorsed by any of our network partners.
If you're juggling multiple monthly payments or feel like you're not getting anywhere with high-interest debt, debt consolidation may be able to help.
Consolidation combines your debts into a single loan, making it easier to manage your monthly dues. And depending on the terms that the debt consolidation company offers, you may be able to lower your monthly payments and save money on interest.
What is debt consolidation?
To consolidate your debts, you'll take out a new loan and use the money to pay off existing loans and credit cards. The debt consolidation company may send the money directly to your current creditors, or you could receive the funds and have to set up the payments yourself.
Although your current accounts will be paid off, consolidating your debt moves the debt rather than eliminating it. You'll benefit from consolidation if your new loan has more favorable terms than your current loans. However, more favorable can mean different things for different people.
For example, if your consolidation loan has a lower interest rate than your current debts, you may be able to save money on interest while paying down your debt. Or, some people may want to lower their monthly payment and simplify their finances, even if it means paying more interest over the life of the loan.
Once you consolidate your debts, your current debt is paid off and you'll send your monthly payments to the new lender. It's important to compare debt consolidation options and the loan offers before consolidating your debts and locking in your new terms.
How to find debt consolidation companies
There are many ways to consolidate debt. In short, you're looking for the most beneficial way to borrow money, but different options may be appealing depending on your situation. Here are four popular options and how to find them.
Personal loans
A personal loan offers you a way to borrow money that you can use for almost anything. However, your approval, rate, terms and loan amount will depend on your creditworthiness.
Some personal loans have an origination fee, often 1% to 6% of the loan amount, and if you're currently struggling with debt you might not get approved for a large enough loan to consolidate all your other debts. However, you may be able to save money even if you can only consolidate a few high-rate loans.
Where to find a personal loan: LendingTree's personal loan tool lets you quickly compare estimated loan offers based on your credit.
Personal loan companies will review your application and credit to determine if you qualify for a loan, how much you can borrow and what your interest rate will be. Generally, you will need good credit and a low debt-to-income ratio to access lower rates.
Balance transfer credit card
Some credit cards offer a promotional 0% annual percentage rate (APR) on balance transfers. When you open one of these credit cards, you can transfer balances from existing credit cards to your new card. Balance transfer credit cards may also offer balance transfer checks that you can use to pay off other types of loans. Sometimes you can also transfer money directly into a bank account and then use the funds to pay off debts.
The 0% APR can offer significant savings, especially if you currently have credit cards with APRs in the high teens or twenties. However, you'll often pay a 3% to 5% fee based on how much money you transfer and you might not be approved for a high enough credit limit to consolidate all your debt. Additionally, the promotional period could end before you pay off the debt and you'll be stuck with a much higher interest rate.
Some cards also offer rewards, but if you want to pay off your debt, you may want to focus on paying off the balance rather than accruing rewards.
Where to find a balance transfer credit card: Many major credit card issuers offer credit cards with balance transfer offers and you can compare the options online.
Review the balance transfer credit cards' balance transfer fees and the length of the promotional 0% APR offers. The requirements can vary depending on the issuer, but you generally need at least a good credit history and score to qualify for the new card. Also, you might not be able to transfer a balance from an existing card to a new card from the same issuer.
Secured home loans
Homeowners who have built sufficient equity may be able to take out a home equity loan (HEL) or home equity line of credit (HELOC) and use the money to consolidate debts. HELs are often fixed-rate loans, while HELOCs are lines of credit. The latter allows you to choose when and how much to "draw" from your line of credit, and each draw may have a variable interest rate.
These secured loans require you to use your home as collateral, which can help you qualify for a large loan and low interest rate. However, you'll be taking on more risk, as your lender could foreclose on your home if you can't make the payments.
Where to find a home equity loan or HELOC: LendingTree can help you find personalized HEL and HELOC offers for debt consolidation.
The amount of money you'll be able to borrow will depend on your creditworthiness and you may need at least 80% to 90% equity to qualify. The fees, closing costs, interest rate and process can also vary depending on whether you're using a HEL or HELOC, the lender and your creditworthiness.
Debt management plans
Nonprofit credit counseling organizations generally manage and run debt management programs (DMPs). When you enroll in a DMP, the organization will negotiate with your creditors to try and lower your interest rates and payment amounts. You'll then make a single payment to the organization, which will distribute the money to your creditors. The programs are set up so you'll pay off the debt within three to five years.
DMPs are generally only available for unsecured debt, such as credit card or personal loans, and you may have to close the credit cards or accounts that are included in your DMP. There could also be a small initiation fee and a monthly fee (around $25 to $35 per month) to the credit counseling organization for the DMP. However, if the credit counselor can negotiate lower interest rates and get fees waived, that could offset the fee.
Where to find debt management plans: The National Foundation for Credit Counseling has a directory that you can use to find an accredited nonprofit credit counseling organization to get started. You may be able to qualify as long as you have unsecured debt and have enough income to make payments on your debts.
How to compare debt consolidation lenders
You'll need to figure out how you want to consolidate your debt before you start comparing lenders. Using the LendingTree debt calculator, you can list your current debt and see how much you might save, your estimated monthly payments and how long it'll be before you're debt free depending on whether you use a personal loan, home equity loan or balance transfer credit card.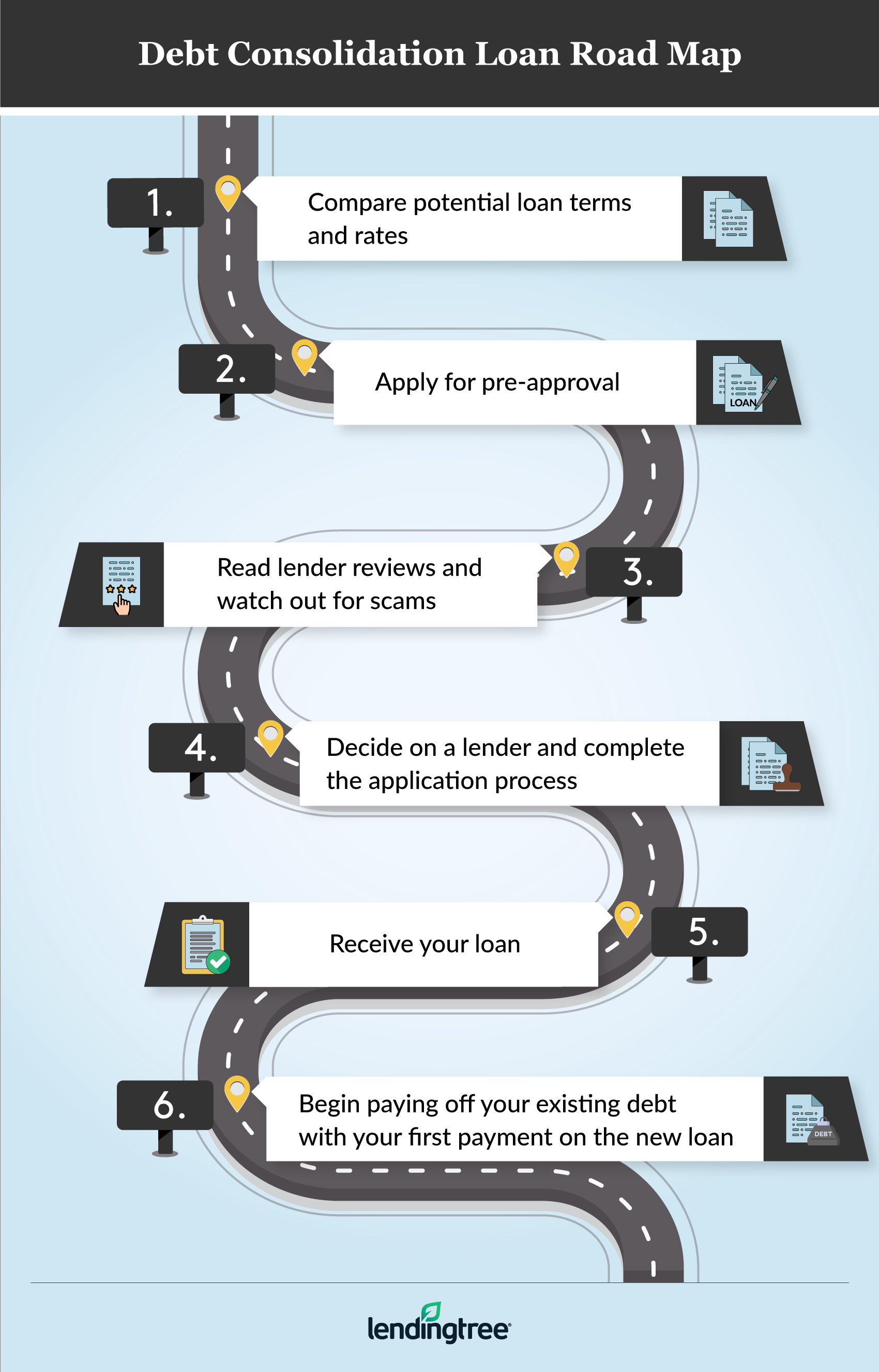 Compare potential loan terms
When you're first comparing lenders, look for differences in these three important areas:
Loan terms. Lenders may offer loans with different terms — how long you'll have to repay the loan. Choosing a shorter term means you'll be out of debt sooner, but your monthly payment will also be higher. Try to find lenders that offer loans with a term that will work for your budget.
Fees. The fees will depend on the lender and type of loan. For example, a balance transfer card's balance transfer fee can vary, and some cards don't even charge a fee for new cardholders. Once you figure out which type of loan you want to use, try to find the lender that charges the least in fees.
Annual percentage rate (APR). The loan's APR will directly impact how much interest you'll pay and it takes different loans' fees into account. Generally, lenders advertise an APR range and your offer will depend on your creditworthiness and loan details. You'll need to compare actual loan offers from each lender to find out which will offer you the lowest APR.
Apply for a pre-approval
The terms and APR you receive can vary depending on your creditworthiness and you'll want to apply with several lenders to find your best offer.
Start by looking for lenders that offer a pre-approval with a soft credit inquiry, which can give you an estimated idea of your loan terms and doesn't impact your credit scores. By contrast, when you submit an official applicant, a hard inquiry may be added to your credit reports, which can have a minor negative impact on your scores.
Read lender reviews
If you've narrowed down your list to a couple of lenders, you could look for online reviews to read about other people's experiences working with the lender. However, sometimes it may be worth paying a little more to work with a lender that has top-notch customer service.
Watch out for scams
Fraudsters may prey on people who are struggling with debt and desperate to find a solution. Unsolicited offers, a pushy salesperson and lack of information about the company online could all be signs of a scam.
Some of these companies may even offer to settle your debt, allowing you to pay less than you currently owe to wipe away the debts. However, scammers may ask for upfront or monthly fees without ever following through on their promise.
What to do once you decide on a lender
Once you've decided on a debt consolidation method and compare the companies and offers, it's time to move forward with your plan. You'll need to complete the application process, receive your loan and pay off the existing accounts you want to consolidate. Depending on your new lender, you might be able to request the money be sent directly to your current lenders to simplify the process.
Also, don't forget to continue making your current payments until you've received confirmation that your current accounts are paid off. Sometimes it can take a few days or weeks for the money to be sent, and you don't want to wind up with a late payment fee from accidentally missing a payment. Once the process is complete, you'll start making the monthly payments on your new loan.