How Does LendingTree Get Paid?
LendingTree is compensated by companies on this site and this compensation may impact how and where offers appear on this site (such as the order). LendingTree does not include all lenders, savings products, or loan options available in the marketplace.
Personal Loan Statistics
Updated on: March 11th, 2021
Editorial Note: The content of this article is based on the author's opinions and recommendations alone. It may not have been reviewed, commissioned or otherwise endorsed by any of our network partners.
Key facts
Outstanding personal loan debt fell to $151 billion in the third quarter of 2020. That's a 3% drop from the third quarter of 2019, marking the first time since 2011 that Americans' personal loan debt has decreased.
The number of Americans with at least one personal loan fell as well. Today, 19.4 million Americans have a personal loan, down from 20.2 million a year ago.
The average size of a new personal loan is $6,092. A year ago, it stood at $6,382.
Personal loans represent about 1% of outstanding consumer debt. In comparison, outstanding credit card debt is about $810 billion, comprising 6% of outstanding debt.
More than half of borrowers take out a personal loan to consolidate debt or refinance credit cards.
The delinquency rate (60 days or more past due) for personal loans is 2.5%, a significant decrease from 3.3% a year ago. Despite the drop, that's still higher than among other common loan types such as mortgages, auto loans and credit cards.
Sources: The Wall Street Journal, TransUnion, Federal Reserve Bank of New York and LendingTree.
Table of contents
How much personal loan debt is there?
The outstanding balance of personal loans owed in the U.S. is $151 billion. That's a decrease from last year's record high of $156 billion, but it's still the second-highest in the past 15 years for which we have data.
Here's an overview of what American consumers have owed on personal loans during that time.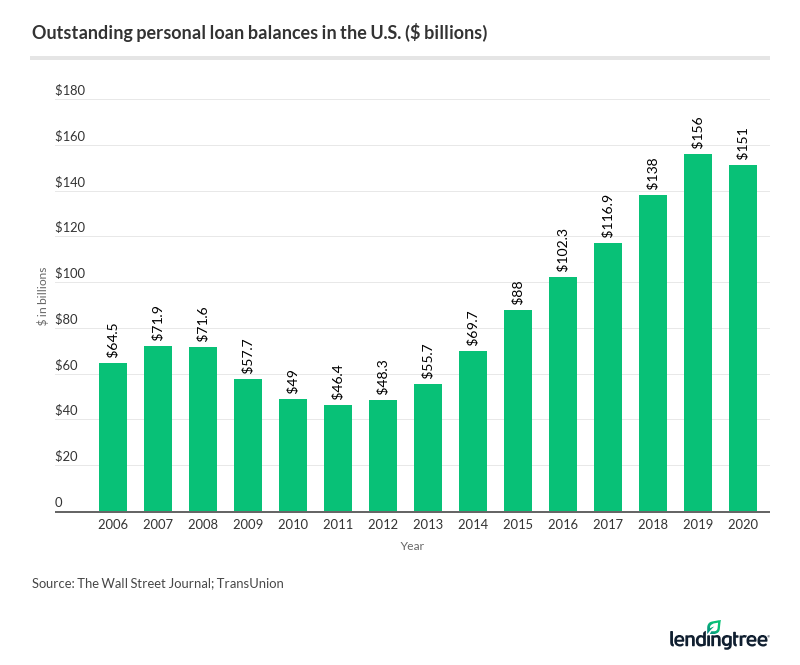 How many people have personal loans?
About 19.4 million Americans have a personal loan, down from a record 20.2 million last year. Even with that dip, however, there are about 5 million more people with a personal loan today than there was five years ago.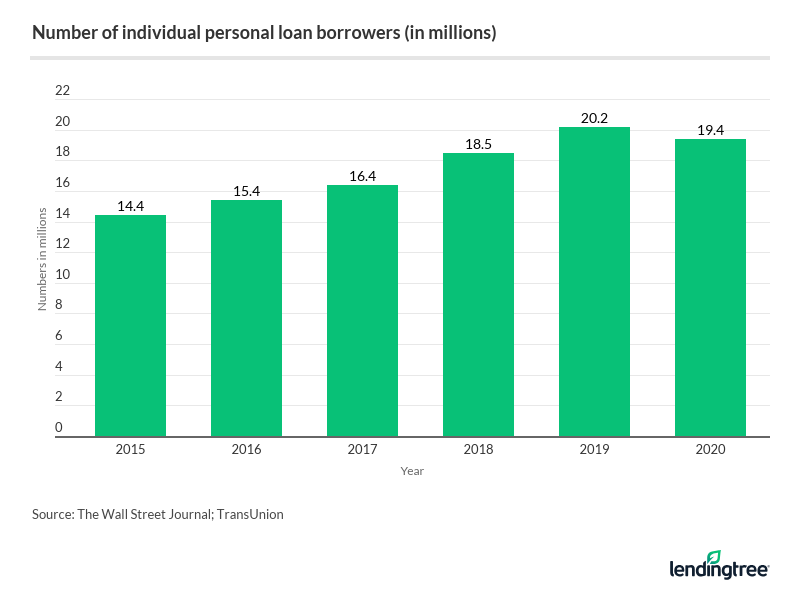 How fast are personal loans growing?
The massive, nearly-decade-long rise in personal loan debt finally came to an end in 2020, thanks to the pandemic. Personal loan balances fell 3%, marking the first decline since 2011.
Still, over the last decade, personal loans are the fastest-growing segment of the consumer debt market, with outstanding loan balances more than tripling in the past 10 years. Following a dip during and right after the Great Recession, personal loans grew by double digits each year until 2020.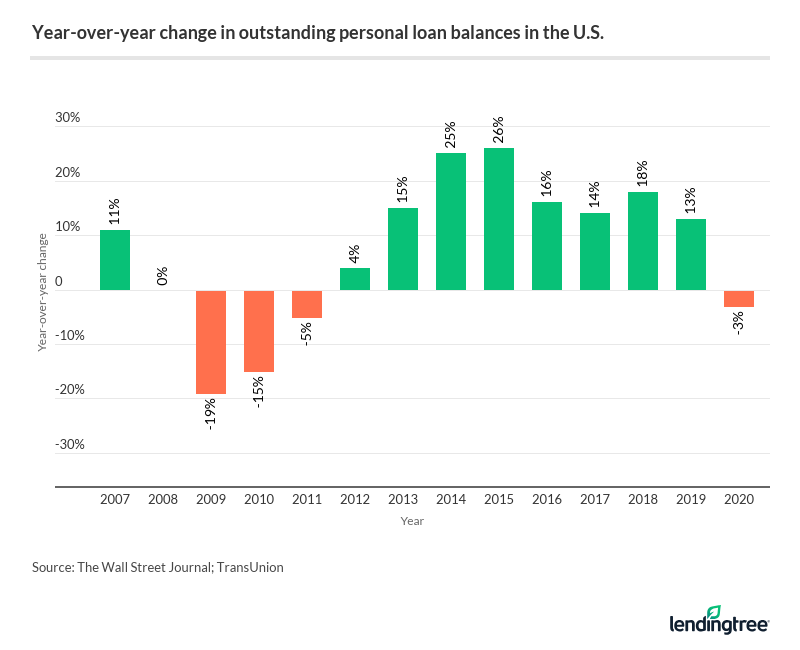 How do personal loans compare to other consumer debts?
Personal loans continue to make up the smallest sliver of consumer debt held by Americans, despite their growth over the past decade.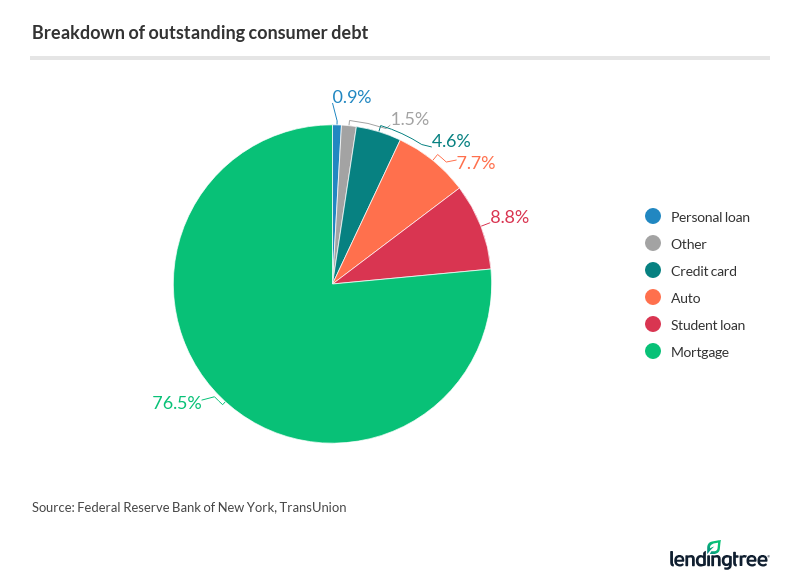 What are the personal loan delinquency rates?
An estimated 2.5% of personal loan accounts are 60 days or more past due. That is a marked decrease from last year's 3.3%, though it is still significantly higher than rates for other common loan types such as mortgages, auto loans and credit cards.

What is the average APR for personal loans?
On average, prime borrowers (typically those with scores of 640 and above) see personal loan APRs that are competitive with the credit card APRs they would receive. LendingTree data shows that the average APR on a new credit card offer is about 19% — but about 16% for those with good credit. As the chart below shows, the average person with excellent credit who applies for a personal loan is getting a far better rate than that.

However, subprime borrowers — who may not be eligible for other credit — generally have to pay far higher rates on their personal loans, if they even have loan offers extended to them. Below, you can see the average APR (which includes the interest rate plus fees) for borrowers based on their credit profile.
Personal loan statistics by borrower credit score
Credit score range
Average APR
Average loan amount
720+
10.73%
$17,753
680-719
19.04%
$13,784
660-679
24.74%
$10,811
640-659
30.18%
$8,872
620-639
37.09%
$7,281
580-619
65.93%
$5,897
560-579
102.36%
$4,130
Less than 560
156.11%
$2,799
Source: LendingTree customer data for Q1 2021.
Why do people take out personal loans?
Personal loans can be used for almost any purpose, from paying for eco-friendly home improvements to covering medical expenses. But the most common reason for seeking a personal loan is to manage debt.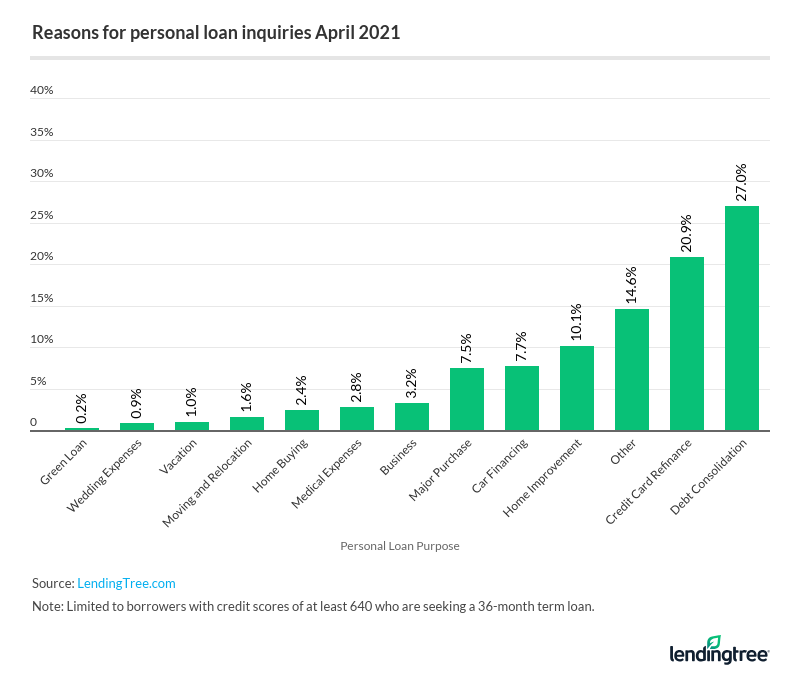 Personal loans in 2021
Even though the pandemic changed so much and sent balances falling for the first time in years, personal loans aren't going anywhere. They're more widely available than ever, and that's generally a good thing.
That's because they can be an effective tool for borrowers looking to consolidate debt, refinance other loans to lower rates or finance big-ticket purchases such as a home remodel or a wedding. In addition, their fixed monthly payments make them simpler and more predictable than a credit card and some other types of loans.
Personal loans aren't perfect, though. For example, you won't find those 0% interest introductory offers on personal loans like you often do with a credit card, meaning that cards are often a better option for those with good credit. Also, as you saw above, their interest rates can be sky-high if you have poor credit. Add in the fact that these loans can have higher fees and penalties than credit cards as well as higher monthly payments, and it becomes clear that applicants should proceed with caution.
The decreases in personal loan balances seen in 2020 are likely to continue, at least through part of 2021. Government stimulus and reduced spending have left many Americans flush with cash, more able to pay down their debts and less in need of help from a personal loan. However, once the pandemic fades, unemployment shrinks and life returns to some semblance of normalcy, we're likely to see an explosion of spending. With that, we're likely to eventually see debt balances begin to climb once again. And when that does, people will turn once again to personal loans for help.
Elyssa Kirkham and Shen Lu contributed to the reporting for this article.