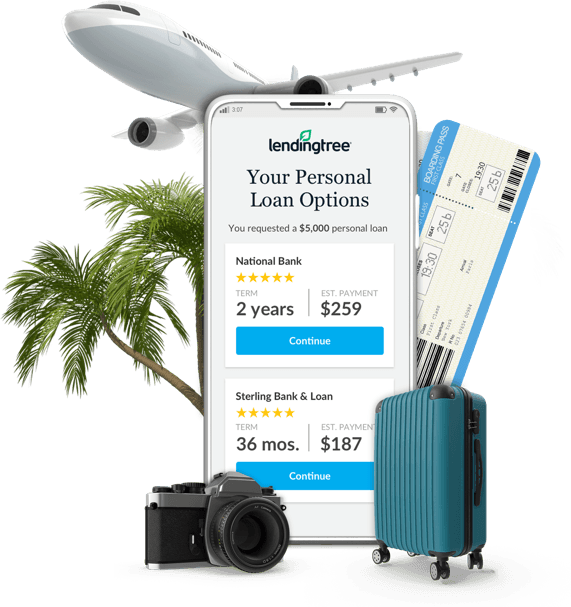 Travel Loans
Can I get a travel loan?
Get a travel loan by shopping unsecured loans. Also called personal loans or signature loans, these loans involve borrowing money without putting up any collateral. LendingTree personal loan offers allow you to shop for the best rates and terms for personal loans up to $50,000.

Get personal loan quotes
​You were going to take a road trip along Route 66, but your landlord raised the rent and your dog broke her leg at the dog park. Your vacation fund vanished and there's no getaway in sight. Travel loans can help fill the gap between your travel plans and everyday life. Here's the lowdown on where to find vacation loans and how they work.
Vacation financing: tips for success
Travel loans and lines of credit provide flexibility and may be less expensive to use than credit cards. And, are less risky than carrying large sums of cash. When deciding how much to borrow, allow for extra expenses in case they occur; if you don't need all the money you borrowed, you can pay it back to your lender after your vacation.
Federal Trade Commission advises consumers to shop and compare loan costs online. Pay close attention to access fees on lines of credit as these can quickly erode the benefit of a low interest rate.
Keep in mind that your travel loan or line of credit must be repaid. Guard against breaking your budget on impulsive purchases and extravagant activities that aren't in your vacation budget.
Our network of lenders provides free loan quotes and can answer questions about loans and lines of credit.
Featured personal loan articles