How Does LendingTree Get Paid?
LendingTree is compensated by companies on this site and this compensation may impact how and where offers appear on this site (such as the order). LendingTree does not include all lenders, savings products, or loan options available in the marketplace.
4 in 10 Americans Weren't Financially Prepared for Coronavirus Pandemic
Updated on: October 5th, 2020
Why use LendingTree?
We are committed to providing accurate content that helps you make informed money decisions. Our partners have not commissioned or endorsed this content. Read our .
The coronavirus pandemic has had a major financial impact on American consumers. In fact, 40% of Americans said they weren't prepared to handle the financial consequences stemming from the public health crisis, according to the first report in a three-part series from personal finance app Stash and LendingTree.
As such, consumers say everything from their quality of life to their retirement plans are under siege as the pandemic drags on. We surveyed nearly 5,000 consumers, and here's what else we learned.
Key findings
4 in 10 Americans weren't financially prepared for the coronavirus pandemic. Among those who felt least prepared were those who earned less than $35,000 (63%), Generation Zers (55%) and women (45%).
Due to the economic impact of the COVID-19 crisis, 1 in 4 people expect to retire later than anticipated. That's especially true for those who make less than $35,000 (34%) and Gen Xers (29%), as well as Latino (30%) and Black consumers (28%).
People of color are facing heavy financial challenges amid the pandemic. In fact, 64% of Black consumers and 62% of Latinos cited facing at least one struggle due to the pandemic, compared with 49% of their white peers.
Primarily due to the financial fallout, 40% of consumers say their quality of life amid the pandemic is worse than before. Gen Zers and those who make less than $35,000 (both 47%) were most likely to say so.
Just over a third of Americans — especially employees of color and low-income earners — experienced a change in their employment status during the pandemic. Of those who experienced a change, 28% were laid off and haven't found a new job yet.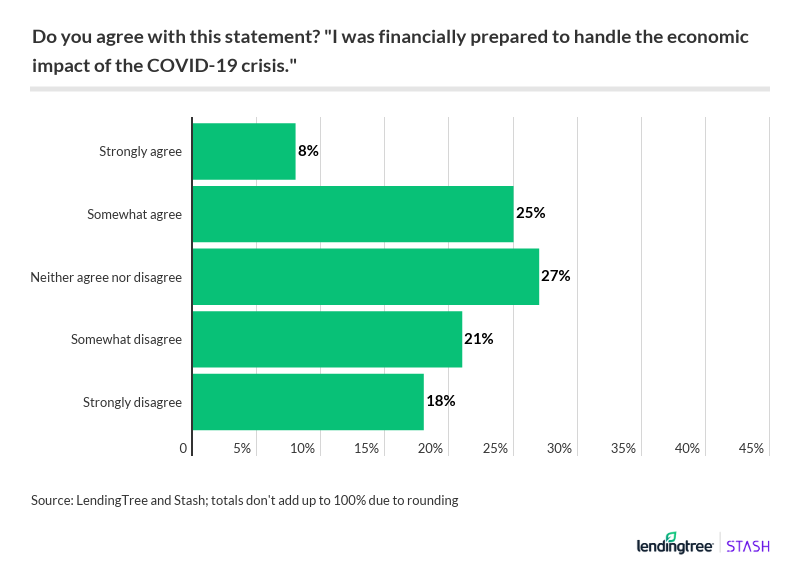 Women, young Americans, low-income earners less confident in financial preparedness
Those from less-privileged backgrounds — as well as low-income earners and younger Americans — were the most likely to be financially blindsided by the pandemic. Here's a further breakdown.
Gender: While 38% of men felt prepared, just 28% of women said the same.
Race: White Americans were more likely to agree or strongly agree that they were prepared (38%), versus 29% of Latino respondents and 21% of Black Americans.
Age: Among Gen Zers, 29% — the lowest of any generation — either agreed or strongly agreed that they were prepared.
Income: Just 14% of those who earn less than $35,000 said they were financially prepared, versus 55% of those who make more than $100,000.
If we've learned anything from the pandemic, it's that we never know just how quickly the storm is going to come or how bad it'll be, said Matt Schulz, chief credit analyst for LendingTree.
Should another crisis come our way, a good way to prepare is to build a sizable emergency fund. "Savings can be challenging, especially when money is already tight, but even a little bit of money stashed away from every paycheck over months and years will add up," he said.
Jeremy Quittner, resident money expert and editorial director at Stash, noted that consumers who do have emergency funds shouldn't hesitate to turn to them.
"If you've worked hard to build up emergency savings, it can feel scary to use that money," he said. "But you have savings for a reason. Just try not to pull from your retirement savings since you can incur penalties for withdrawing from those accounts before you're legally allowed to do so."
Another strategy could be having multiple streams of income. For many, a second job or a
side hustle
can offer a layer of protection. "There are countless ways to bring in a little extra cash on the side, and doing so can make a huge difference when you're trying to weather a crisis," Schulz said.
How pandemic has affected consumers' income
More than one-third of Americans had a sudden reduction in their income between March and July 2020. Again, more women, people of color, low-income earners and Gen Zers saw a decrease in income than men, white respondents, higher-income earners and older workers, respectively.
This reflects once again that the pandemic disproportionately affects marginalized groups and those without an established cash cushion in negative ways.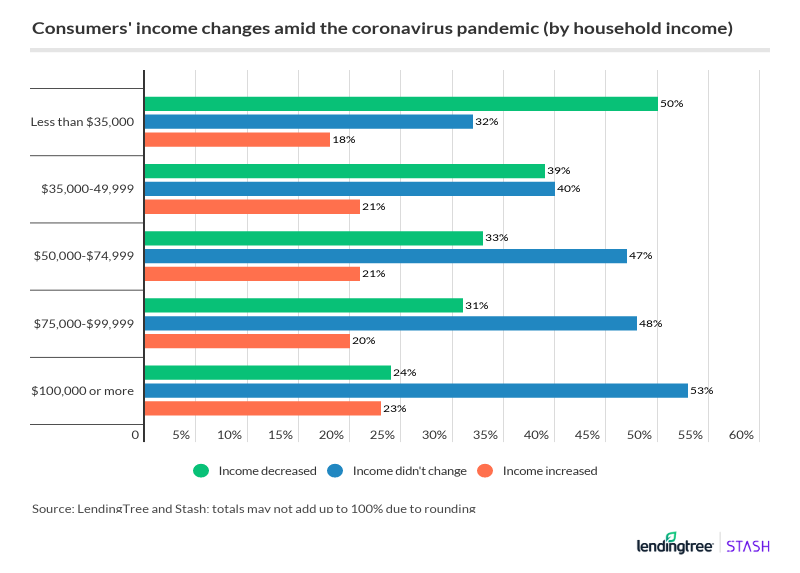 Pandemic has nearly 3 in 10 rethinking their retirement plans
Whether it was due to an unexpected job loss or furlough, or having to deplete existing savings or retirement accounts, many survey respondents shared that the pandemic caused a setback in their retirement plans.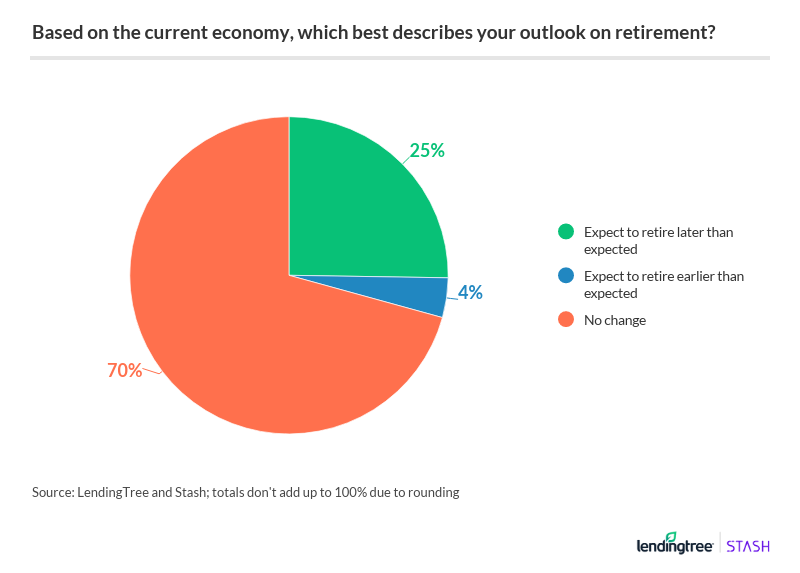 Here are some retirement outlooks by demographic:
Income: More than a third of those who make less than $35,000 a year now expect to retire later, versus 17% of those who make more than $100,000.
Race: 30% of Latino consumers and 28% of Black consumers think they'll retire later, versus 23% of white consumers.
Age: The age group most likely to put retirement plans on hold was Gen X, with 29% of 44- to 55-year-olds saying so. However, millennials and Gen Zers had response rates between 21% and 24%.
For those who discovered during the coronavirus crisis that they didn't have a solid retirement plan, now could be an excellent time to create a formalized one so that it can serve them well no matter what comes next, said Tendayi Kapfidze, chief economist at LendingTree.
People should work with a professional who can help assess their goals and create a plan that can hold up during the next downturn.
"If you had a plan before all this happened, you should likely stick to your plan," Kapfidze said. "It's risky to make big changes when there is a lot of volatility."
People who sold out of the stock market when it crashed this spring have missed out because the market basically is back to where it was, Kapfidze said. But if you had a high level of discomfort throughout the pandemic as far as your retirement accounts were concerned, it could indicate that your risk tolerance levels need to be readjusted, Kapfidze said.
Paying bills on time is biggest financial challenge for 1 in 5 Americans
While money struggles are highly personal, paying for housing, utilities and other monthly expenses was the most cited financial challenge during the height of the pandemic.
It's no wonder, since affording a mortgage or rent payment can be especially difficult in the wake of a sudden job loss or income reduction.
Here are a few highlights from respondents:
More than half (54%) of Americans said they experienced a financial challenge during the pandemic.
For nearly 1 in 5 consumers, simply paying their bills on time was their biggest financial challenge. For Black Americans, that number was 28%, versus 16% of white Americans.
In tight times, those who can't pay basic monthly bills should call the company and ask if they'll work with you, Schulz said.
"I promise you won't be the first to do so, and your chances of success are likely better than you realize," he said.
Quittner agreed.
"Many Americans heard this advice back in March when the pandemic hit, but it still stands," he said. "You might be able to negotiate lower or waived fees, or the due date of your payments. If you aren't able to negotiate with the first customer service representative you speak to, try calling back later. And make sure you understand whether any negotiation will impact your credit score — and how."
To try to avoid getting to that point, though, prioritize your spending carefully.
"Yes, you might miss that streaming service if you have to cancel it for a few months, but keeping the lights on and keeping food on the table is way, way, way more important than watching the latest buzzworthy show," Schulz said.
Quality of life has worsened for 40% of Americans during crisis
It's no secret that 2020 has been awful for many people, so it shouldn't be surprising that so many Americans say their quality of life has decreased. Still, it can be disheartening to learn that finances were a major factor as to why.
Feeling the financial pain. For the 40% of consumers who said their quality of life amid the pandemic is worse than before, more than two-thirds said it's primarily because of the financial impact of the COVID-19 crisis.
Younger Americans are feeling most down. Gen Zers are more likely than other age groups to say their quality of life is worse.
It's tougher when money is tight. The income bracket who said their quality of life was worse now (47%) were those who earn less than $35,000.
One of the best things that people can do to boost their quality of life in these times is to try to regain some control where possible.
"Decide what matters most right now and focus on taking real action to make that better," Schulz said, whether it's finances or schooling.
Find time for little pleasures that boost your physical and mental health. Schulz suggested taking a long nature walk or finishing a book that's been on the nightstand forever.
"Taking time for yourself, even when it seems there's just no time to do so, can make a huge difference in quality of life," he said. "It doesn't have to last long, and it doesn't have to be expensive, but it really does matter."
Methodology
This survey was conducted online within the U.S. by Stash and LendingTree using SurveyMonkey technology. The survey conducted in August 2020 was completed by 4,955 people.
Generations are defined as the following as of August 2020:
Gen Z: Ages 18 to 24
Millennial: Ages 25 to 43
Gen X: Ages 44 to 55
Baby boomer: Ages 56 to 74
Silent generation: Ages 75 and older
Stash is a Paid Partner of LendingTree, LLC NMLS# 1136. LendingTree is a minority Shareholder of Stash.
Of the 4,955 individuals who completed this survey, 51% identified as men, 47% identified as women, 1% identified as nonconforming/nonbinary and 1% didn't disclose.
Of the respondents, 14% identified as Latino, 62% identified as white, 21% identified as Black, 5% identified as Asian, 3% identified as American Indian or Alaska Native, 1% identified as Middle Eastern or Northern African, 1% identified as Native Hawaiian or other Pacific Islander and 5% identified as other. (Respondents were able to select all races that applied.)
Of the respondents, 24% reported earning less than $35,000 in annual household income, 18% reported earning between $35,000 and $49,999, 21% reported earning between $50,000 and $74,999, 15% reported earning between $75,000 and $99,999, and 23% reported earning $100,000 or more. (Totals don't add up to 100% due to rounding.)
Investment advisory services offered by Stash Investments LLC, an SEC registered investment adviser. This information is for informational and educational purposes only, represents an assessment of the market environment as of the date of publication, is not intended as investment, legal or tax advice and is subject to change without notice. The information should not be relied upon by the reader as research or investment advice regarding any issuer or security in particular. Bank Account Services provided by and Stash Visa Debit Card issued by Green Dot Bank, Member FDIC, pursuant to a license from Visa U.S.A. Inc. Investment products and services provided by Stash Investments LLC, not Green Dot Bank, and are Not FDIC Insured, Not Bank Guaranteed and May Lose Value.