How Does LendingTree Get Paid?
LendingTree is compensated by companies on this site and this compensation may impact how and where offers appear on this site (such as the order). LendingTree does not include all lenders, savings products, or loan options available in the marketplace.
Where Baby Boomers Carry the Most Non-Mortgage Debt
Published on: March 18th, 2019
Editorial Note: The content of this article is based on the author's opinions and recommendations alone. It may not have been reviewed, commissioned or otherwise endorsed by any of our network partners.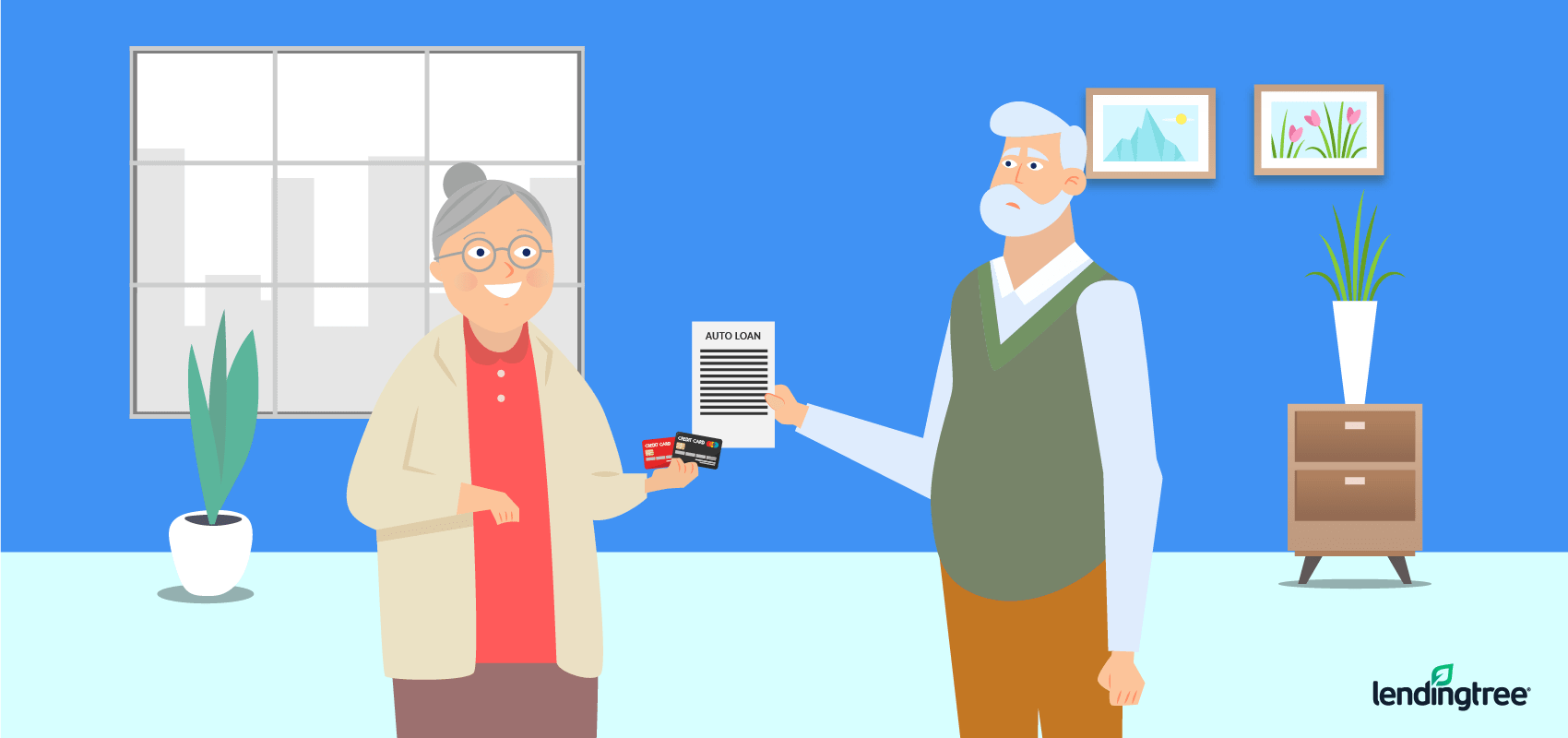 The baby boomer generation (generally defined as those born between 1946 and 1964) are at or approaching retirement age — and they're closing in on this major life transition with pretty hefty debt obligations.
Baby boomers owe a median total of $25,187 on non-mortgage debts, as an average of median debt balances for this cohort in the 100 largest U.S. cities. Auto loans and credit card balances account for the largest share of these balances. Boomers' auto loans account for 38.5% of their total non-mortgage debt, on average, while credit cards make up 34.9%.
In addition to these statistics, we also compared cities to see where baby boomers have the highest debt burdens. Using anonymized credit report data of LendingTree accountholders born between 1946 and 1964 who live in the 100 biggest metros, we determined the following:
Where boomers have the biggest non-mortgage median debt obligations
The average breakdown of debt obligations by account type in each of the 100 largest metros
We excluded mortgage-debt from this analysis. Here's what we found.
Key findings
Baby boomers in Houston are the most laden with non-mortgage debt, with a median balance of $31,626. On average, 42.9% of that is owed on auto loans and another 33.1% is on credit cards.
Little Rock, Ark. and San Antonio round out the top three, with median non-mortgage balances of $30,767 and $29,985, respectively.
On the other end of the spectrum, boomers in Oxnard, Calif. have median non-mortgage balances of $20,876. Forty-one percent of that is on credit cards and 37.6% in auto loans, on average.
Boomers in Detroit and Grand Rapids, Mich. carry the next-lowest median balances at $21,110 and $21,181, respectively.
Auto loans comprise the biggest section of boomer debt, averaging 38.5% of average debt across the 100 metros we reviewed.
Credit cards represented the next-largest slice of baby boomers' debt balances, averaging 34.9% across the 100 metros.
As with our other generational debt studies, Texas rules the top of the list for median balances. Five of the six Texas metros we reviewed fall in the top 10 (El Paso comes in 36th on the list).
The 10 U.S. cities where baby boomers carry the most debt
The 10 Places Where Baby Boomers Carry the Most Debt (Excluding Mortgage)
Rank
Metro
Median Balance
1
Houston
$31,626
2
Little Rock, Ark.
$30,767
3
San Antonio
$29,985
4
Dallas
$29,736
5
Oklahoma City
$29,602
6
McAllen, Texas
$29,351
7
Austin, Texas
$29,157
8
Baton Rouge, La.
$28,853
9
Washington
$28,634
10
Fresno, Calif.
$28,166
Among the top 10 cities where baby boomers owe the most on non-mortgage debt, median balances on non-mortgage debt total $28,000 or more.
The 10 cities where boomers carry the most non-mortgage debt also have some regional similarities — with the exception of Fresno, Calif., all of them are located in the South. Five are Texas metros: Houston, San Antonio, Dallas, McAllen and Austin are all located in the Lone Star State.
Overall, boomers in these top 10 cities tended to have above-average shares of their debt balances on auto loans and personal loans. The portion of their debt owed on credit cards and student loans, by comparison, was smaller.
This could indicate that dollar-for-dollar, boomers borrow more and get deeper into debt when they have auto loans and personal loans. It could also be a sign, however, that these high-debt boomers are more likely to leverage personal loans to consolidate debt.
Here's an in-depth look at the breakdown of debt balances by account type in the 10 cities where baby boomers are the furthest in debt.
Auto loans: The share of boomers' debt owed on auto loans was the highest in McAllen, Texas. Here, the median debt balance is $29,351, and auto loans make up just over half (53.6%) of baby boomers' outstanding balances.
Credit cards: Of the 10 cities where baby boomers have the highest median debt balances, Washington, D.C. is the only place where they have above-average credit card debts. An average 38.6% of the money Washington's boomers owe was borrowed on credit card, compared with 34.9% across all 100 cities surveyed. The median debt total is $28,634 among Washington's boomers.
Personal loans: In half of these 10 cities, the portion of boomers' balances owed on personal loan debt was higher than the 17.0% average across all 100 cities. Boomers in Fresno, Baton Rouge, La. and Washington owed the most on these types of debt. In each city, boomers owed just under a fifth (about 19%) of their outstanding debt to personal loans, on average.
Student loans: The high balance boomers owe in these cities is unlikely to be due to student debt, which is unsurprising given that boomers are far past their college-age years. Still, some might still be repaying student debt for themselves or a child, since across all 100 cities student loans account for an average 7.7% of what boomers owe.
Among the 10 cities where boomers owe more, Little Rock is the exception, with student loans accounting for 9.1% of balances on average.
The 10 U.S. cities where baby boomers carry the least debt
Where Baby Boomers Carry the Least Debt (Excluding Mortgage)
Rank
Metro
Median Balance
100
Oxnard, Calif.
$20,876
99
Detroit
$21,110
98
Grand Rapids, Mich.
$21,181
97
Spokane, Wash.
$21,806
96
Greenville, S.C.
$21,858
95
Boise, Idaho
$21,937
94
Scranton, Pa.
$22,140
93
Springfield, Mass.
$22,142
92
Stockton, Calif.
$22,149
91
Tucson, Ariz.
$22,347
Then there are the 10 cities where boomers owe the least on non-mortgage debt. Of these, five are located in western states: Oxnard, Calif.; Spokane, Wash.; Boise, Idaho; Stockton, Calif.; and Tucson, Ariz. The No. 2 and 3 cities where boomers have the lowest median balances, Detroit and Grand Rapids, are in Michigan.
Earning a spot among the 10 cities could be a sign of fiscal responsibility among members of this generation. In some cases, it might indicate that boomers could be nearing retirement with debt that's more manageable.
But low debt balances in these communities aren't necessarily a sign of positive economic health, unfortunately. It can also be a sign that boomers in this city aren't taking on debt in the first place, often because they can't afford to or can't qualify for and access debt.
Baby boomers in these cities also had different average debt profiles than those living in the 10 cities where this generation had the highest balances. Overall, they tended to owe a smaller portion of their total debt on auto loans. But they owed more of their debt to personal loans, credit cards and even student loans.
Here's a look at boomer's debt makeups in the cities where they have the smallest balances.
Auto loans: In most of these 10 cities, baby boomers tended to owe less on their car loans compared with other debt. Boomers' auto loans accounted for the smallest portion of their debt in Springfield, Mass. and Scranton, Pa., at just over 31% of their total debt.
Credit cards: Oxnard's boomers had a higher distribution of debt on credit cards, with 41% of their balances owed on these accounts. Oxnard is also the city with the lowest median debts among baby boomers, at just $20,876.
Personal loans: Stockton was also the top 10 city that had the highest personal loan balances, as a portion of boomers' total non-mortgage debt. Here and in Spokane, personal loans account for about 22.5% of baby boomers' debt — compared with an average 17% personal loan debt distribution among all 100 cities.
Student loans: The top 10 cities were also fairly split on student debt, with boomers' student loans making up a higher share of debt than others. On the high end, boomers' student debt in Springfield, Scranton, and Boise accounts for more than 10% of their non-mortgage balances. For Tucson baby boomers, that number was less than half, with student debt accounting for an average 4.7% of balances.
A breakdown of baby boomers' debt in each city
Our rankings reveal the cities where baby boomers' total debts are the highest and lowest. But in each city, the breakdown of boomers' debt can differ. While some owe more on auto loans, others have higher balances on personal loans or student loans.
The chart below shows the average breakdown of boomers' non-mortgage credit and loan balances in each city. From the chart below, for instance, we can see that:
McAllen is where baby boomers' balances are mostly (53.6%) owed on car loans
Bridgeport, Conn.'s boomers have the highest credit card balances, as a percentage of their total debts — 44.2% on average
Honolulu baby boomers tended to owe more on personal loans, with 28.3% of their debt distributed to these accounts on average
New Haven, Conn. is where boomers' balances include the highest ratio of student loans, with 12.5% of balances owed on these types of debt.
Find the city on the left, and move across to see the average percentage of total debt that each debt type accounts for.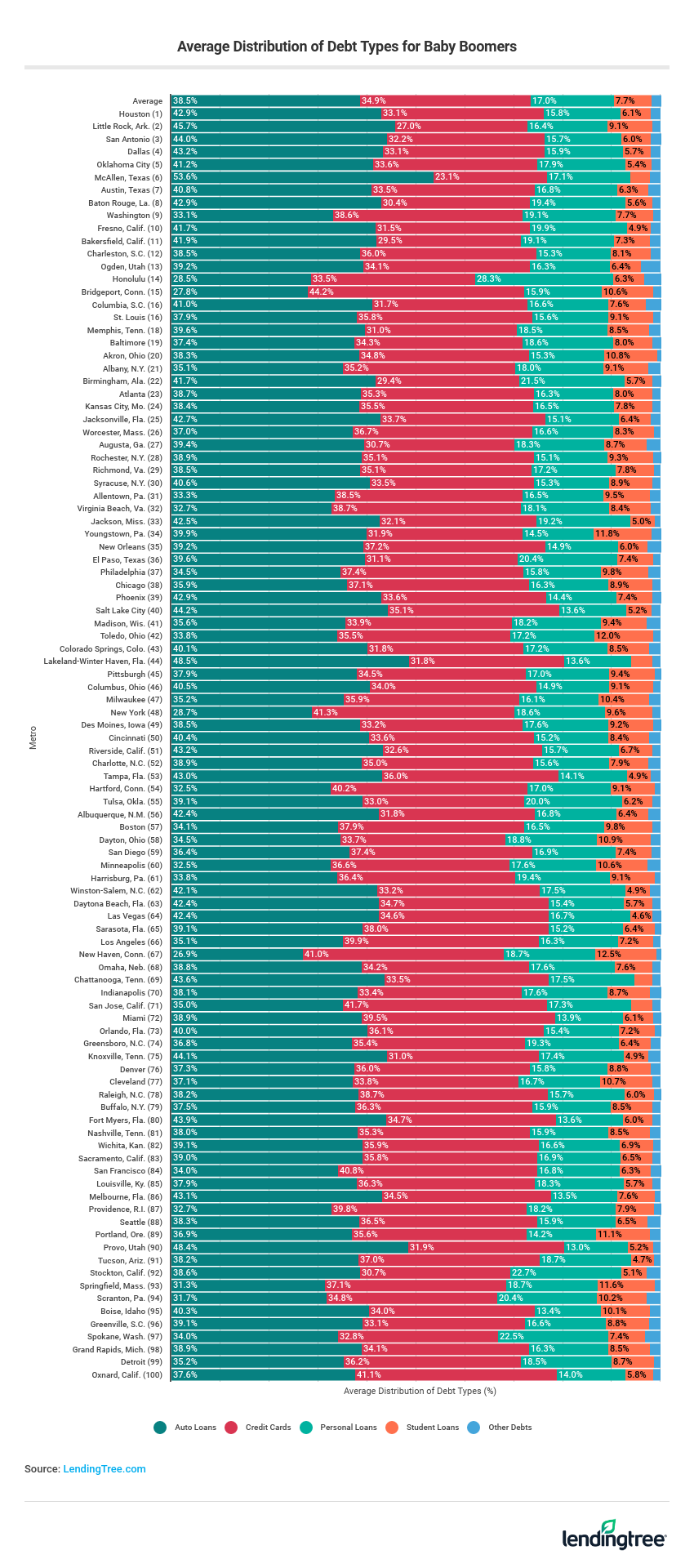 Full rankings: Where baby boomers are shouldering the most debt
Below are the full rankings of all 100 cities according to the median debt balances of resident baby boomers.

How baby boomers can tackle their debt
This study reveals that baby boomers are carrying significant debt — more debt than millennials are carrying, by comparison. Fortunately, boomers are also at a life stage when they likely have achieved higher earnings and managed to build up savings to match their highest debt burdens.
But baby boomers still need to take their debt seriously as they approach living in retirement, which is likely to require them to live off a fixed income that could be lower than what they currently earn. It's wise to spend the years leading up to retirement cutting back on ongoing costs, including by eliminating debt and the monthly payments that come with it. Other boomers might need to catch up on savings to ensure they have a large enough nest egg to support them in retirement.
Our survey does reveal some key points about where baby boomers can focus their efforts to get ahead of their debt.
Focus on high-balance auto debt
In the cities where boomers owed the most, a greater share of their debt was borrowed through car loans. But across the board, auto debt accounts for a large portion of baby boomers' balances. Boomers who are feeling the burden of a car payment that's too high can consider a few moves.
Pay off your car loan: Send in extra payments monthly or in a lump sum to your auto lender to attack your principal. As your auto loan balance drops, you'll drop months off your loan term and avoid hundreds of dollars in interest charges.
Downgrade your car: If you're not underwater on the car (owing more on the loan than the car is worth), consider getting a new vehicle. You can sell your car, use the proceeds to pay off the loan and buy a more affordable model in cash.
Consider auto loan refinancing options: Restructuring your auto loan can help in some cases, too. If your auto loan rate is high, see if you could refinance to a lower rate. Refinancing can also help you switch to a different loan term. A shorter repayment period can come with a lower rate, and get you out of debt faster. A longer repayment period can make monthly payments more manageable, too.
Target balances on high-interest credit cards
After auto loans, baby boomers tended to owe the most on credit cards. Yet credit cards carry the highest interest rates of any type of debt we look at, meaning these balances are costing baby boomers more.
Baby boomers looking to wrangle high credit card balances should focus on these moves.
Rein in credit card charges: Some of the baby boomers included in this study are likely charging purchases and repaying their balances in full each month. They have credit card debt, but it's never more than they can afford to immediately repay. If you're in the habit of carrying a balance on your cards and charging more than you can pay off each month, revisit your spending habits. Review your budget and expenses, and look for strategies to avoid overspending with credit cards — such as only paying with cash or leaving credit cards at home.
Pay off your highest-interest credit card first. Review all of your balances and figure out which account is charging you the most for each dollar you owe. Then, prioritize paying this off by sending in extra payments to this debt first. You'll knock it out and save more by avoiding higher interest charges.
Consider consolidating credit cards balances. Another way to combat high credit card rates is to move this debt to lower-interest accounts. Consolidating credit cards with a personal loan can help simplify this debt, and personal loan rates often beat credit card APRs. Another option is transferring credit card balances to a new card with a 0% introductory rate.
Lastly, baby boomers who are struggling with debt and cannot realistically afford to repay it still have options, including debt relief programs or bankruptcy. Debt relief services can help restructure, manage and even negotiate down debt. In other cases, bankruptcy could provide a clearer path forward for some baby boomers.
One thing is certain: Baby boomers can't afford to ignore their debt. Make it a priority to manage and reduce debt, and you can save hundreds on interest, free up monthly cash flow and give yourself a healthier start heading into retirement.
Methodology
Using an anonymized sample of over 100,000 LendingTree users born between 1946 and 1964, researchers calculated total debt balances from January 2019 credit reports. These results were then aggregated to the 100 largest metropolitan statistical areas to calculate median debt obligations (non-mortgage), as well as the average distribution of debts across the following debt types: auto, credit cards, personal loans, student and other.
LendingTree is a free credit monitoring service available to the general public, regardless of their debt and credit histories, or whether they've pursued loans on a LendingTree platform. LendingTree has over nine million accountholders.