FHA Loan Limits in 2021: How Much Can I Qualify For?
Updated on: December 4th, 2020
Editorial Note: The content of this article is based on the author's opinions and recommendations alone. It may not have been previewed, commissioned or otherwise endorsed by any of our network partners.
Loans insured by the Federal Housing Administration (FHA) are often a go-to option for homebuyers with low credit scores and little cash saved up for a down payment. On the flip side, FHA loan limits have lower maximum loan amounts than other types of mortgages. This means that FHA borrowers can't finance as much as they might need to buy a home.
Knowing the current FHA loan limits and requirements may help you decide if an FHA loan fits your financing needs.
What is an FHA loan?
An FHA loan is a government-backed mortgage offered by FHA-approved lenders. The FHA insures the loans, and flexible FHA guidelines give borrowers with lower credit scores and down payment amounts a better shot at homeownership than more stringent conventional loan programs allow.
What is the FHA?
The FHA was created in 1934 to make homeownership possible for Americans at a time when the country was mostly a nation of renters. Buying a home back then required a 50% down payment that had to be paid off within three to five years.
Today, FHA loans are offered to borrowers with down payments as low as 3.5% and loan terms as long as 30 years. Borrowers pay FHA mortgage insurance to protect lenders against financial loss in case they default, or fail to repay their loan.
FHA loan limits in 2021
The U.S. Department of Housing and Urban Development (HUD) sets the lending guidelines for all FHA-insured mortgages. One of the biggest differences between FHA home loans and conventional loans is their loan limits, which reflect the maximum amount a person can borrow. There are two types of loan limits: FHA loan limits and conforming loan limits (the latter limits apply to conventional mortgages, which are not backed by the federal government).
In 2021, the FHA "floor" in low-cost areas is set at $356,362 for single-family homes, an increase of $24,602 over the 2020 limit of $331,760. The FHA "ceiling" is $822,375 for single-family homes in 2021, an increase of $56,775 over the 2020 high-cost limit of $765,600.
The FHA "floor" is set at 65% of the national conforming loan limit of $548,250 in most of the country in 2021. Meanwhile, the FHA "ceiling" is set to 150% of the national conforming loan limit amount — a higher maximum limit that applies to high-cost areas. FHA county loan limits adjust every year based on median home-price changes. Look up your county's FHA loan limit using HUD's search tool.
How much can I borrow with an FHA loan?
FHA borrowers can finance higher loan amounts in 2021 than in previous years. The table below compares FHA loan limits to conventional conforming loan limits in low-cost areas of the country.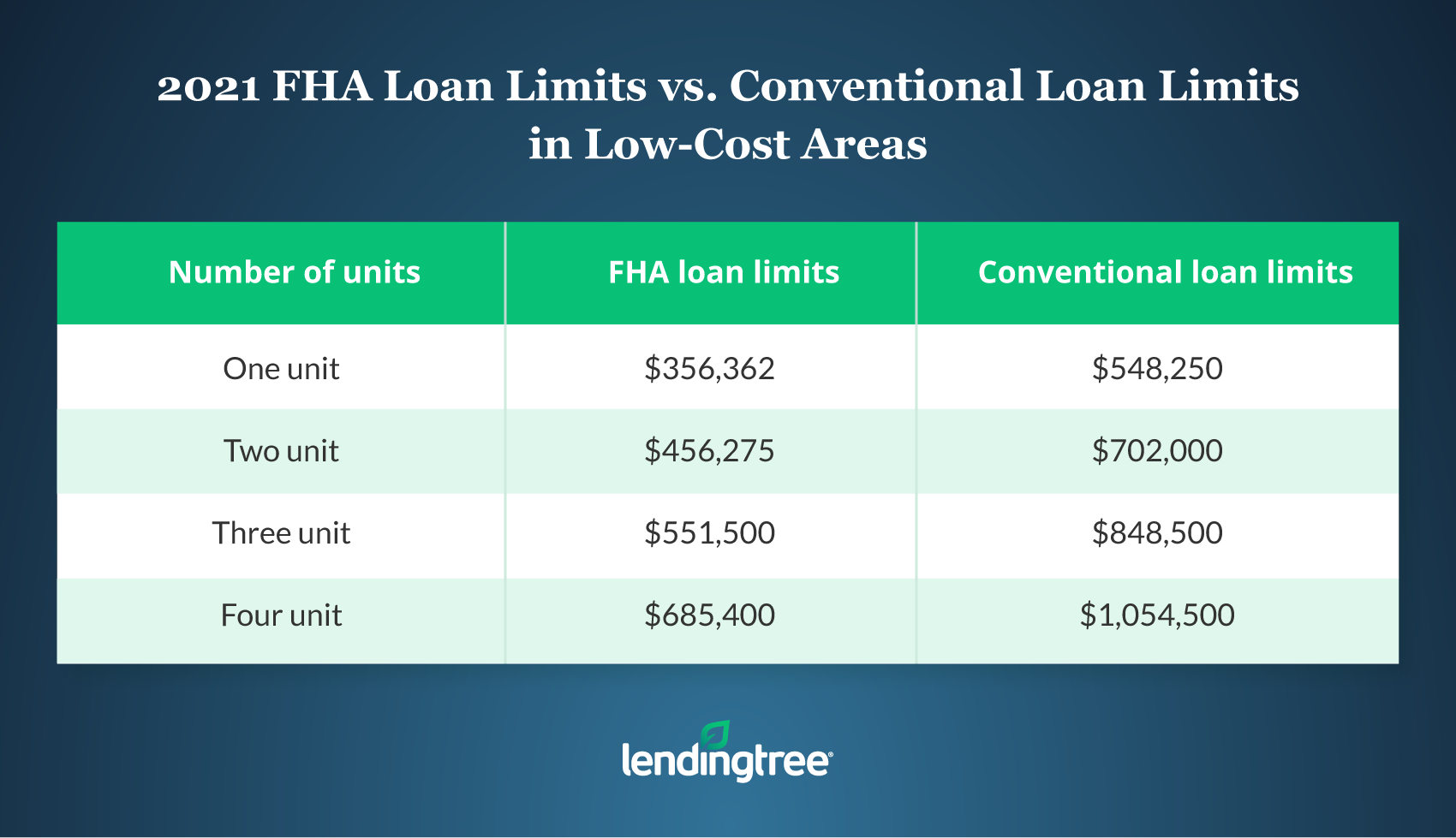 FHA loan limits reflect conventional loan limits in more expensive U.S. counties. However, outside of the lower 48 states, FHA max loan amounts and conventional loan limits are even higher because of more expensive construction costs.
Mortgage limits in the special exception areas of Alaska, Hawaii, Guam and the U.S. Virgin Islands also increased in 2021. The table below lists loan limits for FHA and conventional loans in high-cost and special exception areas.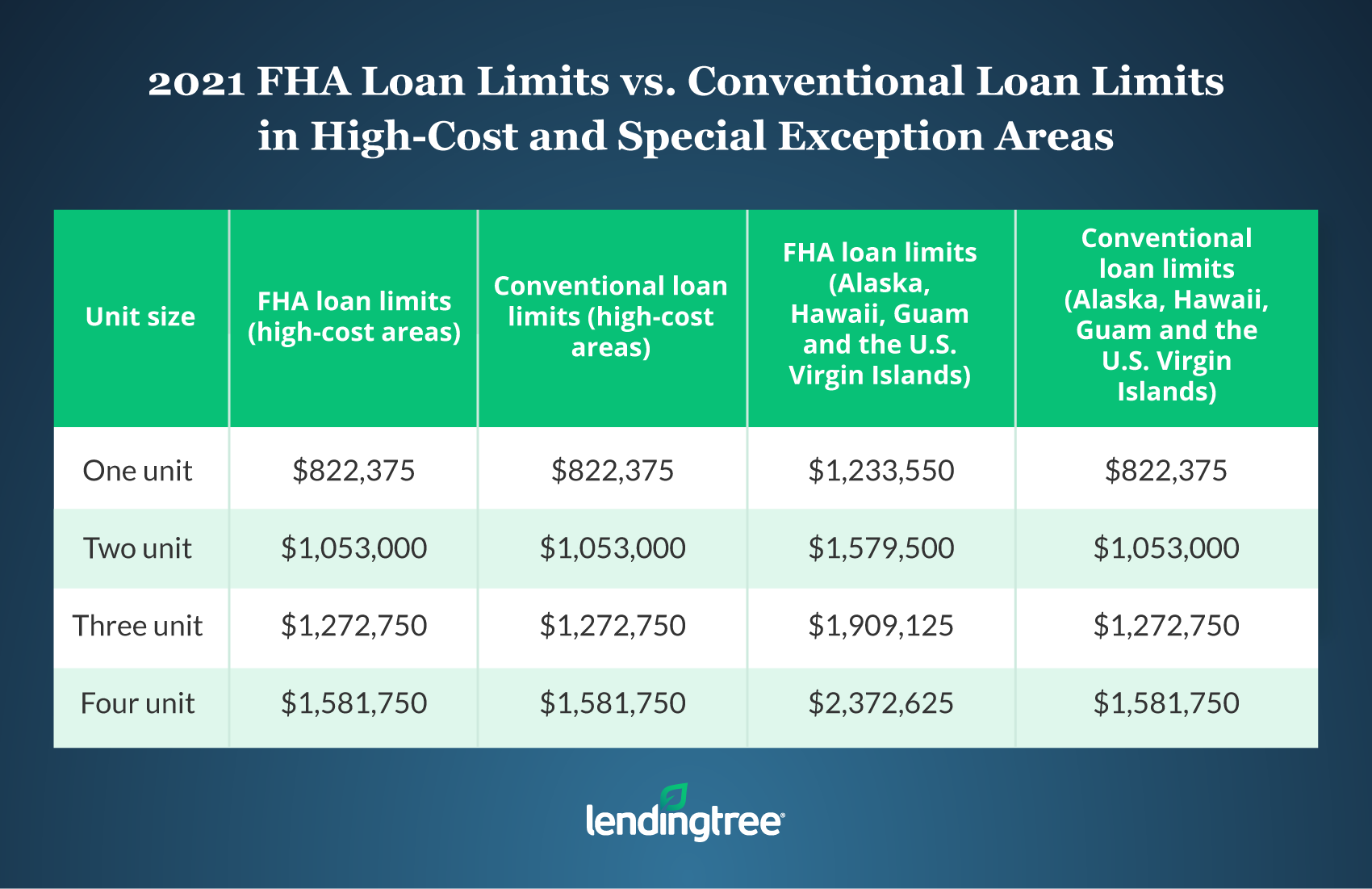 FHA loan requirements
Not all borrowers will qualify for the maximum FHA loan limit to purchase or refinance a home in their county. The exact amount depends on a variety of factors, such as:
Your debt-to-income (DTI) ratio. A DTI ratio is the sum of your monthly debt payments divided by your gross monthly income. Lenders look at two types of DTI ratios, front-end and back-end ratios. The front-end ratio looks solely at your monthly housing payments, and should account for 31% or less of your monthly income before taxes. The back-end, or total DTI ratio, adds other monthly debt (such as car payments, credit cards or student loans) to your mortgage payment. This shouldn't exceed 43% of your gross monthly income.
Your credit score. FHA loan credit score requirements are much lower than those for conventional loans. Borrowers with a 580 score can make a down payment of as little as 3.5%, compared to 620 for a conventional loan. If your credit score is 500 to 579, you can be approved with a 10% FHA loan down payment. However, lenders might not let borrowers with lower credit scores borrow as much money.
Your total debt load. If you have no other debt, you might qualify for an FHA loan with a total DTI ratio up to 40%. If you have extra residual income or cash reserves, some FHA lenders may approve you with a total DTI ratio above 50%.
Your CAIVRS report. The Credit Alert Interactive Verification Reporting System (CAIVRS) is a federal database that tracks defaulted government loans, such as delinquent student loans or federal tax liens. Your FHA loan may not be approved if the CAIVRS report shows that you have these liens.
Here's a summary of the minimum mortgage requirements for an FHA loan.
FHA Loan Requirements
Down payment

3.5% with a 580 minimum credit score
10% with a 500 to 579 minimum credit score

Credit score

500 to 579 with a 10% down payment
580 or higher with a 3.5% down payment

Maximum front-end DTI ratio

31% (up to 40% in some cases)

Maximum back-end DTI ratio

43% (up to 50% in some cases)

Credit history requirements

No delinquent or defaulted federal debt
No short sales or foreclosures in the past three years
No Chapter 7 bankruptcy in the last two years
No Chapter 13 bankruptcy in the last 12 months
FHA loan limits for HECMs
Borrowers age 62 or older may qualify for a Home Equity Conversion Mortgage (HECM). HECMs are insured by the FHA and are the only reverse mortgage product backed by the federal government.
For 2021, the "maximum claim amount" for a HECM is $822,375 for all parts of the country, as well as Alaska, Hawaii, Guam and the U.S. Virgin Islands.
Reverse mortgage loan amounts are determined based on three factors:
The age of the youngest borrower (at least 62 years)
The value of your home
The interest rate on the loan
With a reverse mortgage, you can convert your home equity into monthly retirement income, receive it in a lump sum or set up a credit line you can use as needed.