How Does LendingTree Get Paid?
LendingTree is compensated by companies on this site and this compensation may impact how and where offers appear on this site (such as the order). LendingTree does not include all lenders, savings products, or loan options available in the marketplace.
63% of Homeowners in an HOA Say They're Priced Fairly, but Fees Are on the Rise for Many
Updated on: February 21st, 2023
Why use LendingTree?
We are committed to providing accurate content that helps you make informed money decisions. Our partners have not commissioned or endorsed this content. Read our .
If you want to start a hot debate at your next dinner party, ask everyone their thoughts about homeowners associations (HOAs).
People generally have strong opinions about HOAs, ranging from positive (more orderly landscaping and convenience) to negative (less freedom and higher costs). And speaking of that, 35% of those with an HOA think theirs is too expensive to justify the benefits, according to the latest LendingTree survey of 1,000-plus homeowners, with 45% saying the cost of theirs rose in the past year. That said, 63% say their HOA is priced fairly — exemplifying the split.
Let's look closely at how people feel about HOAs, including their advantages and disadvantages.
On this page
Key findings
Some homeowners are dishing out more than their monthly mortgage payments, as 35% of those surveyed say their property is in a homeowners association. Annual dues average $291 a month — or about $3,500 a year. When buying their most recent home, 53% of people whose homes are in HOAs say they sought one, 31% say they didn't think about it and 16% say they didn't want to be part of one.
The additional cost of an HOA might be a deterrent to some, but 57% of HOA members say it has made their lives easier. Exterior maintenance could be the biggest contributing factor. According to our survey, dues primarily go to neighborhood landscaping (64%) followed by security (44%), personal landscaping (34%) and sports and leisure amenities (31%).
Like many things these days, the cost to live carefree is increasing — even if most say the fees they pay are priced fairly. 45% of members report that their HOA dues have increased over the past year. But the majority (52%) say they've remained the same, and 3% say fees have decreased. Although dues could continue to rise, 63% of homeowners in an HOA say they're priced fairly for the benefits received.
The grass isn't always greener in a controlled community, as 35% report their HOA is too expensive. Of those who feel they're overpaying, 73% say their dues have increased in the past year. And 33% who feel their benefits are too expensive say their HOAs have neglected maintenance responsibilities, versus the 8% of people who say their benefits are priced fairly and cite neglected maintenance.
Unhappiness with the cost of an HOA could be due to violations of membership rules. 43% of these unsatisfied members say their HOA has made their lives harder. 23% of members unhappy with the cost say they've been given a violation notice, compared with 15% of homeowners in an HOA. Landscaping issues (34%) are the major contributing factor, followed by design changes (23%) and fencing (23%).
35% of survey respondents are in a home with an HOA
More than 1 in 3 (35%) homeowners surveyed belong to an HOA, and this figure increases most among Gen Zers ages 18 to 25 (47%), six-figure earners (45%) and residents in the West (44%). HOA membership is least common among parents with adult children (26%), those who earn less than $50,000 (27%) and residents in the Midwest (27%).
Those in an HOA say they spend an average of $291 a month on fees, or about $3,500 a year. Men say they spend more monthly on HOA fees than women — $317 versus $245, on average.
More than half (53%) of these HOA members wanted to belong to one before they bought their most recent home, but 9% of them regret that homebuying process decision.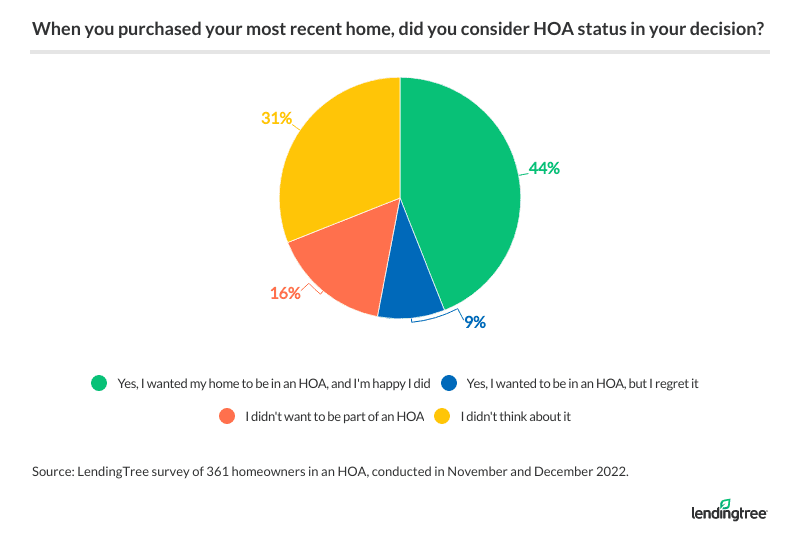 LendingTree senior economist Jacob Channel understands why many homeowners are eager to join an HOA.
"They believe their HOA can help them protect and grow the value of their home," Channel says. "Because an HOA can compel members to keep their homes to certain standards, they can help make a neighborhood seem more appealing and, as a result, help maintain or increase property values."
Channel urges potential homeowners to remember that even if their home is in great shape and offers amazing amenities, it may be difficult to sell if buyers don't like their neighborhood.
"If your lovely four-bedroom cottage home is next door to a neighbor who lives in a dilapidated shack and has chosen to erect a 20-foot statue of Kid Rock on his lawn, it's probably not going to sell very quickly," Channel says.
57% of homeowners in an HOA say it makes their lives easier
Most HOA members seem happy to be in one, with 57% reporting it makes their lives easier. About a quarter (23%) of respondents say their HOA has made their lives harder.
Whether HOAs make homeowners' lives easier or harder (or both), here are the services most commonly offered: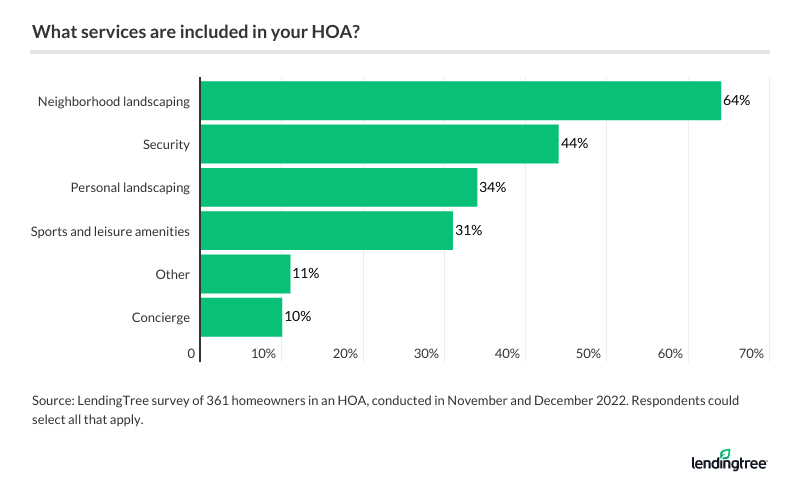 Homeowners in an HOA say they're priced fairly, but many paying more dues
While 63% of homeowners feel the fees their HOA charges are fairly priced in exchange for the benefits they receive, they may not feel that way for long. Almost half (45%) of HOA members report their dues increased over the past year — although a lucky 3% saw a decrease.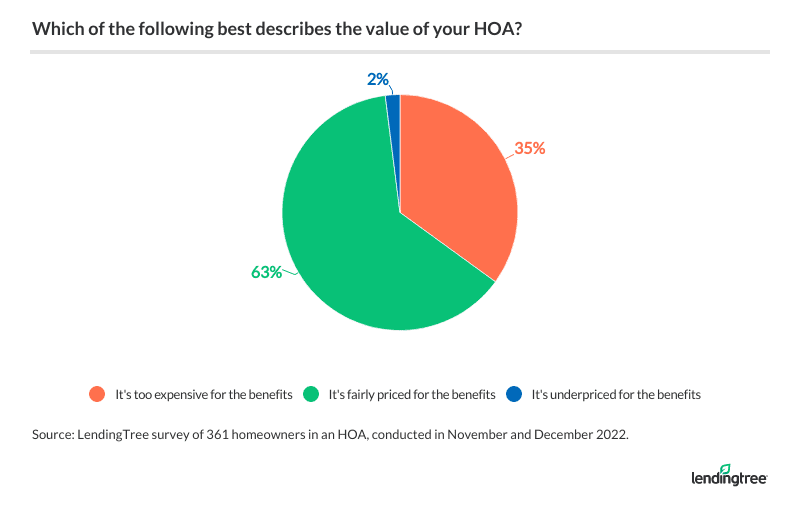 Homeownership is expensive, and HOA fees add to the ongoing costs of owning a home. Nearly 3 in 4 (73%) who feel they're overpaying saw their HOA fees increase in the past year.
Paying HOA fees can be frustrating, especially if you don't feel you're getting enough bang for your buck. A third (33%) of homeowners who believe they're spending too much on HOAs says theirs neglects maintenance responsibilities. That compares with 8% who believe theirs is fairly priced but cite neglected maintenance.
"Fees are certainly a downside of HOAs," Channel says. "This can be especially true for recent homebuyers who had to deal with high rates and home prices that left them with little money."
A look into the world of HOA violations
An unfortunate 15% of homeowners in an HOA know all too well what it's like to receive a violation.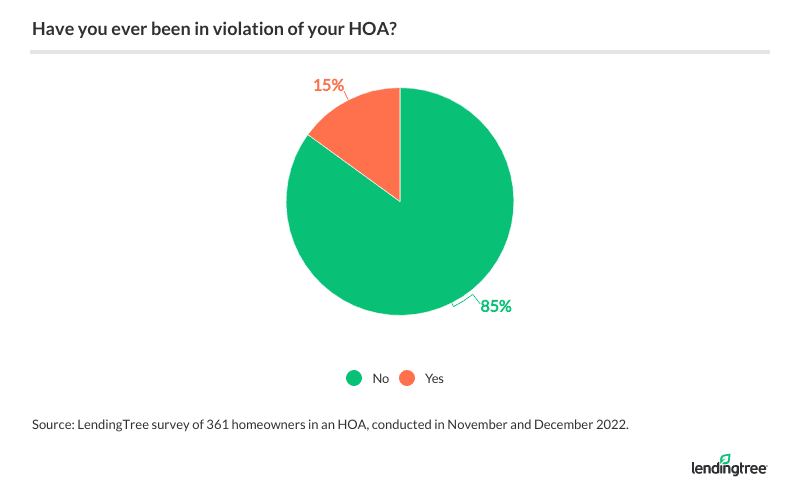 As noted earlier, about a quarter (23%) of homeowners report that their HOA has made their life harder. This is nearly twice as common (43%) among homeowners who feel their HOA is too expensive.
HOA violations are major burdens on homeowners that can make their lives harder — not just because they may owe a fee, but because avoiding them requires following strict rules.
The most common violations that homeowners experience relate to:
Landscaping (34%)
Design changes (23%)
Fencing (23%)
Trash pickup (21%)
"HOA violations can vary depending on the specific rules of your HOA," Channel says. "Common violations include improper landscaping, not disposing of trash regularly or properly, having unruly pets, parking your car in the wrong place or painting or decorating the exterior of your home in a way that hasn't been approved."
Channel warns that you can violate your HOA's rules if you're not paying close attention to your community's guidelines or are unwilling to perform regular upkeep on your home.
In light of these rules, do HOAs hold people accountable to maintain their yards and homes? Among all homeowners, 72% say yes.
3 more things to know about HOAs
Many house hunters have to decide if an HOA is something they want to be a part of or if they would rather live somewhere with more freedom. They also have to accept the downsides of neighbors having that much freedom. Before someone agrees to buy a home in a neighborhood with an HOA and takes out a mortgage, these are some factors to keep in mind:
HOAs help maintain home value. "Living in an area with an HOA can help you maintain the value of your home," Channel says. Those strict HOA rules can lead to a lot of nice curb appeal. When potential buyers come to see your home, they'll also take the state of your neighborhood into consideration. A potential increase in value is a huge benefit of homeownership.
More peace of mind. Belonging to an HOA can make it so you sleep a bit easier at night, Channel says. "It can also provide you with the peace of mind that comes with knowing that your neighbors probably aren't going to do anything crazy, like regularly throwing all-night parties or painting their home bright pink," he says. Anyone who's had nightmare neighbors in the past knows how valuable HOA protections can be.
Get ready for strict rules. "HOAs aren't for everyone, and people who aren't particularly concerned with regularly mowing their lawn or who want to maximize their freedom to do with their home what they please should probably avoid them," Channel warns. If you want more freedom and have big plans like elaborate landscaping or adding an extension to your home, an HOA may not be the right fit. Ask your real estate agent to learn more about the rules that will apply to you if you buy a home that belongs to an HOA.
Methodology
LendingTree commissioned Qualtrics to conduct an online survey of 1,037 U.S. homeowners ages 18 to 76 from Nov. 30 to Dec. 5, 2022. The survey was administered using a nonprobability-based sample, and quotas were used to ensure the sample base represented the overall population. All responses were reviewed by researchers for quality control.
We defined generations as the following ages in 2022:
Generation Z: 18 to 25
Millennial: 26 to 41
Generation X: 42 to 56
Baby boomer: 57 to 76