How Does LendingTree Get Paid?
LendingTree is compensated by companies on this site and this compensation may impact how and where offers appear on this site (such as the order). LendingTree does not include all lenders, savings products, or loan options available in the marketplace.
How to Read Your Monthly Mortgage Statement
Updated on: April 14th, 2020
Editorial Note: The content of this article is based on the author's opinions and recommendations alone. It may not have been reviewed, commissioned or otherwise endorsed by any of our network partners.
A mortgage statement provides essential information about your loan. Most lenders send borrowers a monthly mortgage statement with the current loan balance, recent transactions, payment breakdown and other loan details.
If you receive electronic mortgage statements or have automatic payments set up, it's easy to ignore your statements. In doing so, you might miss vital information, such as a payment increase or a change in your loan servicer.
What is a mortgage statement?
Mortgage lenders are legally required to provide consumers with a mortgage statement for each billing cycle of their loan. Each mortgage statement includes up-to-date information about the loan, including the principal balance, interest rate changes (if any), current payment amount and the payment breakdown.
In the past, the layout of mortgage statements and the information on them varied greatly between lenders. But the Dodd-Frank Act, passed as a direct result of the 2008 financial crisis, changed that. Now, mortgage servicers follow a standardized model for mortgage statements, and they must include specific loan information.
(Note: Lenders who provide coupon booklets may not send monthly mortgage statements.)
A breakdown of a mortgage statement template
The Consumer Financial Protection Bureau (CFPB) created a mortgage statement sample on its website, which LendingTree adapted in the image below to explain how to read your home loan statement. Each number in the graphic corresponds to an item in the list below.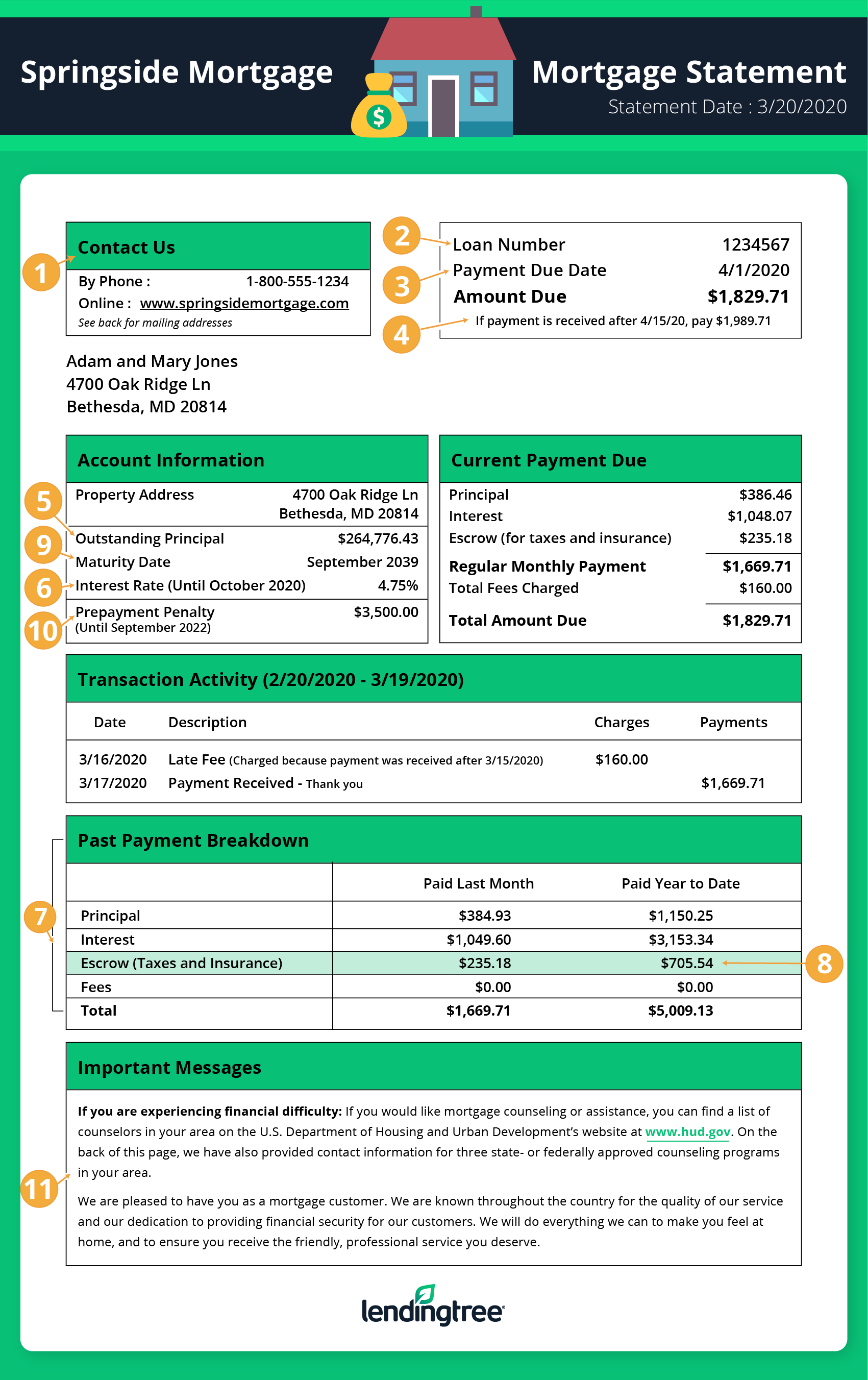 #1 Mortgage servicer information
First up on your mortgage statement will be information about your loan servicer. This is the bank or company that sends your monthly mortgage statement (or coupon book) and handles the payments. (It's worth noting that this isn't necessarily the same company that initially closed your loan.) The company's name, address, website and phone number are typically displayed here. Use this contact information if you have any questions about your mortgage.
#2 Account number
Your mortgage loan account number is what identifies the mortgage as yours. If you need to contact your loan servicer with a question or an issue, you'll need to provide your account number.
#3 Payment due date
This is self-explanatory: the date by which you need to make your mortgage payment. Generally speaking, most lenders offer a grace or courtesy period — usually two weeks — before your payment is marked late.
#4 If received after (date)
Your payment is "late" if you don't pay it by the due date. But, as noted above, you'll usually get a two-week grace period. The "if received after date" refers to the end of the courtesy period, at which point you'll incur a late fee. You'll usually find this date grouped along with the payment due date and the amount due.
#5 Outstanding principal amount
The principal on a loan is the amount you initially borrowed. A portion of your monthly payments goes towards reducing the principal, or in other words, repaying the actual loan. Lenders identify the principal in different ways on a mortgage statement, such as "outstanding principal" or "principal balance." This is how much of your original principal balance you have left to pay.
#6 Interest rate
Interest is the cost you pay to borrow money. Thanks to the amortization process, most of your early mortgage payments will go toward interest charges, rather than the principal.
If you have an adjustable-rate mortgage (ARM), the interest rate may change over time. If your mortgage term is more than one year, your loan servicer will send you an estimate of the new payment seven to eight months before the first adjustment. If your ARM previously reset, then the servicer must notify you two to three months before the next adjustment.
Paying attention to this portion of your mortgage statement gives you a chance to plan what to do when your mortgage payment goes up. For example, some borrowers may choose to refinance into a new loan.
#7 Current mortgage payment breakdown
Your mortgage payment breakdown tells you exactly how your loan servicer will distribute your payment. Generally, a portion of each payment will go towards the principal, interest, escrow account (for property taxes and homeowners insurance payments) and late fees, if applicable. Some mortgage bills provide a mortgage payment breakdown for both the current and previous billing cycles.
#8 Escrow payment
Escrow is the part of your payment that goes toward loan-related expenses, such as property taxes and homeowners insurance. Although your loan servicer typically makes these payments once or twice a year from the escrow account, some will require you to pay monthly installments. This ensures the full amounts will be available when the payments are due. Not all mortgage payments include escrow, though. If your lender gives you the option to pay these expenses yourself, you'll need to budget for and pay them directly.
#9 Maturity date
The maturity date is the date by which you must pay off your mortgage loan. Some servicers may not include this information on the mortgage statement.
#10 Prepayment penalty
Some lenders charge you a fee if you pay off your mortgage early. According to the CFPB, a prepayment penalty is normally applied when you pay off the entire balance in a certain number of years (usually three or five). While the penalty doesn't normally apply when making extra principal payments in small monthly amounts, check with your lender to be sure. If you're considering a mortgage refinance and your current agreement has a prepayment penalty, be sure to factor this into the total cost of refinancing.
#11 Important messages
Your statement also has a section below your loan details for any additional information your loan servicer wants to communicate. This may include instructions on how to find a housing counselor or steps to take if you cannot afford your payments. Additionally, this portion of the mortgage statement may provide additional resources, depending on your circumstances. For example, if you or someone in your household was on active military duty, you might qualify for benefits and protections under the federal Servicemembers Civil Relief Act (SCRA).
Other items to watch out for on a mortgage statement
Delinquency notice (if applicable)
If you fall behind on making your mortgage payments, your mortgage statement will include a delinquency notice. This usually happens after your loan is 45 days late. The delinquency notice will provide information on how to bring the loan current. Once your mortgage payment is 30 days late, your mortgage lender typically reports this to the credit bureaus. A late mortgage payment does more damage to your credit score than other types of late payments. It can also affect your eligibility for refinancing or a new home loan later on.
Escrow balance
Some lenders require you to keep a certain amount of money in this account to cover any increases in your taxes or insurance. The minimum cash cushion can be as much as two months' worth of escrow payments. Most lenders send an annual escrow account statement, separate from the mortgage statement. If there's a surplus of $50 or more in the escrow account, or if there's not enough money, this document will include either a rebate check for the extra money or a request for additional payment.
Why it's important to read your mortgage statement
It's crucial to read your mortgage statement each month. By doing so, you'll know in advance of an interest rate increase or changes to your escrow payments. Additionally, you might be able to catch issues such as overdue or delinquent payments or incorrect late charges.
If you see any errors on your mortgage statements, contact your loan servicer immediately. If you call, make a note of who you spoke to, the case number (if applicable) and the outcome of the conversation, and request a corrected statement. Follow up with your lender if you don't receive one. If you write to your loan servicer, make sure the letter has your name, address, account number from your mortgage statement and the exact reason for the dispute. Generally, lenders must address your written dispute within 30 days.
Many consumers question how long to keep mortgage loan statements. Whether you receive them via mail or online, the CFPB recommends you hold on to them for about three years.
How to make a mortgage payment
Most lenders provide multiple ways of making your mortgage payments, including:
Online: The simplest way to make payments is online through your loan servicer's website. Consider setting up automatic payments to ensure you pay on time.
By mail: Your mortgage statement will probably have a portion that you can detach and return by mail with your payment. If paying by mail, allow enough time before your mortgage due date. If you're close to the due date or the end of the grace period, get a receipt from the post office or consider using next-day delivery.
By phone: Some lenders provide an option to call and make your mortgage payments over the phone. Just make sure your loan servicer doesn't charge a fee for this service.
In person: If your lender or bank has brick-and-mortar locations, you can make your mortgage payments in person. Be sure to get a receipt. The law requires lenders to credit a payment the day you make it, so if your servicer charges a late fee, then the receipt will prove you paid on time.