How Does LendingTree Get Paid?
LendingTree is compensated by companies on this site and this compensation may impact how and where offers appear on this site (such as the order). LendingTree does not include all lenders, savings products, or loan options available in the marketplace.
How to Read a Mortgage Statement
Updated on:
Content was accurate at the time of publication.
Your monthly mortgage statement provides valuable information about your home loan. Knowing how to read your monthly mortgage statement will help you keep track of how quickly you're paying off your loan, as well as help you spot any changes to your payment or who you should be making your payments to.
On this page
What is a mortgage statement?
A mortgage statement is an accounting of all of the details about your mortgage, including the current balance owed, interest charges, interest rate changes (if you have an adjustable-rate mortgage) and a breakdown of your current and past payments.
Mortgage lenders are legally required to provide you with a mortgage statement for each billing cycle during the life of your loan. The document includes specific loan information in a standard format, so you know how each dollar of your mortgage payment is spent.
What a mortgage statement looks like
The Consumer Mortgage Protection Bureau (CFPB) created a sample document on its website, which LendingTree adapted below to explain each part of your mortgage statement. Follow the numbers in the graphic below for a section-by-section breakdown of what the statement tells you.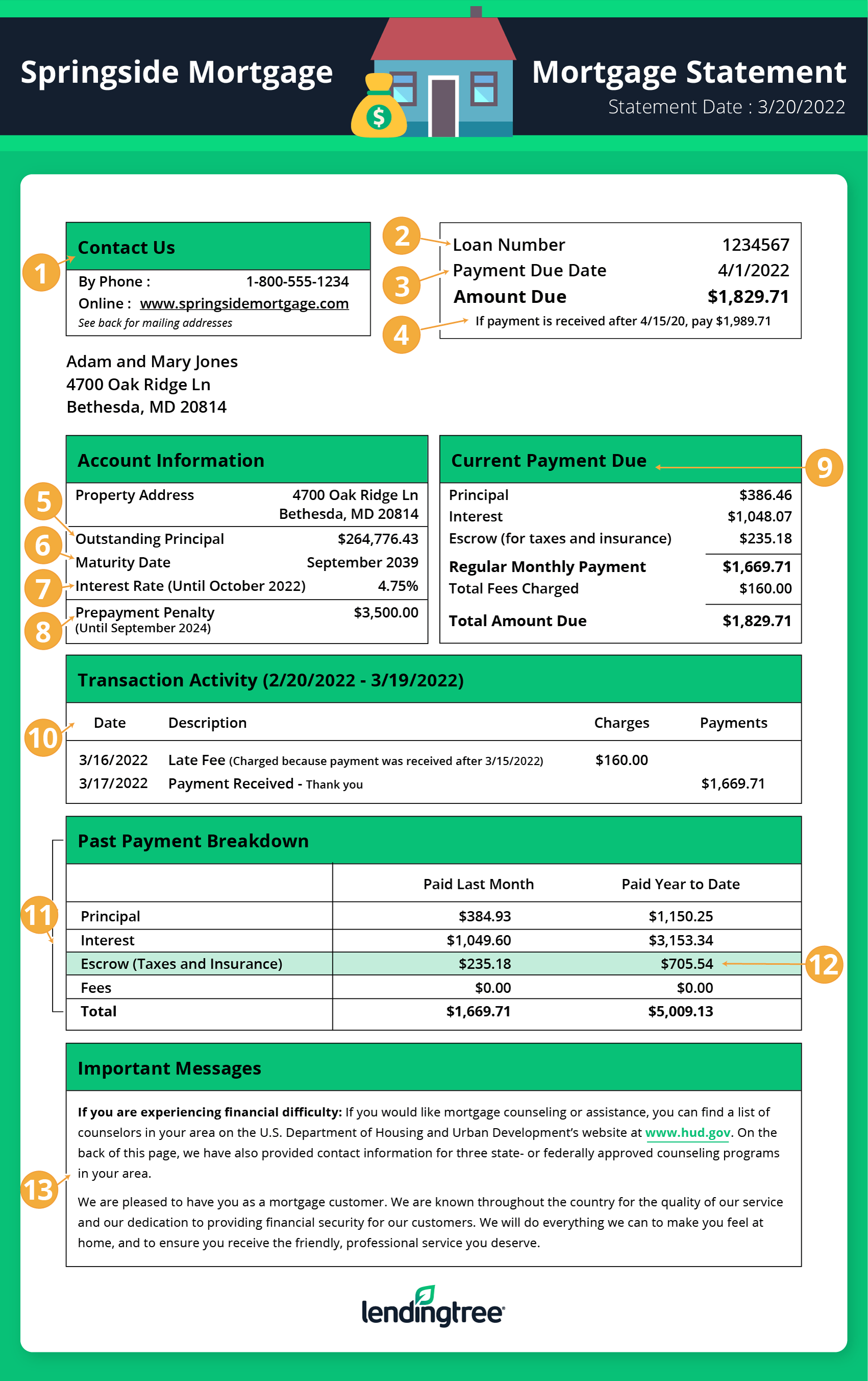 1. Mortgage servicer information
A mortgage servicer is the company that collects your payments and prepares your monthly statements. (Note that it may not be the same company you closed your loan with.) The servicer's contact information should be displayed here, so you can reach them with any questions about the statement.
2. Account number
Your account or loan number is tied to your name and the home that is financed by the loan. You'll need to have the loan number handy if you're contacting your loan servicer with questions about your mortgage.
3. Payment due date
Mortgage payments are typically due on the first of any given month, although most servicers give you a grace period of two weeks past the due date before you're charged a late fee. However, as long as you make the payment within 30 days of the due date, your credit report won't show the payment as late.
4. Late payment date
Your mortgage payment is technically late if you don't pay it by the first of the month. Your statement will include a "if paid after" amount that includes a late fee, which is typically charged if you make your payment after the 15th of the month.
5. Outstanding principal amount
This is the amount you still owe on your mortgage after making your monthly payment. Each payment you make reduces your principal, and you can make extra payments to pay off your mortgage earlier. However, you may need to notify your servicer in writing that you want extra funds applied to your principal balance.
6. Maturity date
Some statements may include your maturity date, so you'll know how close or far you are from paying off your entire balance. Keep in mind that if you make extra payments, the date will be sooner since you're paying off the loan faster.
7. Interest rate
Interest is the cost you pay to borrow money, and it's based on the mortgage rate you locked in before you closed your loan. If you look at the amortization schedule you should have received with your closing papers, you'll notice that most of your payment goes toward interest in the early years of your loan.
Keep an eye on this section if you have an adjustable-rate mortgage (ARM), so you can know when your rate changes. Your loan servicer must send you notice of upcoming changes at least 60 days before the payment due date tied to the first and subsequent rate adjustments. Paying attention to this information may help you decide if it's time to refinance from an ARM to a fixed-rate loan.
8. Prepayment penalty
Prepayment penalties aren't allowed on most standard loan programs. However, if you took out a non-QM loan, there's a chance your lender may have added a requirement that you pay a set fee if your loan is paid off within a set time period (usually three to five years).
9. Current payment due
This section gives you the itemized breakdown of each component of your monthly payment. You'll see how much principal and interest is being applied to your loan, as well as how much is being allocated to pay your property taxes and insurance — if you have an escrow account. Any late fees you owe are also included in this breakdown.
10. Transaction activity
You can see how last month's payment was applied in this section, and whether you were charged a late fee. If you're refinancing your loan, your new lender may need a copy of your mortgage statement to confirm you've made your most recent payment on time.
11. Past mortgage payment breakdown
You can track how much money you spent on each part of your most recent mortgage payment, as well as the total dollar amount you've spent so far this year on all of the payments you've made.
12. Escrow
If your lender pays your property tax and homeowners insurance bills when they come due, then you have an escrow account. Lenders have to account for all the funds in an escrow account each year, and may adjust the amount you pay as your property taxes or homeowners insurance premiums fluctuate.
13. Important messages
Loan servicers often include additional details about communicating with them, including how to find a housing counselor if you're having difficulty making your payments.
Other items you may see on a mortgage statement
Delinquency notice
Although lenders generally report a payment to the credit bureaus if it's at least 30 days late, you won't get a delinquency notice until after your loan is 45 days late. A late mortgage payment does the most damage to your credit score than other types of late payments. In addition, you may not be able to refinance your loan if you've been late on the mortgage within the last 12 months.
Escrow balance
Lenders are required to keep a "cash cushion" in your escrow account to anticipate potential spikes in your property taxes or homeowners insurance premiums. Each year you should receive an escrow account statement that details whether you have too much, too little or enough to cover future payments. If your account balance is too low, you might need to pay extra for a few months or cover the difference with a lump-sum payment. If you have extra in the account, you should receive a rebate check.
Why you should read your mortgage statement
It may be easy to just put your monthly payment on autopay and ignore your monthly mortgage statement, but there are some good reasons to pay attention to it:
You can plan for increases in your payment.Whether it's an increase in property taxes or an upcoming ARM adjustment, you can tweak your budget to make sure you have the funds necessary to cover a higher payment.
You may want to shop for new homeowners insurance.If your payment is on the rise due to a jump in your home insurance, it may be time to shop around for a better premium.
Your loan servicer may be changing.You'll typically get a separate notice at least 15 days before your loan servicing is switched to a new company, but your mortgage statement may also give you a heads up about an upcoming change. This helps you avoid scrambling at the last minute because you sent money to a company that's no longer processing your payments.
Your mortgage servicer may make a mistake.With millions of loans to track every year, mortgage servicers sometimes make mistakes. Checking your monthly statement will help you spot errors so you can get them fixed as soon as possible.
How to make a mortgage payment
Most lenders provide multiple ways of making your mortgage payments, including:
Online: The simplest way to make payments is online through your loan servicer's website. Consider setting up automatic payments to ensure you pay on time. You can also set up the payment through your bank's bill pay system. Just keep an eye on your mortgage statements for any changes to the address or loan number if your loan servicing is sold, so your payments go to the right place.
By mail: Your mortgage statement will probably have a portion that you can detach and return by mail with your payment. If paying by mail, allow enough time before your mortgage due date. If you're close to the due date or the end of the grace period, get a receipt from the post office or consider using next-day delivery.
By phone: Some lenders provide an option to call and make your mortgage payments over the phone. Just be sure your loan servicer doesn't charge a fee for this service.
In person: If your lender or bank has brick-and-mortar locations, you can make your mortgage payments in person. And you should be sure to get a receipt: The law requires your payment to be credited the day you make it, so if your servicer charges a late fee, then the receipt is your proof to reverse the late charge.