How Does LendingTree Get Paid?
LendingTree is compensated by companies on this site and this compensation may impact how and where offers appear on this site (such as the order). LendingTree does not include all lenders, savings products, or loan options available in the marketplace.
Here's How a Mortgage Amortization Schedule Works
Updated on: January 15th, 2021
Editorial Note: The content of this article is based on the author's opinions and recommendations alone. It may not have been reviewed, commissioned or otherwise endorsed by any of our network partners.
A mortgage amortization schedule is a chart that shows how much principal and interest you pay over the term of your home loan. Understanding how a mortgage amortization schedule works and how your payments look over the life of your loan can help you budget housing expenses over the long haul.
What is a mortgage amortization schedule?
A mortgage amortization schedule is a table that reflects the payments of your mortgage loan balance in equal installments over a set time period. Lenders set up the schedule based on the total loan amount, called "principal," and the interest rate they charge to lend you money over time.
With mortgage amortization:
You pay more toward interest than principal at the beginning of a mortgage.
You chip away at the principal amount with each mortgage payment until it's paid off.
Your total monthly payment stays the same throughout the loan term, although the amount applied to principal and interest changes each month.
Fixed-rate mortgages are "fully amortizing," which means you pay the balance in full once you make all of your payments.
How a mortgage amortization schedule works
There are two calculations built into a mortgage amortization schedule. The first measures how much interest is due based on the interest rate you locked in. The second reflects the amount you pay toward the principal balance each month.
The easiest way to calculate amortization is to use a mortgage amortization calculator. The schedule tracks:
The month and year of each payment
The amount of principal paid
The amount of interest paid
How much interest is paid as time goes on
How the loan balance adjusts with each monthly payment
Below is an example of a mortgage amortization schedule for a $300,000 30-year, fixed mortgage at a rate of 3.75% and the first payment in January using LendingTree's mortgage calculator.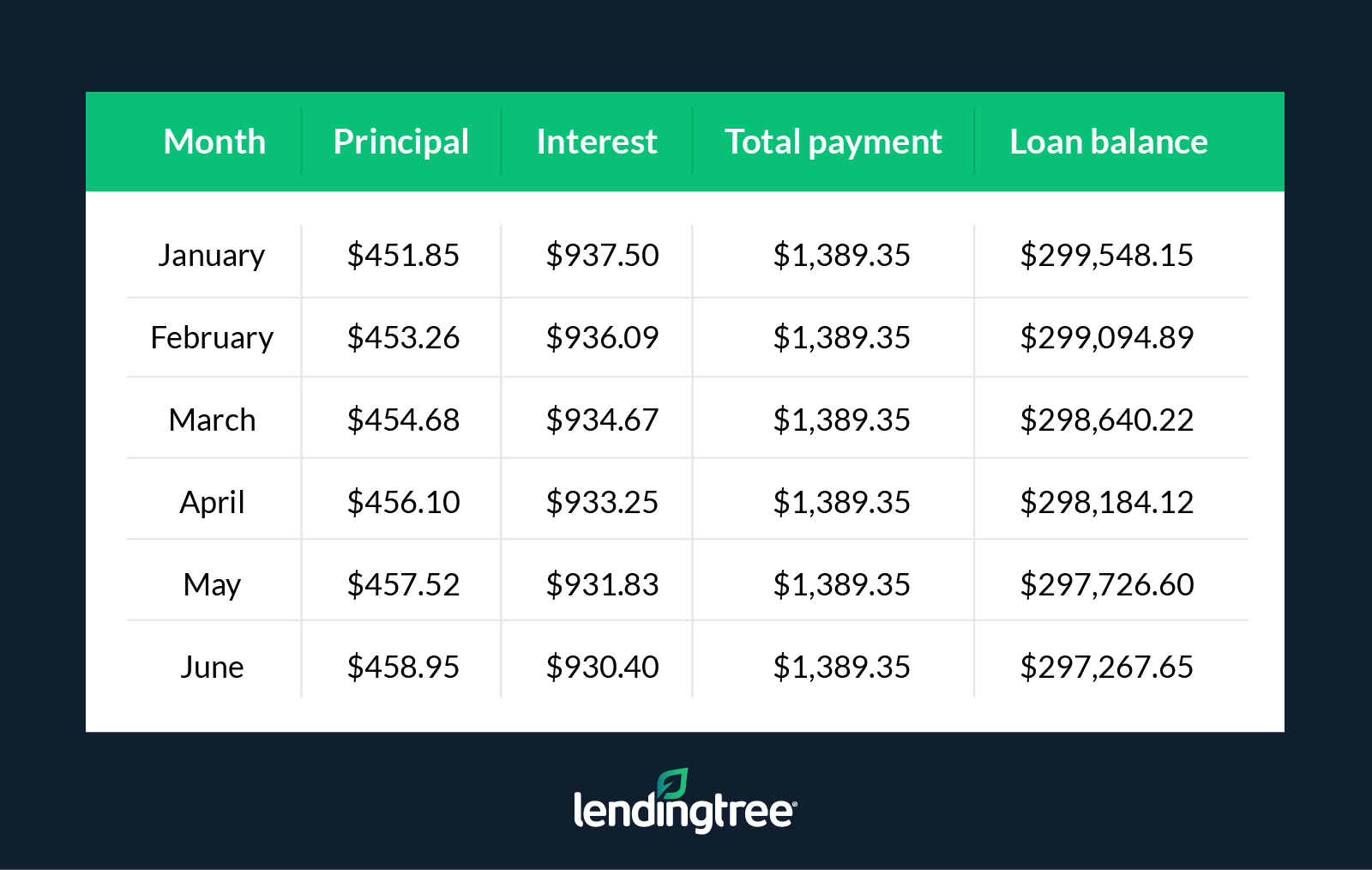 As you make each payment, you'll notice a few things happen:
You'll pay less interest each month.
You'll pay more principal each month.
Your loan balance decreases with each payment.
Your monthly payment amount is always the same.
How to calculate mortgage interest
A key benefit of homeownership is tax-deductible mortgage interest. If you're a math whiz or just interested in the mechanics of how amortization works, try calculating mortgage interest yourself. To do this, let's use the example above of a $300,000 loan with a 30-year fixed rate of 3.75%:
To calculate the monthly interest percentage, divide your interest rate by 12 (.0375/12), which equals .003125.
Multiply that result by the loan balance of $300,000 ($300,000 x .003125), which equals $937.50.
If you cross-reference $937.50 against the chart above, you can see your calculation is correct: The first mortgage payment of $1,389.35 includes $937.50 applied toward interest and $451.85 applied toward principal.
To understand how an entire mortgage amortization schedule is calculated, here's a mortgage amortization formula to study: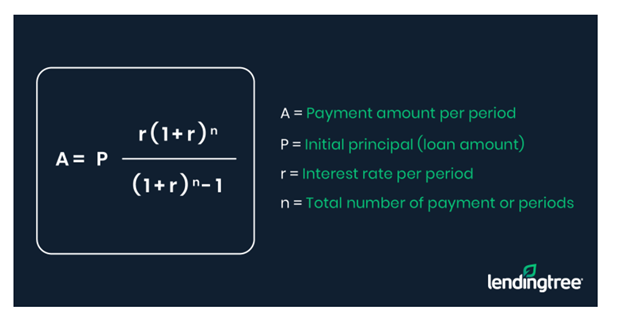 How to use a mortgage amortization schedule
You can accomplish four primary goals using a mortgage amortization schedule, such as:
Paying your loan off faster. Making one extra payment a year shaves nearly four years off your payoff schedule on a 30-year mortgage, saving you thousands of dollars in interest. To see the impact, use an extra payment mortgage calculator to add different amounts until you find the sweet spot for paying off your mortgage early based on your budget and savings goals.
Tracking when PMI drops off. Private mortgage insurance (PMI) protects lenders if you default on a loan with less than a 20% down payment. However, it drops off automatically after you've paid your balance down to 78% of the original value of the home.
Determining if a shorter loan term makes sense. Comparing a 30-year, fixed-rate amortization schedule to a 15-year fixed-rate mortgage amortization schedule can help you see how much you could save in interest charges — provided you can swing a higher monthly payment.
Calculating when an adjustable-rate mortgage will reset. Adjustable-rate mortgages (ARMs) give you temporary savings for a set time because these loans often have lower initial interest rates than 30-year loans. However, once the fixed-rate period ends, your amortization schedule will show you how much your payment might spike. This is especially true if interest rates move higher.
Negative amortization and interest-only loans
Not all loans are amortizing loans. Here's a look at two loan types that won't have a standard mortgage amortization schedule.
Interest-only loans
If you take out a home equity line of credit (HELOC), you can choose an interest-only payment option during the initial draw period (usually 10 years). The payment is lower because you make payments based just on the interest portion and not the principal loan balance.
Once the draw period expires, however, you'll pay the remaining loan balance based on an installment plan outlined on the mortgage amortization schedule.
Reverse mortgages
If you're 62 or older, you may be eligible for a reverse mortgage. Unlike a regular mortgage, reverse mortgage is a negative amortizing loan, which means the loan balance grows instead of shrinking each month, because the lender makes payments to you instead of you making payments to the lender.
One of the benefits of a reverse loan is tapping your equity without having a monthly principal and interest payment for as long as you live in the home, and continue paying homeowners insurance premiums and property taxes while maintaining the home.