How Does LendingTree Get Paid?
LendingTree is compensated by companies on this site and this compensation may impact how and where offers appear on this site (such as the order). LendingTree does not include all lenders, savings products, or loan options available in the marketplace.
How (and When) to Pay Off Your Mortgage Early
Updated on: March 13th, 2020
Editorial Note: The content of this article is based on the author's opinions and recommendations alone. It may not have been reviewed, commissioned or otherwise endorsed by any of our network partners.
When you buy a home, it can be overwhelming to think about paying down the six-figure mortgage you borrowed, especially with a 30-year term. The good news is you can pay off your mortgage early. Still, you should understand both the benefits and trade-offs before paying off your mortgage ahead of schedule.
6 tips on how to pay off your mortgage early
Make biweekly payments. Split your monthly mortgage payment in half and make biweekly payments instead. At the end of a full year, you would've made 26 half payments (since there are 52 weeks in a year), which equals 13 full payments instead of the 12 you'd normally make. You can shave about four years off of a 30-year loan term with this method.
Round up your minimum payment. Try rounding your minimum payment up to the next $100. For example, if you owe $1,015 on your mortgage each month, pay $1,100 instead. Even better, pay $1,200 monthly if you can comfortably afford it. Make sure you indicate to the lender that the extra amount should be applied to your principal balance.
Recast your mortgage. If you have a lump sum, such as $5,000 or $10,000, consider a mortgage recast. You'd pay the money to your lender to reduce your loan principal and recalculate your mortgage payments. Your term won't change, but your new payments would be lower, giving you room to pay extra toward your principal as frequently as possible.
Use bonuses, refunds and other windfalls. Whenever you get a bonus from work, an income tax refund or another financial windfall, put that extra money toward paying down your loan principal.
Refinance and maintain your old mortgage payment. If you qualify to refinance your mortgage and get a loan with a lower interest rate and monthly payment, keep making your original payments to pay off your mortgage faster.
Make one extra payment each calendar year. You can also combine one or more of the methods above with making one additional payment each year. For example, if you pay biweekly — plus make an extra full payment — that's 14 full payments you'd make each year.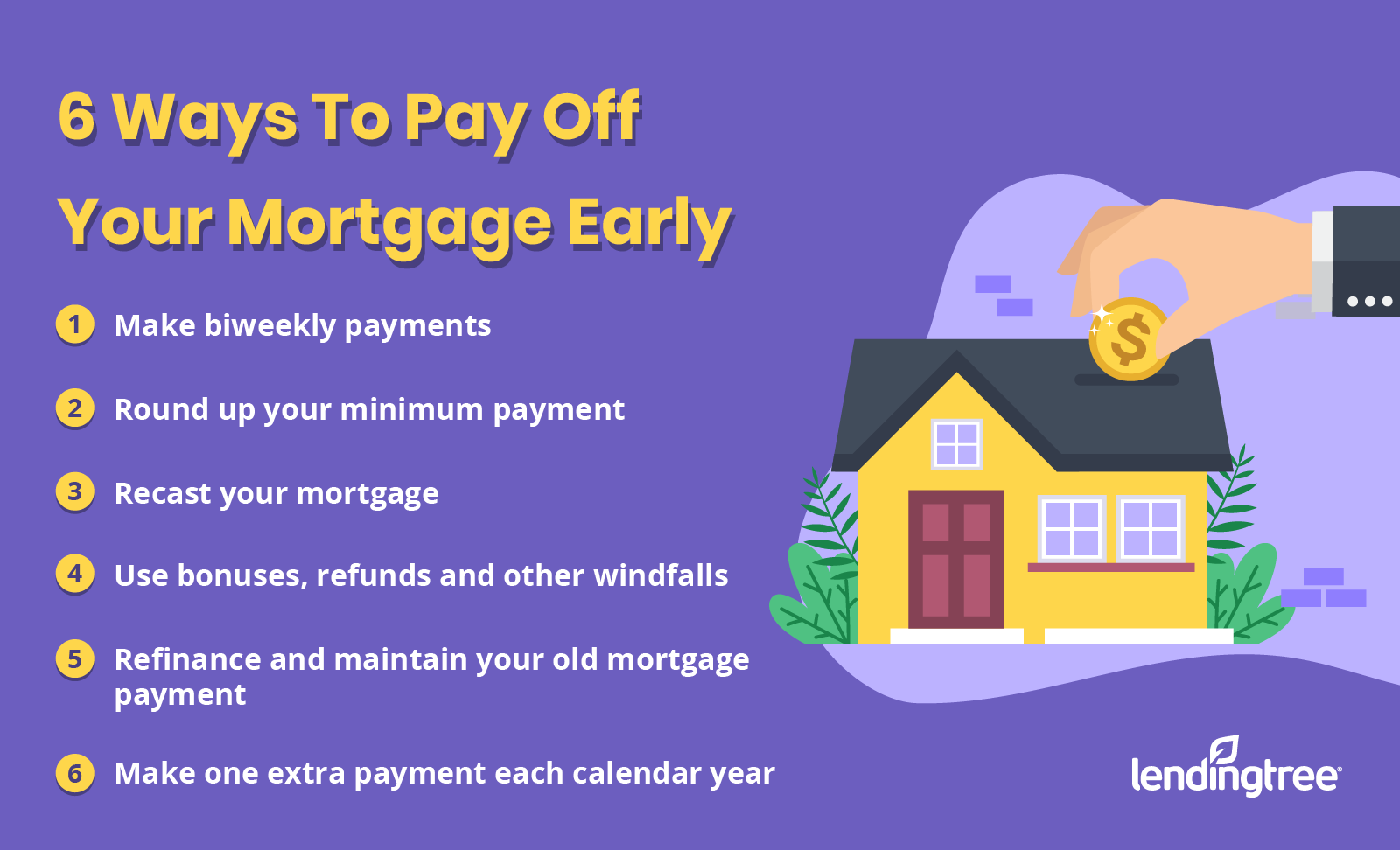 Should you pay off your mortgage early?
On the surface, it might seem like a great idea to be mortgage-free, but before you start aggressively paying down your mortgage, you may want to look at your overall financial picture to ensure it's the best use of your extra money.
Reasons for paying off your mortgage sooner
Get rid of your biggest monthly payment. Your mortgage is likely the largest monthly expense you'll have. If you plan to stay in your home for the long haul, getting rid of your monthly mortgage payments sooner means you can unlock more disposable income to boost your savings or retirement funds, invest in stocks or cover other expenses with cash rather than credit.
Reduce your foreclosure risk. There's a sense of security in owning a home free and clear. As long as you still owe a balance on your mortgage, there's the possibility you could lose your home to foreclosure if you ever default on your payments. Although you're still responsible for property taxes and homeowners insurance after your mortgage is paid off, knowing that you no longer have a loan against your home can be a stress reliever.
Save money on interest. The more time you spend paying down your mortgage, the more you'll pay in interest. For example, if you take out a $250,000 loan with a 3.5% interest rate and a 30-year term, you'll pay a total of $154,140.22 in interest alone. That's money you can't put to work to meet other financial goals.
Reasons for not paying off your mortgage early
Lack of an emergency fund. Paying extra on your mortgage isn't wise if your emergency fund is low or nonexistent. If you don't have an emergency fund cushion of at least three to six months' worth of living expenses in a savings account, then you should first focus on funding that account.
Loss of a major tax incentive. One perk of paying down a mortgage is the mortgage interest deduction, which allows you to deduct interest payments from your taxable income each year. If there's no mortgage, there's no deduction, which could impact your tax bills moving forward if you itemize your tax bill.
Lean retirement savings. If there's room in your budget to boost your retirement savings, prioritize that first. This is especially important if your employer offers a matching contribution. The "older you" will be grateful.
Pros and cons of paying off your mortgage early
Here's a look at the benefits of paying off a mortgage early, along with its drawbacks.
Pros 
Cons 

Build equity faster
Free up more income for other goals after you've repaid the loan
Pay less in interest over time
Reduce long-term foreclosure risk

A closed account may negatively impact your credit score
Lose the ability to deduct interest payments at tax time
Takes money away from other goals
Could strain your monthly budget
Is paying off your home loan early right for you?
You're getting rid of a huge monthly bill and building a substantial amount of equity when paying off your mortgage early. But you're also tying up more disposable income and giving up a key tax deduction to make it happen.
If you've decided that paying off your mortgage is the best option for you, make sure there are no prepayment penalties on your loan. You can find this information on Page 1 of your closing disclosure. Additionally, confirm that your lender is applying all extra payments toward your principal balance — not interest. You may have to make this request in writing or follow a special process when sending in extra principal payments.
Need additional help managing your loan? Here's what you should know about getting a lower mortgage payment and what to do if you're struggling to repay your loan.