How Does LendingTree Get Paid?
LendingTree is compensated by companies on this site and this compensation may impact how and where offers appear on this site (such as the order). LendingTree does not include all lenders, savings products, or loan options available in the marketplace.
LendingTree Survey: More Than Two-Thirds of Home Sellers Would Accept a Lower Offer Price Amid COVID-19 Crisis
Published on:
Content was accurate at the time of publication.
A majority of home sellers are feeling the pressure to sell their homes despite the coronavirus outbreak. Nearly 70% of sellers are willing to accept a lower purchase price just to get to the closing table, according to LendingTree's latest survey results.
LendingTree commissioned a survey of nearly 1,000 home sellers to gauge their attitudes about listing a home for sale in the midst of a global pandemic.
Key findings
Nearly 70% of home sellers would accept a lower purchase price in order to sell their home during the coronavirus pandemic.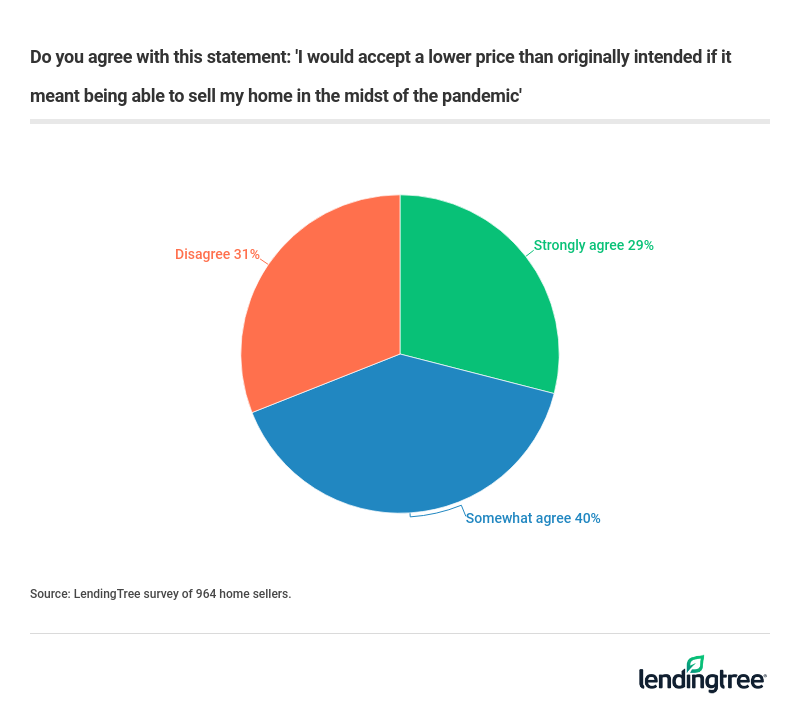 When asked if they agree with the statement, "I would accept a lower price than originally intended if it meant being able to sell my home in the midst of the pandemic," 29% of home sellers said they strongly agree, and another 40% said they somewhat agree.
Among the sellers who'd consider a home price cut are:
78% of millennials
67% of Gen Xers
55% of baby boomers
Nearly half of home sellers are waiting to put their home on the market.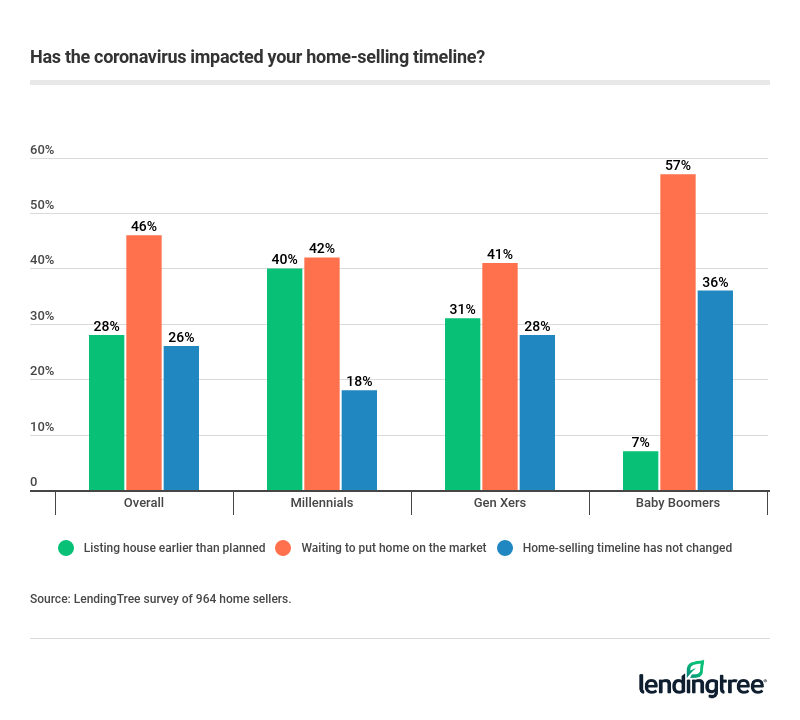 The coronavirus pandemic has caused 46% of sellers to delay listing their home for sale. On the other hand, more than 1 in 4 sellers (28%) are putting their home on the market earlier than intended. Finally, 26% of sellers said the pandemic hasn't impacted their home-selling timeline at all.
More than 8 in 10 home sellers are concerned their home won't sell.
Just over half (51%) of home sellers said they're seriously worried about selling their home because of the pandemic and resulting economic recession. Another 36% are somewhat concerned for the same reason.
Home sellers' two biggest fears are not selling in a timely manner and accepting a lower offer.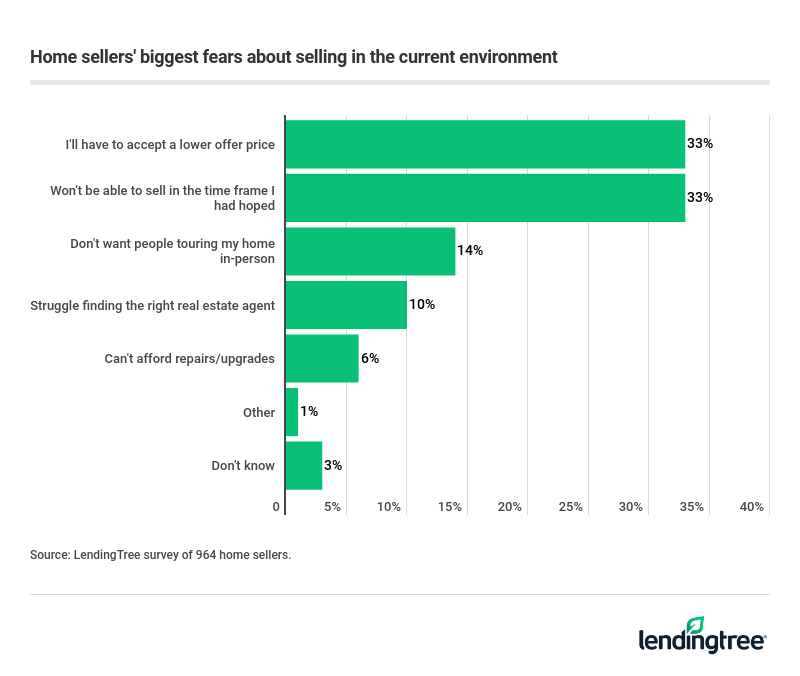 When asked about their biggest home-selling concern in the current environment, one-third of home sellers cited not being able to sell in the time frame they'd hoped. An additional one-third of sellers said they most fear having to accept a lower offer price.
The No. 3 biggest fear, which was cited by 14% of home sellers, is prospective buyers touring their homes in person. The fourth-biggest fear was struggling to find the right real estate agent (10%).
Other takeaways
Nearly a third (31%) of home sellers are "extremely anxious" about selling their home in 2020. The percentage of sellers in each age group who feel this way are:
37% of millennials
35% of Gen Xers
20% of baby boomers
Another 46% of sellers are "somewhat anxious" about a home sale this year, while 6% have no anxiety at all.
While 32% of home sellers already have their home listed for sale, more than 6 in 10 sellers (62%) haven't put their home on the market yet. Another 6% previously listed their home, but have since taken it off the market.
More baby boomers (57%) plan on waiting to put their home on the market, due to the COVID-19 pandemic, than Gen Xers (41%) and millennials (42%).
How to prepare for a home sale during the COVID-19 crisis
Although home sales have slumped because of shelter-in-place and social-distancing guidelines, home prices are still climbing. There's an opportunity for sellers to cash in on homebuyer demand in the coming months, as states and cities relax their stay-at-home orders.
However, sellers will need to be flexible while economic uncertainty persists, said Tendayi Kapfidze, LendingTree's chief economist.
"Although it may seem like the housing market has shrugged off COVID-19, as home sales show signs of recovering, it may prove a false dawn," Kapfidze said. "The detrimental impact on jobs and, by extension, wages, will be significant and long-lasting. Demand will soften in the housing market, and sellers will likely need to make some concessions to reach the signing table."
If you're determined to sell this year, consider listing your home for sale during the second half of the year — the delayed buyer traffic from the spring homebuying season could later resurface.
Before you put your home on the market, though, remember these tips:
Declutter and stage your home.
Get a home appraisal or competitive market analysis to properly set your asking price.
Use professional photos to attract more buyers.
Enforce social distancing and protective equipment guidelines for in-person tours.
Carefully time the sale of your current home and your new home purchase.
Methodology
LendingTree commissioned Qualtrics, an experience management firm, to conduct an online survey of 964 home sellers, with the sample base proportioned to represent the overall population. The survey was fielded April 24-30, 2020.
We defined generations using the following ages in 2020:
Millennials: ages 24-39
Gen X: ages 40-54
Baby boomers: ages 55-74
Our survey also included responses from members of Gen Z (ages 18-23) and the Silent Generation (ages 75+), and their responses were factored into the overall percentages. However, due to the low sample size among both age groups, we excluded them from the generational breakdowns.