How Does LendingTree Get Paid?
LendingTree is compensated by companies on this site and this compensation may impact how and where offers appear on this site (such as the order). LendingTree does not include all lenders, savings products, or loan options available in the marketplace.
Despite COVID-19 Crisis, More Than Half of Homebuyers More Likely to Purchase a Home Soon
Updated on:
Content was accurate at the time of publication.
The coronavirus pandemic — coupled with historically low mortgage rates — is motivating a majority of homebuyers to purchase a home in the coming year, according to results from LendingTree's latest survey.
To get a better handle on how the outbreak is impacting homebuyer behavior, LendingTree commissioned a survey of more than 1,000 prospective buyers about their plans to jump into the housing market — or not.
Key findings
53% of homebuyers are more likely to buy a home in the next year, due to the coronavirus outbreak.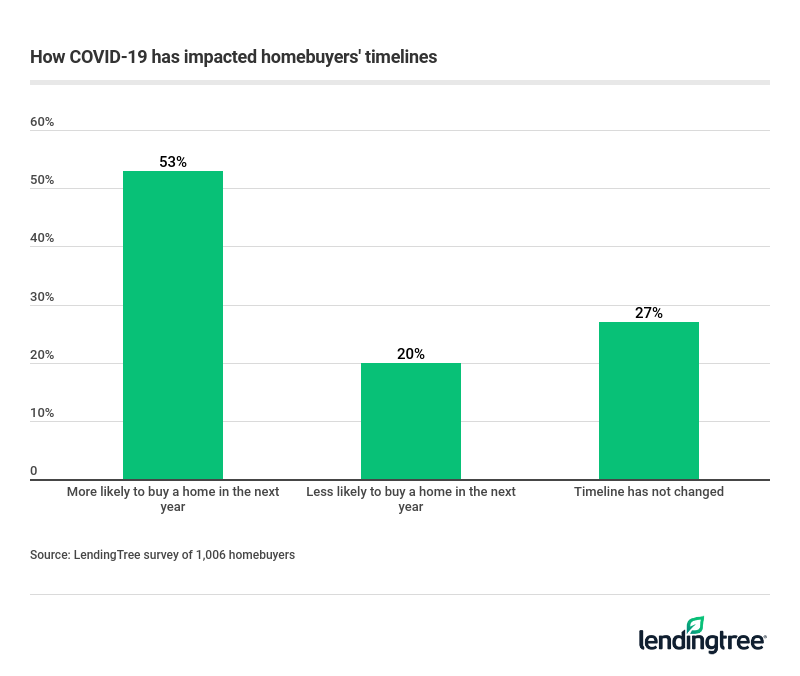 This is especially true for first-time homebuyers (73%) and millennials (66%). For all buyers who are planning to purchase in the next 12 months, their top two motivations are:
Taking advantage of record-low mortgage rates (67%).
Being able to save a larger down payment because of reduced spending (32%).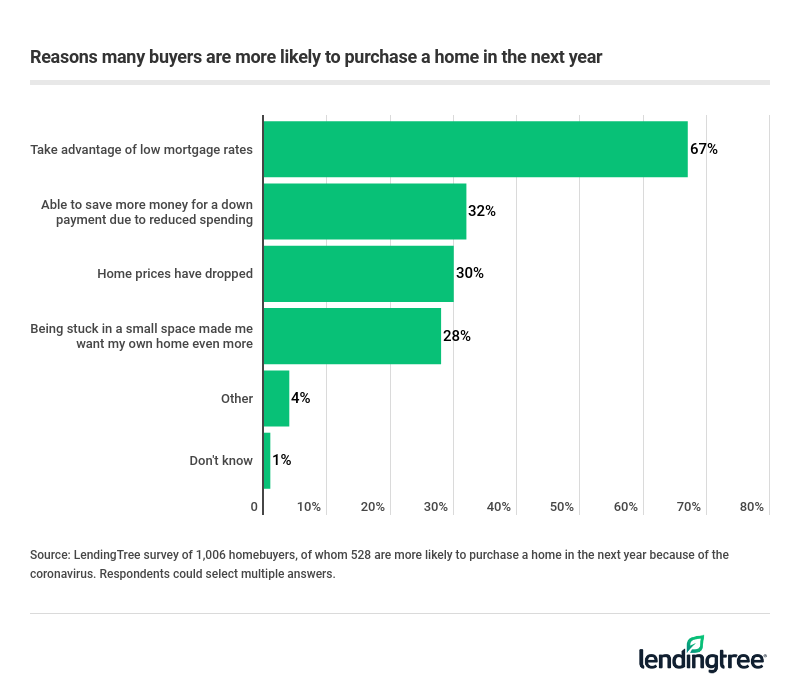 Nearly two-thirds (65%) say the coronavirus pandemic has impacted how much money they plan to spend on a new home.
Among this group of prospective homebuyers, 44% plan to buy a less expensive home and the remaining 21% want a more expensive home. Among the latter group, 28% of first-time buyers say they'll buy a pricier home, while just 17% of repeat buyers agree.
About 6 in 10 (61%) homebuyers have toured a house virtually over the last two months.
Another 33% of respondents said that although they haven't yet participated in a virtual tour, they plan to do so. Additionally, 3 in 10 buyers say they'd buy a home without physically touring it in person.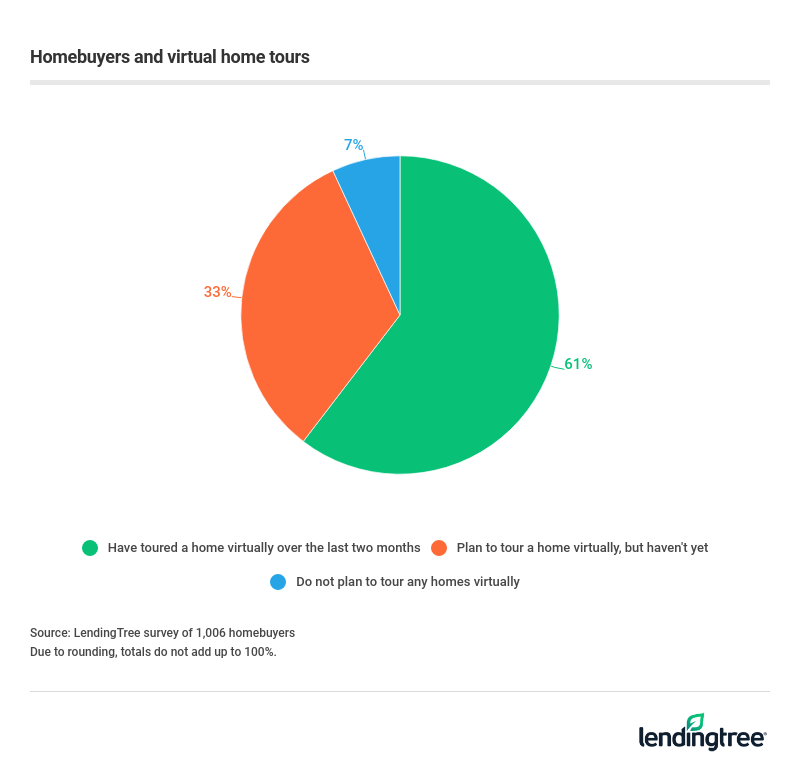 Buyer concerns about qualifying for a mortgage
More than 4 in 10 (44%) homebuyers are more worried about qualifying for a mortgage because of the pandemic. First-time buyers (58%) and millennials (52%) are especially anxious.
There's some cause for concern. Lenders are becoming less flexible with their minimum mortgage requirements. Access to mortgage credit fell by 12.2% in April, according to the Mortgage Credit Availability Index from the Mortgage Bankers Association.
Less credit access means lenders are likely to raise their minimum credit score and down payment requirements. They may also request additional documents during the mortgage underwriting process.
Other takeaways
Of the 1 in 5 homeowners across all ages who are less likely to buy a home because of the coronavirus outbreak, the most-cited reason was economic uncertainty (70%), followed by the inability to tour homes in person (42%) and loss of income (38%).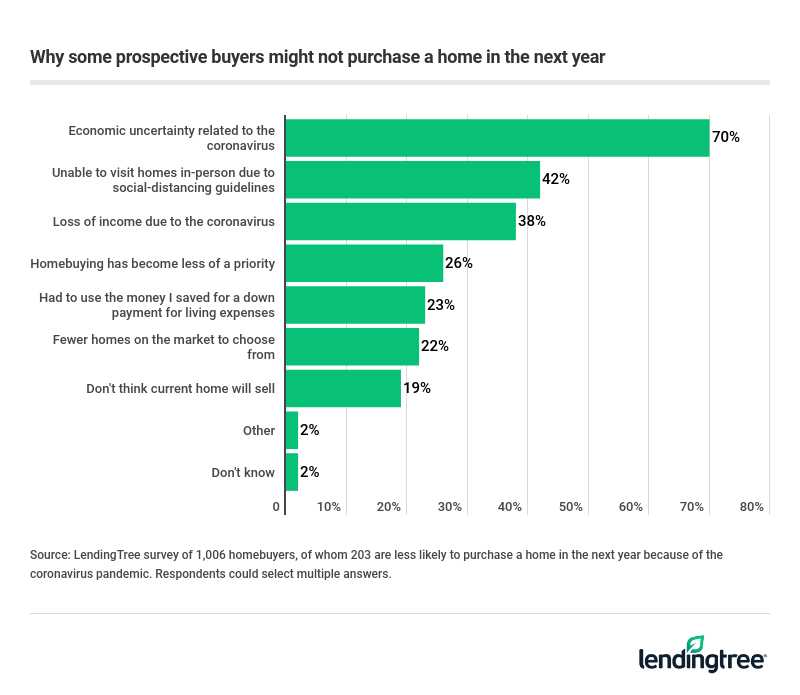 More than half (53%) of first-time buyers said they'd buy a house without an in-person tour; just 18% of repeat buyers would do the same. The percentages of buyers in each age group who would purchase a home based solely on a virtual tour are:
42% of millennials
31% of Gen Xers
10% of baby boomers
Additionally, 43% of men would skip an in-person tour before a home purchase. Only 16% of women agree.
3 tips for buying a home during the COVID-19 pandemic
Keep the following tips in mind if you're planning to buy a home within the next year or so:
Improve your creditworthiness. Some mortgage lenders are requiring a minimum 700 credit score to qualify for a home loan. Having a score of 740 or higher may help you get the lowest available mortgage rate.
Reduce your outstanding debt. The lower your debt-to-income (DTI) ratio — the percentage of your gross monthly income used to repay debt — the better your chances of qualifying for a mortgage. The rule of thumb is a 43% maximum, but aiming for a 36% DTI ratio wouldn't hurt.
Consider holding off for a few months. It may be wise to wait until late summer or fall to buy a home, as we may later see an uptick in homes for sale. The number of homes being taken off the market is starting to slow down, according to recent data from Redfin.
Methodology
For this survey, LendingTree commissioned Qualtrics to conduct an online survey of 1,006 homebuyers, with the sample base proportioned to represent the overall population. The survey was fielded April 24-30, 2020.
We defined generations* as the following ages in 2020:
Millennials: ages 24-39
Gen X: ages 40-54
Baby boomers: ages 55-74
Our survey also included responses from members of Generation Z (ages 18-23) and the Silent Generation (ages 75+). Their responses were factored into the overall percentages, but excluded from the generational breakdowns due to the low sample size among both age groups.