How Does LendingTree Get Paid?
LendingTree is compensated by companies on this site and this compensation may impact how and where offers appear on this site (such as the order). LendingTree does not include all lenders, savings products, or loan options available in the marketplace.
More Than 4 in 10 Millennials Refinanced Over Past Year, Almost Double The Overall Average
Published on:
Content was accurate at the time of publication.
Record-low mortgage rates encouraged millions of homeowners to refinance over the past year, according to a new LendingTree survey. Though rates have inched higher, about half of homeowners plan to replace their mortgage in the next 12 months.
More than a quarter (26%) of homeowners refinanced their mortgage during the COVID-19 pandemic, and the most-cited reason for doing so was to get a better rate. What's more, millennials were more likely than any other age group to have refinanced over the last 12 months.
Key findings
More than 4 in 10 (42%) of millennial homeowners refinanced their mortgage during the COVID-19 pandemic. These borrowers ages 25 to 40 took advantage of record-low interest rates over the past year at a pace that nearly doubled the overall average of homeowners who got a refinance during the same period — 26%.
Mortgage rates are inching upward, but many homeowners are still interested in refinancing. About half (49%) of borrowers say they're "definitely" or "maybe" planning to refinance their mortgage over the next 12 months.
More than a third (36%) of homeowners who missed the 2020 refi frenzy have regrets. These borrowers at least somewhat wish they would've taken advantage of 2020's historically low mortgage rates.
Nearly a third (30%) of homeowners falsely believe they must work with their original lender to refinance. Other misconceptions include thinking there's no cost to refinance (25%) and assuming they're only allowed to refinance their mortgage just once (24%).
Millennials dominated the refinance market over the last year
Our survey found that millennial homeowners cashed in on the mortgage refinance market during the coronavirus pandemic in greater numbers than any other age group. More than 4 in 10 (42%) millennials refinanced within the last year, compared with just 18% of Gen Xers and 10% of baby boomers.
When broken down by region, homeowners in the Northeast and West were most likely to have refinanced over the last year. A third of homeowners (33%) in both regions refinanced, compared with 25% of homeowners in the Midwest and 19% in the South.
The No. 1 reason refinancing homeowners chose to do so was to get a better mortgage rate (70%). A lower monthly payment (38%) and a shorter repayment term (19%) were the second and third most-cited reasons.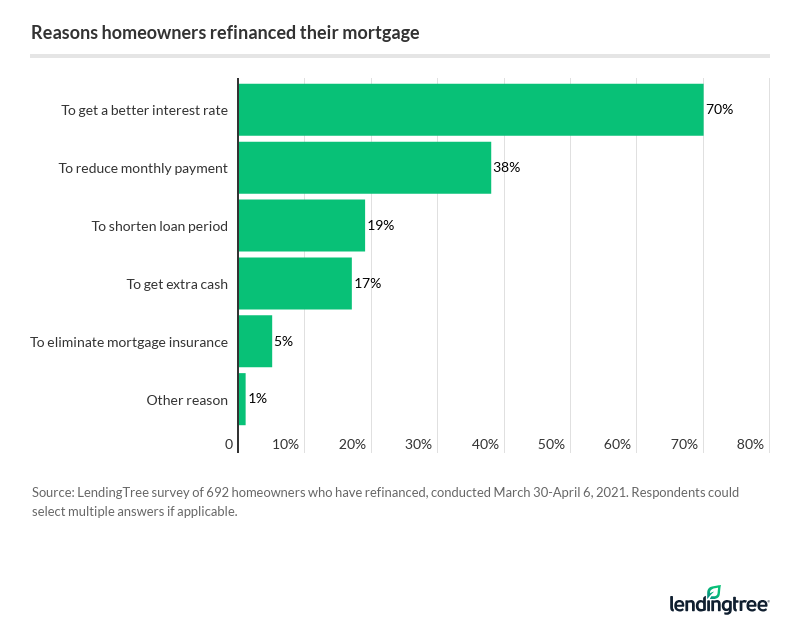 Nearly half of homeowners still want to apply for a refinance
About half (49%) of homeowners are considering a mortgage refinance over the next year, our survey found.
Mortgage rates have increased from their 2020 lows, but many homeowners may still benefit from a refinance. The average rate on a 30-year fixed-rate mortgage (FRM) is 3.04%, according to Freddie Mac's latest Primary Mortgage Market Survey®. A year ago, the average rate for a 30-year FRM was 3.31%. Two years ago, the rate was 4.17%.
"The best thing to do is contact multiple mortgage lenders and get real quotes for your particular situation, as just comparing your current rate to the average rate could be misleading," said Tendayi Kapfidze, LendingTree's chief economist. "By definition, half the borrowers get rates lower than the average. Don't negotiate against yourself; get a real quote and understand the specific saving opportunity you have."
Just over a third (34%) of homeowners have a 4% mortgage rate or higher, LendingTree's survey found. These borrowers stand to save thousands over the life of their loan by refinancing to cut down on interest charges.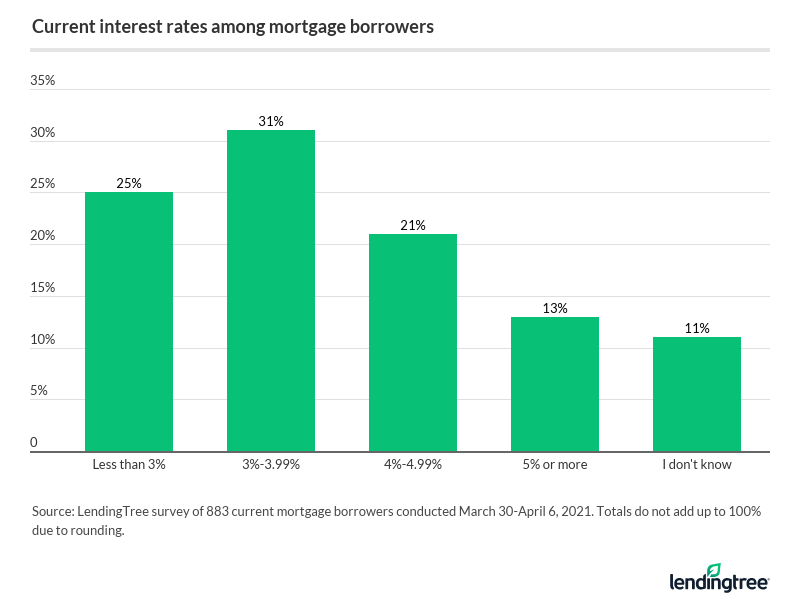 Still, a surprising number of homeowners don't have a clue what their interest rate is. Around 1 in 10 (11%) borrowers surveyed report that they don't know their current mortgage rate.
More than 3 in 10 homeowners regret not refinancing sooner
A chunk of homeowners — 36% — who didn't refinance during the COVID-19 pandemic wish they would've locked in a record-low interest rate.
Overall, 43% of survey respondents report that they've never refinanced their home loan. When asked why, the top three answers were:
"I already have a really good interest rate" (54%)
"Refinancing will end up costing me more in the long run" (18%)
"I don't have a great credit score" (14%)
"Anyone who didn't refinance over the past year still has a great opportunity to do so," Kapfidze said. "A good first step is to use a refinance calculator to see how much you might save."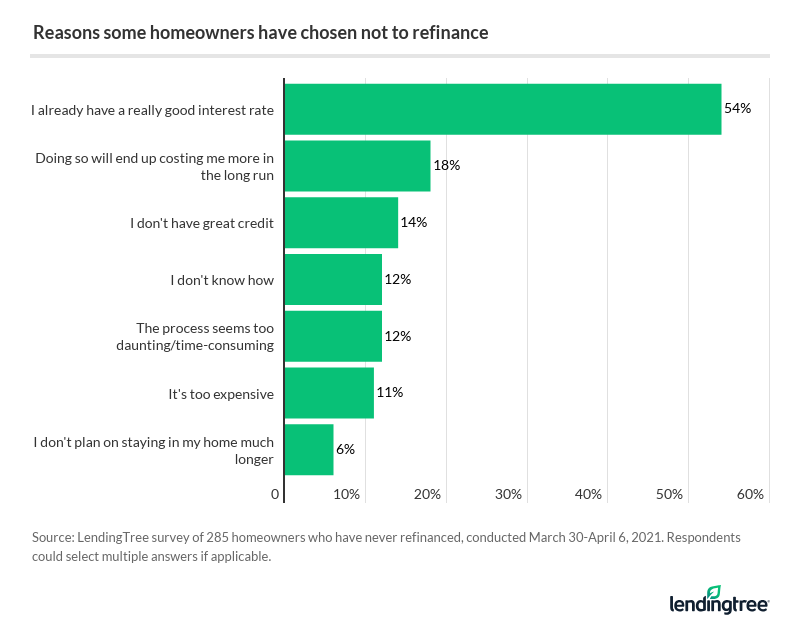 Of the homeowners who did refinance within the last year, only 8% regret their choice, mainly because of expensive refinance closing costs.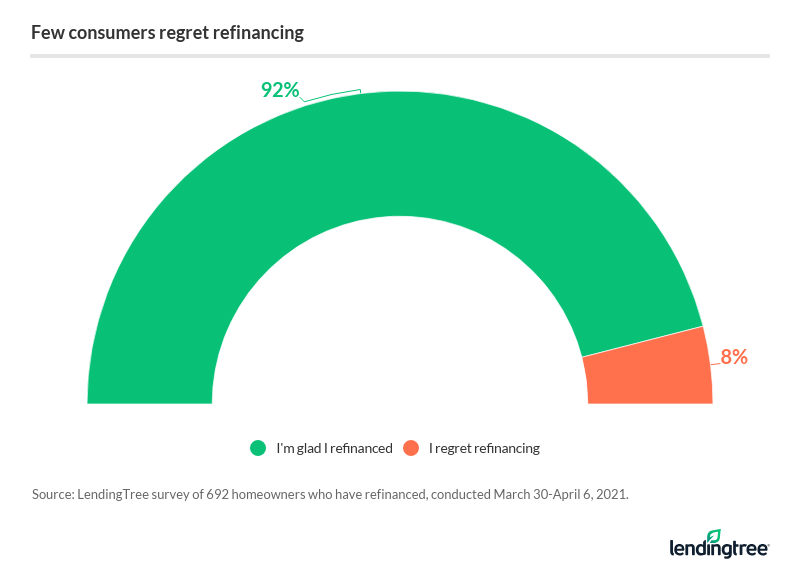 Mortgage refinance misconceptions may be costing some homeowners money
Assumptions about the mortgage refinance process could be preventing some homeowners from getting a new home loan with better overall terms. For example, 3 in 10 (30%) respondents believe they don't have the option to shop around, and must refinance with the same lender that provided their original mortgage.
When broken down by generation, millennials are slightly more likely to believe this misconception at 31%, compared with 30% of Gen Xers and 28% of baby boomers.
Our survey also found a quarter (25%) of homeowners believe there's no cost to refinance a mortgage, and more than 1 in 5 (24%) think they can't refinance multiple times.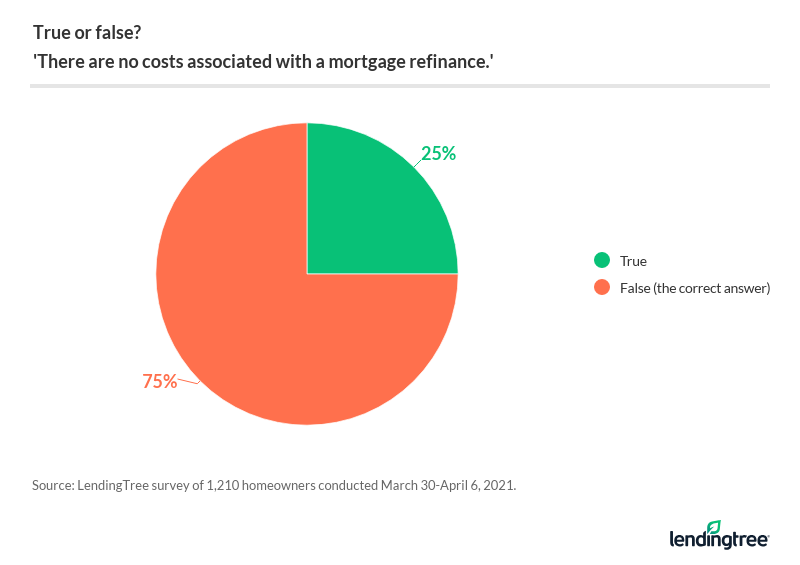 Methodology
For this survey, LendingTree commissioned Qualtrics, an experience management firm, to field an online survey of 1,210 homeowners. The survey was conducted March 30-April 6, 2021, and administered using a non-probability-based sample. All responses were reviewed by researchers for quality control, and quotas were used to ensure the sample base represented the overall population.
We used the following age ranges to define generations in 2021:
Millennials: 25 to 40
Generation X: 41 to 55
Baby boomers: 56 to 75
The survey also included responses from consumers in Generation Z (ages 18 to 24) and the silent generation (ages 76 and older). However, the sample sizes were too small to incorporate findings related to those groups in the generational breakdowns.