How Does LendingTree Get Paid?
LendingTree is compensated by companies on this site and this compensation may impact how and where offers appear on this site (such as the order). LendingTree does not include all lenders, savings products, or loan options available in the marketplace.
Charged for a Coronavirus Test? How To Negotiate Your Medical Bill
Updated on: November 24th, 2020
Editorial Note: The content of this article is based on the author's opinions and recommendations alone. It may not have been reviewed, commissioned or otherwise endorsed by any of our network partners.
The coronavirus pandemic is burdening our health care system. Many hospitals are reaching capacity, and medical professionals of all specialties are being transferred to the intensive care unit to care for COVID-19 patients. All of this medical care comes at a cost, which is often passed on to the patient.
While it's widely believed that coronavirus testing is free, that's not always the case. If you've been charged for a coronavirus test, read this guide to find out why. You may be able to negotiate your medical bills, or get the charges dropped completely.
How much should a coronavirus test cost?
Coronavirus testing is available to all Americans at no cost, but not every type of test is free. All insurance providers must cover FDA-approved coronavirus tests and all costs associated with diagnostic testing, as long as the test is deemed medically necessary by a healthcare provider, according to the Families First Coronavirus Response Act (FFCRA).
While certain testing sites offer free COVID-19 testing for people regardless of whether they're insured, not every health care provider does this. Some testing sites will charge the patient directly if they don't have insurance, or if they're getting a coronavirus test for non-diagnostic reasons — such as a pre-travel screening.
Still, many Americans, even those with health insurance coverage, are being charged for coronavirus tests. While some patients are being billed in error, other coronavirus testing bills may be legitimate.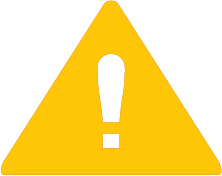 Free testing:
See where to get tested for the coronavirus for free without insurance on the
Department of Health and Human Services website
.
3 reasons why you may be charged for a coronavirus test
You're uninsured. Federal protections for coronavirus testing don't extend to people without health insurance. However, if you're uninsured, you can get tested for the coronavirus at no cost from community-based COVID-19 testing sites.
You went to an out-of-network provider. The Coronavirus Aid, Relief, and Economic Security (CARES) Act requires that testing facilities post their prices on their website, or potentially face a daily penalty. Health insurers are required to cover the price of out-of-network coronavirus testing based on the advertised price on the testing center's website. However, if a testing center doesn't post their prices online and is out-of-network, they may bill the patient directly.
Your test wasn't deemed medically necessary. Coronavirus tests are generally considered medically necessary if you're seeking treatment for COVID-19 symptoms or you've been in contact with someone who tested positive for COVID-19. This is known as getting tested "for diagnostic purposes." However, if you're getting a test for surveillance or screening purposes — like if you're required to get tested before traveling or returning to work — then your health insurer may not have to cover the costs.
What to do if you've been charged for a coronavirus test
It's commonly believed that coronavirus testing is free, so it can be shocking to receive a medical bill for hundreds of dollars that you didn't budget for. The reality is that it's different for each patient's unique situation. It matters whether you're insured or uninsured; it also matters if you went to a testing center that's in your provider network, or if your test was for diagnostic or surveillance purposes.
No matter what your situation is, it's important that you contact the testing facility and your insurance provider (if you have one) as soon as you get any type of bill for coronavirus testing. This can shed some light on why you were charged — and if the charges were legitimate.
Patients who were charged in error may be able to resolve the situation with a quick phone call. But even if the charges are correct, you still might be able to negotiate your bill down or work out some sort of payment plan with the provider.
How I avoided paying my coronavirus test bill
I was charged more than $150 for a coronavirus test even with insurance. My account below shows how I was able to get those charges dropped completely.
Background: I visited urgent care on Sept. 17, 2020, to get a coronavirus rapid test after potentially being exposed to the virus. I wasn't symptomatic, but I figured the test was free, so it wouldn't hurt to find out for sure.
Shortly after my test, I got the negative result I was hoping for. But weeks later, I got a surprise Explanation of Benefits (EOB) in the mail saying the testing center charged $419 for the test, and that after insurance I may owe the provider $153.95. Sure enough, I received a bill from the urgent care center for that amount.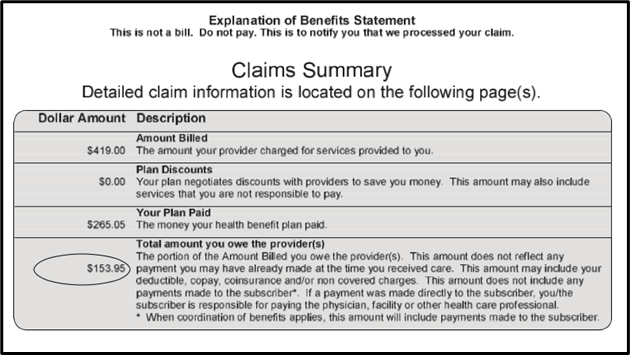 An EOB sent to the author from her insurer.
Despite the fact that I often write about medical billing matters, I was at a loss. How did I get stuck with a bill for a test that was supposed to be free? I wondered, too, about what happens to patients who don't know better and simply pay medical bills they receive in the mail, even if it's in error and they can barely afford the cost.
My solution: Contact the provider and my insurer right away. In addition to the confusion on my part, it seemed like everyone I spoke to had a different explanation. The customer service advocates at my health insurer first said that I was billed in error. A separate agent said that the provider was out-of-network, and I'd have to contact the provider's billing department. A third simply told me that I was responsible for the remaining amount.

The agent was confused about my identity as well as my claim.

A separate agent telling me to contact my provider's billing service.

A final message from my health insurer telling a different story altogether.
As my health insurance company advised me, I contacted the urgent care where I was tested via the phone number on my medical bill. It went to voicemail so I left a message, and did some more research.
As it turns out, the CARES Act mandates that private insurance plans are required to fully cover out-of-network coronavirus tests based on the cash price that's posted on the provider's website.
But according to the urgent care website, the cost of my test was supposed to be $199, despite the fact that I was billed for $419. That was the problem: I was charged $419 for a service that was listed as $199 online. I scratched my head, getting ready to reach out to every relevant party again, when I got an email from the health care provider:

A message from the health care provider that the charges had been dropped.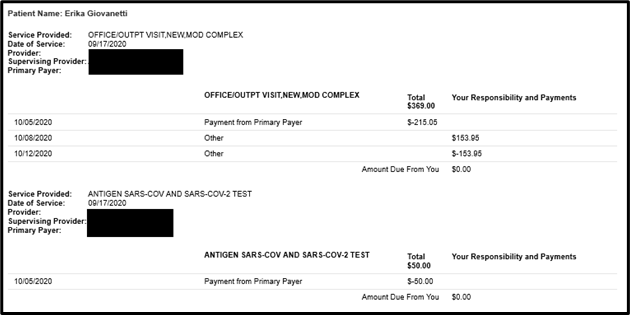 My adjusted bill after contacting the provider.
The provider dropped the charges, and I didn't even have to negotiate on the phone. On one hand, this felt like a success for me — on the other, it feels like a failure on the part of all parties.
The cost of getting a coronavirus test may be an obstacle for people who are sick and can't afford care. This may cause people who have COVID-19 to forgo testing altogether, meaning that they can't be properly treated. These patients won't be accounted for in the case data that's used to help track and stop the spread of the coronavirus. If patients who may have COVID-19 decide not to get tested because they're afraid of getting billed, government agencies won't have an accurate picture of how the pandemic is affecting communities throughout the nation.
While I was able to resolve this issue with a few phone calls and some persistence, not everyone has the time or know-how to bother negotiating with their provider and insurance company. If you find yourself in my situation and you're still stuck with medical bills due to testing, get in touch with the provider right away. If all else fails, follow the tips below on how to negotiate your medical bill.
Still facing testing costs? How to negotiate with your provider
The burden of medical debt can weigh heavily on your finances. Fortunately, medical bills are often negotiable. Take the following steps to negotiate down the cost of your medical bill if you've been charged for a coronavirus test or other COVID-19 related services:
→ Request an itemized bill from the health care provider that conducted the test. Check for errors to make sure your service wasn't coded incorrectly. You can also ask your insurer to review the medical bill, and you have the right to file an appeal if you believe you were charged in error for a service you needed.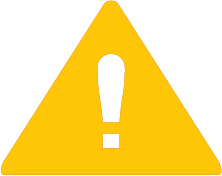 Tip:
If you believe you were billed for a coronavirus test in error and you can't seem to get the bill dropped, contact your
state's insurance commissioner
.
→ Get in touch with the medical billing office. Whether or not you were billed in error, you'll have to speak with the provider that billed you in order to negotiate the cost of care. You may qualify for a lump-sum discount if you offer to pay your bill in full. Take note of who you spoke with at the billing department and when you called.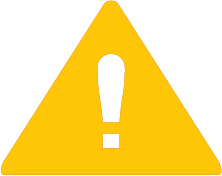 Tip:
If you're seeking financial help because you've
recently lost employment
or your health care situation has changed, be honest. The provider may be more willing to negotiate.
→ Seek payment assistance programs. Nonprofit hospitals are required to offer payment assistance programs, such as free or discounted care for select patients, according to federal law. However, the exact requirements vary state-to-state. Regardless, you should ask the hospital's billing department what programs they offer.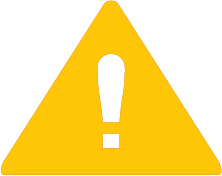 Tip:
The
National Consumer Law Center
published a state-by-state breakdown of medical debt protection laws.
→ Enroll in an interest-free payment plan. Health care providers typically let you break up your hospital bill into manageable monthly payments made over a number of months, without interest. Since they don't accrue interest, these plans are a better alternative to medical loans or medical credit cards.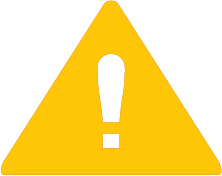 Tip:
Don't agree to a payment plan if you can't afford the monthly payments — it's better to be honest with your provider to avoid getting stuck with medical debt.