How Does LendingTree Get Paid?
LendingTree is compensated by companies on this site and this compensation may impact how and where offers appear on this site (such as the order). LendingTree does not include all lenders, savings products, or loan options available in the marketplace.
45% of Newlyweds Went Into Debt for Their Wedding — and It's Causing Marital Problems
Published on:
Content was accurate at the time of publication.
A wedding is cause for celebration. You're in love, the champagne is flowing and everyone you care about is excited to join the party. Every couple has a dream wedding day in mind, but not every couple can afford to make it happen.
LendingTree has found that 45% of newlyweds between the ages of 18 and 53 went into debt to pay for their wedding. And once married, nearly half of the newlyweds who obtained wedding-related debt said money has caused them to consider divorce. On the flip side, only 9% of couples without wedding-related debt contemplate divorce.
Before financing for marriage, you may want to consider exactly how much debt you're willing – and able – take on, so you don't start your marriage off on the wrong foot.
Key findings
45% of Americans ages 18 to 53 who were married within the last two years went into debt for their wedding.
76% of newlyweds who went into debt for their wedding say they argued about wedding-related expenses with their partner. Comparatively, only 20% of those who avoided wedding debt said the same.
Nearly half (47%) of newlyweds who went into wedding debt say money caused them to contemplate divorce, compared to just 9% of couples who did not go into debt for their wedding.
36% of those who had wedding debt say they argue with their partner about money often, versus 11% of couples without wedding debt.
4 in 10 newlyweds who didn't go into wedding debt saved the monetary gifts they received, compared to 10% of couples with wedding debt who put their cash into savings. Instead, 40% of couples with wedding debt used the money to fund their honeymoon.
Despite the increasingly high cost of weddings, money was not the most stressful part of planning for most respondents. For about a third of newlyweds (32%), family caused the most headaches. Money was the main stressor for 28%. And 17% said the guest list was their biggest headache. 12% reported general pre-wedding jitters as the most stressful aspect. And 9% said their vendors were the main source of their strife.
The most "worth-it" wedding expense wasn't at the wedding itself. Nearly 27% said it was their honeymoon. Other worthy expenses were food and drink (22%), venue (17%) and the photographer (10%).
45% of recently married Americans did not discuss debt with their partner before getting engaged. About a third (31%) waited until after the engagement to talk finances, and 13% didn't raise the subject until after tying the knot.
1 in 4 couples wish they spent less on their wedding
In a dream world, you would have no regrets of any kind about your wedding. But this is where money rears its ugly head.
One in four couples reported wishing they had found a way to spend less on the wedding. That's understandable, considering 76% of couples who obtained wedding-related debt reported that they argue about money spent on their wedding. For those who didn't go into debt? Only 20% of them argue about what they spent on their big day.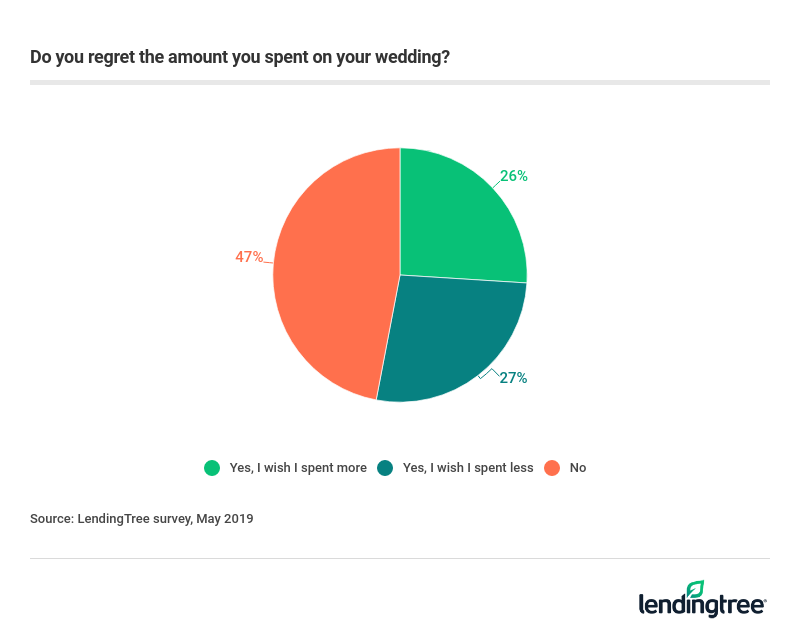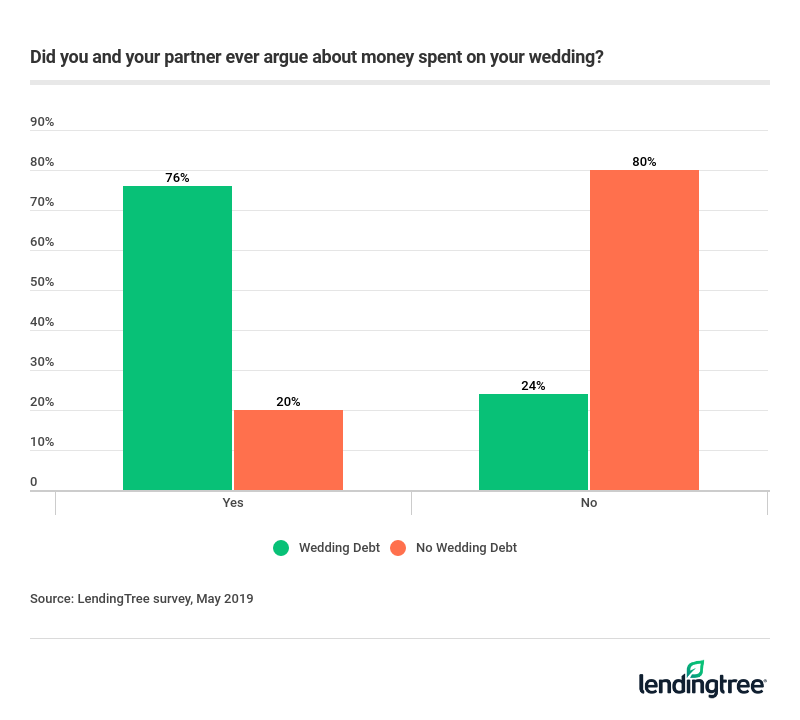 Wedding expenses newlyweds regretted the most
There are a lot of negotiations to be made while wedding planning. Your mother-in-law thinks a cash bar is tacky; the groom wants a DJ; the bride wants an out-of-season flower in her bouquet. Compromises will need to be made if you don't want to regret how much you spent.
Only 22% of newlyweds reported being satisfied with the amount they spent on their wedding. Newlyweds' biggest regrets included spending too much on food and drinks (15%), the venue (12%), the honeymoon (9%), and DJ/band expenses (9%).
Pros and cons of paying tax debt with a personal loan
Pros
Cons
If you have good to excellent credit, you may be able to secure a better APR than what you'll pay through the IRS between interest and penalties.
For many borrowers, the rate of a personal loan will be much higher than what you'll pay through the IRS.
You'll pay off the debt in equal monthly installments.
You may be subject to fees, including loan origination (typically 1% to 8%) and late penalty fees and prepayment penalties.
Taking out and paying off a personal loan could raise your credit score.
You won't have leverage to negotiate your tax debt if you pay it with a personal loan.
1 in 4 newlyweds say the honeymoon was worth it
Even though 9% of newlyweds wished they'd spent less on their honeymoon, 27% reported that their honeymoon was the most worth-it wedding expense. That makes it the most popular of wedding expenses. Food and drink (22%) was ranked the second-best investment. The venue (17%) came in third.
The least popular expenses, the videographer, decor, and hair/makeup, came in with a three-way tie at 2% of the vote.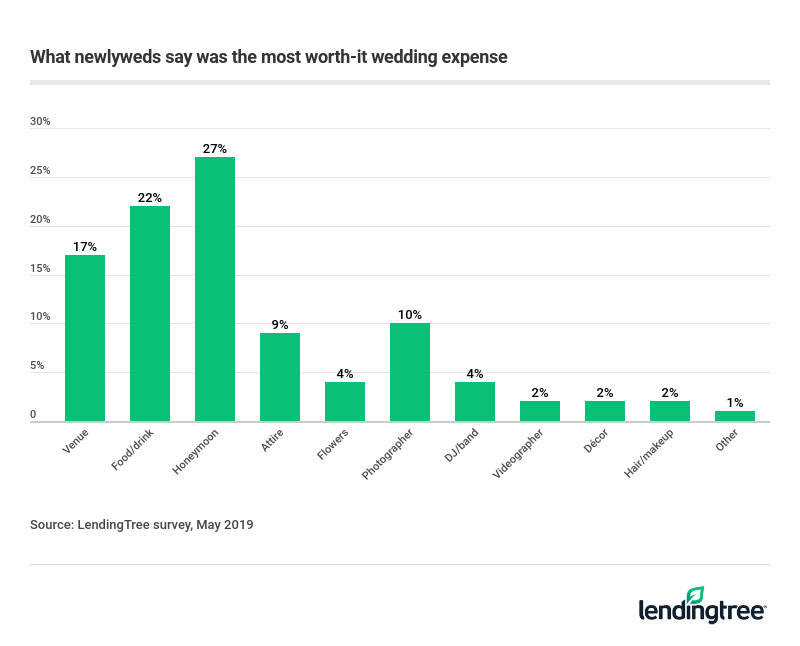 How couples spent monetary wedding gifts
Even though you're spending a pretty penny on your wedding, there's always the gifts to look forward to. Your loved ones are excited for you to start your life together and will shower you with presents. Some of those presents will come in the form of cold, hard cash. How you spend it is up to you.
36% of newlyweds who received monetary gifts said they used the cash to help fund their dream honeymoon. 27% saved the money for a rainy day while 22% used the money to pay off wedding debt. Surprisingly, 11% of couples paid off other debt with the gifts they received, helping them kick-start their marriage with less debt.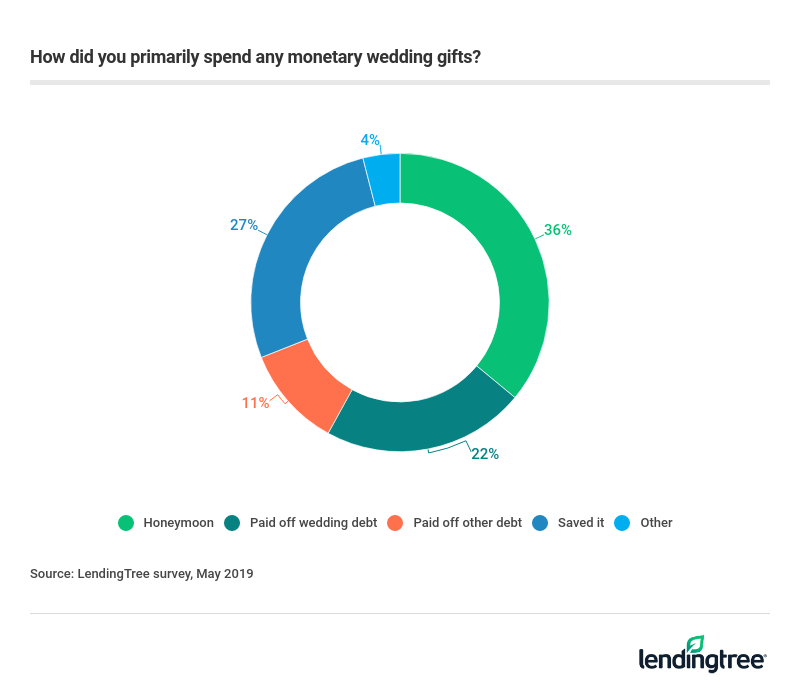 Cutting your wedding costs: 6 quick tips
If you're looking to save some money on your wedding, you and your betrothed should take proactive steps towards cutting costs. You want to start your marriage off on the right foot and not overspending will hopefully help you avoid some unpleasant money-related fights. Consider these following tips for cutting wedding costs.
Marry during the offseason: A wedding in June is always going to cost more than a wedding in October. If your schedule allows, plan your wedding during the offseason. Venues will give major discounts for less popular times of year.
Keep it intimate: Have you ever actually met your dad's second cousin? Sorry Tom, you're off the list. Set a hard cap on the guest list unless other family members are willing to contribute to the cost of your wedding. It will be difficult to keep the list small, but don't feel guilty. Every extra invite adds up.
Prioritize costs that are most important to you: Before you start wedding planning, sit down with your partner and have a realistic discussion about what is most important to you. You can each pick your top priority. While you may choose to splurge on your dream venue, for example, you may have to cut back on flowers. Listing your priorities will help you keep your budget on track when you're tempted to order that photo booth.
Beware the high cost of traditions: There are many costs at weddings that can be attributed to traditions. Not a cake fan? Skip the overpriced wedding cake in favor of your favorite dessert. Don't care about music? Say no to a DJ and ask a friend to make a killer playlist. Just because there are traditions associated with weddings, doesn't mean you have to follow them.
Barter with vendors and the venue: Don't be embarrassed to talk budget with your vendors and venue. Your venue, food, flowers and photographer are all likely to give a discount if you push for one, especially if you choose to have your wedding during the offseason or on a less popular day of the week like a Friday.
Make a plan – and stick to it: You can't keep your head in the sand when it comes to financing a wedding. Before you start booking vendors, make a realistic plan for your wedding. Find out how you'll afford the expenses and what makes sense for your budget. And if you need to, postpone the wedding to avoid burying your marriage in debt.
At the end of the day, only you and your partner know what financial decisions are right for you. Hopefully the honest responses from the couples surveyed will serve as a reminder that this day is about celebrating your marriage and not about how much you spend. Splurge on what truly makes you happy and skip the expenses you don't care about. And if you really want to get thrifty, a city hall elopement can be just as memorable as a grandiose ballroom.
Methodology
LendingTree commissioned Qualtrics to survey 506 Americans ages 18 to 53 that were married within the last two years. The survey was fielded online from April 15, 2019 to May 6, 2019. The overall margin of error for all respondents is +/-4%.