How Does LendingTree Get Paid?
LendingTree is compensated by companies on this site and this compensation may impact how and where offers appear on this site (such as the order). LendingTree does not include all lenders, savings products, or loan options available in the marketplace.
Cities With the Most Six-Figure Non-Mortgage Debt
Published on: November 5th, 2019
Editorial Note: The content of this article is based on the author's opinions and recommendations alone. It may not have been reviewed, commissioned or otherwise endorsed by any of our network partners.
Six-figure debt is the kind of eye-popping number we associate with mortgages; after all, homes are usually the largest purchases we'll make over our lifetime. But a surprising number of people accumulate over $100,000 in debt for other things.
To better understand where Americans may be buried under large amounts of non-mortgage debt (including auto loans, credit cards, student and personal loans), we analyzed borrower data across the 100 largest metro areas. We identified places where borrowers are most and least frequently burdened by over $100,000 in non-mortgage debt.
Click below to explore our findings:
Key findings
Jackson, Miss. is the metro with the highest percentage of borrowers owing more than $100,000. 8.9% of borrowers there owe at least that much on their auto loans, student loans, personal loans, and credit cards.
Only 3.7% of San Jose, Calif. borrowers owe more than $100,000, which is the lowest percentage among the 100 largest U.S. metros.
In Durham, N.C. nearly 68% of the debt that's owed by six-figure borrowers is for student loans. That is a higher percentage than any other metro.
Six-figure borrowers of McAllen, Texas owe more on their auto loans than any other metro, at a rate of more than 46%.
Six-figure Provo, Utah borrowers owe more on their personal loans than any other metro.
Borrowers in Bridgeport, Conn. with more than $100,000 of debt owe nearly 19% of it on credit card balances, which is more than any other metro.
Student loan debt remains a burden for borrowers. Nationwide, more than 55% of the debt owed by those owing more than $100,000 are for student loans.
In general, the metros with higher percentages of six-figure borrowers also have lower average credit scores. For example, in Jackson, Miss., the average credit score of six-figure borrowers is 640, while in San Jose six-figure borrowers have an average credit score of 689.
The above map reveals which metros have the highest and lowest incidence of six-figure non-mortgage debt. The green dots represent the locations with the lowest percentage of six-figure debt. The red dots represent the highest percentage. Hover over a dot to learn more about a specific metro area, such as its ranking, the average debt and credit score.
Metros with the highest percentage of residents with $100K+ debt
Three Texas metros (El Paso, Houston and San Antonio) ranked among the 10 areas with the highest percentage of borrowers with over $100,000 in non-mortgage debt.
Houston's No. 8 ranking is no surprise; in a separate study, Houston baby boomers were found to be carrying the highest amount of non-mortgage debt nationwide. San Antonio millennials similarly find themselves in hot water. Not only did San Antonio rank No. 7 in this study, but in a study about places where millennials are most indebted, San Antonio held the No. 1 spot.
But Jackson, Miss. and Washington, D.C. take the top two spots in our study. Nearly 1 in 5 Mississippi residents under the age of 18 are living below the poverty level, according to the U.S. Census Bureau. D.C., meanwhile, struggles with affordable housing; the area is one of the least affordable areas in the U.S. Struggling to pay for housing can lead to other forms of debt.
10 Metros with the Highest Percentage of Borrowers with Six-Figure Debt
| Rank | Metro | Borrowers with $100,000+ debt |
| --- | --- | --- |
| 1 | Jackson, Miss. | 8.90% |
| 2 | Washington, D.C. | 8.40% |
| 3 | Little Rock, Ark. | 8.40% |
| 4 | Atlanta | 8.10% |
| 5 | El Paso, Texas | 7.70% |
| 6 | Columbia, S.C. | 7.70% |
| 7 | San Antonio | 7.40% |
| 8 | Houston | 7.40% |
| 9 | Charleston, S.C. | 7.30% |
| 10 | Augusta, Ga. | 7.20% |
Metros with the lowest percentage of residents with $100K+ debt
Coastal states shine when it comes to metros with the lowest rates of borrowers with six-figure debt; almost all of the top 10 metros are on or near a coast. Although those locations can be pricey, residents are managing their debts quite well.
San Jose comes in at No. 1. Despite sitting in Silicon Valley, an area notorious for high housing costs, the city is known in another LendingTree study as one of the most successful metros when it comes to residents living within their means. Two other California cities broke the top 10: Stockton and Modesto. But Florida also makes a strong appearance, with three metros ranking in the top 10.
10 Metros with the Lowest Percentage of Six-Figure Borrowers (Excluding Mortgage)
| Rank | Metro | Borrowers with $100,000+ debt |
| --- | --- | --- |
| 100 | San Jose, Calif. | 3.70% |
| 99 | Providence, R.I. | 3.70% |
| 98 | Stockton, Calif. | 3.90% |
| 97 | Modesto, Calif. | 4.00% |
| 96 | Sarasota, Fla. | 4.10% |
| 95 | Grand Rapids, Mich. | 4.20% |
| 94 | Springfield, Mass. | 4.20% |
| 93 | Palm Bay, Fla. | 4.40% |
| 92 | Fort Myers, Fla. | 4.40% |
| 91 | Harrisburg, Pa. | 4.40% |
How each metro area's debt is distributed
While each metro area's distribution of debt varies, clear trends emerged when looking at the ratio of auto, student loan, credit card, and personal loan debt. Out of all of the metro areas analyzed for this study, every single area but one holds the majority of their debt in student loans. (McAllen, Texas is the only area that has more auto debt than student loan debt.)
High amounts of student loan debt is not particularly shocking when you consider that from 2018 to 2019, the total amount of student loan debt in the U.S. grew over $80 billion, to $1.56 trillion. And the average student loan balance per borrower was $36,500.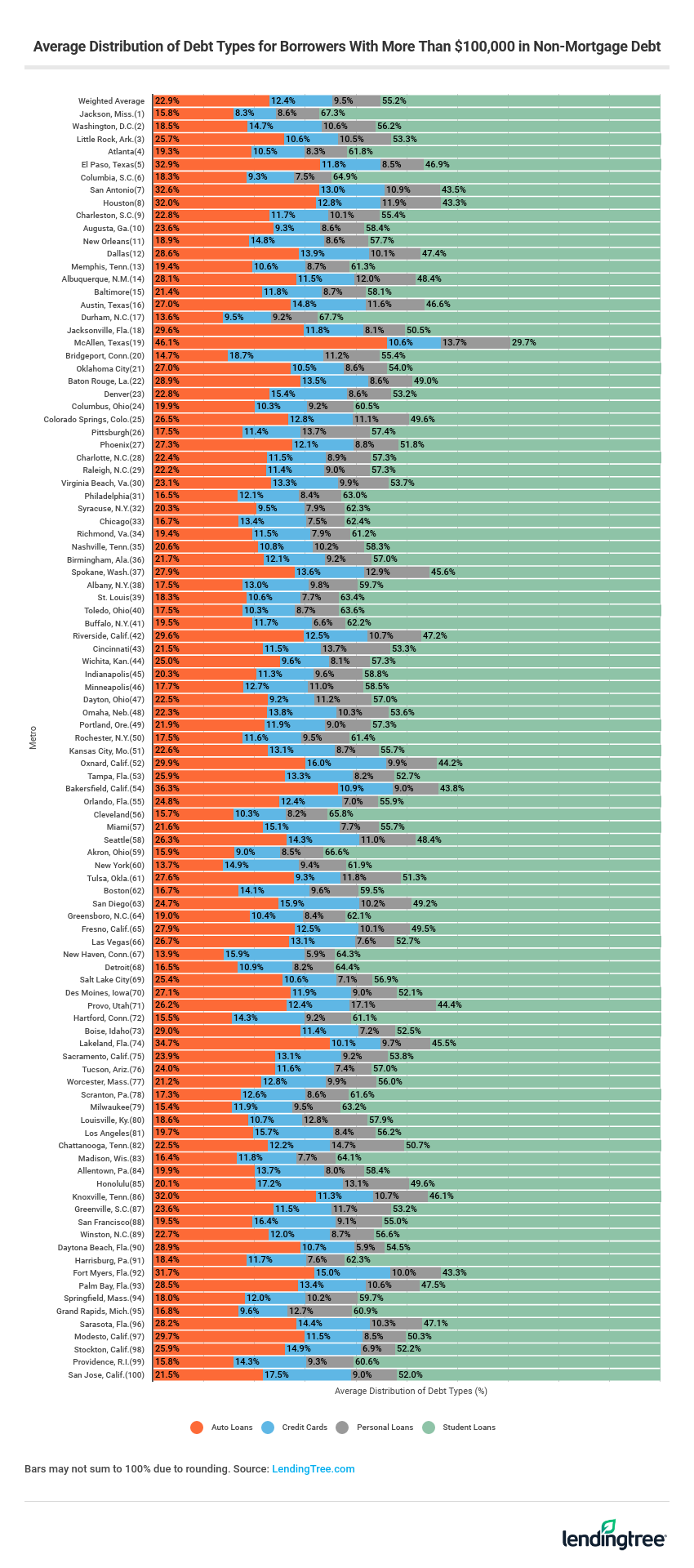 Auto loans consistently came second to student loans across these metro areas. Americans hold over $1.14 trillion in outstanding auto loan balances, with the average balance per car loan totalling $10,100. Bridgeport, Conn. was the exception to this trend. Their second-highest form of debt was credit cards.
Personal loans were the least likely form of debt to be held. Yet, they are the fastest growing consumer debt sector. More financial institutions are offering unsecured loans to help consumers consolidate other debts or finance major purchases.
3 ways consumers can pay down debt sooner
Find a repayment strategy that works for you
When it comes to repaying debt, it can be difficult knowing where to throw any extra cash flow. But there are two popular repayment strategies that can help decide how to approach your dues: debt avalanche and debt snowball.
Debt avalanche: With this repayment strategy, you make minimum payments on all debts except the one with the highest interest rate. You'll make extra payments to that debt. As you pay off each debt, you'll have more cash flow to allocate to the debt with the next-highest rate. This strategy is best for reducing your overall interest costs.
Debt snowball: The snowball method works similarly. However, instead of allocating extra payments toward debt with the highest rate, you'll focus on your smallest debt. The idea is to get small wins to keep you motivated as you pay off each debt.
Although these repayment strategies are popular, they're not your only options for handling debt. If you can't commit entirely to a repayment strategy, you may instead vow to put any windfalls toward your debt or follow one of the below strategies. You may even decide to hold off on debt repayment until you save up an emergency fund, which can keep you from taking out more debt in case of a financial emergency.
Try to snag a lower interest rate
If you have high interest debt weighing you down, consider pursuing a lower interest rate. You can ask your credit card issuer or other creditor for a lower rate. They may agree to lower your rate temporarily or permanently if you have a strong payment history and a good credit score. There's no guarantee they will agree to lower the interest rate, but calling and asking about your options will not cause any damage either.
A balance transfer card is another option that may help you nab lower interest rates. This type of card may have a lower interest rate than your existing credit card. For a balance transfer fee, you can move your old credit debt onto the new card. This is known as refinancing and may allow you to repay your debt for less.
Certain cards may even come with a promotional 0% interest rate, though they are reserved for borrowers with the best credit. Pay off your debt before the promotional period ends and you can avoid high interest. Fail to do so, however, and you may charged deferred interest.
Research debt consolidation loans
A debt consolidation loan is a personal loan you use to roll multiple debts under one monthly payment. The goal of debt consolidation is to minimize the number of payments you're making each month and to repay your debt at a lower interest rate. Fewer payments can make it easier to manage your finances while a lower rate means a lower overall cost of repayment.
Because traditional debt consolidation loans are unsecured — meaning you don't need collateral to qualify — your credit is heavily weighed by lenders to determine your eligibility for funds. Personal loans can come with hefty interest rates if you don't have top-tier credit, too. But for borrowers dealing with exceptionally high rates on their debt, a personal loan may be viable even if their credit is only OK.
Methodology
In September 2019 LendingTree looked at the levels of non-mortgage debt of an anonymized sample of My LendingTree users in the 100 largest U.S. metros to determine which metros have the highest and lowest percentage of borrowers who owe more than $100,000 on the sum of their credit card, personal loan, student loan and auto loan debts.