How Does LendingTree Get Paid?
LendingTree is compensated by companies on this site and this compensation may impact how and where offers appear on this site (such as the order). LendingTree does not include all lenders, savings products, or loan options available in the marketplace.
Places Where Millennials Carry the Most Debt (Non-Mortgage)
Published on: September 10th, 2018
Editorial Note: The content of this article is based on the author's opinions and recommendations alone. It may not have been reviewed, commissioned or otherwise endorsed by any of our network partners.
Student loans make up the biggest share of millennial debt, but auto loans are close behind.
The typical urban millennial carries significant debt, a new LendingTree study found. It revealed that the median debt balance for millennials living in the 50 biggest U.S. cities is $23,064.
"The millennial generation makes up the younger portion of adults, and as they build their careers, families and communities, they're doing it encumbered by personal debt," said Kali McFadden, the LendingTree senior research analyst who led the study.
But where have millennials gotten into the deepest debt? To find out, researchers analyzed anonymized credit report data of LendingTree users who live in the 50 biggest metro areas in the U.S.
Looking at debt balances (excluding mortgages) for those born between 1981 and 1996, we determined:
Where millennials have the biggest non-mortgage median debt obligations
The average breakdown of debt obligations by five different debt types: student, auto, credit cards, personal loans and other
The results revealed a snapshot of millennials' debt balances, along with the major U.S. cities in which millennials are the most (and least) indebted.
Key findings
Millennials in San Antonio, Pittsburgh, and Austin, Texas, shoulder the largest debt burdens of the 50 biggest metros, with median non-mortgage debts of $27,122, $26,403 and $26,164, respectively.
Three California cities — San Jose, Sacramento and Los Angeles — have the lowest median balances on our list at $18,376, $18,691 and $19,299, respectively.
Student debt makes up the largest share of millennial debt, accounting for 40% of their total credit and loan balances. The proportion of student debt was highest in Philadelphia, at 49.1% of the average debt burden, and lowest in San Jose at 24.1%. This was also the largest debt category for millennials in 35 of the 50 cities we reviewed.
Auto loan debt was the biggest debt burden of the other 15 metros and averaged about 33% of millennials' average total debt balances. Auto loans accounted for over 43% of the average debt for millennials in Riverside, Calif., and San Antonio, but just over 22% of New York City millennials' debt.
The 10 U.S. cities where millennials carry the most debt
The study revealed the 10 states where millennials have the highest debt balances. In every one of these cities, more than half of millennials have outstanding debts totaling $25,000 or more (not including mortgages). And roughly 1 in 4 millennials living in these cities owes more than $50,000.
The breakdown of these debts was similar to the average overall, with student debt and auto loans accounting for a larger portion of millennials' outstanding credit balances in these cities.
Millennials in the South appear to be borrowing more — eight of these 10 cities are in this region, as defined by the U.S. Census Bureau. Texas, in particular, dominates the list of indebted millennials. San Antonio, Austin, Houston and Dallas are among the 10 cities where millennials owe the most.
Here are the cities where millennials are taking on the most non-mortgage debt.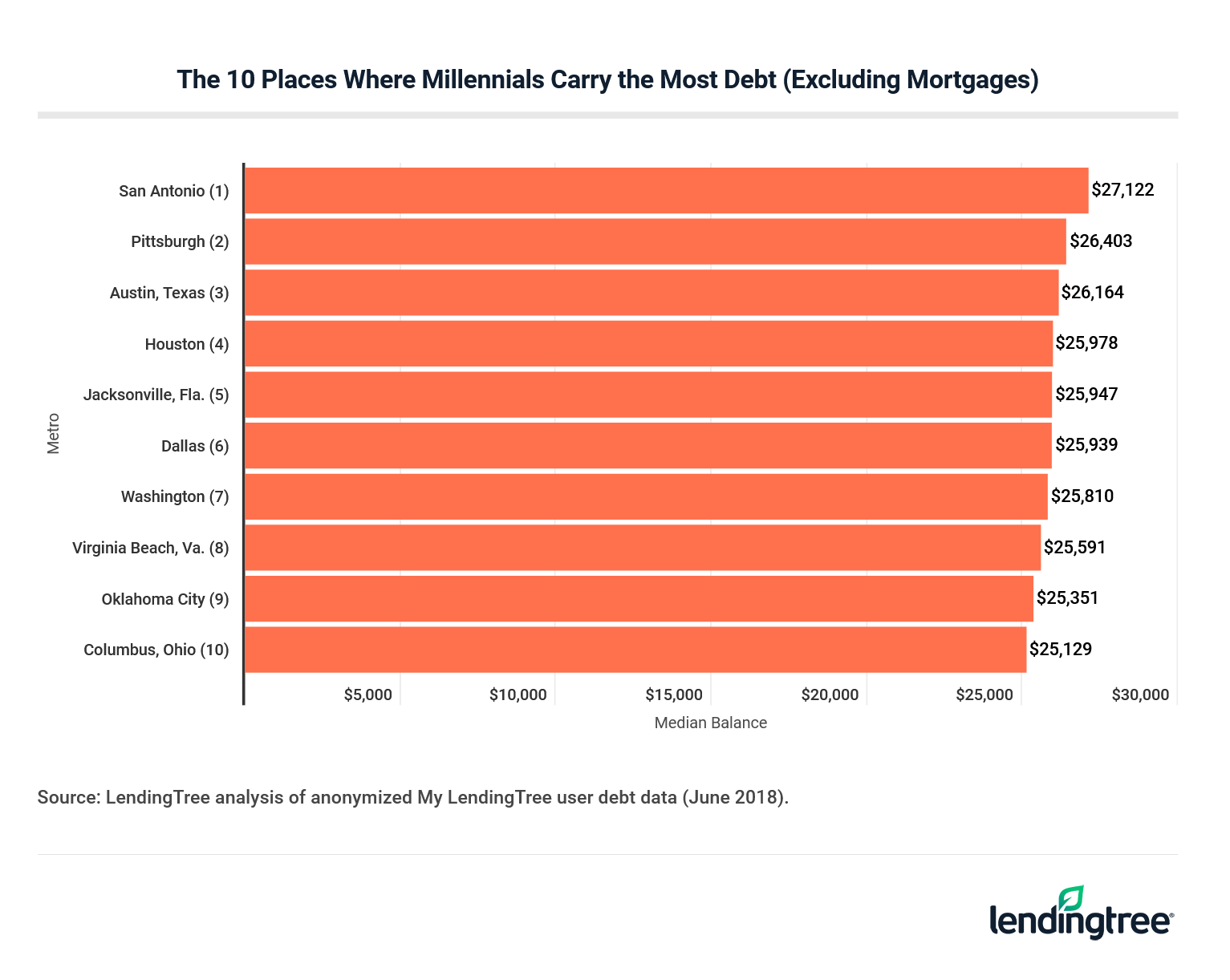 1. San Antonio
Median balance: $27,122
Millennials in this Texas city had the highest levels of debt in the nation, owing $4,058 more than the median debt balance for millennials across all 50 cities surveyed.
San Antonio's millennials also tend to owe the most on their cars, with that accounting for 43.2% of their total debt balances.
2. Pittsburgh
Median balance: $26,403
The millennial cohort in Pittsburgh has a higher portion of student debt, at 45.7%, meaning educational loans account for almost half of what they owe.
3. Austin
Median balance: $26,164
Next is the capital of Texas. Here, young adults have some of the highest amounts of credit card debt, accounting for 18.1% of their total outstanding debts.
4. Houston
Median balance: $25,978
Millennials in Houston, like others in Texas, tend to owe the most on their car loans. In this city, auto loans make up 42.5% of the total balances of millennials' outstanding debts.
5. Jacksonville, Fla.
Median balance: $25,947
The largest debts for Jacksonville millennials are their car loans, which are about on par with student debt. These two types of debt account for 38.5% and 37.1% of the totals millennials owe, respectively.
6. Dallas
Median balance: $25,939
Dallas' millennials most commonly owe more on auto loans than any other type of debt. These car loans account for 39.9%, on average, of total outstanding debts.
7. Washington
Median balance: $25,810
This city's millennials have some of the highest levels of student debt, which make up 46.9% of the total amounts they owe. Interestingly, Washington also has the largest amount of millennials with six-figure debt — nearly 1 in 10 has debt that totals $100,000 or more.
Both figures agree with our previous study on student debt, which found that Washington's residents are more likely to have a postsecondary or professional degree. They also have the highest levels of student debt in the nation, with a median student loan balance of $22,803.
8. Virginia Beach, Va.
Median balance: $25,591
Of the 10 cities where millennials owe the most, Virginia Beach is where this cohort has the highest portions of debt for both credit cards (18.9%) and personal loans (11.9%). Millennials in most other cities take on their biggest debts for major purchases such as cars or college. These higher credit card and personal loan balances could be a sign of above-average levels of consumer spending and borrowing among Virginia Beach millennials.
9. Oklahoma City
Median balance: $25,351
Among Oklahoma City's millennials, car loans tend to be their biggest debt. These auto loans account for 39.3% of an average total debt for a local millennial.
10. Columbus, Ohio
Median balance: $25,129
Among the 10 cities where millennials have the most debt, those living in Columbus have student loans that account for the highest portion of their debt. Nearly half (48.1%) of money owed by millennials in this city takes the form of student debt.
The 10 metro cities where millennials have the least debt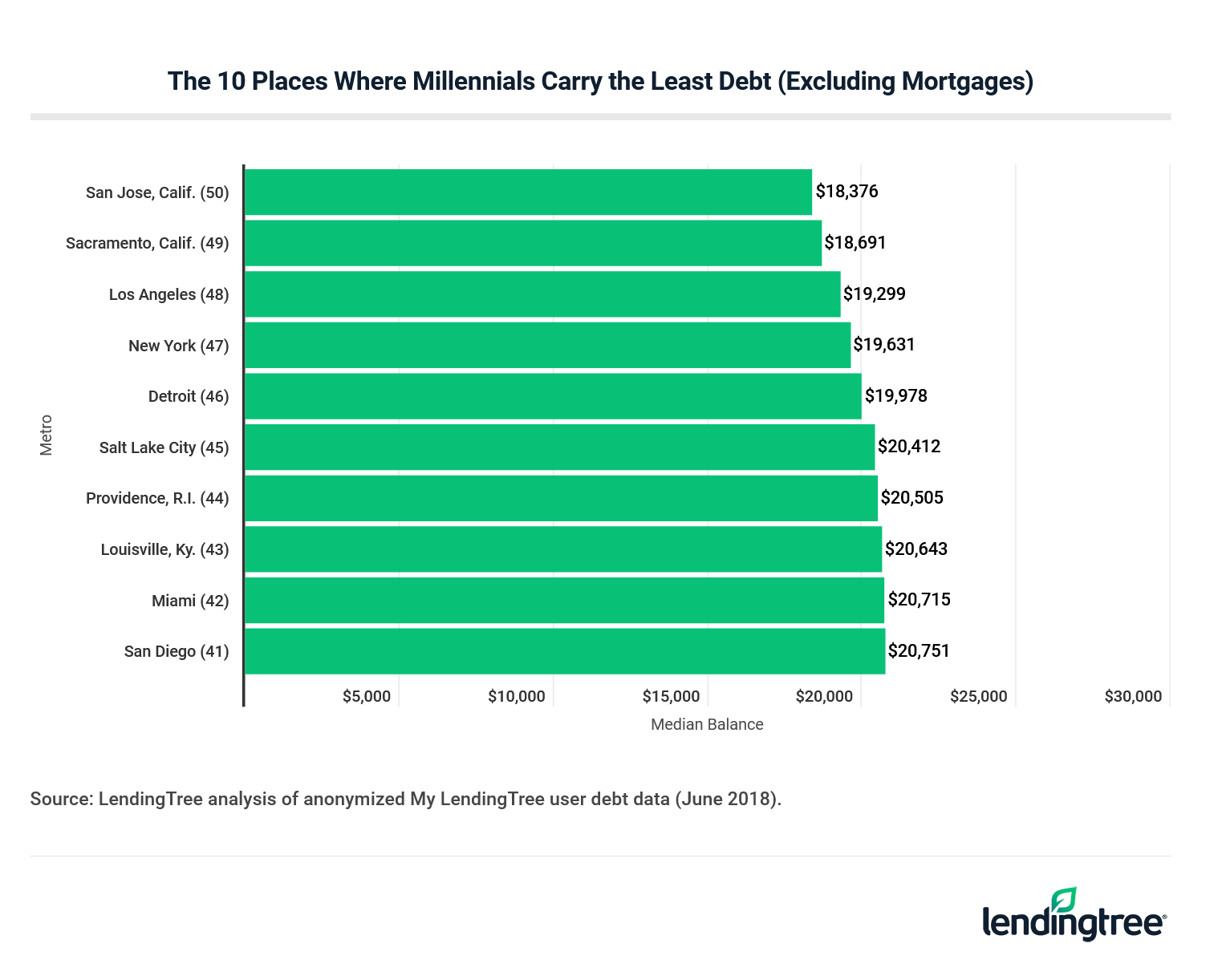 Our study also identified the 10 cities where millennials have the lowest debt burdens. Several of the nation's biggest and most expensive cities, such as San Jose, Los Angeles and New York City, are where millennials owe the least — but that might not mean what you think.
"It's worth noting that low debt burdens aren't necessarily a good thing when thinking about the economic vibrancy of a community," McFadden pointed out. "Some people have lower debt burdens because they don't have access to credit, for instance, or haven't completed college." In other words, a lack of debt could be a sign that millennials can't afford or can't qualify to take out debt, even if they're in need.
Additionally, unsecured debt such as credit cards and personal loans accounted for a larger portion of debt for millennials in these cities. In San Jose, for example, credit cards accounted for more than a quarter of outstanding debt — the highest amount of any city among the 50 cities surveyed.
How millennials can tackle their debt
Wherever they live, many millennials struggle with debt. Simply making payments on time each month can be a struggle, especially if you have high interest rates or owe a lot relative to your income.
But millennials who find themselves struggling to repay debt have options. Here are some tips borrowers can follow to tackle the three most significant categories of debt covered in this study.
Student debt
Change your federal student loan repayment plan. Enrolling in an income-driven repayment plan, for example, adjusts monthly payments downward to match your income, local living costs and family size to ensure they're more affordable.
Consider forbearing or deferring payments. Federal student loan servicers, along with many private student lenders, provide options such as forbearance or deferment to temporarily pause student loan payments during a hardship.
Refinance your student loans. If a high student loan rate means you are paying too much, explore whether student loan refinancing could help you secure a lower rate and save money. Refinancing is also the only way to combine or adjust payments for private student loans.
Auto loans
Make extra payments on the principal. This is a surefire method to pay off your auto loan faster. Paying extra on this debt can also save you money. As you owe less on your car, you will also decrease the amount on which you are charged interest.
Refinance your car loan. If you got a bad deal on a previous auto loan, you are not stuck with it. Refinancing can help you secure a better interest rate, choose a different loan term — or even do both. "Whether refinancing or looking for a new loan, shopping around for a lower APR means a lower overall debt burden over the lifetime of the loan," McFadden said.
Credit cards
Consider a credit card balance transfer. This move is most beneficial if you can open a new credit card with an introductory APR of 0%. You can move credit card debt to your new zero-interest card and have several months free of interest charges to pay it down. Be sure to account for balance transfer fees, which can offset or even cancel out these savings.
Consolidate credit card debt with a personal loan. This is a simple way to pay off several different credit card balances and consolidate these debts into a single new loan. Personal loans typically have lower interest rates than those charged by credit cards, too, which means many borrowers can pay less interest with this move.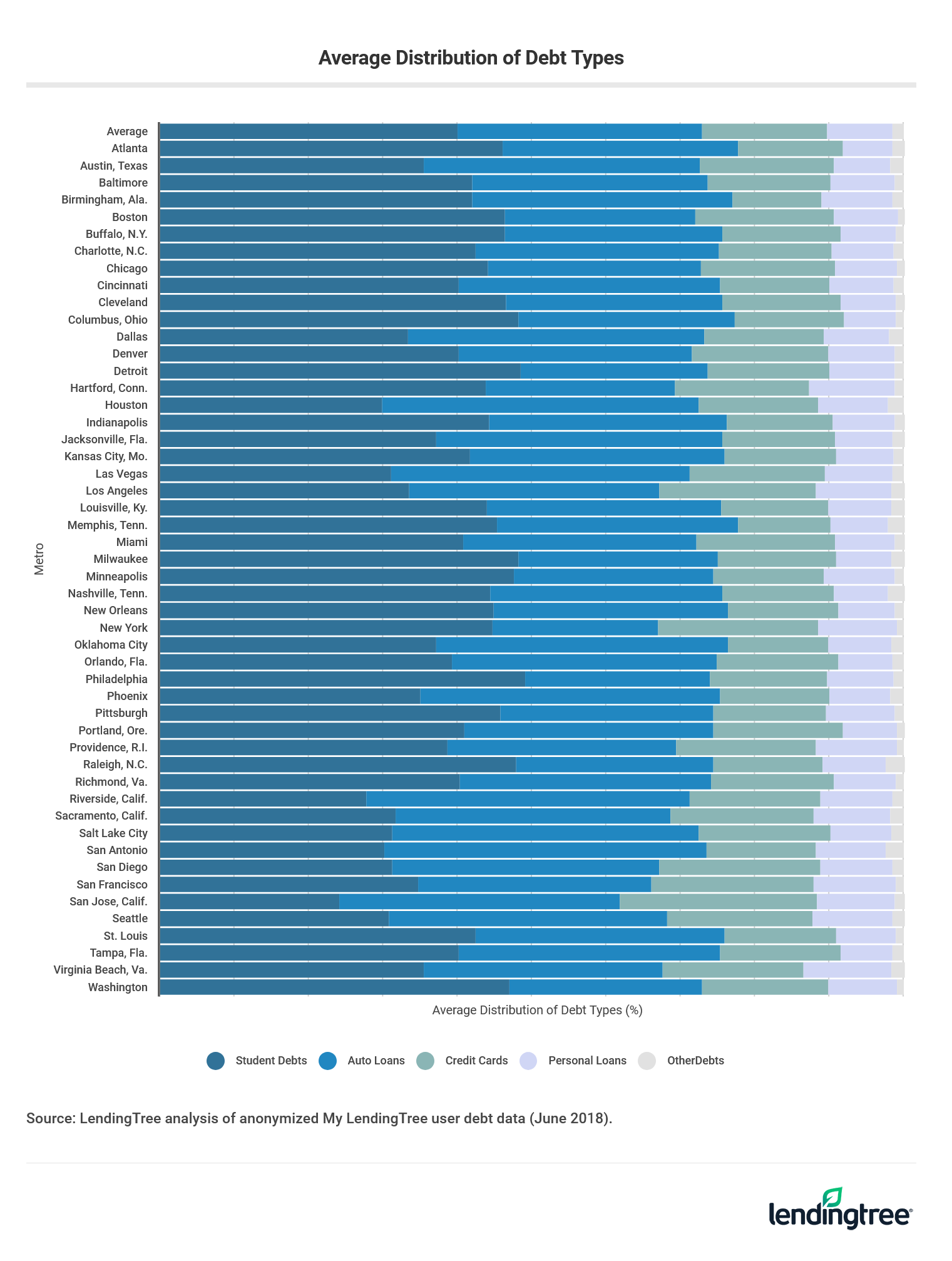 Methodology
Using an anonymized sample of millennial LendingTree accountholders, researchers calculated total debt obligations from active accounts (excluding mortgage products) from June 2018 credit reports. These results were then aggregated to the 50 largest metropolitan statistical areas to calculate median debt obligations (non-mortgage), as well as the average distribution of debts across the following debt types: student, auto, credit cards, personal loans and other miscellaneous debts. LendingTree currently has over nine million users.