How Does LendingTree Get Paid?
LendingTree is compensated by companies on this site and this compensation may impact how and where offers appear on this site (such as the order). LendingTree does not include all lenders, savings products, or loan options available in the marketplace.
What Are the Different Types of Auto Loans?
Updated on: February 28th, 2020
Editorial Note: The content of this article is based on the author's opinions and recommendations alone. It may not have been reviewed, commissioned or otherwise endorsed by any of our network partners.
Shopping for auto loans can be overwhelming. Loans often use language that average car buyers may not understand. Luckily, a few types of auto loans pop up on a regular basis. Below are some of the main concepts that differentiate the loans a typical car buyer or owner may come across.
Secured auto loans vs. unsecured auto loans
Auto loans can either be secured or unsecured. For most secured car loans, the lender will put a lien on the asset that is being bought by the borrower. However, other types of secured loans may put a lien on another asset, such as a car or a house owned by the borrower. A lien on an asset allows the lender to repossess that asset if payments are not made as agreed. You should know what assets secure your loan.
Unsecured loans, on the other hand, do not allow lenders to repossess any assets if payments are missed. Instead, lenders have to go after the delinquent borrower through other legal means. This raises the cost and interest rate of most unsecured loans.
Secured loan
Unsecured loan
Average loan APRs
5.66%-21.54%
7.63%-113.62%
Average loan terms
69 months for new cars
36 months
Main lender considerations
Your credit, your income and the value of the car
Your credit and income
Source: LendingTree data
Types of secured loans
Traditional auto loans
A "regular" auto loan almost always means a secured loan with a lien on the vehicle that the loan is being used to purchase. It applies to:
Balloon loans
This is a type of secured auto loan with a unique payment structure: relatively small payments for the first few years of the loan followed by one large payment. You'll come to that point after a specified time, around 35 months or as long as 60 months. That's when the loan "balloons" and the large final payment is due. You could pay it, you could trade in the car for another vehicle or you could sell the car.
Business and fleet auto loans
Consumers aren't the only ones that need vehicles — small businesses and governments do, too. Most of the time, vehicles used for commercial or agency purposes do not qualify for a traditional consumer auto loan. See the links below for specifics on the following:
HELOCs or home equity loans
Although they're not types of auto financing, a home equity line of credit (HELOC) or home equity loan could be used to buy a car. Like auto loans, they're also secured by an asset — in this case, your home. If you accept the risk of using your home as collateral, this can be a smart way to get cash to purchase a car as the interest rate might be lower on a real estate asset, which appreciates, rather than a vehicle, which depreciates. This could be an especially good way to secure financing for a classic car.
Pros and cons of secured car loans
Lower finance charge and lower overall loan cost.
Potential asset repossession for non-payment and the asset used to secure the loan must meet any lender requirements.
Types of unsecured loans
Personal loans, credit card debt, personal lines of credit and student loans are all types of unsecured loans. Despite the higher interest rates that typically come with using a personal loan, line of credit or credit card to buy a car, they may be a better auto loan option if:
Pros and cons of unsecured car loans
No restrictions on how you use the money.
Higher finance charge.
Simple interest loans vs. precomputed interest auto loans
Another major difference between types of auto loans revolves around how interest is calculated. Simple interest loans are the most common auto loans. A precomputed interest loan may not make the most financial sense if you plan to pay off the loan early, according to the Consumer Financial Protection Bureau.
Simple interest loan
Precomputed interest loan
When you pay interest
You pay the largest portion of interest in the beginning of the loan.
You pay the same amount of interest with each payment.
How paying down the principal affects the amount of interest
The quicker you pay the loan back, the less interest you pay.
The interest you pay doesn't change, even if you pay  the loan off earlier.
Simple interest car loans
Simple interest loans calculate interest on a preset periodic basis, such as a daily basis. During each period, interest will be calculated based on the amount of principal outstanding on the loan. If a borrower pays off additional principal on their loan, they will no longer have to pay interest on the additional principal that has been paid off. Early payments allow borrowers to pay off simple interest loans faster while paying less in interest over the life of the loan.
In this example, the car payment is always $527.05. The amount of interest you pay (in blue) decreases with each payment you make as you pay off the principal.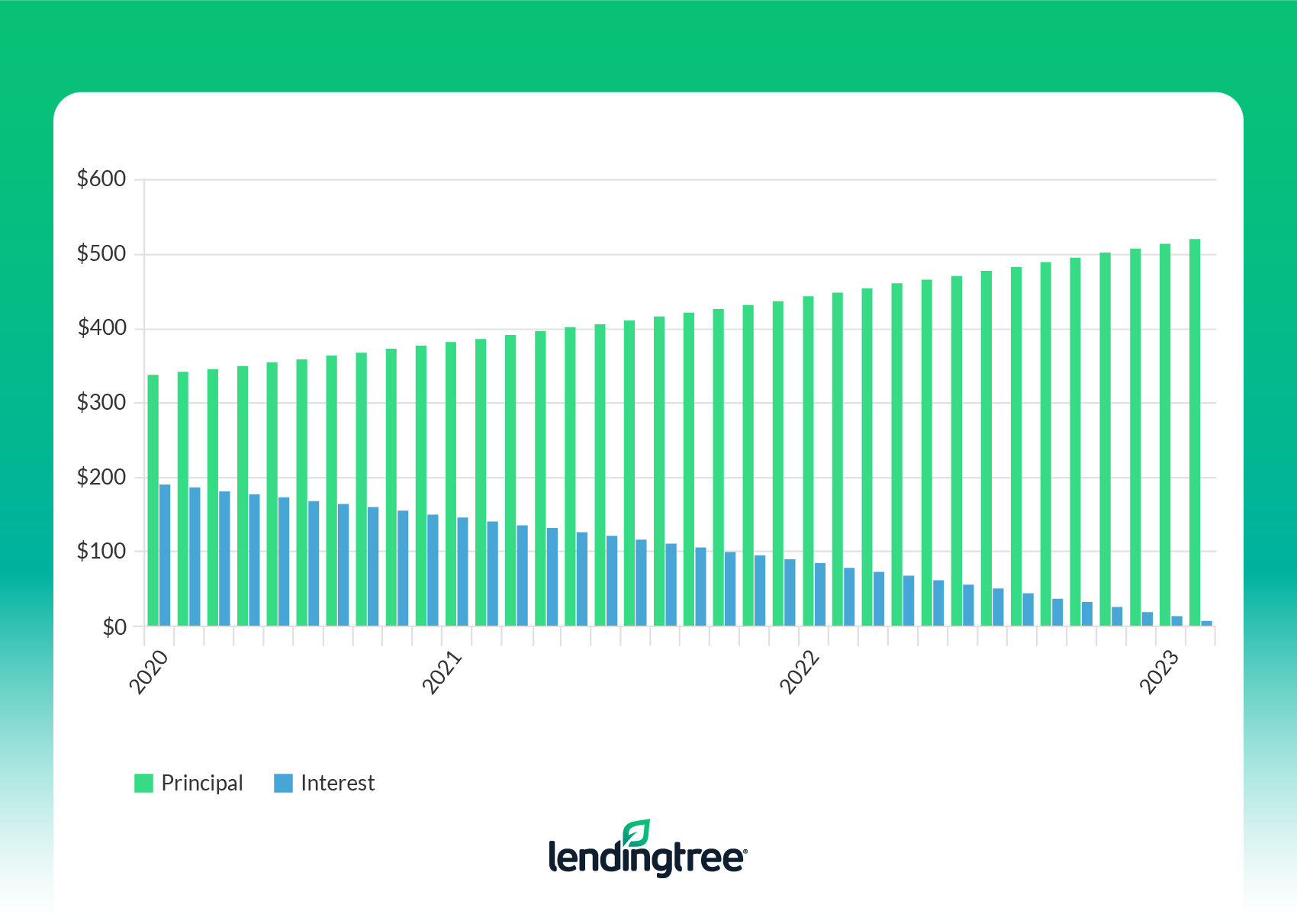 Pros and cons of a simple interest loan
Allows for easy reduction of interest if you pay early.
Large portions of your first payments go towards interest, not principal.
Precomputed interest car loans
Precomputed interest loans require the borrower to stick to a set payment schedule in which each payment has a calculated portion of interest and principal, and the portions do not change.
Even if a borrower pays their loan early, they will not save any money on interest because the payments are applied based on the precomputed interest schedule.
In this example, the car payment is always $527.05. The amount of interest you pay (in blue) stays the same with each payment you make as you pay off the principal.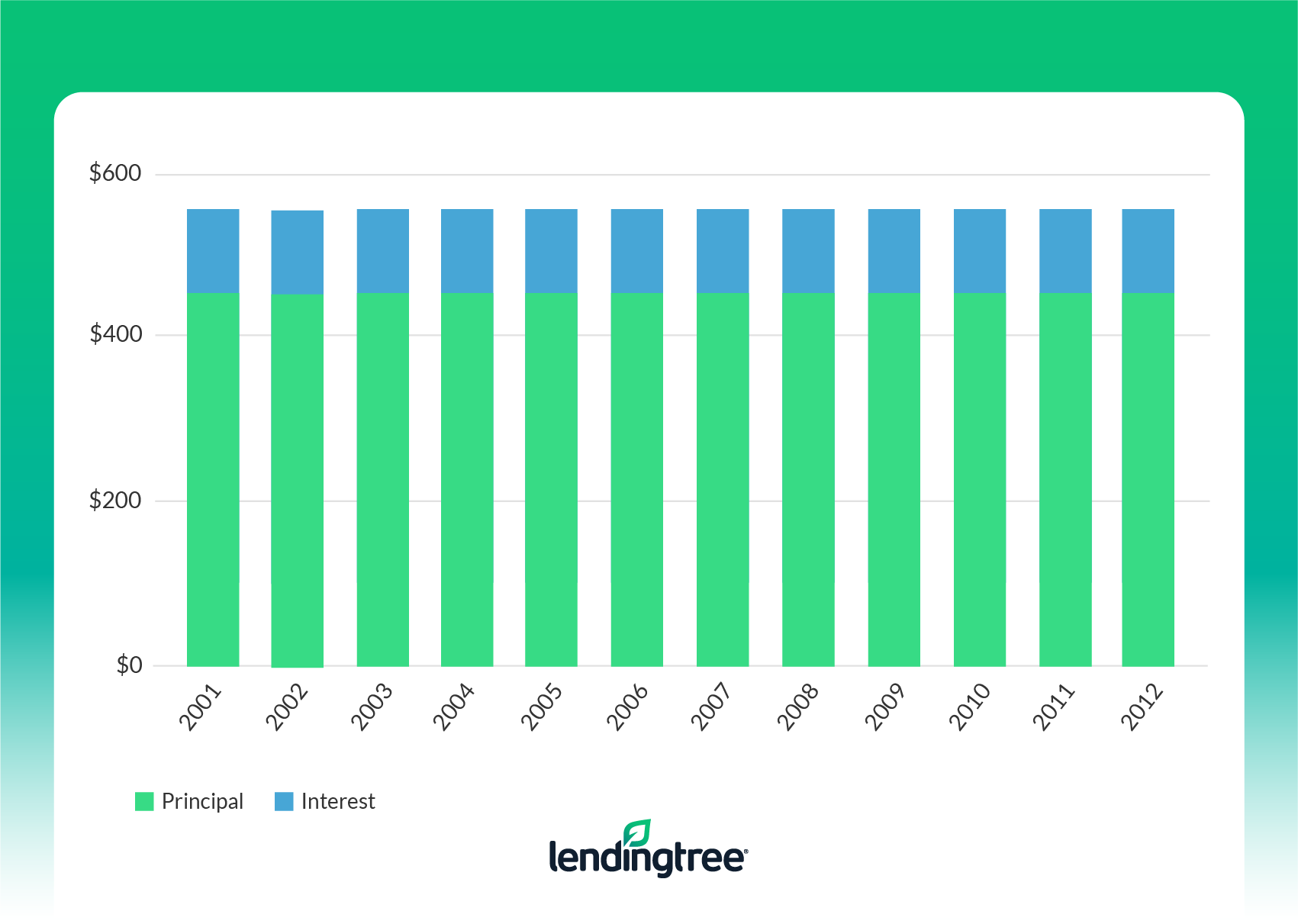 Pros and cons of a precomputed interest loan
You pay an equal amount of interest in each payment.
It's hard to reduce the total cost of the loan.
Direct auto financing vs. indirect auto financing
Direct financing is when you obtain a loan by interacting directly with a lender. Indirect financing is when a third party acts as a middleman between you and a lender, such as a dealership. Most consumer financial institutions are both direct lenders as well as indirect. You could get an auto loan from them by applying directly to them or by applying to them through a dealership.
Direct financing
Indirect financing
Application
You fill out separate applications for each lender.
You fill out one application which is then shared with multiple lenders.
Lender relationship
You interact and apply with the lender yourself.
The third party interacts and negotiates with the lender.
Loan details
You see the APR and other loan details directly.
The third party presents your APR and loan options to you, which may open the potential to raise your APR.
Direct financing
In direct financing, all communication is done directly between lender and borrower.
Not every lender allows direct financing. For example, TD Auto Finance only issues auto loan offers to customers who apply for a car loan at its partner dealerships.
Pros and cons of direct financing
You discover what you qualify for with no third party filtering your options or potentially raising your APR.
Separate applications for each lender you apply to, which can take some time and effort.
Indirect financing
Indirect financing is when a third party acts as a go-between for a borrower and a lender. The most common third party is a car dealer. Some lenders will only offer auto loans through approved dealers. Many captive finance companies, such as Toyota Financial Services, are examples of indirect lenders.
While many borrowers rely on indirect financing for an auto loan, the biggest downside is that dealers can and often do increase customers' APRs, pocketing the difference as profit.
Pros and cons of indirect financing
You could receive multiple offers by filling out one form.
You may not see every offer you get and dealerships frequently have the ability to raise your APR.
Preapproved auto loans
Your bank or credit union might offer what they call a preapproved auto loan, sometimes in the form of a blank check that you could use to take to the dealer or a private seller. We highly recommend getting preapproved before you go kick some tires, but it's important to know the difference between an auto loan preapproval and an auto loan prequalification.
Preapproval vs. prequalification
Preapproval
Prequalification
Credit pull?
Yes, a hard pull.
No
What do you need to provide?
Personal details, including your Social Security number, income, how much you'd like to borrow and for how long and whether you want a new or used car.
Basic contact information, how much you'd like to borrow and for how long and whether you want a new or used car.
Is the offer likely to change?
No, because the lender pulled your credit, the offer is not likely to change a lot, if at all.
Yes, because the lender didn't know your credit or the exact car you want, the offer  could be different from the quote.
Military auto loans
Loans made to active-duty service members and their spouses and certain dependents aren't any different from those made to anyone else, but this group is eligible for certain protections under the Military Lending Act, which caps interest rates for unsecured loans at 36% APR, orders no prepayment penalty and no forced arbitration. You can learn more at the Consumer Financial Protection Bureau.
The Servicemembers Civil Relief Act (SCRA) also offers some financial protections. It puts a 6% interest rate cap on financial obligations a servicemember incurred prior to military service.
Buy-here-pay-here loans
If you don't think you qualify for a traditional auto loan from a bank, credit union or online lender, you might be tempted to opt for in-house financing at the business where you buy your car. Such buy-here-pay-here car lots are not well known for competitive rates and friendly practices. Usually the only loans they offer are high-APR auto loans to people with poor credit. If you get such an offer, know that there are many bad credit auto loan options that you could look at instead of an in-house financing offer.
Special types of auto loans
As you can see, there are many types of loans for buying a car, not to mention refinancing a car.  It's also possible to use the equity in your car to get cash for paying bills or other purchases. Such title loans and cashback auto refinance loans have their pros and cons — we'll talk more about them below. Here are some other circumstances for specialized auto loans. Two of the most common include:
Lease buyout loans
You typically have two options at the end of a vehicle lease: return the vehicle or buy it. If you decide to buy a vehicle at the end of its lease term, the vehicle is technically used and therefore may not qualify for the lowest rates. Why? Like most used cars, the lender is not sure of its condition. The factor of the unknown makes the loan more risky for a lender and shoots the APR higher. And not all lenders offer them.
Private-party car loans
Buying a car from a private seller is typically a cheaper way to buy a used car than buying at the dealer. But it's not without some possible downsides, including higher rates, although some credit unions offer the same rates for new and used. If you buy a car from a private person rather than a dealer, the lender usually has little idea how dependable the car might be. And most states offer no type of consumer protection coverage for private sales, so it can be an especially risky purchase to both you and the lender.
Title loans
They're called title loans because you're using your vehicle's title — its proof of ownership — as collateral to get cash. The advantage is you could use it for any purpose, including getting another vehicle. But downsides are the risk that your vehicle could be repossessed and typically sky-high interest rates. The Federal Trade Commission states that title loan lenders often charge as much as 300% APR.
How to choose from the types of auto loans
For most people, an auto loan means a secured, simple-interest loan for a car bought from a dealership. If this is true for you, the best way to make sure you get the best deal is to ask the dealer to beat an auto loan preapproval you got directly from a lender. This way, you put the dealer to work for you, a pretty nifty trick. The loan you wind up with may be indirect or direct, from a bank, credit union, online lender, captive finance company or other lender.
If you are not looking for a secured, simple-interest auto loan for a dealership car, it's still a good idea to shop around and compare APRs and terms. Applying to several lenders within a 14-day window won't hurt your credit anymore than applying to one, and some credit-scoring models may allow up to 45 days.