How Does LendingTree Get Paid?
LendingTree is compensated by companies on this site and this compensation may impact how and where offers appear on this site (such as the order). LendingTree does not include all lenders, savings products, or loan options available in the marketplace.
5 Steps to Getting a Mortgage with a New Job
Updated on: November 28th, 2022
Why use LendingTree?
We are committed to providing accurate content that helps you make informed money decisions. Our partners have not commissioned or endorsed this content. Read our .
When it comes to "do's and don'ts" of mortgage financing, you may have heard that switching jobs is a big no-no if you're about to apply for a home loan. There's good news: Mortgage lenders offer flexibility when getting a mortgage with a new job.
Understanding the steps you'll need to take to get a mortgage with a new job will help keep your homeownership dream alive while you start your new position.
1. Learn the rules for getting a mortgage with a new job
Lenders prefer a two-year work history at the same job because it shows you have a stable, predictable income. Consistent employment is also a sign that you're likely to be able to make your monthly payments.
When you're getting a mortgage with a new job lenders need extra reassurance that you'll be able to repay your loan. You may also have to meet stricter guidelines than someone who has been at the same employer for several years.
Lenders may preapprove you for a mortgage with a new job if they can verify the following:
Your employment starts within 60 to 90 days of your closing. This information must be on your offer letter or employment contract.
Your job offer has been fully accepted. Lenders look for a signed and dated letter or contract. An unsigned preliminary job offer isn't acceptable.
You've met all the conditions to start your job. Your employer must confirm your position isn't contingent on requirements like training or certifications to start.
You recently graduated from college. You may use your college transcripts and degree in place of on-the-job experience to show you have the skills and education to do the work at your new job.
You completed trade school certification or training. Advanced training or certification in a trade may give you higher earning potential, which is positive in a lender's eyes.
You recently retired from active-duty military service. Military veterans who can show how their new job duties relate to their military service may be eligible for a loan guaranteed by the U.S. Department of Veterans Affairs (VA).
You have enough cash to cover your payments until your start date. Lenders need to know you have enough extra savings to cover both your mortgage payment and any other monthly expenses until you get your first paycheck.
You're buying a single-family primary residence. This exception doesn't apply to second homes, investment property, multifamily homes or refinance loans.
You're not employed by a family member. In addition, your employer can't be a party to your purchase contract, which would include a new job with the real estate company, mortgage company or any party involved in your purchase.
You qualify with your fixed base income. You can't add future performance bonuses, stock options and potential raises until you have a one- to two-year history of receiving them.

THINGS YOU SHOULD KNOW
Guidelines for loans backed by the Federal Housing Administration (FHA) require a new job start date within 60 days of closing. Conventional loan guidelines give you up to 90 days between your new employment start date and closing date.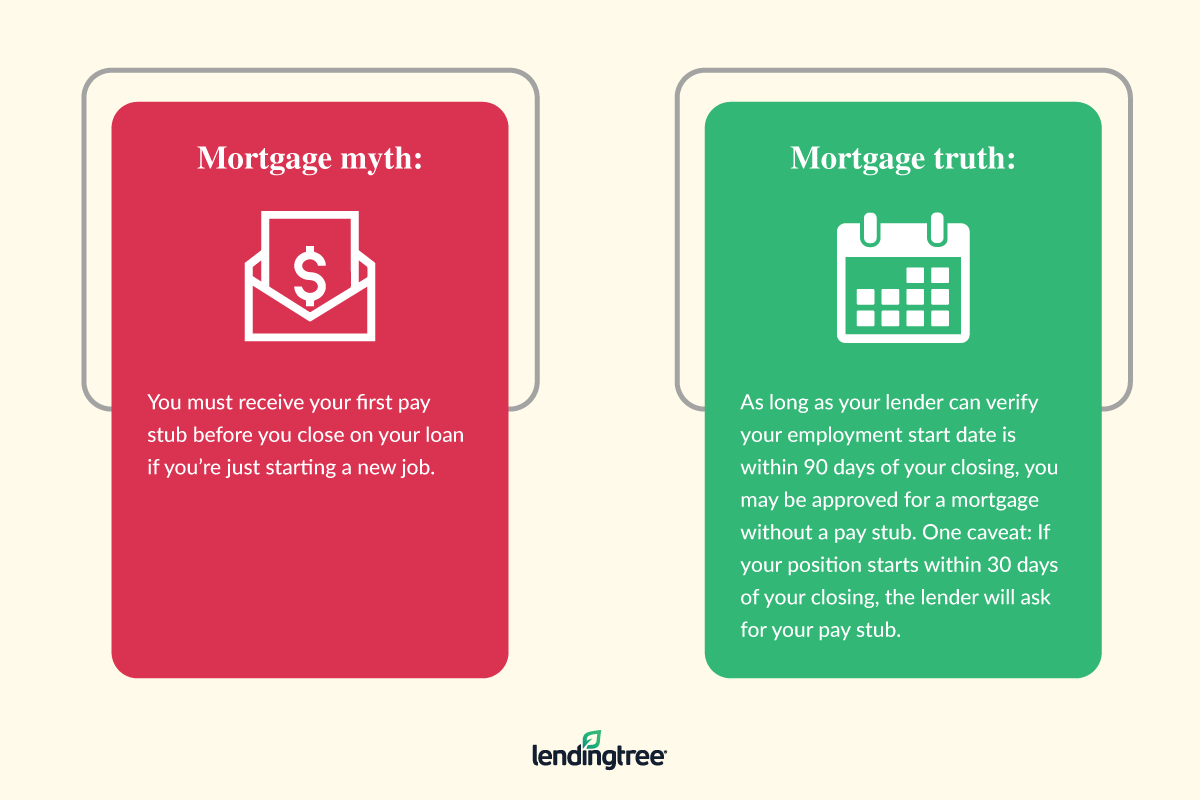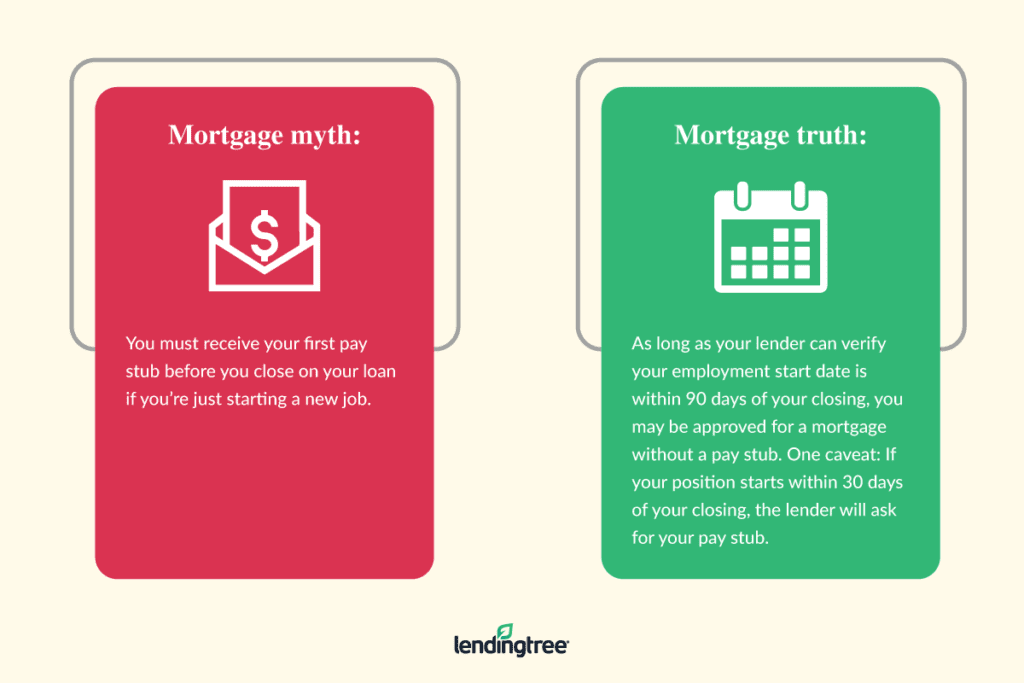 2. Gather documents to verify your new job and income
Your mortgage company may ask for extra paperwork if you're getting a mortgage with a new job. It's a good idea to get a contact name and number from your new employer in case your lender needs to clarify anything about your employment terms, pay or start date.
Use the checklist below as a starting point for what you might need.
Mortgage document checklist with new job
Signed, dated offer letter or employment contract
Copies of transcripts and college degree
Copies of trade school or special certifications
Military service paperwork showing your service specialties
Two months of bank statements with all pages
Purchase contract for a one-unit primary residence
Letter explaining a career change
TIP  Before preapproving your mortgage, your lender must verify your offer letter or employment contract meets these requirements:
You and your employer are clearly identified
You and your employer have signed and dated the contract
The terms of employment including the new position title, type and rate of pay and start date are clearly written out
There are no contingencies in your offer or contract, or they have all been met and your employer has confirmed you've met all the conditions to start the job
3. Find out if your new job makes you "self-employed"
The freedom to set your own hours and get paid daily rather than biweekly or monthly has made gig income very popular. However, when you work for ride-sharing and food delivery driving jobs you're usually an independent contractor, which makes you a self-employed borrower to a mortgage lender.
To get a mortgage with this type of income, you'll have to provide one to two years' worth of tax returns for the lender to determine your average income to qualify.
4. Don't switch from salaried to commission jobs
Even if you're a go-getter salesperson with unlimited income potential, switching from a salaried job to a commission job will raise red flags with a mortgage lender. Because your income isn't guaranteed, lenders need proof of your commission earnings.
That proof is usually in the form of two years' worth of W-2s from your employer. Exceptions may be possible with proof of 12 months of commissioned income if you have strong credit scores, a large down payment or other financial strengths.
5. Set aside extra savings for mortgage reserves
In exchange for allowing you to close a mortgage without receiving your first paycheck, lenders ask you to prove you have the cash in the bank to cover expenses between the time you close on your home and receive your first paycheck. The amount is more than the standard mortgage reserves requirement lenders sometimes require, which is generally a month or two of mortgage payments in the bank.
The reserve account must cover your mortgage payment plus monthly expenses included in your debt-to-income (DTI) ratio. That typically includes your monthly auto, student loan and credit card payments.
Frequently asked questions
No. Newly self-employed borrowers must prove income with one to two years of tax returns.
Unfortunately, you won't be approved for a mortgage if your lender can't confirm your employment with the employers you've listed on your application.
Lenders typically want to verify the new position is a promotion, provides better pay and/or benefits than your current job or is a better match for new skills you've acquired.
Yes, as long as the job starts within the guidelines outlined above. However, the offer letter must be signed and dated; an initial offer won't cut it.
Maybe, if you work in a field with a union that can provide proof of your current employment as well as confirm the likelihood the contract will be renewed.
Yes. There are no-income verification mortgages that allow you to use assets or bank statements to prove you have the cash flow to repay your loan. Also known as non-qualifying mortgages, they come with higher down payments and higher interest rates.
You can qualify for a retirement mortgage using retirement or Social Security income if you've reached the legal retirement age. If you're at least 62 years of age, you may qualify for a reverse mortgage which doesn't require a monthly payment.