How Does LendingTree Get Paid?
LendingTree is compensated by companies on this site and this compensation may impact how and where offers appear on this site (such as the order). LendingTree does not include all lenders, savings products, or loan options available in the marketplace.
More Than Half of Mortgage Borrowers Lost Income Amid Coronavirus Pandemic
Published on: July 20th, 2020
Why use LendingTree?
We are committed to providing accurate content that helps you make informed money decisions. Our partners have not commissioned or endorsed this content. Read our .
Coronavirus cases have spiked again, and millions of Americans continue to experience the economic fallout of the pandemic.
To gauge sentiments around payment obligations during the COVID-19 crisis, LendingTree commissioned a survey of more than 1,000 mortgage borrowers about where they now stand financially.
Key findings
More than half (53%) of mortgage borrowers have experienced income loss, due to the coronavirus pandemic.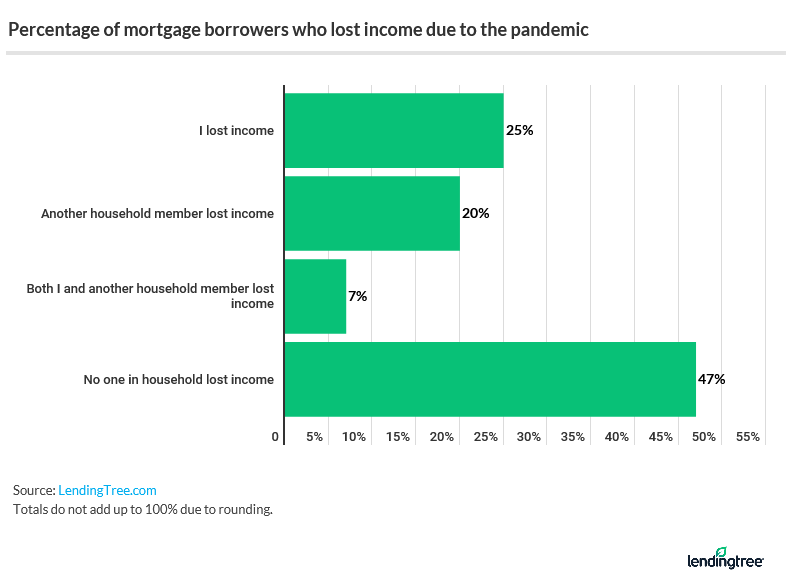 When broken down by age groups, 61% of millennials have lost household income, followed by 57% of Generation X and about 37% of baby boomers.
Nearly 1 in 5 mortgage borrowers have missed a mortgage payment since March 2020.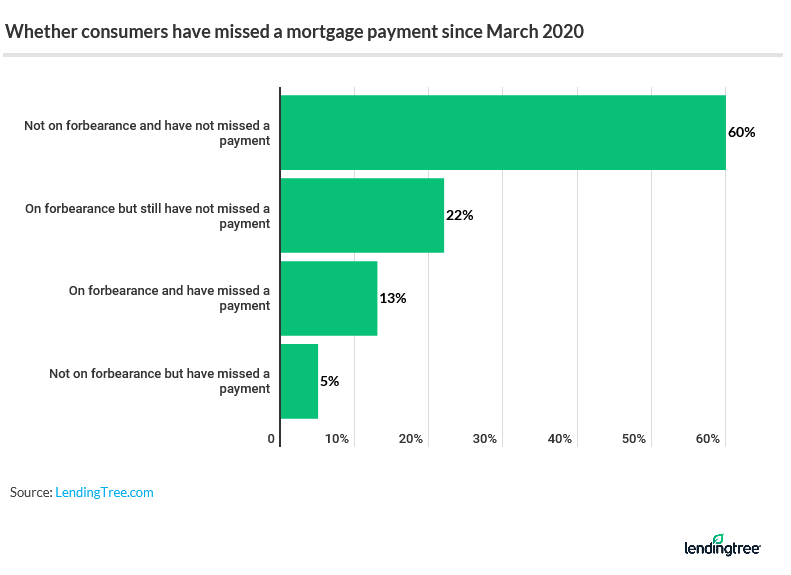 Since March, when the COVID-19 outbreak began to spread widely across the United States, nearly 1 in 5 (18%) of mortgage borrowers have missed a mortgage payment. Of that group, 5% were not in a mortgage forbearance agreement with their lender, which permits a temporary reduction or suspension of monthly payments.
In comparison, 82% of borrowers have continued to make payments – 22% of which are participating in a mortgage forbearance plan.
Less than one-third of borrowers have successfully received mortgage forbearance.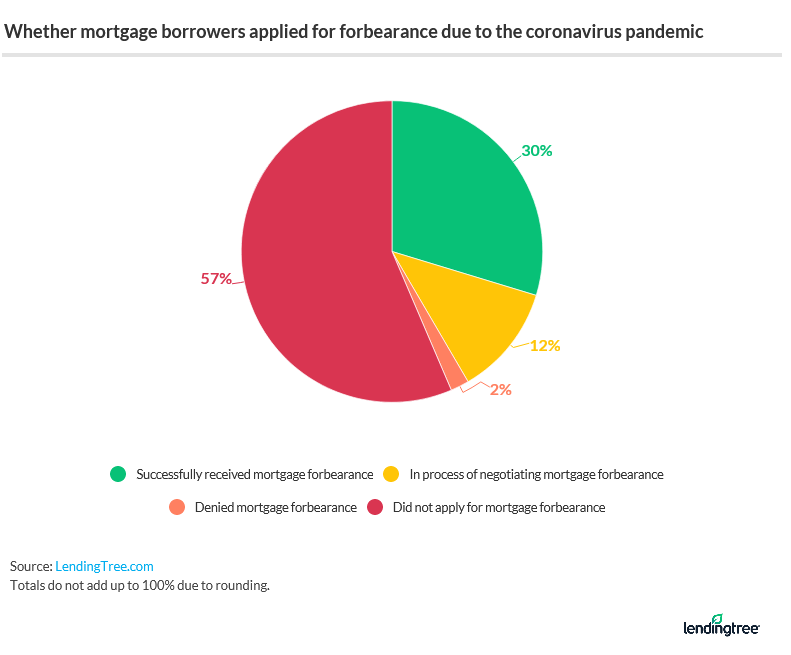 Amid the national economic turmoil caused by the coronavirus pandemic, less than one-third (30%) of mortgage borrowers have entered into a mortgage forbearance agreement. Another 12% are in the process of negotiating the terms of their mortgage assistance, while 2% of borrowers were denied forbearance help.
"The forbearance program is essential to maintaining the health of the housing market and supporting the economy," said Tendayi Kapfidze, LendingTree's chief economist. "Without it, millions of people would be at risk of losing their homes."
About 4 in 10 mortgage borrowers said they or members in their household have been receiving unemployment benefits.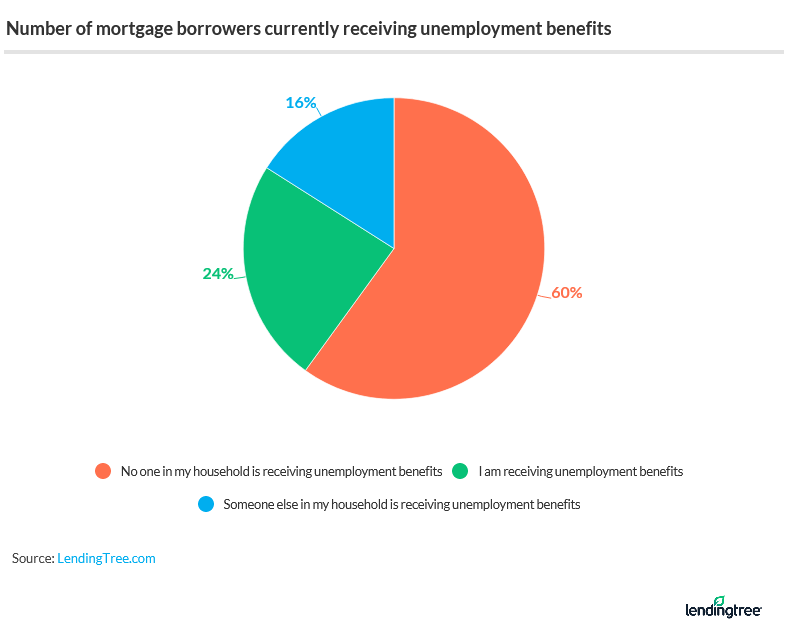 Nearly half (48%) of millennial and 50% of Gen X borrowers report they or another person in their home are receiving unemployment insurance benefits. Just about 17% of baby boomer borrowers fall into this group.
Other takeaways
Nearly one-third (32%) of borrowers have deferred paying bills other than their mortgage, due to the COVID-19 crisis. The top two deferred payments were for auto loans (11%) and credit cards bills (10%).
"Unfortunately, the response to the coronavirus crisis has been very poor; many layoffs that were temporary are beginning to become permanent, and the economy is likely to remain weak well into 2021," Kapfidze explained.
A little over two-thirds (67%) of mortgage borrowers facing income loss would consider skipping a debt payment to make ends meet.
24% would default on mortgage payments
23% would default on credit card payments
15% would default on student loan payments
5% would default on auto loan payments
Of the 30% of borrowers in forbearance, more than 4 in 10 (44%) have an annual household income of at least $100,000, which is more than any other income bracket.
About 7% of borrowers earning less than $25,000 in income applied for mortgage relief but were denied. This is the highest denial rate among all income brackets.
There's confusion around the terms of mortgage forbearance for some borrowers. More than one-third (37%) of baby boomers said they don't have full clarity on what's expected of them as borrowers in a forbearance plan. Just 17% of Gen Xers and another 17% of millennials agree.
3 tips to better understand mortgage forbearance
You may qualify to postpone payments for a year. If you have a federally backed mortgage, such as a loan insured by the Federal Housing Administration (FHA), U.S. Department of Agriculture (USDA) or the U.S. Department of Veterans Affairs (VA), you have the right to request mortgage forbearance for up to 180 days. Additionally, you can request one extension for up to another 180 days. These rules also apply to conventional loans owned by Fannie Mae or Freddie Mac.
You'll need to repay your past-due balance. Your mortgage payments are on pause during forbearance, but you're still responsible for them. At the end of your forbearance period, you'll need to make arrangements with your lender to pay what's owed. Your options may include a repayment plan or a lump-sum payment, among other alternatives.
You may need to modify your loan after forbearance. Once your forbearance period ends, speak to your lender about a mortgage modification if you can't afford to resume your old mortgage payments. A modification permanently changes the original terms of your loan to make your monthly payments more affordable. Your lender may extend your repayment term or lower your interest rate, for example.
Methodology
For this survey, LendingTree commissioned Qualtrics to collect responses from 1,015 mortgage borrowers, with the sample base proportioned to represent the overall population. The survey was fielded June 29-July 1, 2020.
Generations were defined by the following ages:
Millennials: ages 24-39
Generation X: ages 40-54
Baby boomers: 55-74
The survey also included responses from members of Generation Z (ages 18-23) and the silent generation (ages 75 and older). Their responses were included in the overall percentages but excluded from the generational breakdowns.