How Does LendingTree Get Paid?
LendingTree is compensated by companies on this site and this compensation may impact how and where offers appear on this site (such as the order). LendingTree does not include all lenders, savings products, or loan options available in the marketplace.
Nearly Half of Vacation Homeowners Feel Guilty About Low Usage
Published on: July 31st, 2019
Why use LendingTree?
We are committed to providing accurate content that helps you make informed money decisions. Our partners have not commissioned or endorsed this content. Read our .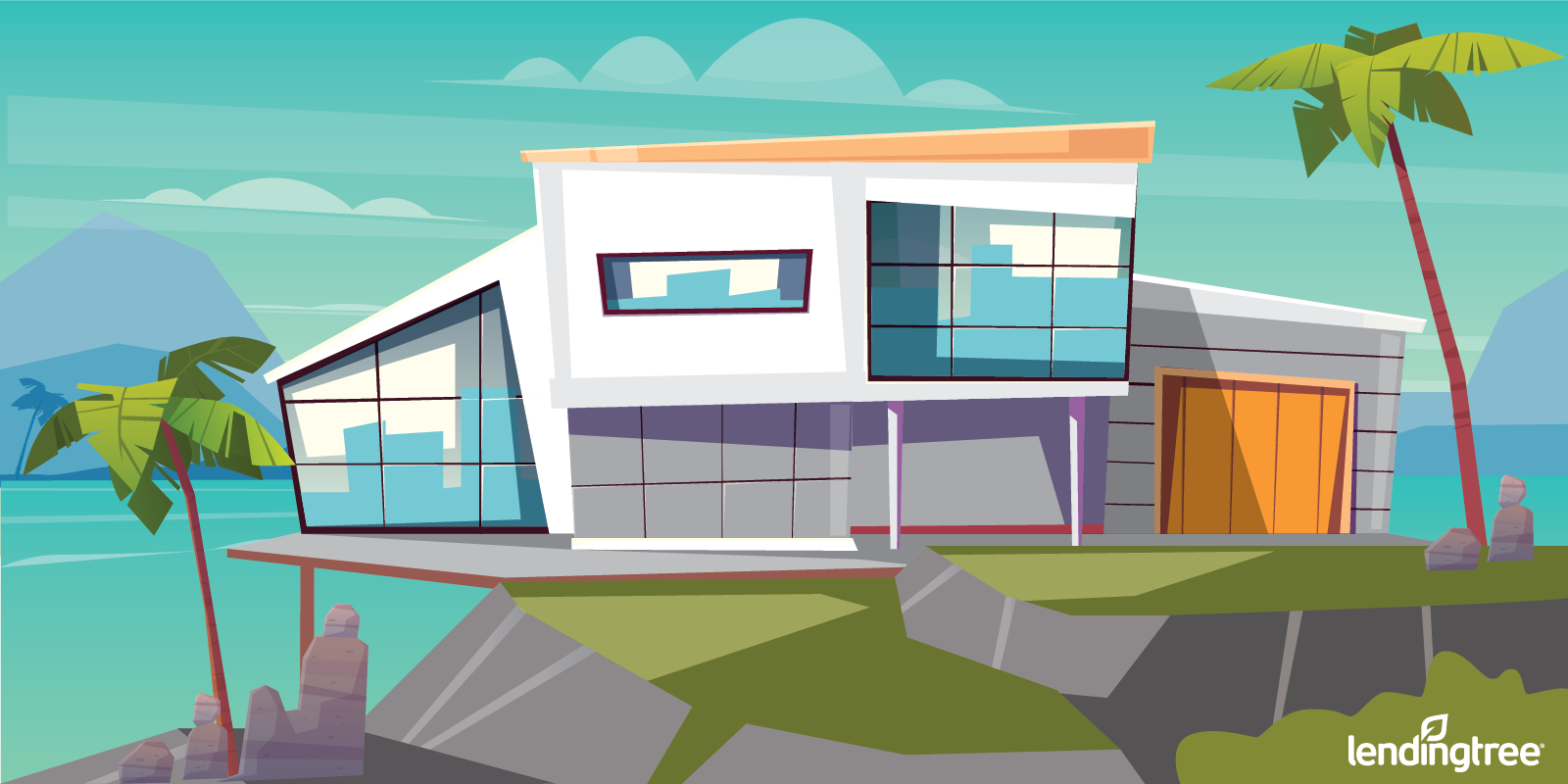 Owners of vacation homes intend to make good use of their property, but many haven't had a chance to do so. In fact, more than a third of those with vacation homes spend time in them only once a year, or even less.
LendingTree commissioned a survey of consumers who own or have owned an additional home outside of their primary residence to identify trends and gather sentiments about their decision to own multiple properties.
Key findings
Almost 4 in 10 (39%) survey respondents own or have owned an investment property. The second most-cited additional home type is a vacation home, at 36%. Another 26% say they own or have owned a rental property.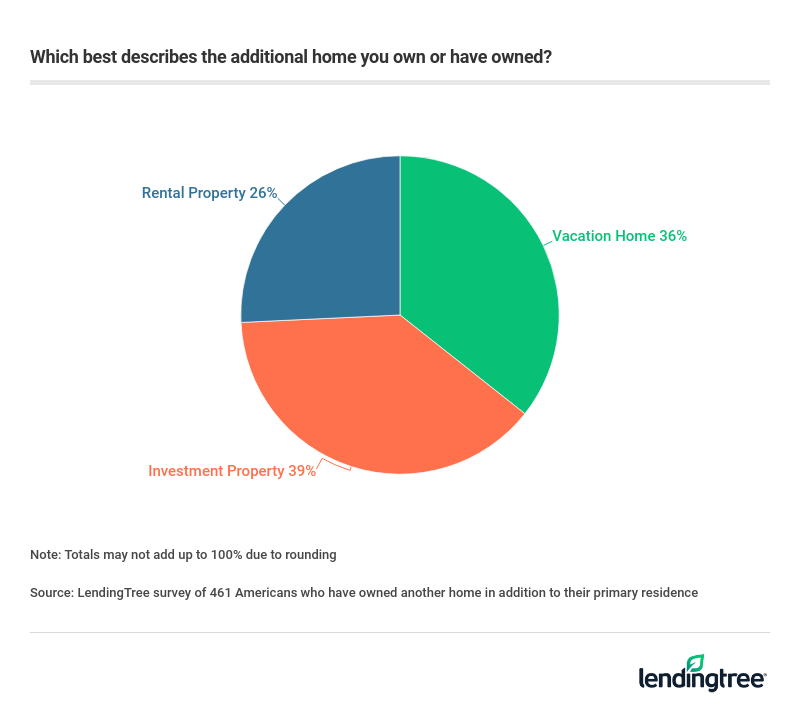 About 1 in 2 vacation homeowners (49%) feel guilty about not using their home as much as they intended. Just over a quarter (26%) of respondents personally use their home more than five times each year. More than a third (37%) only use their vacation home once a year or less.
More than half (56%) of vacation homeowners bought their home to rent it out, but nearly 6 in 10 (59%) haven't ever rented out the property. Just under a third (30%) of those who are current or former owners of an additional home aside from their primary residence — whether a vacation, investment or rental property — rent it out year-round. Another 29% rent it out when they're not using it, while about 4 in 10 (41%) don't rent out their additional home at all.
Of those who decided to sell their additional home, 31% said they did so primarily because they didn't use it often. Other primary reasons for selling their additional home include: needing the income from selling (29%); the additional home being too expensive (14%); wanting to buy another home elsewhere (8%) and no longer enjoying visiting the area where their home was located (6%). Nearly 12% wrote in other reasons, with some respondents citing divorce as the main factor.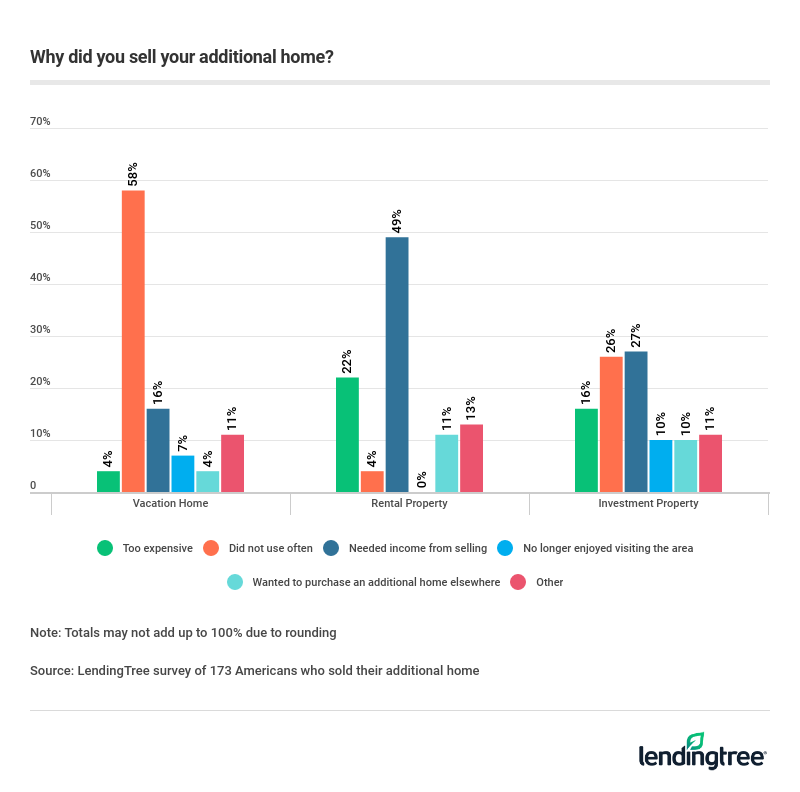 More than 1 in 5 additional homeowners (22%) regret purchasing their additional home. When broken down by the type of additional home, more than a quarter (28%) of those who own vacation homes regret their purchase, while 23% of investment property owners feel the same.
Other takeaways on vacation homes
Most of those who own vacation homes (40%) report that their property is near the beach. Another 20% say their home is near the mountains. Additionally, 41% of investment property owners say their home is in the city.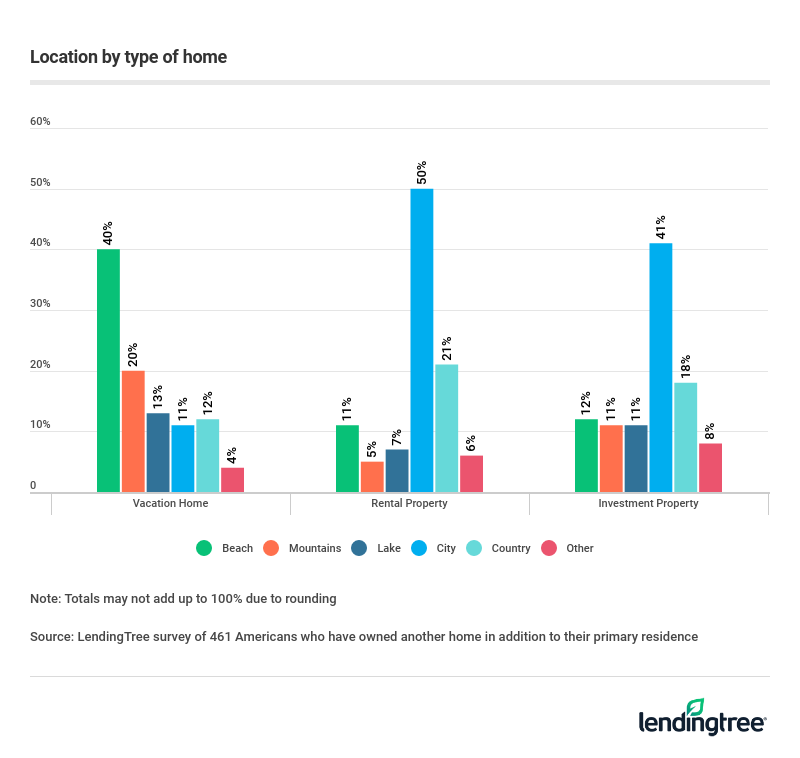 More than a third (36%) of vacation homeowners report they vacationed in the area for one to three years before buying their home. Nearly 1 in 5 (19%) vacationed in the area for at least a decade, while 21% had never vacationed in the area before purchasing their vacation home.
More than 4 in 10 (42%) of vacation homeowners earned $100,000 or more before taxes in 2018. Additionally, 40% of vacation homeowners say they've been pressured by family and friends about using their home.
Financing a vacation home
Most (43%) who are current or former owners of an additional home outside of their primary residence took out a mortgage to purchase that additional home. Another 30% paid cash, and 10% took out a home equity loan from their primary residence.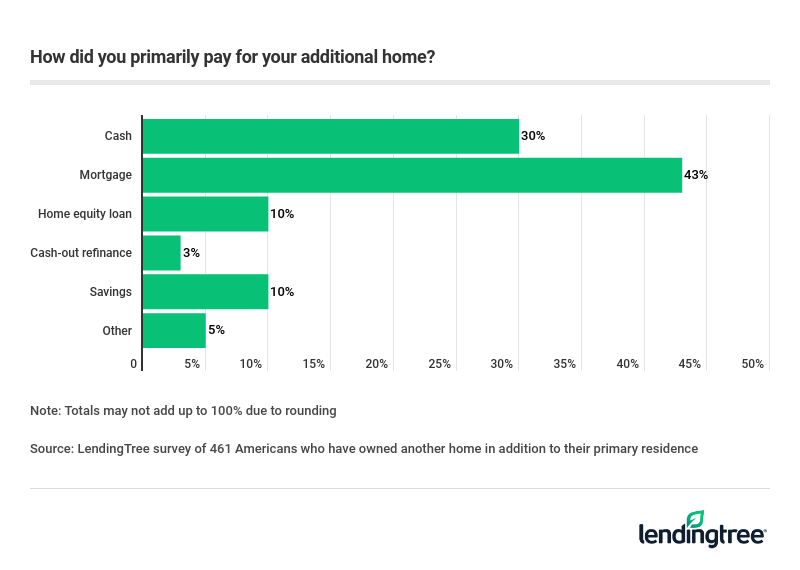 If you're considering a vacation home or investment property, keep in mind you have multiple options to help you get the down payment you'd need to finance the purchase of an additional home.
Cash-out refinance
With a cash-out refinance, you refinance your existing mortgage — for a loan amount that's larger than the outstanding balance on the loan for your primary home — and take the difference between the two in cash.
Before you go this route, be sure you've built up more than 20% equity in your primary home — otherwise, you'll be responsible for mortgage insurance on the refinanced loan.
Home equity line of credit
A home equity line of credit (HELOC) is a type of financing that allows you to borrow against the equity you've built in your home. HELOCs work similar to credit cards since they're revolving credit. You only pay for what you use, plus interest on the balance you carry.
Most lenders limit the amount of equity you can borrow to about 85% of your home's value, minus your outstanding mortgage balance. So if your home is worth $300,000 and your mortgage balance is $150,000, you may only be allowed to borrow $105,000.
Home equity loan
A home equity loan is another way to tap your home's equity. You receive a lump sum of money instead of revolving credit, and repay the loan in installments, just like your mortgage. Additionally, similar to HELOCs, there's a limit to how much equity you can borrow, which is usually about 85% of your available equity.
Methodology
LendingTree commissioned Qualtrics, an experience management firm, to conduct an online survey of 461 Americans who currently own or have previously owned another home in addition to their primary residence. The survey was fielded from May 31-June 7, 2019.
---
Featured Articles