How Does LendingTree Get Paid?
LendingTree is compensated by companies on this site and this compensation may impact how and where offers appear on this site (such as the order). LendingTree does not include all lenders, savings products, or loan options available in the marketplace.
31% of Americans Say a Friend or Family Member Owes Them Money
Published on: November 11th, 2021
Why use LendingTree?
We are committed to providing accurate content that helps you make informed money decisions. Our partners have not commissioned or endorsed this content. Read our .
Money can be a sore subject for some people — it may come with emotional baggage, triggering feelings of anger, fear and insecurity. This can happen even when lending out money to a loved one, especially if the money isn't paid back.
To learn more about borrowing and lending to loved ones, LendingTree surveyed more than 2,000 U.S. residents. The results showed that close to a third of respondents were owed money by a friend or family member, with many reporting regret and tension as a result — or even the complete end of the relationship.
Key findings
Which Americans are owed money by their loved ones?
Nearly 1 in 3 of those surveyed by LendingTree (31%) reported that a loved one was in debt to them. Within that group of lenders, those who gave money to a friend (49%) or sibling (26%) were the most common, with the full list as follows:
Friend (49%)
Sibling (26%)
Romantic relationship (20%)
Extended family (19%)
Parent (18%)
Child (16%)
In terms of generational differences, LendingTree found that Gen Zers were owed money more than any other age group, with 46% having lent to others, followed by millennials at 37%.
According to LendingTree chief credit analyst Matt Schulz, one possible reason for this is that Gen Z is newer to credit: "That makes it harder for them to get a traditional loan which, in turn, might make them more likely to look to borrow from friends."
"Another reason could simply be that they're even more comfortable with technology than other generations are," Schulz says. "They've been using Venmo for as long as they've had any money to spend, so they might feel more comfortable lending simply because of how easy it is."
In terms of gender, 36% of women say they were owed money, versus 25% of men.
Meanwhile, those who earned less than $35,000 per year were more likely to be owed money by a loved one compared to those with higher incomes.
And how much were these people owed? The median amount was just $400, but the average was much higher, at $8,170. This was because the data were skewed by several large sums, possibly intended for home down payments or similarly massive expenses.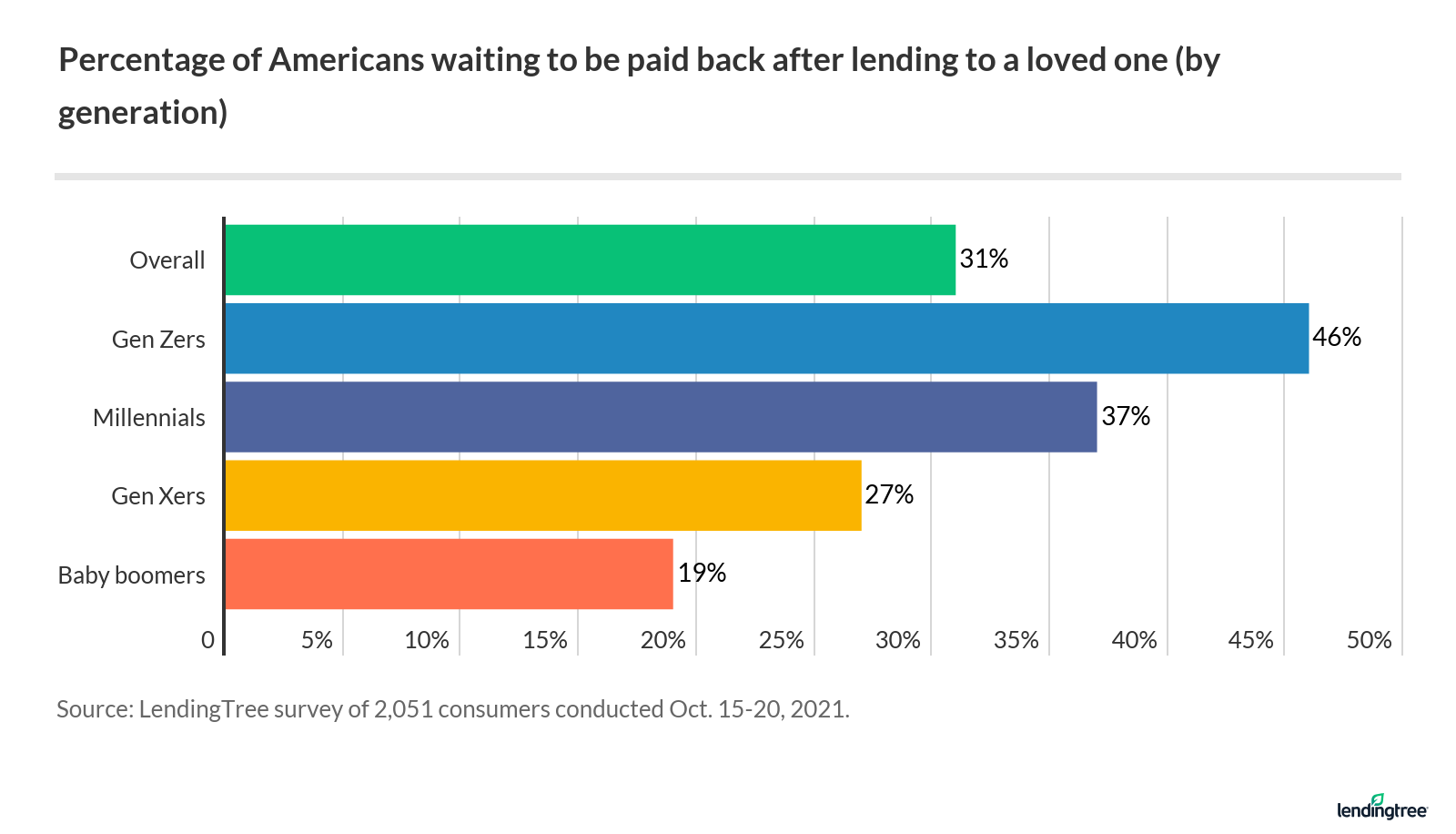 Top reasons people lend money to friends and family
The No. 1 reason respondents lent money to friends and family was to help that person make a debt payment (36%). This could be for different types of credit such as personal loans, auto loans or credit cards.
Unpaid lenders can hurt a borrower's credit and even result in seized property if the debt is secured and goes into default. This may explain why loan payments topped our survey's list of reasons for spotting money to a relative or friend.
Covering a loved one's basic needs such as food and gas (27% each), as well as paying for rent or mortgage (22%), were the next most-likely reasons for a loved one to ask for a loan.
Meanwhile, unexpected costs like car repairs represented 17% of loans to family and friends, while medical costs represented 8% of loans.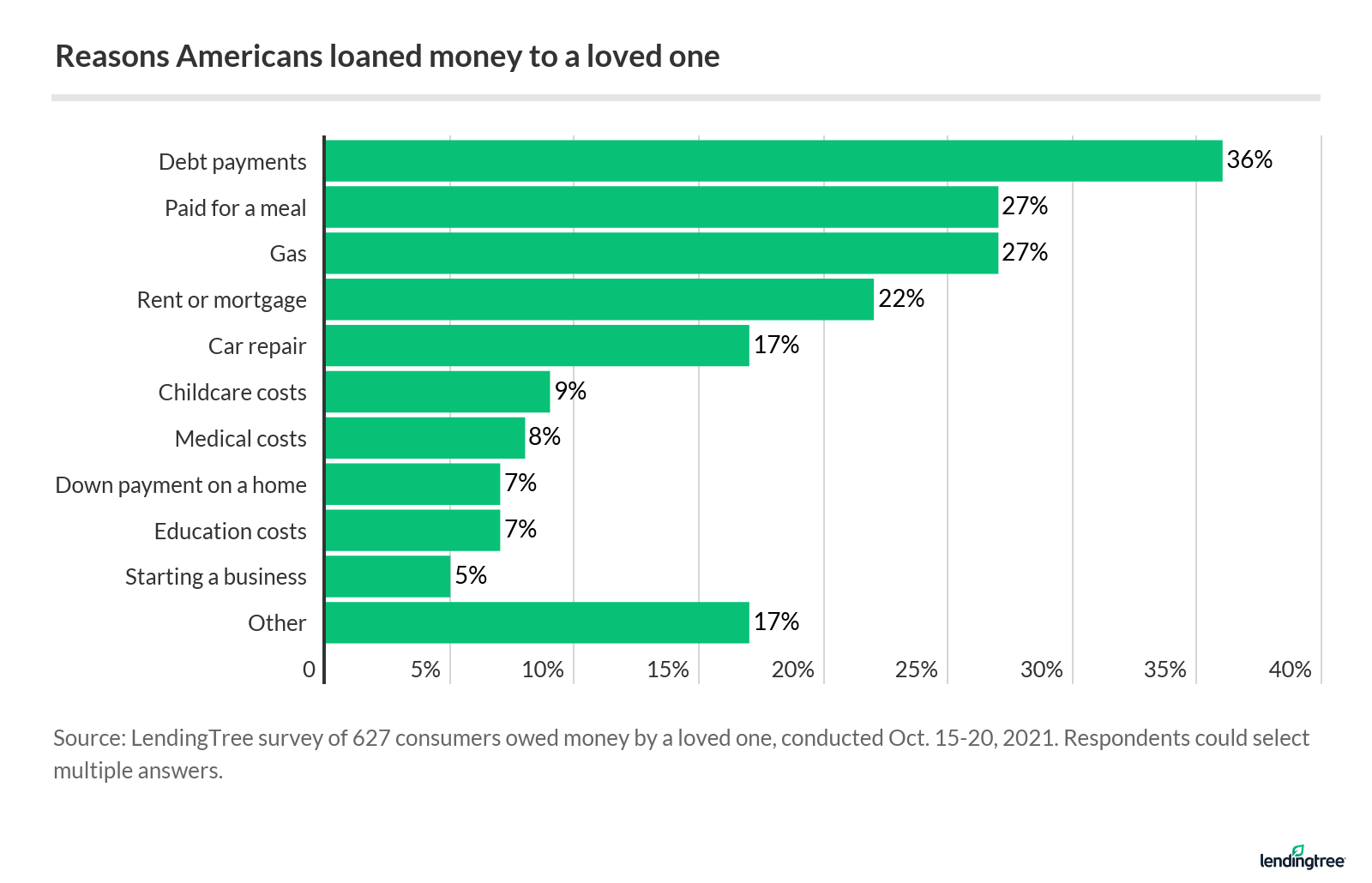 How borrowing from friends and family can ruin relationships
Unfortunately, lending (or even not lending) money to loved ones can lead to challenges in the relationship.
Consider that 1 in 6 survey respondents say money has ruined one of their relationships, and that the loan not being repaid was the top reason (at 41%).
Another 27% say that while the relationship wasn't ruined, money did cause tension.
"No one cares as much about your money as you do, so you need to do what is necessary to protect it," says Schulz.
"Sometimes that means having uncomfortable talks with loved ones. As nerve-wracking as that conversation might be, it will be nothing compared to what it might be like after things have already gone off the rails," he says.
Among other reasons why the subject of money ended a relationship: 26% say it was because they refused to lend the money, while 24% say it was because they were lied to about how the money was used.
Perhaps as a result, almost half (46%) of those who gave money to a loved one say they now regret it. This may be because 60% of those who asked to be repaid for the loan have yet to see that money.
Of those whose relationships were ruined, the most impacted segments were millennials (22%), women (20%) and those earning less than $35,000 (22%).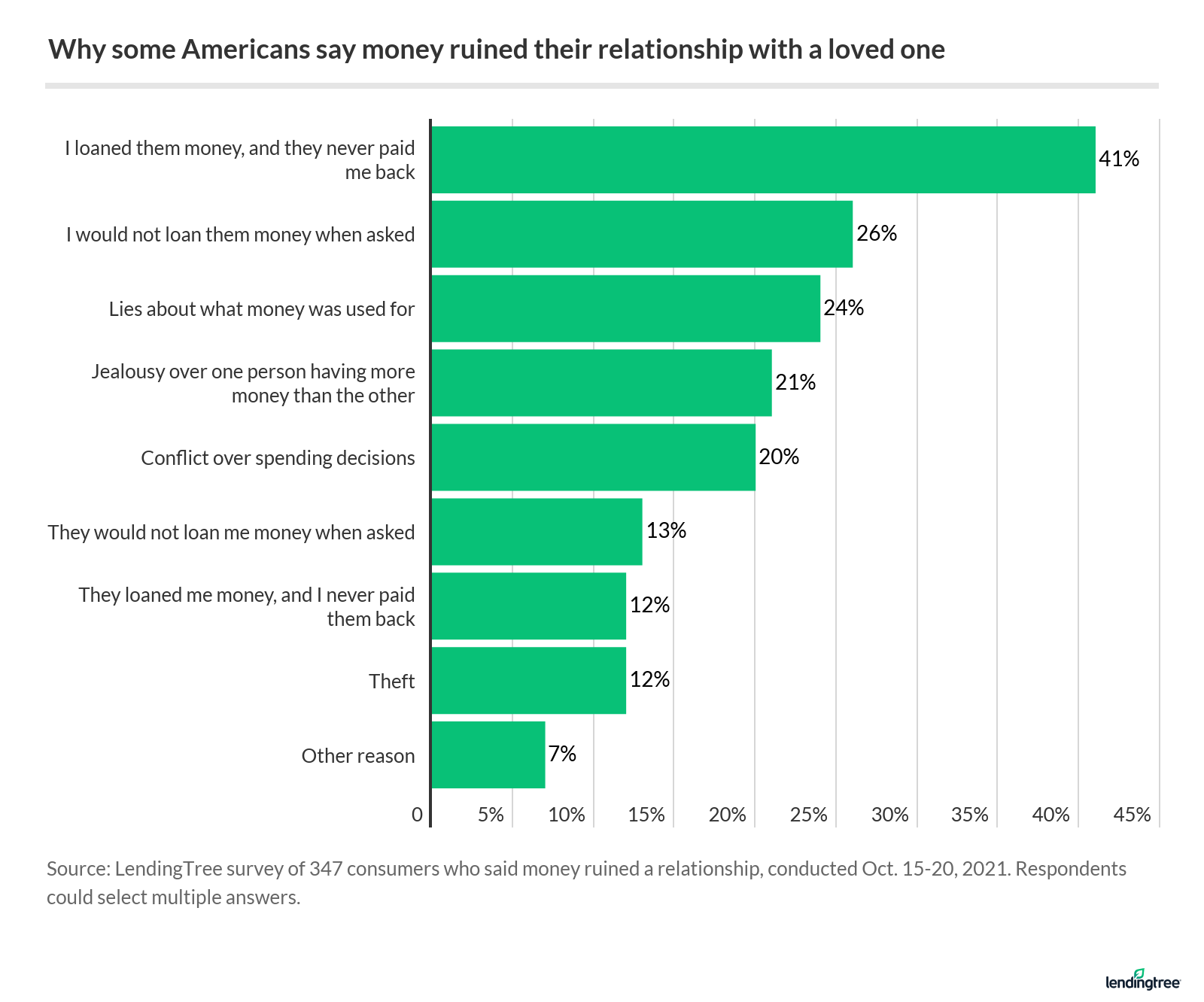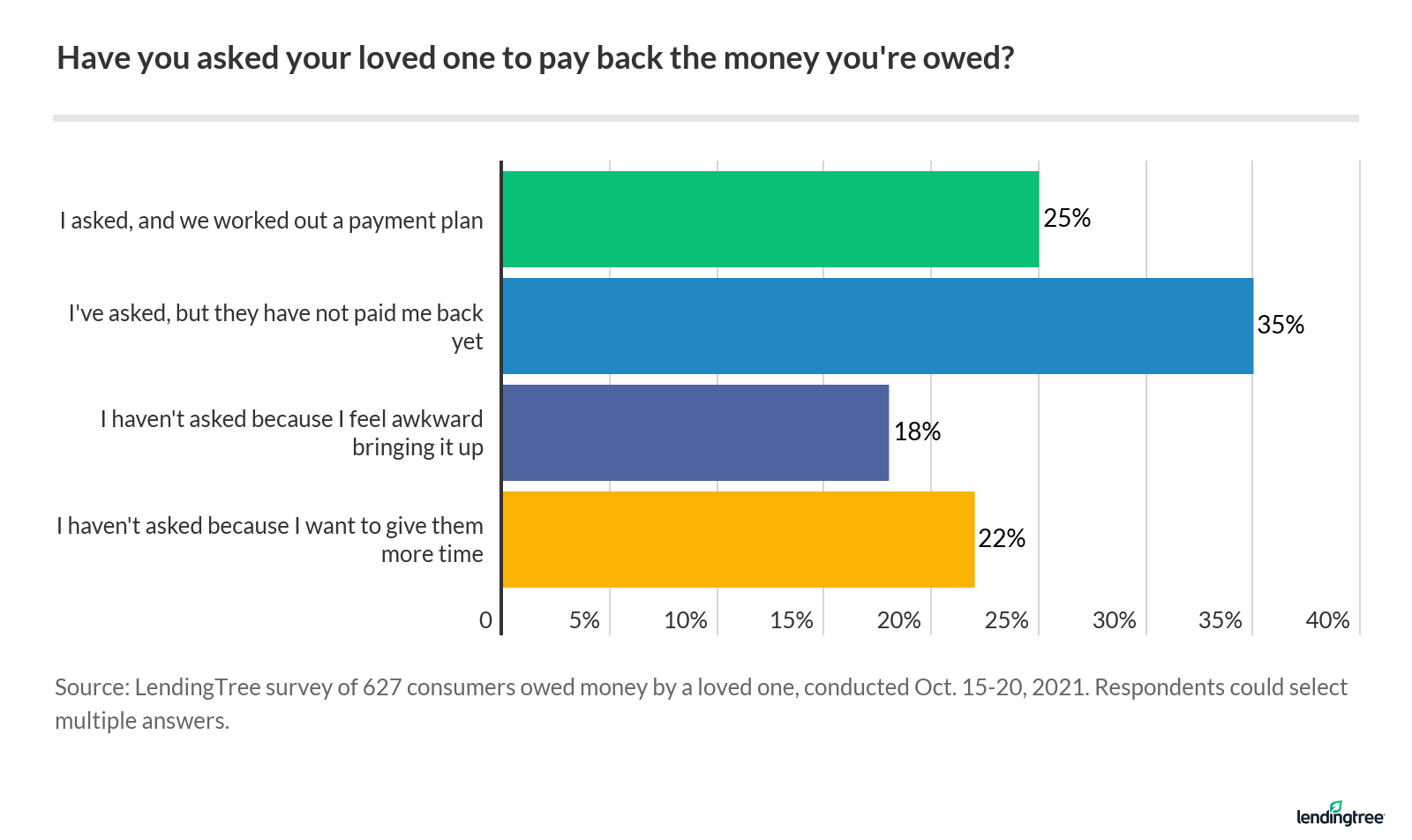 How technology is easing the tension around borrowing from loved ones
On a more positive note, technology is making the task of repaying friends and family much easier.
According to our LendingTree survey, nearly 60% of millennial and Gen Z users say finance apps like Venmo have brought more ease to their relationships — by reducing the awkwardness that can come with asking loved ones to pay you back. If you include all generations, 48% reported positive results from using a peer-to-peer payment app.
The reason why?
"It's a whole lot less awkward to request money via Venmo than it is to do it over the phone or via email or especially in person," Schulz says. Still, he notes, "it may not necessarily make it easier to collect that money in all instances."
"After all, someone can just ignore a request. However, the possibility of being ignored or rejected seems far less painful and far less personal via Venmo than it does when you're face to face with someone," he says.
In fact, 61% of peer-to-peer payment app users say their friends or family typically paid them back soon after the payment request, although the remaining 39% still had to remind them.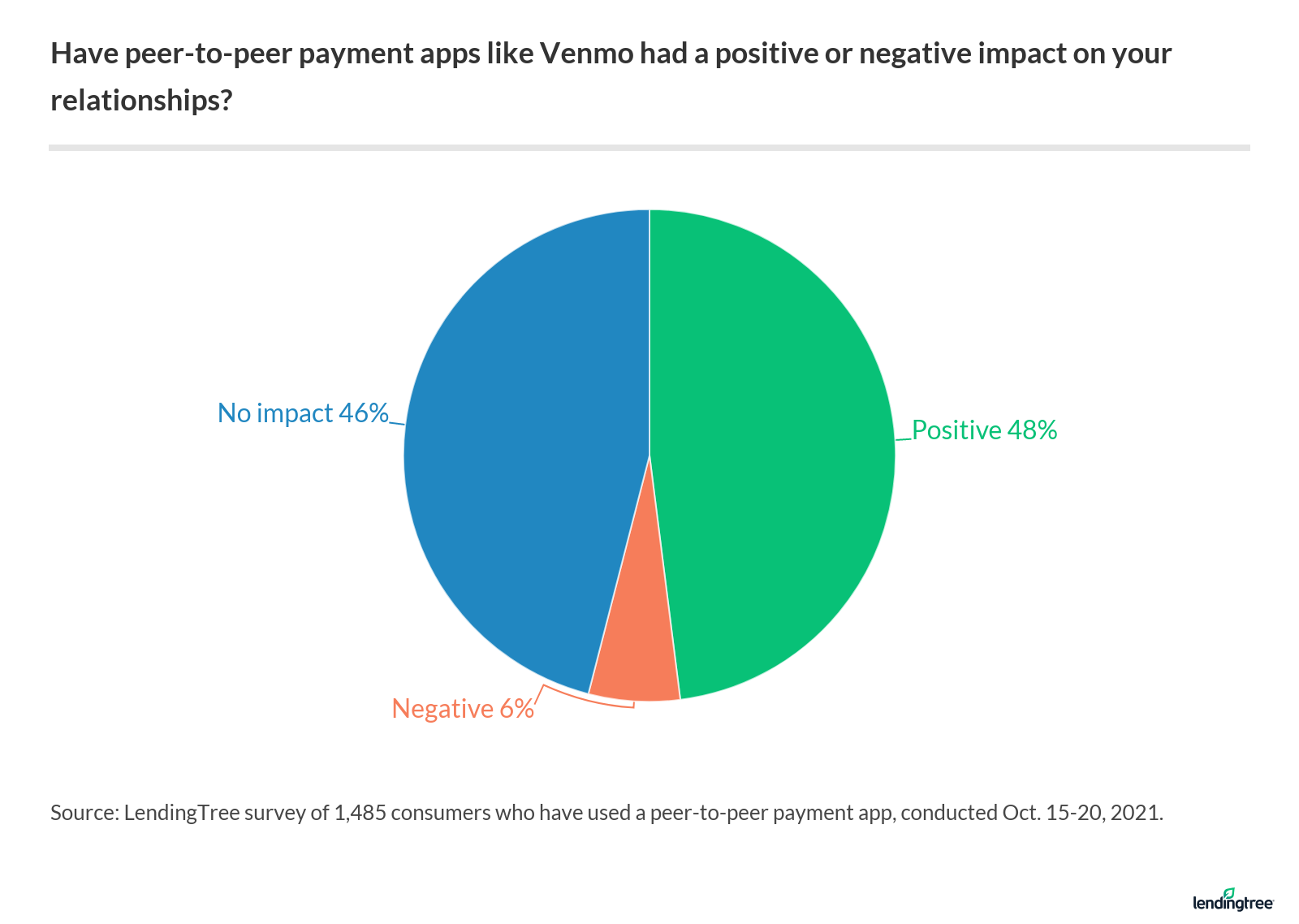 Tips for lending money to friends and family
To avoid conflict around money, there are several approaches you can take. These steps can help keep your communications clear and consistent, establishing your expectations upfront.
Create a contract: Rolling out a legally binding contract might sound intimidating, but it may provide you peace of mind if you're considering lending funds to a loved one. Be sure to outline the terms of the loan, such as the amount, payment due dates, any interest or fees being charged and when the money should be paid off by.
Establish a payment plan: If you decide not to use a contract, you'll still want to establish a payment plan with the person you're lending to. Outline each pay period and how much should be paid on each due date. Be sure to also specify when you expect the loan to be completely paid off.
Only lend as much money as you can afford: If you're considering lending money to a loved one, don't lend more money than you can bear to lose. While it can be good to have expectations around repayment, there's always the chance you may never see that money again. On the flip side, those asking for money from friends and family should only ask for what they need (and what they can afford to repay).
Methodology
LendingTree commissioned Qualtrics to conduct an online survey of 2,051 U.S. consumers from Oct. 15-20, 2021. The survey was administered using a nonprobability-based sample, and quotas were used to ensure the sample base represented the overall population. All responses were reviewed by researchers for quality control.
We defined generations as the following ages in 2021:
Generation Z: 18 to 24
Millennial: 25 to 40
Generation X: 41 to 55
Baby boomer: 56 to 75
While the survey also included consumers from the silent generation (those 76 and older), the sample size was too small to include findings related to that group in the generational breakdowns.