8 Signs of a Personal Loan Scam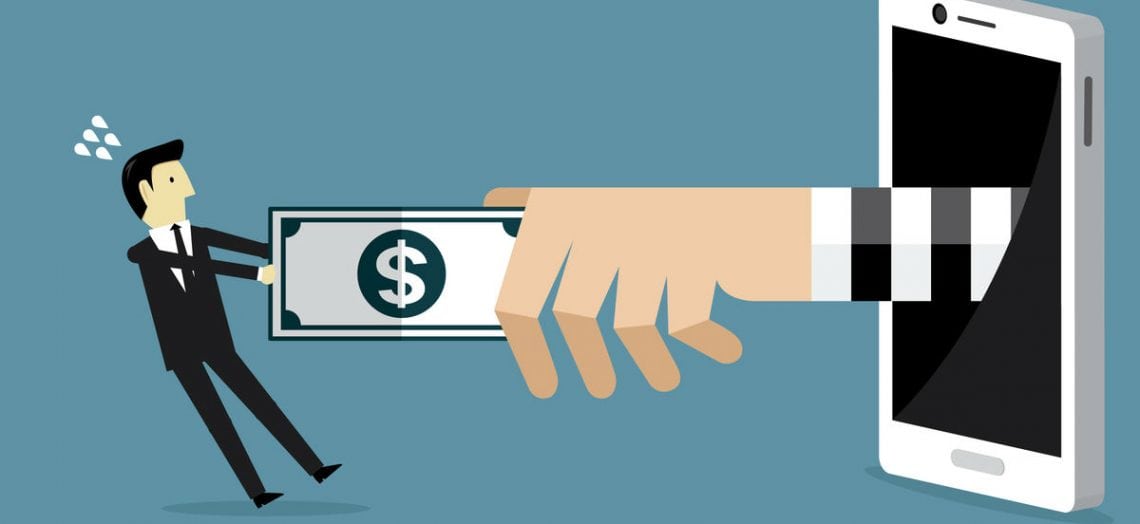 Personal loans are a great way to access extra money when you need it, whether for unexpected roof repairs or emergency medical bills.
Borrowers can use personal loans, which can range from $1,000 to as much as $50,000 with some lenders, for everything from improving their credit to funding major purchases to consolidating debt. These loans typically are approved quickly for qualified applicants, and you can have the money in your bank account within a few days.
Unfortunately, it's easy to run into a personal loan scam when you're comparing loan offers. These fraudsters are out for your bank information or your money, and scams can be hard to detect. Before you sign for a personal loan, look for these red flags that could indicate your loan is a scam.
1. The lender requests fees upfront
Scam artists often ask borrowers for an upfront fee before the loan is disbursed, and they can also offer confusing answers about the loan's terms.
"Consumers should be cautious if they are dealing with a lender who is cagey about clearly discussing the costs and fees associated with the loan," said Evan Zullow, an attorney with the Federal Trade Commission's Bureau of Consumer Protection. Beware of any lender that wants you to pay a fee for "insurance," "paperwork" or "processing."
What to look for instead
According to the FTC, lenders should display their fees clearly and prominently. This can include origination fees, bounced check fees and check processing fees. Legitimate lenders will deduct their fees from your loan amount. Zullow recommends getting an itemized list of fees and costs associated with the loan. "Consumers should be active and ask questions if there's something they don't understand," he said.
2. The lender isn't registered
The FTC requires lenders and loan brokers to register with the attorney general in the state where they do business. If you can't find your lender on a government registry, it's likely you're dealing with a scammer.
What to look for instead
Legitimate lenders will be registered in your state. Visit the National Association of Attorneys General website or contact your state's department of banking, financial registration or attorney general's office to verify that a lender is registered before proceeding with a loan application. Keep in mind that being registered doesn't mean that you'll like the lender, but it does mean the lender isn't a criminal.
3. There's no credit check
If a lender offers you a loan without conducting a credit check, move on. A loan's terms are almost always dependent on your credit history and credit score, and a legitimate lender would not offer a loan to an applicant without first understanding their ability to pay the loan back.
According to the FTC, advertising phrases that indicate a scam include "Bad credit? No problem," "Get money fast," and "We don't care about your past. You deserve a loan." Be especially wary if the lender won't check your credit but wants personal information, such as your Social Security number or bank account number. This could be a scam to debit hidden fees from your account.
What to look for instead
The bottom line is legitimate lenders and banks and will always check your credit before they make a firm loan offer. If the lender doesn't, it's probably a scam.
4. The lender asks for an odd form of payment
Payments for loans should always be made to the lending institution. If your lender asks you for an unusual form of payment, such as gift card or a payment directly to an individual, don't don't it.
Borrowers should never wire money as part of a loan transaction, Zullow said, nor should they make a transaction that feels strange. "Consumers should take the time to understand and be comfortable with all elements of a loan transaction," he said.
What to look for instead
A legitimate lender will make the process clear, and you should have no questions about how to make loan transactions. Legitimate lenders typically allow automated debit, online payments, payments over the phone and/or checks mailed to the lending institution.
5. The lender contacts you first
The personal loan process is typically straightforward: You apply for a personal loan, and if the lender approves your application, you receive the money. Legitimate lenders do not solicit business by cold-calling potential customers, sending them letters or coming to their door.
In fact, according to the FTC, it's illegal for companies that do business in the United States to call potential borrowers and ask them to make a payment on a loan or credit card before it's delivered. If a lender reaches out to you first, whether it's in person or online, it may be a scammer trying to get your confidential banking information.
If you are contacted by a potential scammer, don't give into their hard sell. "Consumers should make a careful decision and shouldn't feel pressured into entering a transaction like a large personal loan because someone has presented themselves on the telephone or in your inbox," Zullow said.
What to look for instead
Consumers in the market for a personal loan should contact the lender first, whether it's through an online inquiry, a phone call or a visit to a bank branch. If a lender reaches out to you, it should be because you asked them to.
6. You feel pressured to sign
Taking out a personal loan is a big decision, and consumers should never feel pressured to agree to a loan's terms. If a lender is making you feel rushed, you may be dealing with a scammer. Zullow advises that borrowers take the time they need to comparison shop. "Do not allow undue pressure to force [you] into a hasty decision," he said.
Undue pressure could come in the form of "urgent" offers that expire in a few hours or the lender asking you to start the loan paperwork before you've fully talked about the loan's terms and costs.
Financial institutions typically offer personal loans with consistent rates and terms. Although lenders may offer limited time promotions such as waving certain fees, such offers are extended to all applicants for a specified time.
What to look for instead
Legitimate lenders won't pressure you to take out a loan or give you an "offer" with a deadline that's specific to you. Financial institutions offer promotions for a specified time that apply to all applicants, and personal loans should have consistent rates and terms.
7. You can't find the lender's physical address
One way to figure out if a lender is legitimate is to check whether the business has a real address. Call the phone number on their website to confirm it's their business, and look up their address on mapping software. If it's a P.O. box or the address of a P.O. box service, the lender likely is a scammer.
What to look for instead
Legitimate lenders will have a physical address that's listed somewhere on their website.
8. The website isn't secure
Lender websites can be tricky, as fraudulent businesses will try to fool you with names and logos similar to those of real businesses and create websites that look professional. If you enter personal financial data into a scam website, it could be used to steal your money.
What to look for instead
A quick way to check the validity of a website is to make sure there's a green padlock icon to the left of the web address. This symbol, along with an "https" in the web address, indicates that the website has been certified as secure and likely has not been hacked.
If you're still not sure, research the company online. "Any sources of information about the reputation of a company, through third-party online sources, [can be helpful]," Zullow said.
What to do if you've been scammed
Scammers are getting more and more sophisticated, and sometimes even savvy consumers fall for their tricks. If you've been scammed, contact your state attorney general and the FTC to report the lender and file a complaint online or via 1-877-FTC-HELP.
According to the Federal Trade Commission, bank and lending fraud ranked fifth in the agency's annual Consumer Sentinel Network Data Book, with almost 150,000 complaints filed in 2017.
Zullow said that the FTC works hard to monitor the marketplace and brings about actions against scammers, including large lenders. "When we encounter a fraud or clearly deceptive conduct and bring a lawsuit against the company, we try hard to get consumer redress — funds that can be sent back to consumers," he said.
The best way to avoid personal loan scams, however, is to make sure you don't fall for one. Don't let a lender rush you into a decision, and compare loan offers from several lenders. "Look at different lenders," Zullow said. "Do your own research and look at different entities and what they are offering."