How Does LendingTree Get Paid?
LendingTree is compensated by companies on this site and this compensation may impact how and where offers appear on this site (such as the order). LendingTree does not include all lenders, savings products, or loan options available in the marketplace.
Home Equity Loan vs. Personal Loan: How They Compare
Updated on: September 30th, 2021
Editorial Note: The content of this article is based on the author's opinions and recommendations alone. It may not have been reviewed, commissioned or otherwise endorsed by any of our network partners.

Whether you want to consolidate debt, finance a major expense or access cash for another financial need, you could compare a home equity loan versus a personal loan as potential financing options. Both loan types typically come with fixed interest rates and fixed payments over a set repayment term.
However, there are stark differences you'll need to consider when comparing home loans versus personal loans. Home equity loans tend to have lower interest rates, but require having equity in your mortgage — on the other hand, personal loans are often funded much faster, but typically require good credit scores.
Home equity loans vs. personal loans: How they compare
Home equity loan
Personal loan
Interest rate

5.82% average interest rate for a 15-year fixed term

8.83% average interest rate for a 3-year fixed term (for borrowers with a 760 or better credit score)

Typical terms
Borrowing limits

Depends on home value
Usually both mortgages combined cannot exceed 85% of your home's value

$1,000 to $50,000 or more

Requirements to qualify

Must have home equity
Debt-to-income ratio below 43%

Best interest rates reserved for those with excellent credit

Requires collateral?

Yes, your house serves as collateral

Rates and information correct as of Sept. 20, 2021
Interest rate
The average interest rate on a 15-year fixed-rate home equity loan is 5.82%. However, the interest rate may be higher or lower depending on your credit history, income, overall debt load, the loan-to-value ratio on your first mortgage and other factors. Common fees include:
Origination fees
Appraisal fees
Recording fees
Prepaid interest (points)
Personal loans tend to have higher interest rates than home equity loans because they're unsecured loans (not backed by collateral), which means they're riskier for lenders. The average interest rate on a personal loan is 8.83% for borrowers with a credit score of at least 760. In addition to paying the interest rate, you may have to pay an origination fee ranging from 1% to 8% of the loan amount.
Terms
Personal loan repayment terms typically range from two to seven years. Plus, outlier lenders, such as LightStream, can issue personal loans with terms topping out at 12 years. For longer-term borrowing, a home equity loan likely makes more sense: These have terms ranging from five to 30 years. But if you sell your home before the term is up, you'll need to pay off the loan in full with the proceeds of the sale.
Borrowing limits
Home equity loan borrowing amounts are usually limited to 85% of the equity you have in your home. But other factors — such as your income, credit history and your home's value — can come into play. That said, borrowing limits could be up to hundreds of thousands of dollars if you have the equity and income to repay the loan.
For personal loans, borrowing limits can be much smaller, especially if you have less-than-perfect credit. A typical personal loan could have a limit of $5,000 to $50,000, but some lenders offer up to $100,000.
Requirements for borrowing
If you're considering a home equity loan, the lender may care a lot about your debt-to-income ratio. This compares your total debt load (including mortgages, student loans, etc.) to your monthly income.
Home equity lenders may want your DTI to be below 43%. If you have a good credit score, you're likely to be approved, but there are finer details of home equity loan requirements too.
Requirements for personal loans vary depending on the lender. The lowest interest rates are often reserved for borrowers with excellent credit and a good source of income.
Average best offered APRs by credit score band previous 13 months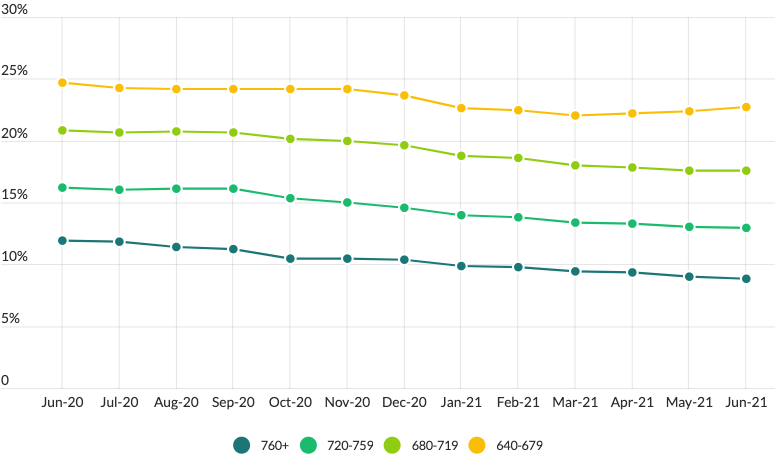 Source: LendingTree.com
Note: Limited to borrowers with credit scores of at least 640 who are seeking a 36-month term loan.
Home equity loan vs. personal loan: 7 key differences that could drive your decision
1. Home equity loans use your property as collateral — personal loans don't
When you take out a home equity loan, you're using your house as collateral — as such, missing payments on the loan could lead to foreclosure. If you don't want to put your house at risk, consider a personal loan instead.
2. Home equity loans may have lower interest rates
If you've got excellent credit, you may be able to take out a personal loan with interest rates around 6.00% (or potentially lower). That interest rate is noticeably higher than the lowest interest rate on home equity loans, which carry a basement interest rate of 3.72% for a 5-year term.
But borrowers with moderate or poor credit scores may see much higher interest rates on personal loans. The higher interest rates are intended to offset the risk your lender would take in offering you an unsecured loan. Borrowers who don't have strong credit but who can tap their home equity can save a lot of money by choosing a home equity loan over a personal loan.
3. Home equity loans require 'tappable' equity
If you own a house that is worth $200,000 but you only owe $100,000 on the mortgage, your home has $100,000 of equity. Tappable equity, however, is the equity you can borrow against.
Lenders often require borrowers to keep a loan-to-value ratio below 85%. In the above scenario, you'd have $100,000 of equity, but not all of it can be tapped. If the lender requires borrowers to keep a loan-to-value ratio of 85%, you could only borrow a total of $170,000 between both mortgages. That'd leave you with $70,000 of tappable equity.
If you don't have tappable home equity, a home equity loan won't be an option for you.
4. Home equity loans have longer repayment terms than personal loans
With a home equity loan, you may qualify to borrow much more money and for much longer than with a personal loan. If you have a big and expensive project, like an extensive kitchen and bathroom remodeling project, a home equity loan with a 15- or 30-year repayment term could make a lot more sense than a personal loan with a 3- or 5-year term. (And if your potential borrowing amount is variable, you could seek more flexibility with a home equity line of credit.)
If you only need to borrow a small amount of money, or you'd prefer a shorter repayment term to ensure you get out of debt fast, a personal loan could make more sense.
You should also consider how you plan to use your home equity loan funds. Ask yourself whether using your home as collateral is worth the purchases you're planning.
5. Home equity loans take longer to fund than personal loans
Some personal loan lenders can release funds the same business day your application is approved. For home equity loans, it can take a couple weeks or longer to close a home equity loan. So if you're in need of emergency loans, a quickly-funded personal loan may be the only viable choice between these two options.
6. Home equity loan interest can be deducted from your taxes
Personal loans don't have tax advantages, but there's a key IRS-offered benefit to borrowing a home equity loan: Interest paid on this type of debt can be deducted from your taxes, as long as the funds were used for home improvement.
The fact that home equity loan interest is tax deductible shouldn't drive your decision when picking a loan type, but it is a nice perk if you end up eschewing personal loans.
7. You should confirm the affordability of both home equity and personal loans
Whether you choose a home equity loan or a personal loan, you'll need to be able to cover the monthly payment. In general, home equity loans will tend to have lower monthly payments than personal loans due to their longer repayment terms. You can figure your potential dues using a loan calculator.
Make sure you'll have enough cash flow each month to make on-time payments. Ideally, you should also have an emergency fund to rely on if you fall on hard financial times.
How to get a home equity loan or personal loan
Applying for a home equity loan
Check your credit score. Before applying for a loan, you'll need to know your credit score. A higher credit score should improve the likelihood that you'll find a competitive interest rate on your home equity loan.
Request quotes from at least three lenders. Whenever you take out a loan, you want lenders to compete for your business. Lenders may request more information from you before they offer a rate.
Once you see quotes from lenders, negotiate. Lenders may reduce or eliminate origination fees, offer lower interest rates or eliminate points (prepaid interest) when they know you're working with multiple lenders.
Sign the papers with a loan officer. When you're happy with the loan offer, work with the lender to set a closing date. In most cases, you'll sign your loan documents in person. However, lenders in some states may allow you to sign your mortgage digitally. Whether you sign online or in person, you may want to choose to have an attorney read over the documents before you sign them. Once you sign papers, you'll receive the loan proceeds in your bank account.
Applying for a personal loan
Check your credit score. Knowing your credit score will help you see yourself the way a lender sees you. Higher credit scores will usually mean lower interest rates.
Compare rates from at least three lenders. Today, it's easy to request free rate quotes from online personal loan lenders. Many of the top lenders will even use a soft credit pull to estimate a loan rate before you officially apply; note that soft credit inquiries will not hurt your credit score. Compare quotes from multiple lenders before you decide to formally apply for a loan.
Complete a formal application. Many lenders will allow you to sign personal loan documents online, though you may also have to provide additional documentation as part of your application. Loan funds may be transferred to your bank account as soon as the same day you formally apply.
When you need a loan with a moderate interest rate, both a home equity loan and a personal loan could make sense in your circumstances. Be sure to compare a home equity loan versus a personal before you decide which is best for you.
Alternatives to home equity and personal loans
Yes, you may pit home equity loans against personal loans only to realize there's a better option out there. Here are a few more forms of borrowing worth considering.
| | |
| --- | --- |
| Home equity line of credit (HELOC) | Like with a home equity loan, you need to have equity built up. The advantage of a HELOC is you can limit your borrowing to only what you need, which could be useful if your costs are somewhat up in the air. |
| Cash-out refinance | Another option that involves tapping your home's equity, a cash-out refinance could be a wiser choice if you can lower your mortgage rate in one fell swoop. |
| Credit card | Yes, the plastic in your wallet can be used for four-figure expenses (depending on your credit limit, of course), but be mindful of credit cards' higher interest rates. If you're not able to zero your balance each month, you might be better off with a lower-rate loan that features a longer repayment term. |
And, of course, it might suit you best to try a combination of loan or line of credit accounts — so long as you have a sound plan to submit monthly dues and zero your balances on schedule.