How Does LendingTree Get Paid?
LendingTree is compensated by companies on this site and this compensation may impact how and where offers appear on this site (such as the order). LendingTree does not include all lenders, savings products, or loan options available in the marketplace.
Highest Average Credit Score by Auto Make: 2020
Updated on:
Content was accurate at the time of publication.
Porsche has overtaken Tesla for the highest average credit score by auto make, according to new LendingTree research. Our researchers analyzed more than 38,000 used auto loans on the LendingTree platform to rank 30 car brands by their buyers' average credit score for the second straight year. Porsche buyers had the highest average credit score at 725, which is lower than their 727 average in last year's look. Here's what else our researchers found.
Key findings
Porsche buyers take the top spot with average credit scores of 725, leapfrogging Tesla, which falls to second.
The average credit score of a Tesla purchaser drops from 740 in last year's analysis to 717. Certain Tesla models have become slightly more affordable, which can open up the market to buyers who may have slightly lower credit histories.
Kia and Nissan have the lowest average credit scores of the makes we analyzed, at 654 and 657, respectively.
Regardless of make, a credit score in the fair (580 to 669) range was enough — on average — to be approved for an auto loan. No qualifying automaker has an average credit score below 650.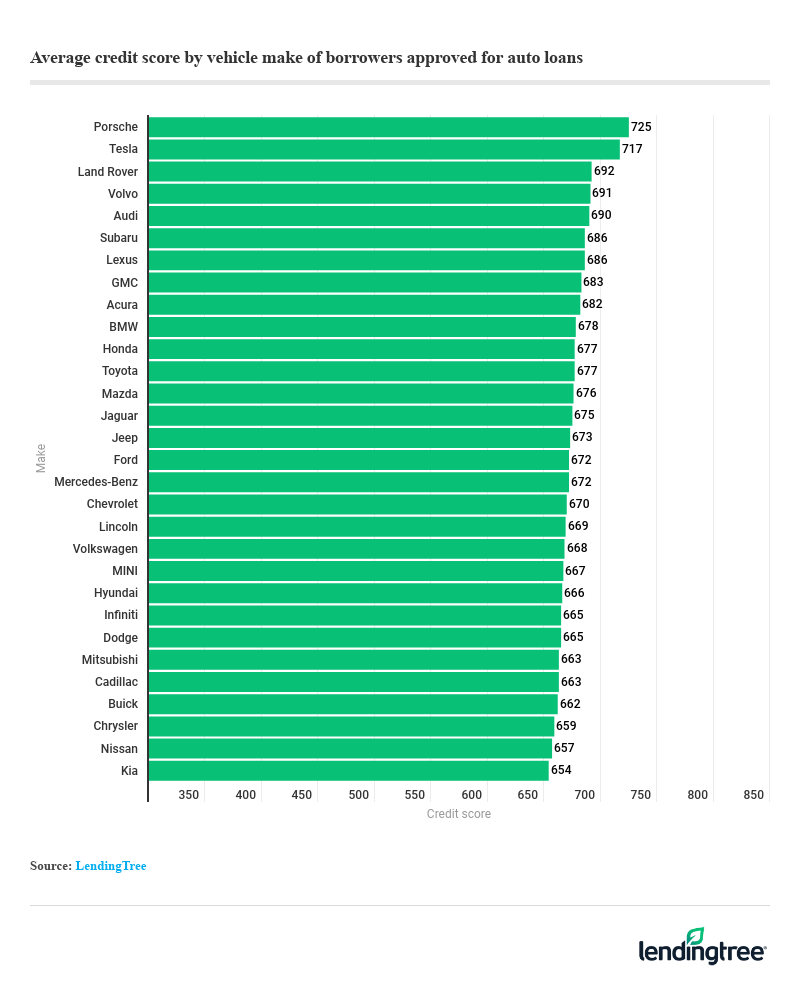 Top 5 auto makes by credit score
The top two on our list — Porsche (725) and Tesla (717) — are the only makes with average credit scores above 700, according to our analysis. It makes sense that people buying luxury cars would need higher credit scores, since these manufacturers offer some of the most expensive vehicles.
When LendingTree previously researched what brands borrowers stretched their finances the most to buy, we determined that people spent an average of $54,234 to buy a used Tesla and $42,173 to buy a used Porsche, with average monthly payments of $818 and $635, respectively.
Land Rover, Volvo and Audi took our next spots for the highest average credit scores of borrowers approved for auto loans. While not as high as Tesla and Porsche, the three makes were all between 690 and 692. Volvo and Audi were both in the top five in last year's study, too, but Land Rover finished just outside at No. 6.
Luxury brands with lower average credit scores
Buyers of fellow luxury auto brands Mercedes-Benz, Lincoln, Infiniti and Cadillac had lower average credit scores — 672, 669, 665 and 663, respectively.
Of the four brands, Infiniti saw the most-year-to-year movement. Last time, Infiniti's average credit score was 677, or No. 19 on the list. This time, Infiniti's 665 average was No. 23, showing the highest credit score difference among the four, too.
These four luxury makes fell below several mass-market brands, including Honda, Toyota and Ford.
Bottom 5 auto makes by credit score
Kia and Nissan, known for being lower-cost automakers, bring up the rear with the lowest average credit scores of people approved for used auto loans: 654 and 657, respectively. Chrysler (which was at the bottom in last year's study), Buick and Cadillac were in the neighborhood, with average scores of 659, 662 and 663, respectively.
Cadillac is the only new entry to the bottom five among that group, though its buyers' credit scores only changed five points — on average — between the two years.
Low average credit score but good income
In most cases, the high average credit scores of luxury brand buyers correlates to them being more able to afford their cars. As LendingTree researchers found in a previous study, Tesla and Porsche were the most affordable for their owners. Now we've found these same buyers also had the highest average credit scores.
However, while MINI buyers ranked third highest for being able to afford their cars in the previous research, the new data showed they had an average credit score toward the lower end of the spectrum — 667.
This may suggest that people who qualify for an auto loan for a used Mini have a relatively lower average credit score, but still find the car affordable due to good income.
Year-over-year comparisons in auto makes by credit score
The highest average credit score fell from 740 in last year's research to 725 this time around. In each year's research, though, only two brands — Porsche and Tesla — remained over 700.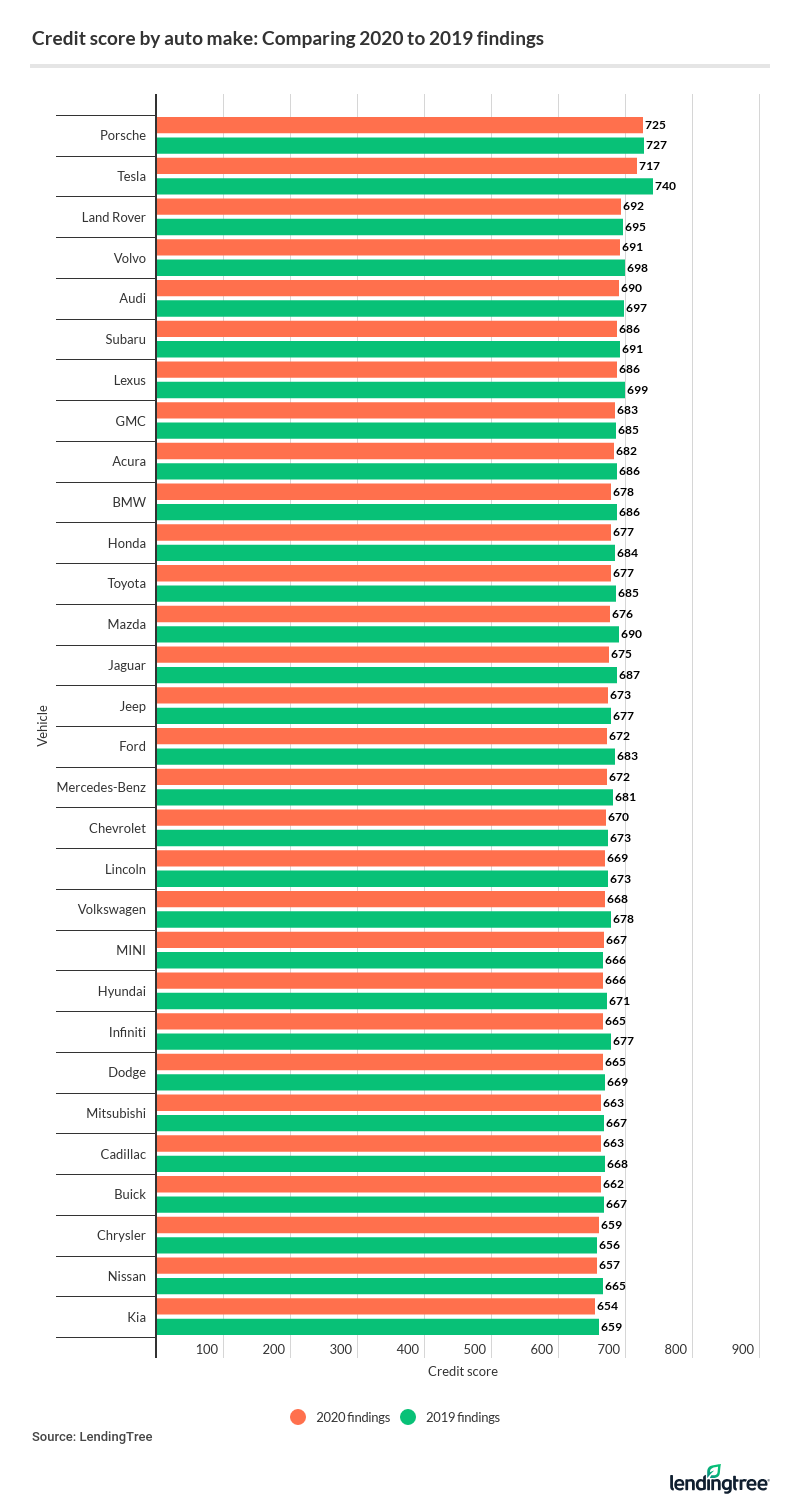 The lowest average credit scores also dropped, but by fewer points. Chrysler, Kia and Nissan had a repeat performance with the lowest average credit scores of buyers, but they played musical chairs. Chrysler jumped up two spots, pushing Kia and Nissan to the last two positions. The lowest credit score in this year's version was just two points lower (656 for last year versus 654 this year).
Of the 30 makes we analyzed the first time, 21 brands had buyers with average credit scores in the good range of 670 to 739 (Tesla finished in the very good range). That figure dropped by three this time, as only 18 brands now qualify in that range.
Credit score tips amid coronavirus pandemic
Waiting to hear whether you're approved for an auto loan can be nerve-racking. Waiting amid the coronavirus crisis can make things even worse.
On top of that, buyers are flooding the market for used vehicles — and prices are spiking. The average listing price for used vehicles was $21,558 in July, according to Edmunds, an increase of $708 from June. For luxury midsize cars, the average listing price in July was $30,241, up $1,151 from June.
Raising your credit score could help fend off anxiety, better your loan terms and decrease your APR. Here are some tips:
Don't max out your credit. Aim for a credit utilization ratio at or below 30%. If you have one credit card with a $1,000 limit, that means you should keep your amount owed at or below $300. Average utilization rates have dropped from 30% pre-coronavirus (January) to 25% in May, according to Experian.
Pay your loans on time — and in full. This is perhaps the most important part to having a good credit score, but it could be contentious during a pandemic. If you can't pay your auto loan (or another loan) on time, immediately contact your lender. If the lender approves you for deferment or another option, the impact on your credit score may be minimized based on how the lender reports your agreement to the credit bureaus.
Submit all loan inquiries within a 14-day window. If you need an auto loan, applying to multiple lenders within a 14-day window won't hurt your credit any more than submitting one application. And this way, you can shop for the cheapest loan that's right for you.
Don't close unused cards. It may sound like a good way to simplify your finances, but don't close unused cards if you're planning to apply for a loan soon. Closing accounts can cause your credit score to dip.
Keep track of your credit score. Various services, including My LendingTree, allow you to check your credit score for free. These apps will generally offer tips on how you can boost your credit score, which can come in handy amid a crisis when you're worried about a million other things at the same time.
Methodology
Credit scores were averaged across auto makes reported on anonymized query forms submitted by people approved for auto loans purchased on the LendingTree platform in 2019. Auto makes without enough purchases to create reliable estimates were excluded from the analysis.