How Does LendingTree Get Paid?
LendingTree is compensated by companies on this site and this compensation may impact how and where offers appear on this site (such as the order). LendingTree does not include all lenders, savings products, or loan options available in the marketplace.
What Does a Fed Rate Hike Mean for Your Money?
Updated on: September 21st, 2022
Editorial Note: The content of this article is based on the author's opinions and recommendations alone. It may not have been reviewed, commissioned or otherwise endorsed by any of our network partners.
The Federal Reserve, the country's central bank, just raised the federal funds rate to a target range of 3% to 3.25%, its highest level in more than a decade. The newest increase, which is the Fed's latest attempt at taming skyrocketing inflation, is three-quarters of a percentage point.
So what does a Fed rate hike mean for you?
"Expect to pay more on the interest charges from your credit card company, and auto loans and mortgages will also become more expensive," says Ken Tumin, LendingTree's senior banking industry analyst. "On the flip side, we can generally expect banks to raise their savings account rates when the Fed increases its benchmark rate."
Here's how you can take action to make sure the rate increase works with you, not against you.
What to do when the Fed raises rates
When the Fed increases the federal funds rate, interest rates across all areas of the economy typically rise as well. This generally makes loans more expensive, but improves the interest rates on deposit accounts.
Here's how to prepare for rising interest rates.
Pay down your credit cards
Your credit card interest rate is likely to go up with this news. This means your monthly payments will grow and you'll be paying more in interest — costing you a lot more money. Consider making bigger and more frequent payments, switching to a 0% interest balance transfer credit card or getting a debt consolidation loan.
Looking to open a new card altogether? A card with an intro 0% annual percentage rate (APR) offer can shield you from fluctuating interest rates for a while.
Lock in your mortgage rate
If you already have a fixed-rate mortgage, don't worry — your rate won't go up. However, adjustable-rate mortgage payments could rise with an interest hike, because adjustable rates are directly affected by the federal funds rate.
Buying or refinancing a home or getting a home equity line of credit will become more expensive with rising rates.
Set your auto loan rate
Like mortgage rates, auto loan rates can go up and down according to what's happening with the Fed. Lock in a lower rate to ensure you're spending less money on interest and getting the most for your money.
Buying or refinancing a car soon? Pay attention to the APR and move fast — with the Fed funds rate continuing to rise, auto loan payments will continue to rise as well.
Grow your savings
There's one place in which rising rates will help you: your savings account. But be sure to shop around for the best rates, because not all banks will pay you more in interest.
"Many banks have been slow with rate increases as their deposit levels have remained high," says Ken. "To benefit from the higher interest rates, you may have to move your money to those banks which are willing to pay higher savings account rates."
Look for a high-yield savings account — online banks will probably be your best bet — to ensure you're getting a competitive rate.
Fed rate hike history
At the beginning of the COVID-19 pandemic, the Fed slashed rates to zero. Since then, the Fed funds rate over time has grown. At the Fed's latest meeting, the central bank set the highest federal funds rate since the pandemic started.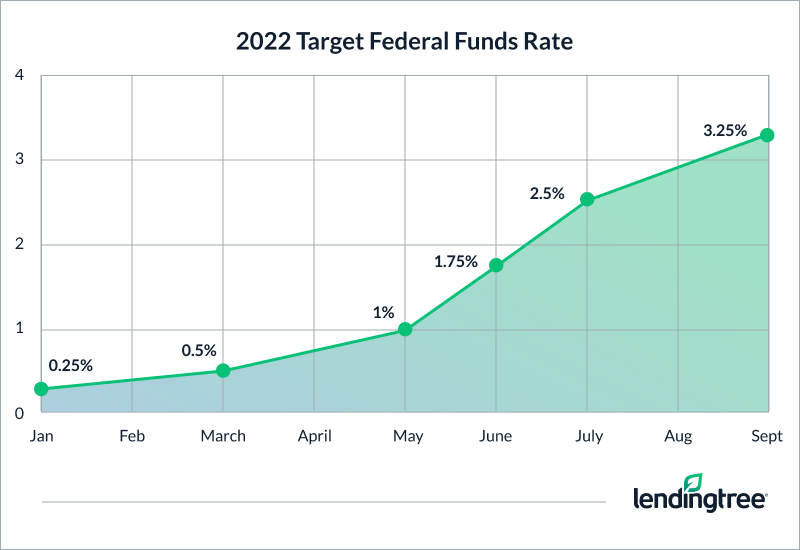 Curious about future Fed rate hikes? The next Fed meeting is in early November.