Small Business Loans for Veterans: How to Find Them
Published on: December 4th, 2018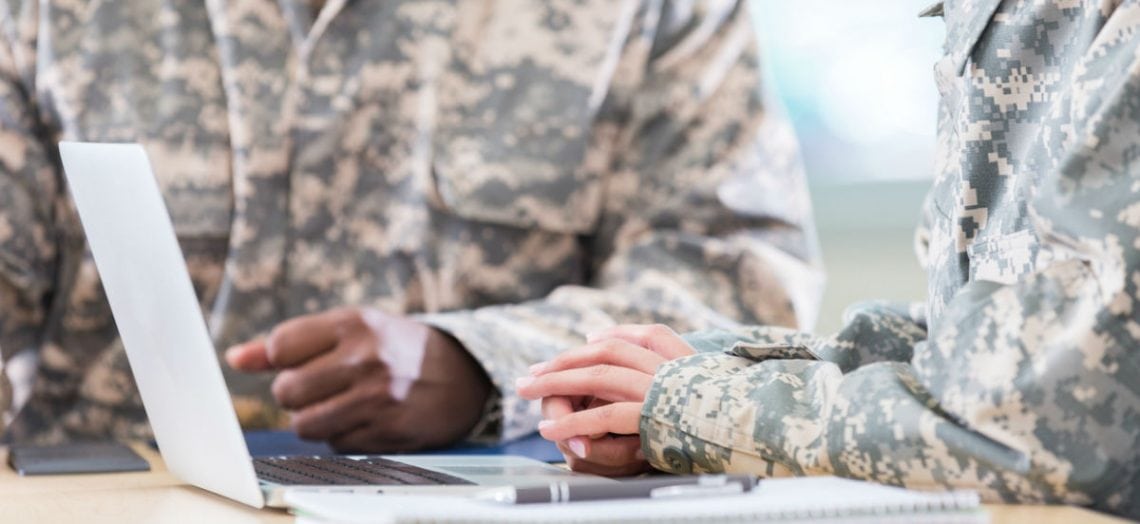 While veteran-owned businesses are eligible for any kind of loan, there are a variety of loan programs and companies that offer financing specifically for veterans. The Small Business Administration (SBA) is a major provider of financing for veterans, but there is a smattering of private firms and funders that also provide dedicated or targeted resources.
How to start your search
Before you begin looking for a veteran-favorable loan, it's a good idea to get a general overview of the resources and support available to veterans. A useful place to start is the Department of Veterans Affairs' Veteran Entrepreneur Portal, which aims to connect veterans with various federal services to assist in their small business goals. This includes help with accessing financing.
From there, check out the resources linked below to get a handle on what each of these programs offers. Not every veteran will be a match for every loan program, so vet (so to speak!) your eligibility carefully. And don't forget that you can also apply for a large range of non-veteran-specific financing, much of which is reviewed and discussed elsewhere on this site.
Best small business loans for veterans
Navy Federal Credit Union: This credit union, whose membership is restricted to service members and veterans, offers a full suite of business financing products. Veteran borrowers may feel most supported by a lender familiar with the challenges veteran-entrepreneurs face.
StreetShares: While StreetShares' loans aren't restricted to veterans, the company was founded by and is run by veterans who explicitly look to lend to veteran-owned businesses. Veterans can get loans and lines of credit up to $100,000, or contract financing up to $500,000.
SBA Express Loans: The SBA's Veterans Advantage initiative offers reduced fees on SBA 7(a) loans for veteran-owned businesses, including businesses more than 51% owned by a veteran's current or widowed spouse. The initiative is focused on SBA Express loans, a type of 7(a) loan that caps out at $350,000 in funding, has lower barriers to access and provides approval in 36 hours from application.
Military Reservist Economic Injury Disaster Loan (MREIDL): While this low-interest loan isn't specifically for veterans, it is aimed at small businesses — whether veteran-owned or not — that cannot fulfill their usual and necessary operating expenses due to essential personnel being called to active duty in the military reserve. This program helps reservists maintain employment or keep their small businesses afloat while they are away on active duty.
Veterans Business Fund: Veterans Business Fund (VBF), which is not yet operable but will begin giving loans when it has completed fundraising, intends to work with veterans who don't possess the capital required by other funders as a baseline for eligibility for business loans. VBF will provide non-interest-bearing loans with favorable repayment terms so that veteran-owned businesses can secure additional capital.
Best small business loan options for veterans with bad credit
The SBA offers loans to small businesses that aren't able to get financing through traditional means; an SBA loan can be an excellent option for borrowers with poor credit. The SBA 7(a) program includes the Veterans Advantage initiative, which offers reduced fees to veteran borrowers.
How to get an SBA Veterans Advantage business loan
The SBA's Veterans Advantage initiative – sometimes called VA business loans – offers reduced fees to qualified veteran borrowers on loans through the agency's 7(a) business loan program. These loans are not disbursed and administered by the SBA; a wide-ranging network of SBA partner institutions deals with the logistics of funding.
Veteran-owned businesses are eligible for this program if they are at least 51% owned and controlled by honorably discharged and service-disabled veterans, active reservists or National Guard members and active-duty service members eligible for the Transition Assistance Program, as well as widows and current spouses of service members.
Those interested in a Veterans Advantage SBA loan should start by contacting their closest Veterans Business Outreach Center or their local SBA district office to inquire about how to find local lenders that are trusted SBA partners. Advisers at these locations will be able to consult about how the process works. These loans require extensive paperwork and a somewhat lengthy application process, which your lender of choice will be able to advise on.
Other loan options for veterans with bad credit are mostly focused on online lending companies, which tend to be more welcoming to borrowers with low credit scores. These companies do not specifically target veterans, and their rates and fees are often high.
Best small business loans for veterans with good credit
Veterans with good credit should try veteran-friendly traditional and online lenders listed above — Navy Federal Credit Union and StreetShares. They can also may find funding success at a wide variety of other lenders that don't focus on veteran borrowers.
Other small business funding options for veterans
Veterans' Franchise Support: These grants-in-disguise are structured as discounts on franchise fees for veterans who are interested in opening up a location of a variety of chains. Companies from Dunkin Donuts to UPS to 7-Eleven offer substantial breaks on franchise costs for military veterans. Find options on the International Franchise Association's VetFran Directory.
Veterans Small Business Awards: Veteran-owned StreetShares gives out an annual award of $4,000, $6,000, and 15,000 to three veteran-owned small businesses that have a social impact on its communities above and beyond their business function.
Hivers and Strivers: This angel investment group funds early-stage startup companies that are founded and operated by graduates of the U.S. Military Academies. This is different than a traditional loan — angel investors usually take a stake in the company in exchange for funding and may want some amount of control over how the business is run.
Best small business resources for veterans
There are many resources for veteran business owners through the SBA and other government agencies. Here are some of the best:
Veterans Business Resource Center: This informative website from the Department of Veterans Affairs provides a wealth of advice and resources for starting, financing and growing your business, including information about contracting with the federal government.
Veteran Entrepreneur Portal: Run by the Veterans Advocacy Foundation in coordination with the SBA, this resource-rich site connects veteran entrepreneurs with counseling, training and webinars.
Veterans Business Outreach Center (VBOC) Program: This SBA program provides business training, counseling and resource partner referrals. There is a network of 22 organizations serving as Veterans Business Outreach Centers (VBOC) around the country.
Boots to Business: This education and training program for veteran entrepreneurs who have made the transition back to civilian life offers guidance on evaluating business concepts, developing a business plan and leveraging SBA resources, among other advice. The program is run by the Institute for Veterans and Military Families at Syracuse University.
Veteran Institute for Procurement (VIP): The VIP is an educational training program in issues of federal procurement for owners and executives of veteran-owned businesses. The program's core curriculum, called VIP GROW, discusses strategies for operating in the federal marketplace. The intro program, VIP START, helps companies that are looking to enter the federal marketplace, while VIP INTERNATIONAL helps companies engage in federal and commercial contracting overseas.
Bunker Labs: This nonprofit was created by military veterans to help veterans start and grow businesses. The organization offers a range of programs, including an online "Launch Lab" and a 14-module entrepreneurship challenge called Bunker in a Box.
Federal contract set-asides: A percentage of most federal contracts is set aside for various groups, among them Service-Disabled Veteran-Owned (SDVO) small businesses. For example, the Veterans Administration offers its Vets First Verification Program that helps vets take advantage of VA set-asides. The procedures and processes for becoming a federal contractor are the same for veterans as they are for non-veterans.
The Vets Group: This nonprofit, community-based organization provides training in information technology and business to veteran entrepreneurs and connects veterans to federal programs that can help them develop their businesses.
Patriot Boot Camp: This nonprofit's three-day boot camp is offered to active duty service members, veterans and their spouses. It provides access to resources for starting a business, including mentors, training and programming.
V-WISE: The Veteran Women Igniting the Spirit of Entrepreneurship (V-WISE) is a training program in entrepreneurship and small business management for women veterans and female military spouses and partners. The program is run by the Institute for Veterans and Military Families at Syracuse University.
Institute for Veterans and Military Families: Housed at Syracuse University, this institute is focused on helping veterans develop their abilities to create and manage entrepreneurial ventures through a series of initiatives, including Boots to Business, V-WISE, the Center of Excellence for Veteran Entrepreneurship and the Coalition for Veteran Owned Business, among others.
SCORE Foundation: This SBA partner offers mentoring and training for veterans via a wide network of volunteers and through its informative website. It offers a page of resources of veteran entrepreneurs, including recorded webinars and profiles of veteran-owned businesses.
Bottom line
Applying for a business loan requires considerable planning and work, but the extensive variety of resources available to veterans — including targeted loans and other types of funding — help former service members put their best foot forward.