How Does LendingTree Get Paid?
LendingTree is compensated by companies on this site and this compensation may impact how and where offers appear on this site (such as the order). LendingTree does not include all lenders, savings products, or loan options available in the marketplace.
Written in the Stars? Millennials Most Likely to Make Financial Decisions Based on Their Horoscopes
Updated on: December 6th, 2021
Editorial Note: The content of this article is based on the author's opinions and recommendations alone. It may not have been reviewed, commissioned or otherwise endorsed by any of our network partners.
When making financial decisions, some Americans look to the zodiac to point them in the right direction.
The majority of Americans follow astrology (63.4%), according to the latest LendingTree survey of more than 2,000 consumers, and nearly 1 in 5 say they've made a financial choice based on their horoscope — led by millennials. Many also think zodiac signs influence how good or bad you are with money.
Whether you're a fire, earth, air or water sign, read on to learn what this survey may have uncovered about your financial destiny.
Key findings
3 in 10 millennials have made financial decision based on horoscope
The LendingTree survey finds 19.2% of Americans have made a financial decision based on their horoscope, and an additional 30.6% would consider doing so.
That initial percentage is especially high among millennials (ages 25 to 40), 30.1% of whom have let the zodiac guide a money choice. It was also high among Gen Zers (ages 18 to 24), which isn't surprising considering they follow astrology more than any other generation (83.3%).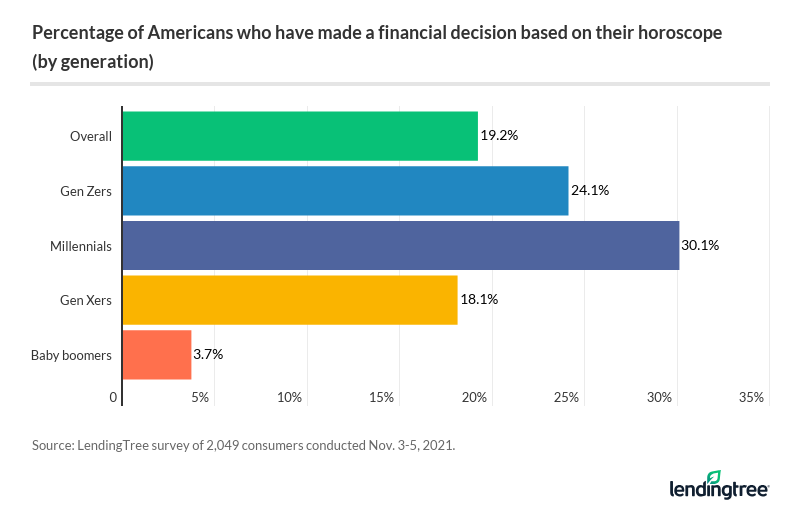 Among those who haven't used their horoscope to guide their financial actions but would consider it, women are more willing than men (37.9% versus 22.5%, respectively). This finding also aligns with another that shows far more women following astrology than men (78.2% versus 47.6%, respectively). The overall population who follow astrology sits in the middle at 63.4%.
So while most consumers don't look to astrological predictions for financial guidance, many are open to the idea.
Our advice: How you manage your finances can have major life consequences, so don't leave your decisions up to fate.
"Horoscopes are fun and interesting, but it seems really unwise to make any significant financial decision based on them," says Matt Schulz, LendingTree chief credit analyst. "You are far better off consulting with a financial adviser, meeting with a credit counselor, reading one of the myriad books available from personal finance experts or just speaking with a financially savvy relative or colleague instead."
Consumers have looked to horoscope to save, splurge and more
While letting astrology impact your money moves might sound risky to some, many consumers who made a decision based on their horoscope were encouraged to save more money (42.1%) rather than spend it.
That said, the next most common horoscope-influenced choices were splurging (33.5%), buying or selling stocks (23.1%) and changing jobs (23.1%).
An additional 21.1% said their horoscope encouraged them to negotiate their salary.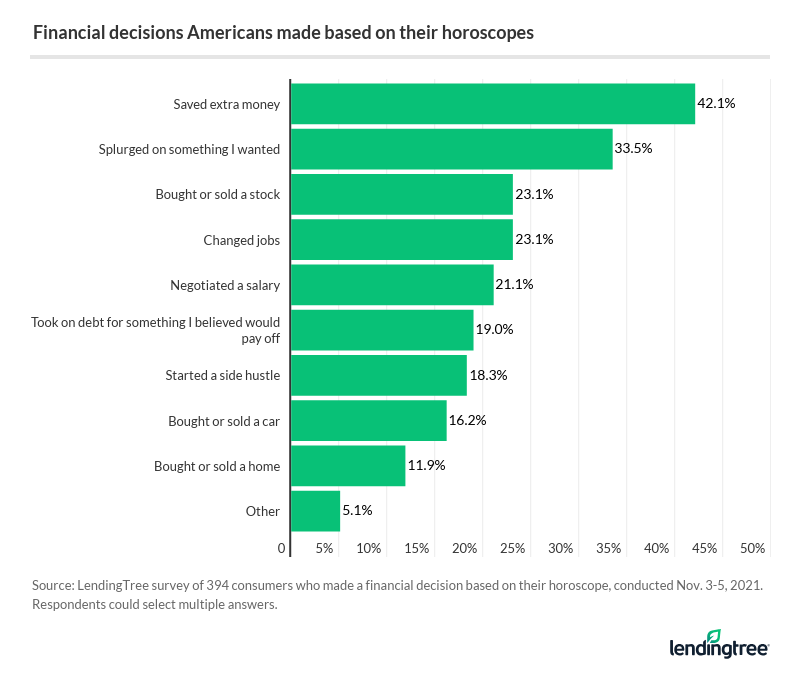 By generation, Gen Zers and millennials were most encouraged by their horoscope to save extra money. Meanwhile, Gen Xers (ages 41 to 55) and baby boomers (ages 56 to 75) were most encouraged to splurge on something they wanted.
Our advice: While it's tempting to look for a sign to navigate uncertain times, make sure your decisions align with common sense around what's right for your finances.
"Be planful and thoughtful," Schulz says. "Splurges and impulse buys wreck budgets in a big hurry, and the best way to avoid them is to think about what you're going to buy before you hit the stores. That changes the trip from a browse to a targeted mission."
According to Schulz, surrounding yourself with support systems can help you stick to your money goals.
"When you're trying to rein in your spending, surround yourself with people who are cheering you on rather than those who are trying to talk you into going on shopping sprees," he says.
Americans think Capricorns are best with money, while Geminis are worst
Does your star sign influence how good you are with money? Many Americans seem to think so.
According to the LendingTree survey, Americans think Capricorns are the best with money. But — sorry, Geminis — the consensus is that you're the worst with your finances.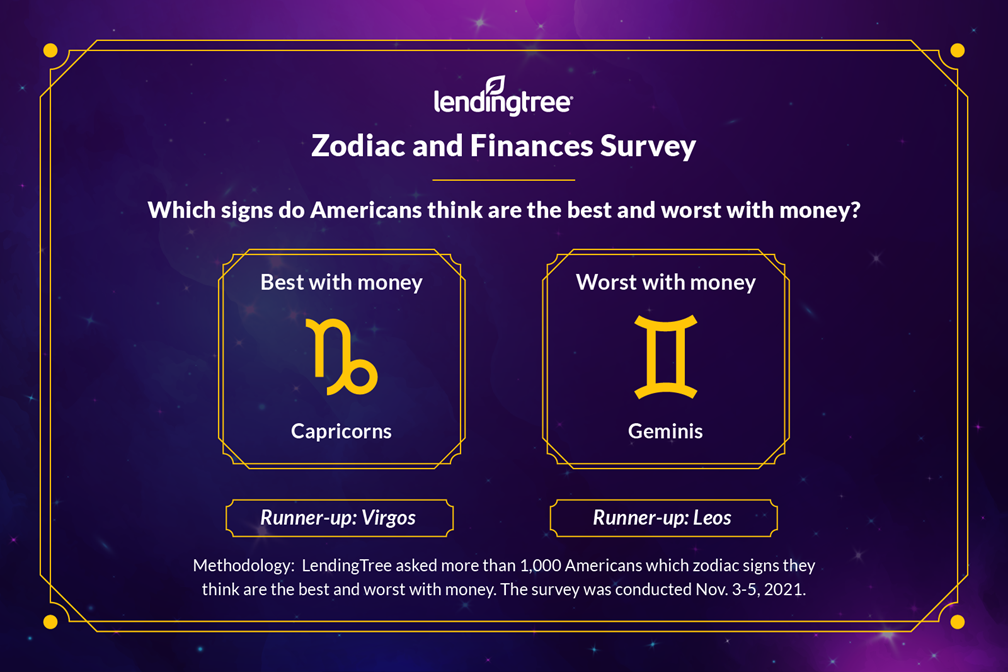 The data shows Capricorns are indeed the sign most likely to save and stick to a budget, while Leos are the least likely to save and Tauruses are the least likely to follow a budget.
Geminis, on the other hand, are more comfortable with risky investments than other signs. Of course, this doesn't necessarily mean that these May and June babies aren't good with money.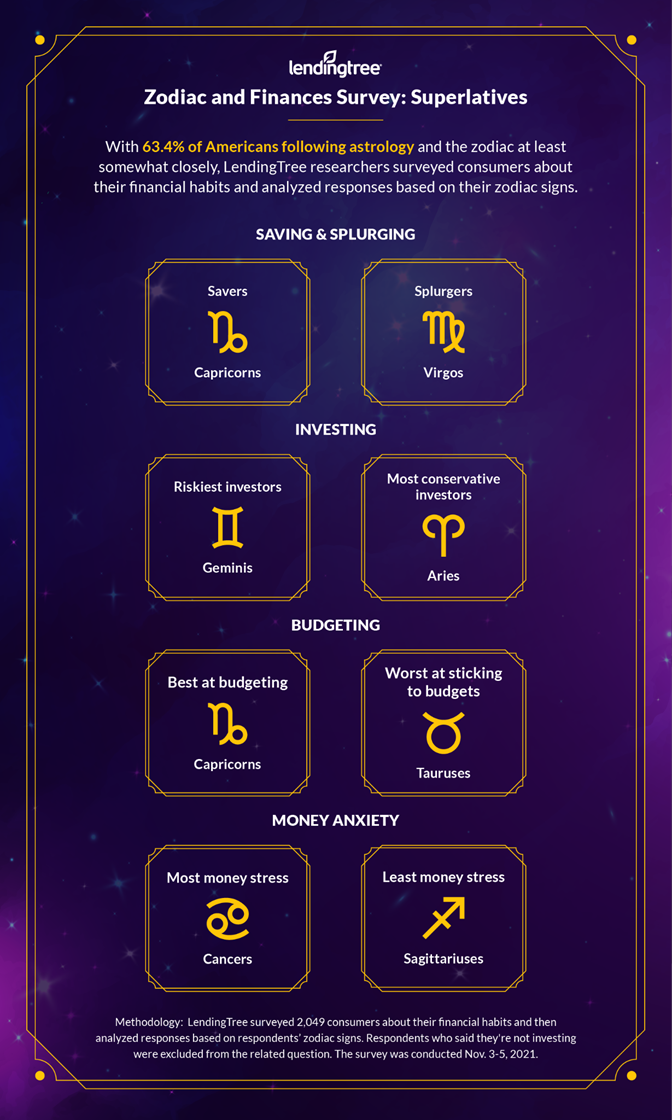 Meanwhile, Aries tend to be more conservative than other signs, with 33.8% saying they don't like taking risks with investing, even if it means they won't get as high a return.
When it comes to making purchases, Virgos are most likely to splurge for quality, while Geminis are the ones looking for a discount.
Our advice: Everyone can learn how to manage their finances better, regardless of their star sign. Instead of letting the cosmos decide, take control of your financial destiny by learning about personal finance and implementing strategies that work, like following a budget or saving for retirement in a 401(k).
When it comes to investing, Schulz suggests tapping into your self-awareness rather than turning to your horoscope.
"When it comes to investing, some of the oldest advice is still the best: Know thyself," he says. "How tolerant are you of risk? What are you trying to accomplish? How long do you want to be in for? How much money are you willing to put in? Asking yourself these and other questions can help you get where you want to go in the way in which you want to get there."
Cancers have the most money anxiety, Sagittariuses the least
If you're feeling anxious about money, could the source of your concerns be astrological? When it comes to financial fears, the LendingTree survey found that Cancers worry about money the most, while Sagittariuses report the least amount of money anxiety. Nearly half (48.7%) of Cancers worry "all the time" about money, compared with 36.0% of Sagittariuses.
But while Sagittariuses might be more carefree about their money, they also have the lowest average credit scores, according to a November LendingTree analysis of more than 90,000 anonymized credit reports:
Average credit score by zodiac sign
Astrological sign
Average credit score
Taurus (April 20-May 20)
713.6
Gemini (May 21-June 20)
713.0
Cancer (June 21-July 22)
712.1
Scorpio (Oct. 23-Nov. 21)
711.8
Aries (March 21-April 19)
711.5
Libra (Sept. 23-Oct. 22)
711.0
Pisces (Feb. 19-March 20)
710.9
Leo (July 23-Aug. 22)
710.8
Virgo (Aug. 23-Sept. 22)
710.6
Aquarius (Jan. 20-Feb. 18)
709.2
Capricorn (Dec. 22-Jan. 19)
708.9
Sagittarius (Nov. 22-Dec. 21)
708.7
Source: LendingTree analysis of more than 90,000 anonymized credit card reports of LendingTree account holders.
Our advice: If you find yourself stressed about money, it could help to pinpoint what you can improve.
"People worry most about things that seem out of their control," Schulz says. "When that happens, the best thing you can do is try to take back some of that control. Even small steps added up together can make a difference."
Here are some of those small things you can do:
Take steps to improve your finances: Schulz recommends creating or updating your budget, calling your credit card issuer and asking them for a lower interest rate and selling something of value that you no longer use or starting a side hustle. "The options are endless," he said. "The most important thing is to just get started because your financial issues aren't just going to fix themselves."
Protect your credit score: You can also take actions to improve your credit score, such as paying down debt or consolidating credit card debt to decrease your credit utilization ratio. "People overthink credit," Schulz says. "Basically, it's about three things: paying your bills on time every time, keeping your balances low and not applying for too much credit too often. If you do that over and over for years, your credit will be just fine. You just need to remember that credit is a marathon, rather than a sprint."
Be cautious about borrowing money: To protect your finances, you also want to avoid taking on unnecessary debt. If you decide you do need a loan, however, make sure you can pay it back on time and that it'll be worth the interest costs. For instance, borrowing a home renovation loan could pay off if it increases the value of your home. However, borrowing a personal loan to invest could be a risky move, as it could cost you if your return on investment doesn't keep up with your loan's interest charges. Whatever you decide, make sure to shop around and compare financial options before committing so you can find the best rates and terms for you.
If your horoscope advises you to make a money move, do some research from non-astrological sources to ensure it's the best decision for you.
Methodology
LendingTree commissioned Qualtrics to conduct an online survey of 2,049 U.S. consumers from Nov. 3 to Nov. 5, 2021. The survey was administered using a nonprobability-based sample, and quotas were used to ensure the sample base represented the overall population. All responses were reviewed by researchers for quality control.
We defined generations as the following ages in 2021:
Generation Z: 18 to 24
Millennial: 25 to 40
Generation X: 41 to 55
Baby boomer: 56 to 75
While the survey also included consumers from the silent generation (those 76 and older), the sample size was too small to include findings related to that group in the generational breakdowns.
To calculate the zodiac signs with the highest and lowest FICO Scores, researchers analyzed more than 90,000 anonymized credit card reports of LendingTree account holders, calculated during the first two weeks of November 2021.