How Does LendingTree Get Paid?
LendingTree is compensated by companies on this site and this compensation may impact how and where offers appear on this site (such as the order). LendingTree does not include all lenders, savings products, or loan options available in the marketplace.
How a Fed Rate Cut Could Impact Consumer Rates
Published on: October 28th, 2019
Editorial Note: The content of this article is based on the author's opinions and recommendations alone. It may not have been reviewed, commissioned or otherwise endorsed by any of our network partners.
The Federal Reserve appears poised to make another rate cut decision during its meeting on Oct. 30 — possibly the third cut since July.
The economy has given mixed signals since the last rate cut in September. Business confidence is weak and there is a recession in the manufacturing sector. However, the housing sector is benefiting from low mortgage rates while consumer spending has held up as the labor market remains favorable, even though job growth is slowing.
Changes in data related to the Fed's dual mandate, price stability and maximum sustainable employment give the Fed room to act. The Fed's preferred inflation measure is below the 2% target at 1.4%. Although the U.S. unemployment rate is the lowest since 1969, the Fed appears to be discounting this as job growth is on track to be the weakest since 2010. 
The reliance on monetary policy to address underperforming parts of the economy carries some risk, as those weak spots are structural and policy-based. Declines in capital expenditures and manufacturing output are due to a loss of business confidence because of ongoing trade war tensions. Monetary policy isn't the best tool to address these challenges.
Both the European Central Bank and Japanese Central Bank have pursued aggressive accommodative policy in the past decade. When governments fail to make needed structural changes, however, monetary policy is typically ineffective in reaching policy goals. This is becoming an increasing risk in the U.S. 
For consumers, it's the transmission of Fed policy to personal financial products that matters. The last rate cut began in September of 2007. A look at changes in consumer rates around the first 75 basis points (bps) of cuts in that cycle suggests that lower rates may be in play for borrowers.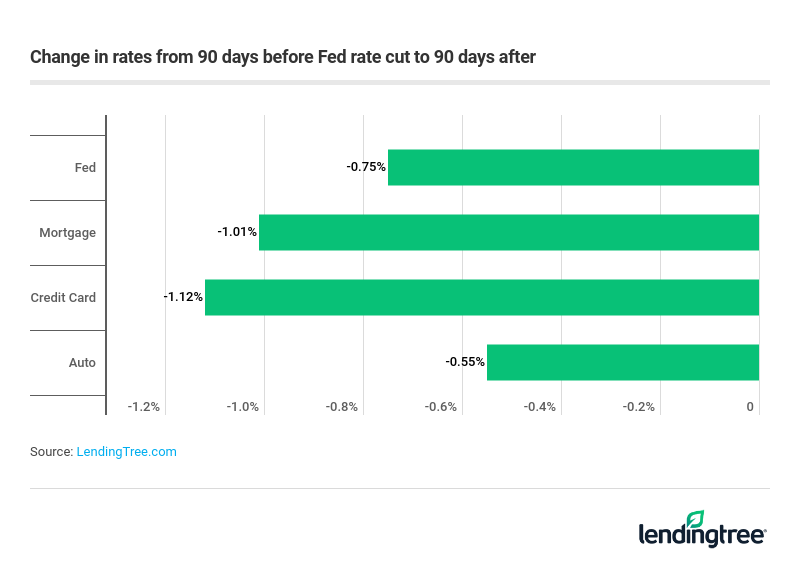 However, no rate cycle is the same, and we think there are factors to suggest consumer rates will not decline as much this time around.
The impact of a rate cut on fixed mortgage rates can be ambiguous
.
Since the last rate cut, mortgage rates are up 2 basis points (bps) and were down 16 bps at the low, less than the 25 bps Fed cut. The Federal funds rate and mortgage rates are not directly linked. Rather, they are often influenced by the same factors, yet rarely impacted to the same extent.
Mortgage rates have been declining for almost a year, down almost 125 bps compared with a 50 bps fall in the Fed funds before this week's cut. The Federal funds rate is a short-term overnight rate. Most consumers opt for a 30-year fixed mortgage, which is more closely linked to the long end of the curve — the 10-year Treasury.
Variable-rate products may be less reactive than anticipated.
Adjustable-rate mortgages and home equity lines of credit are based on short-term rates, which usually see a more direct impact from changes in the Fed funds rate. However, as rates approach zero, pass-throughs from a lower Fed funds rate get muted. Since the last cut, 5/1 ARM rates are down just 9 basis points.
Credit card debt should become less expensive for borrowers with good credit profiles.
Credit card interest rates track the bank prime rate, defined as 3% above the Federal funds target rate. The prime rate will move down immediately, however, many credit card contracts do not automatically adjust rates downward. Some lenders may elect to keep rates unchanged to account for default risk or to increase profits. Cardholders should call and ask for lower rates.
Interest rates on auto loans are less influenced by the changes in the Fed funds rate
.
New cars are often financed by auto manufacturers, and the interest rate is a part of the entire car-buying transaction. Cheaper funding should result in some decline in rates, but this can be overshadowed by other competitive factors.
Rates on deposits could fall.
Many lenders did not fully incorporate increases in the Federal funds rate, but are more likely to immediately incorporate declines. This means consumers with high-yield savings accounts, in particular, could see lower returns.