How Does LendingTree Get Paid?
LendingTree is compensated by companies on this site and this compensation may impact how and where offers appear on this site (such as the order). LendingTree does not include all lenders, savings products, or loan options available in the marketplace.
Fed Delivers Surprise Cut, Consumers Could Benefit
Published on: March 3rd, 2020
Editorial Note: The content of this article is based on the author's opinions and recommendations alone. It may not have been previewed, commissioned or otherwise endorsed by any of our network partners.
LendingTree Chief Economist Tendayi Kapfidze shares his insights on how the Fed's emergency rate cut will impact consumers.
In response to mounting economic fears spurred by the coronavirus (COVID-19), the Federal Reserve cut interest rates by 50 basis points (bps) on Tuesday, lowering the target range to between 1% and 1.25%. However, it's doubtful this will do much to alleviate the economic fallout from the virus. 
An extended outbreak could create a significant demand shock for the economy as a result of social distancing as people avoid activities that could expose them to the coronavirus. While it seems unlikely that a rate cut could actually do anything to lessen that demand shock, consumers could benefit from lower rates. Consumers may see additional benefits to come as the Fed is likely to face additional pressure from market players who are concerned about the mark-to-market values of their portfolios.
For consumers, the transmission of Fed policy to personal financial products is what matters most. Some rates, such as mortgage rates, operate independently of the federal funds rate and react in real-time to changes in economic sentiment. As long as uncertainty about the evolution of the coronavirus outbreak continues, Treasury yields — and mortgage rates — will stay low.
Interest rates for other products that are directly linked to Fed actions should decline in tandem.  However, a look at past emergency cuts suggests they will do so to a lesser extent. In six emergency rate cuts since 2001, the Fed cut rates by an average of 54 bps (five 50 bps cuts and one 75 bps cut). In the three months that followed each cut, rates fell an average of 17 bps for mortgage, 32 bps for credit cards and 29 bps for auto loans.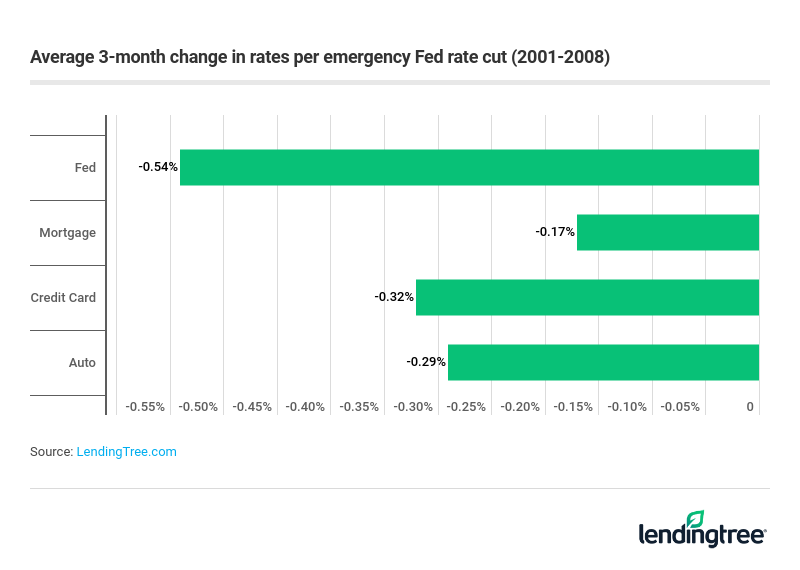 The impact of the Fed funds rate on fixed mortgage rates can be ambiguous. The federal funds rate and mortgage rates are not directly linked. Rather, they are often influenced by the same factors, yet rarely to the same extent.
The federal funds rate is a short-term overnight rate. Most consumers opt for a 30-year, fixed-rate mortgage, which is more closely linked to the long end of the curve — the 10-year Treasury. More recently, Treasury and mortgage rates have moved ahead of the Fed. 
Variable-rate mortgage products are more closely linked to the federal funds rate. Adjustable-rate mortgages (ARMs) and home equity lines of credit (HELOCs) are based on short-term rates, which usually see a more direct impact from changes in the Fed funds rate. However, other factors, such as lender profit margins and competition, can influence rates, too. These rates are likely to fall, though to a lesser extent than the most recent 50 bps move by the Fed. Lenders will react differently, which means consumers should shop around to get the best deal. 
Credit card rates should move lower. Credit card interest rates track the bank prime rate, defined as around 3% above the federal funds target rate. The prime rate will move down immediately, but many credit card contracts don't automatically adjust rates downward. Some credit card companies may keep rates unchanged to account for default risk or to increase profits. Cardholders should call their issuer and ask for lower rates.
Interest rates on auto loans could fall. New cars are often financed by auto manufacturers, and the interest rate is a part of the overall car-buying transaction. Cheaper funding for manufacturers and dealers should improve their financial metrics. This means consumers may have an opportunity to not only find a better rate, but also to negotiate a better price — an indirect benefit of the rate cuts. If car dealers are selling fewer cars because of the uncertainty from the coronavirus, they might offer more incentives to buyers. 
Rates on deposits will fall, but not equally for all institutions. Many financial institutions don't fully incorporate increases in the federal funds rate on their deposit offerings but are more likely to incorporate cuts immediately. This means consumers with high-yield savings accounts, in particular, could see lower returns because of recent rate cuts. If you're looking to open a savings account, consider locking in good rates sooner rather than later, and compare institutions to find better rates. 
LendingTree research analyst Jacob Channel contributed to this report.