How Does LendingTree Get Paid?
LendingTree is compensated by companies on this site and this compensation may impact how and where offers appear on this site (such as the order). LendingTree does not include all lenders, savings products, or loan options available in the marketplace.
High-Balance vs. Jumbo vs. Conventional Loans
Updated on: December 8th, 2022
Editorial Note: The content of this article is based on the author's opinions and recommendations alone. It may not have been reviewed, commissioned or otherwise endorsed by any of our network partners.
High-balance loans are mortgages that give you extra borrowing power, and jumbo loans are even more extreme, allowing you to borrow potentially far more — if you meet strict requirements. Both high-balance and jumbo loans can be conventional or non-conventional, meaning individual financial companies like banks or government agencies, like the Veterans Administration, can back the loans.
On this page
How large loans are defined
The Federal Housing Finance Agency (FHFA) sets national and local standards for loan amounts. Doing so draws a line in the sand, which changes each year. You can see the current conforming loan limit here. Loans larger than this are officially seen as riskier, which has some effect on discouraging lenders and homebuyers from overlending or overborrowing.
High-balance loans
If you are in a high-cost location, such as the Bay Area, you may have trouble finding any home with a selling price under the standard, national conforming loan limit. Instead, if the median home values in your area are at least 115% higher than the national median, you'll have a higher local conforming limit and you could be eligible for a high-balance loan. Here's a map of conforming loan limits by county.
Because high-balance loans still meet local limits, they are considered conforming loans. If you want to borrow an amount even higher though, more than 150% of the national limit, you'll be looking at a jumbo loan.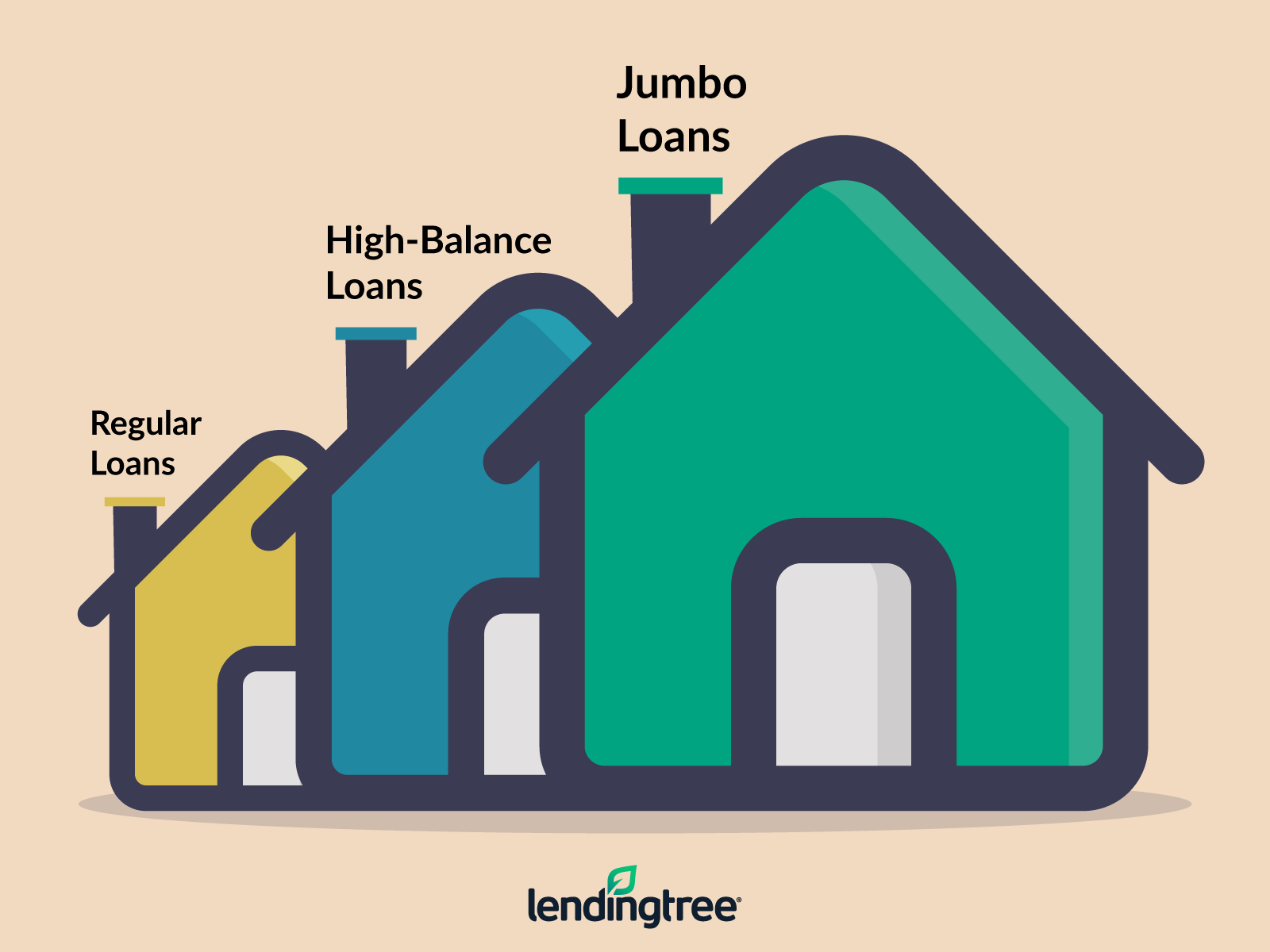 Jumbo loans
Jumbo mortgages allow you to borrow more than both the national conforming limit and the high-balance limit for your area. But because they don't meet either standard, they're non-conforming loans.
Yet they can still be "conventional" or "non-conventional" — you can get a jumbo loan from private financial institutions and government agencies. Requirements are typically stricter, with higher down payments and higher minimum credit scores. A jumbo loan is the largest personal, residential mortgage you can get.
Conventional loans
You could potentially get any type of loan — "regular," high-balance or jumbo — from a conventional lender. Conventional loans are mortgages backed by "regular" lenders — non-government entities — such as banks and credit unions.
Conversely, government agencies back non-conventional loans. Examples include: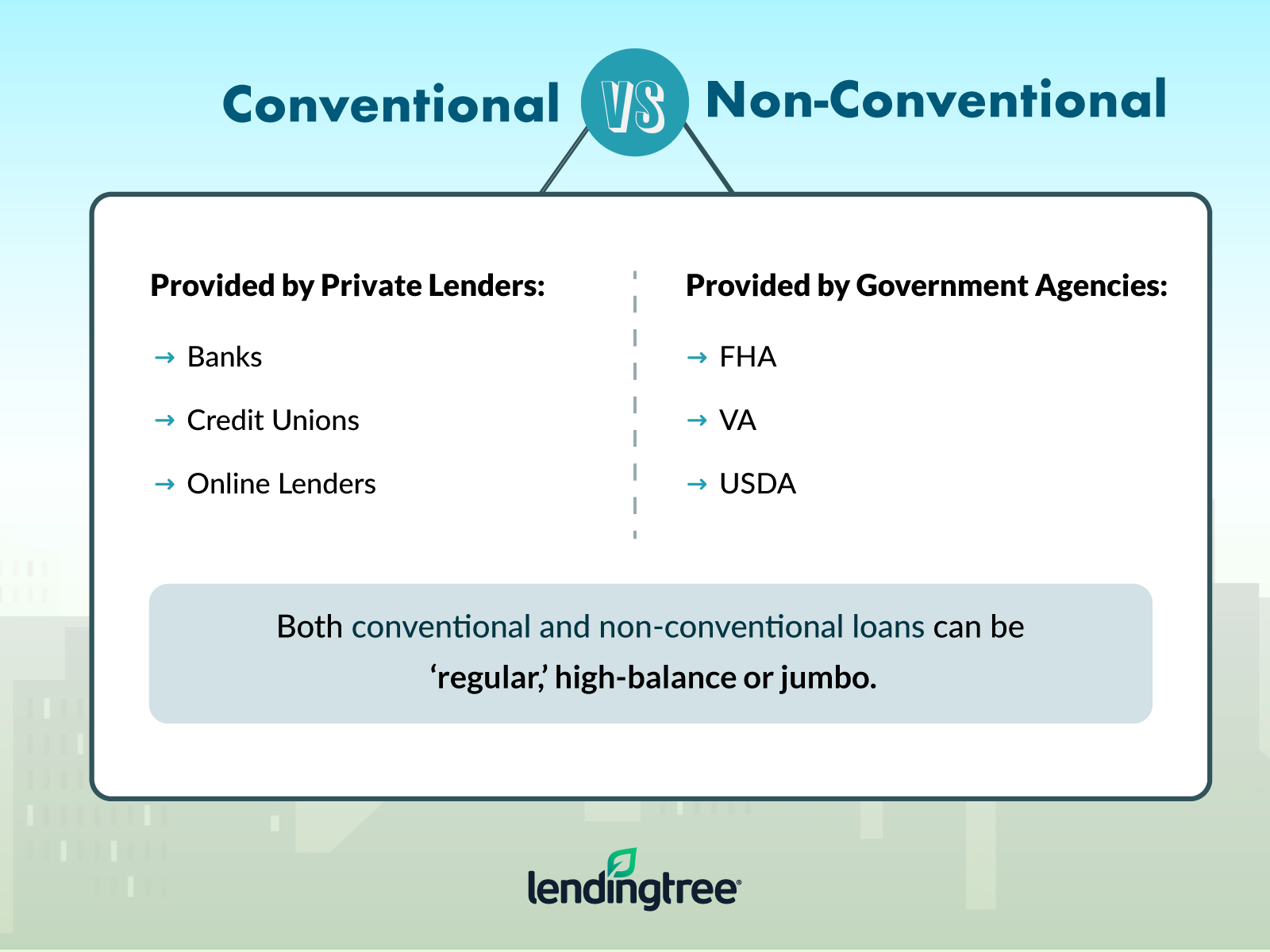 Choosing the right loan for you
The conforming loan limit is set as a national standard to help prevent homebuyers from biting off more than they can chew and potentially losing their homes to foreclosure. But homebuying isn't a one-size-fits-all type of thing. High-balance mortgages exist to help finance homes in high-cost areas of the country, and jumbo loans exist for even higher-cost homes.
Whether looking for a conventional or non-conventional loan, you can compare rates on LendingTree and get matched with up to five mortgage lenders, depending on creditworthiness.